"Help! I have tried restarting my iPhone several times, but dead iPhone is dead and won't turn on or charge. Asking, "Can anyone provide a hand?" It's not uncommon for an iPhone that has been fully charged to display a black screen and appear to be entirely dead when you try to use it usually.
Any iPhone user is vulnerable to this issue. It might be resolved in most cases, but considerable work will be required. We've included several tried-and-true methods for iPhone is dead and not charging here.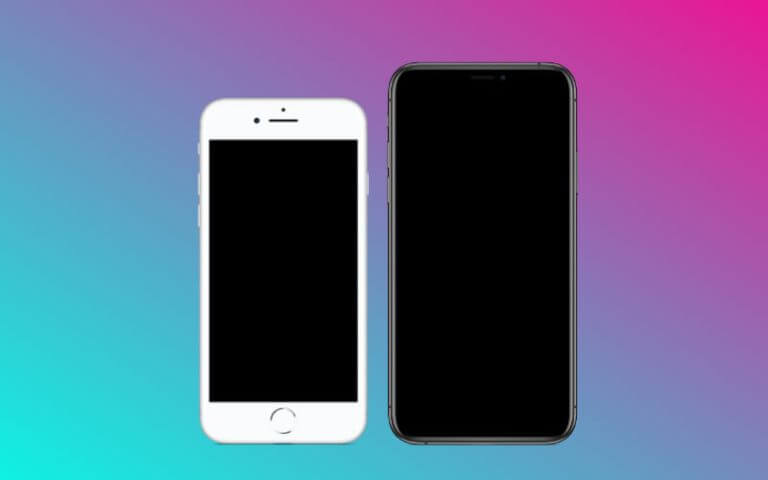 Secure Download

Secure Download
Part 1. Simple Checks When iPhone is Dead and Not Charging
Identifying the root cause of the iPhone dying is necessary before proceeding with troubleshooting. The issue may be fixed more effectively if it is first determined if it is a software malfunction or hardware issue that normally stops the iPhone from starting.
For a quick assessment, consider the following questions:
1

Has your iPhone lately fallen into the water?

2

If you plug your dead iPhone into your computer, will iTunes still detect it?

3

When pushing the home button on an iPhone 7 or later, will you hear a sound but see nothing on the screen?

4

Are you having trouble charging your iPhone?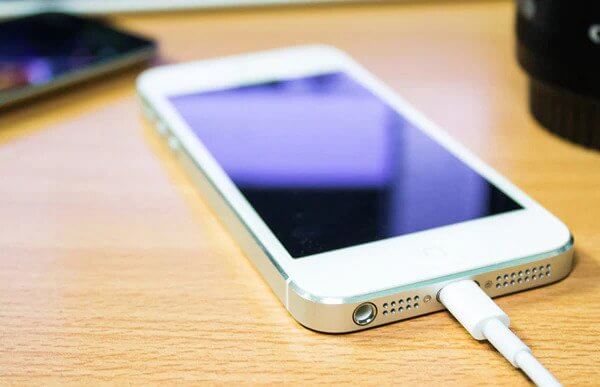 If you answered yes to every question, you likely have a hardware problem. It is suggested that you take the dead iPhone charging screen to an Apple Store or local repair shop so that the experts there may have a look at it. Alternatively, the software issues can be resolved by implementing the tips outlined below.
Part 2.

Top 3 Tips to Fix iPhone Dead and not Charging [Software Problem]

Follow these tips to solve iPhone is dead and not charging due to software issues.
Tip 1: Hard Reset the Dead iPhone:
If you are still unable to solve the issue where the iPhone is dead and not charging, trying a hard reset on the device will be of some assistance.
All versions of the iPhone 6/6s/SE/5 and before
If iPhone 6s won't charge and is dead and you want to boot into Apple's logo mode, you need to press and hold the home and sleep/wake buttons for 10 seconds.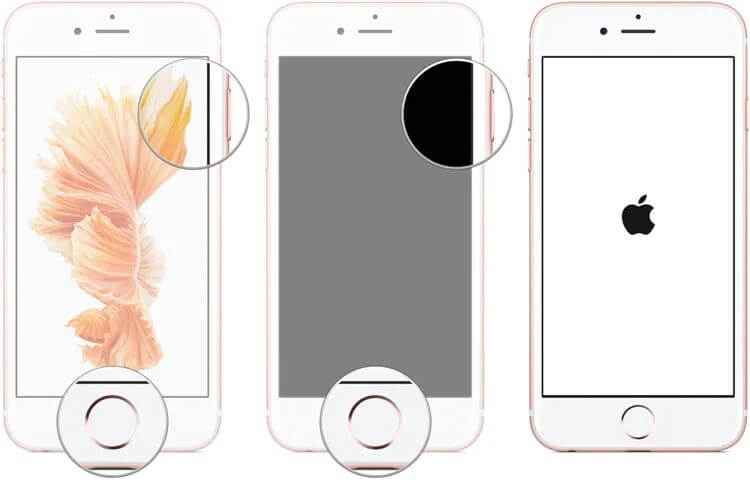 iPhone 7/7 Plus
Keep pressing the volume-down and the power-on/off buttons simultaneously for roughly 10 seconds if iPhone is dead and wont charge. If the Apple logo displays, you can stop holding down the button.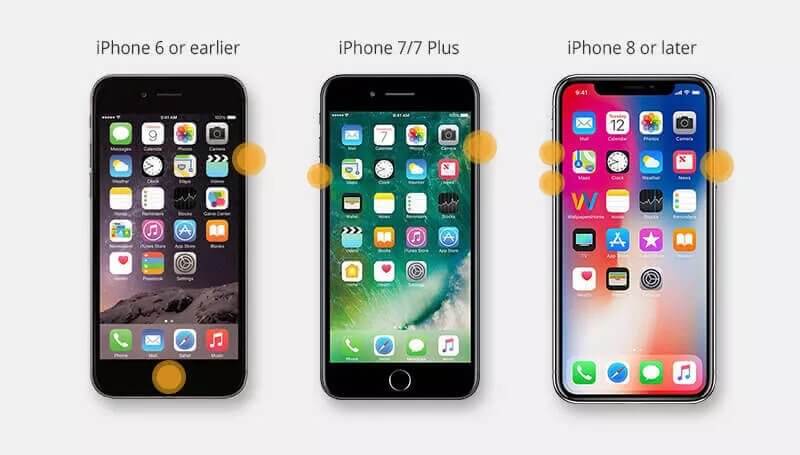 iPhone 12/11/11 Pro/Xs(Max)/XR/X/8
Push and release the volume up button, then press and release the volume down button on the left side if iPhone is dead and won't charge. Continue holding the sleep/wake button until the Apple logo appears.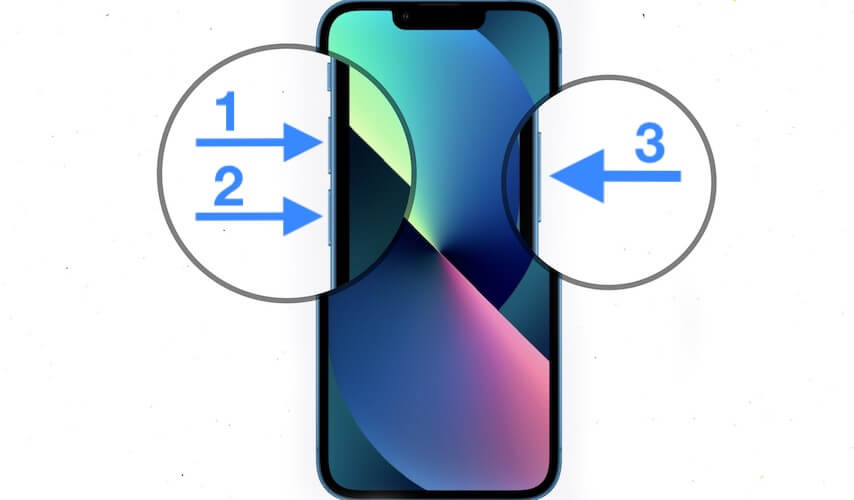 Tip 2: Restore Dead iPhone to Factory Settings
Alternatively, you can try reviving your dead iPhone by restoring it using iTunes. You'll lose everything on your device if you don't have any backups. Following is a breakdown of the steps: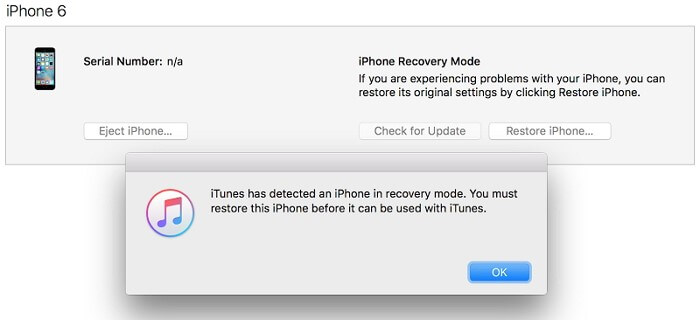 Step 1: One of the first things you'll want to do is connect your iPhone with iTunes and enter DFU mode.
Step 2: The second step involves a warning from iTunes that your device needs to be restored.
Step 3: Click the Restore button after reading and accepting the disclaimer.
Step 4: Following this fourth step, iTunes will automatically download the necessary software to fix your dead iPhone.
Tip 3: Fix iPhone Dead Problem without Data Loss
If you have verified that a software fault was the reason for your iPhone completely dead, you can solve this problem by using a third-party tool known as UnicTool Umendit.
It's an excellent iOS system recovery application that can help you solve software-caused issues with your iOS devices, such as a black screen or the Apple logo stuck on the iPhone screen dead. Umendit is always up-to-date with the latest technologies, so even those with cutting-edge devices, such as an iPhone 14 running iOS 16, can make use of its features.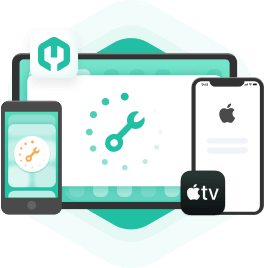 Repair iphone issues
UnicTool Umendit is capable of bypassing iTunes errors.
Enter/exit recovery mode with just one click with this tool.
It can solve multiple iOS issues without data loss
reset your iOS device without a password
Supports the latest iOS version, iOS 16.
You can choose between a "Standard" and "Advanced" mode to use this software to revive your dead iPhone. Success rates will improve if you select this method. It is simple to use even if you have no experience with fixing software.
Steps to Use
Step 1: Get Umendit from their website, download and install it on your PC and Mac. Once the software is installed, go to the main menu and click "Standard Mode."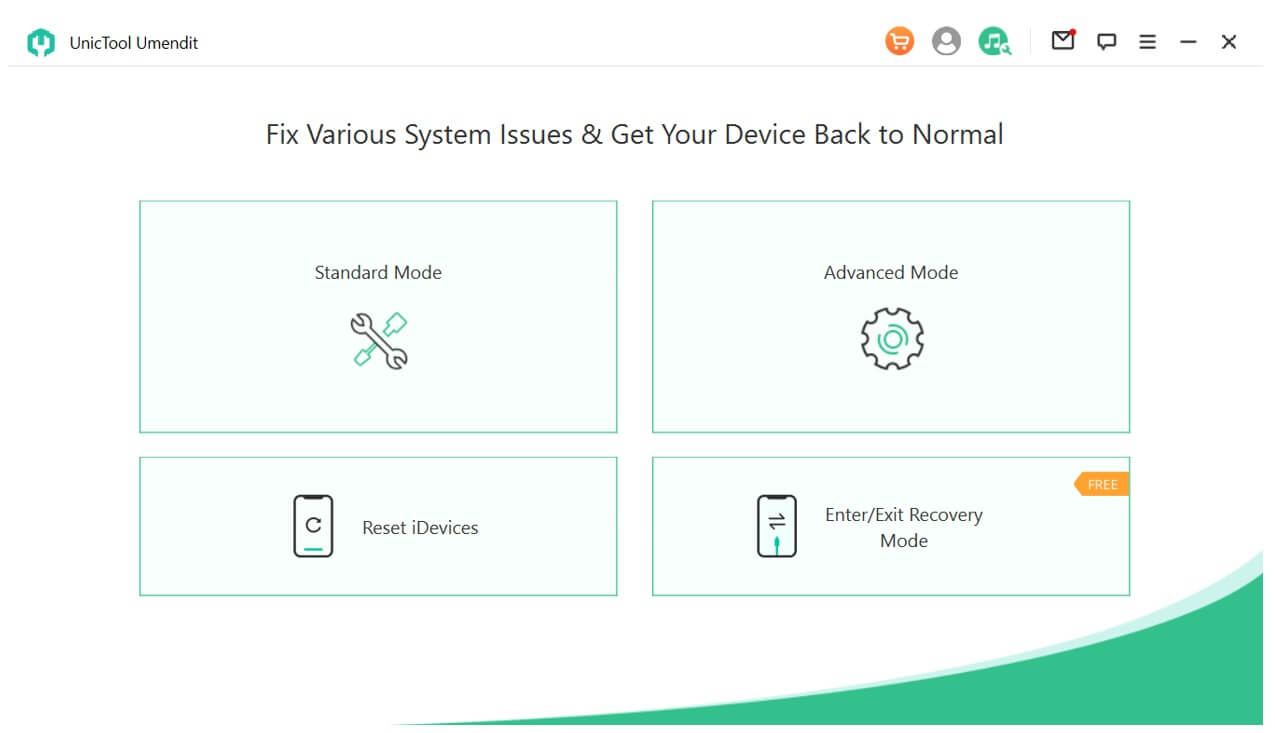 Step 2: Click the Next button after your device is connected to the computer. If your device isn't recognized, you'll need to enter recovery mode/DFU mode by following the on-screen instructions.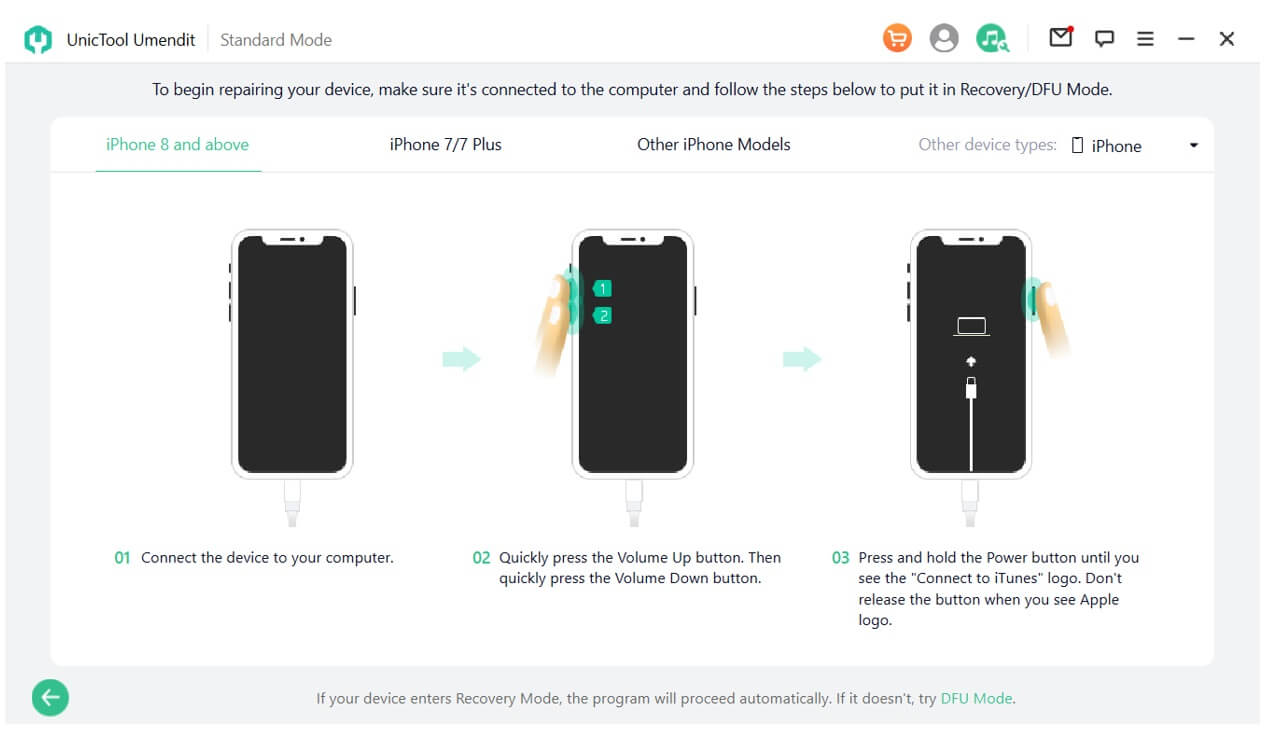 Step 3: The software update can now be downloaded online. Umendit offers every iOS version, and you can pick the one you want to use to proceed.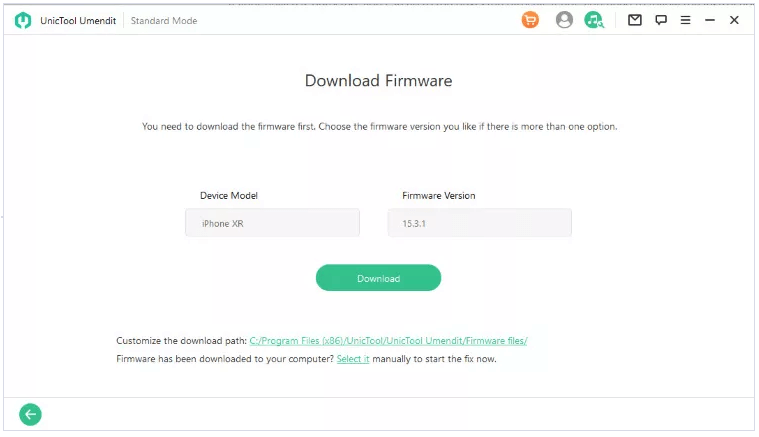 Step 3: When the firmware is ready, select Start to begin the repair procedure. Don't touch your dead iPhone until the process is complete.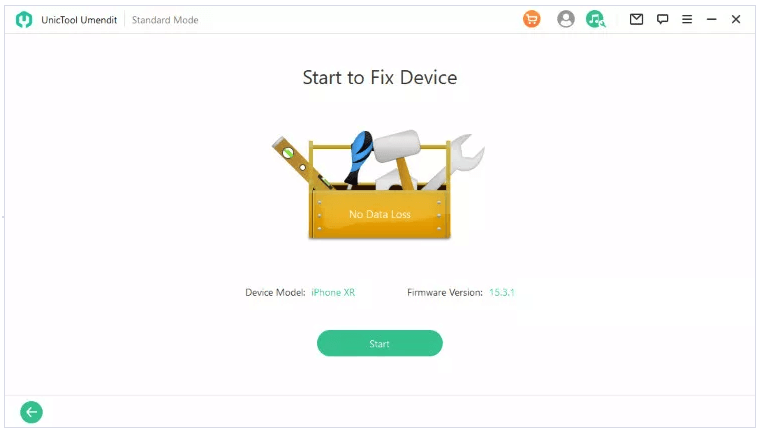 Part 3.

Fix Dead iPhone Screen [Hardware issue]
Way 1. Replace your iPhone battery
The second last piece of advice is to rule out any issues with the device's hardware if the hardware has been damaged in any way, whether by battery life or by software, we recommend readers to replace iPhone battery dead and other parts immediately.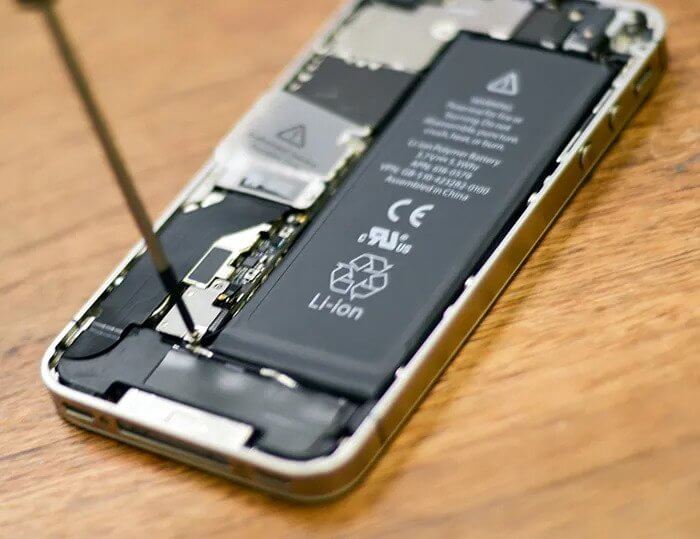 Way 2. Ask Apple Service Center for Help
Unfortunately, determining the cause of a hardware failure is sometimes a time-consuming and challenging process. In most cases, the issue is with the hardware, the display, the battery, or the motherboard.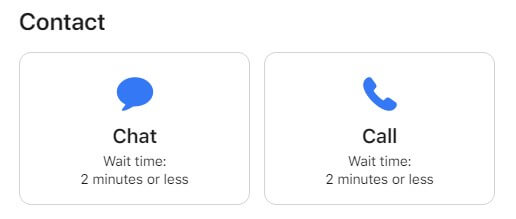 If the preceding solutions don't work and your iPhone is still dead, or the display is unresponsive and frozen, or black screen of death. you may need to schedule a Genius Bar appointment at an Apple Store or contact Apple Support. If your iPhone, iPad, or Mac is still covered by its warranty or Apple Care, Apple will repair it at no device to you.
Conclusion
If you want UnicTool Umendit to do the best possible repair on your iPhone, you should immediately stop wasting time and download and install it. Repairing an iPhone will be considerably more straightforward, thanks to this tool's help. Let's get it done right now.

Secure Download

Secure Download