Living in 2022 has its own perks - having easy access to more advanced technology makes our life reliable. Apple plays a huge role in this advanced world of technology with various iOS devices, among which iPod is a part worth noticing. With an iPod at hand, you can have thousands of your favorite songs and much more in your pocket. But things can turn annoying when you get a notification of "iPod is disabled, try again in x minutes". If you are seeking to unlock a disabled iPod without iTunes, we've compiled this useful and detailed guide for you.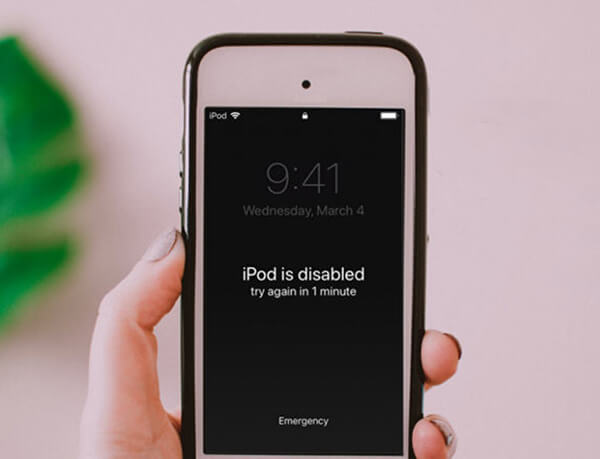 Part 1.

Why Does a iPod Get Disabled?

Apple does not just offer reliable features in its products but also takes each user's security very seriously. Normally you can use your iPod and get access to all features of it by entering the correct passcode to unlock it. But what if you forget your password? Many people would try different passcodes hoping to get the right one and unlock iPod, but Apple takes strict security measures in this respect.

To be more specific, it let you try for 1 to 5 times freely. After your 6th unsuccessful try, it will make you wait for 1 minute before letting you try again. After your 7th wrong trial, you got a notification that reads "iPod is disabled, try again in 5 minutes". After the 10th wrong try, your iPod gets completely disabled and you have to unlock it using iTunes - at least that's what you're told to according to the notification "iPhone is disabled, connect to iTunes".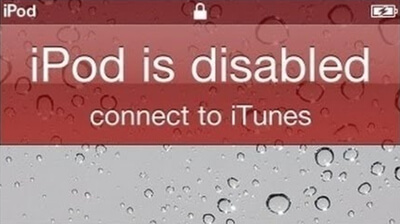 Part 2.

How to Unlock a Disabled iPod Without iTunes

Although your disabled iPod may have asked you to connect it to iTunes to unlock it, the iTunes way is troublesome. First and foremost, it requires a computer and the latest iTunes app. In addition, the process may take forever and sometimes you could not understand the proper steps so you have to go to a technology expert for help. Lastly the success is not guaranteed as many users have complained about the unknown errors that occur halfway.

But you don't need to worry about it any longer as here we will bring you some easy and instant methods on how to unlock a disabled iPod without using iTunes. Now let's check them one by one and fix your disabled iPod.
1. [Easy & Effective] Use LockEraser
To begin with, we'd like to recommend - the best iPod unlocker LockEraser. It  offers a quick and simple solution to the disabled iPod problem. With this powerful tool, everyone can be his own expert at home as the operating steps are extremely simple and require no technical knowledge at all.
Effective: unlock a disabled iPod with high success rate
Convenient: require no iTunes or passcode
Secure: no harm to your device or data
Instant: unlock your iPod in quick 3 steps
Reliable: used and loved by users all around the world
Compatible: support all models of iPods and iOS versions
Cost-effective: budget-friendly enough; free trial is available
1

Download, install and launch LockEraser on your computer. Select "Unlock Screen Passcode" mode.

2

Choose the firmware version provided based on your device model and click "Download". Then wait a few minutes for LockEraser to download and verify the firmware package.

3

When the extraction is completed, click the "Unlock" button. When the unlocking work is done, you will see the notification on the screen.
2. [Old iOS Only] Use Siri
If you do not want to use a computer and your iPod is still running on an old iOS version (iOS 8 to iOS 10.1), then Apple's Siri could also offer help and it won't erase your data on iPod. You can try to unlock your disabled iPod without iTunes by using the Siri bug. Following are the steps you need to follow:
Step 1. Hold and press the home button to activate Siri.
Step 2. Ask Siri what time it is, then Siri will display the local time.
Step 3. Select the clock icon and press the + sign at the top of your screen.

Step 4. Type random characters on the Search bar, then share it to the Message app.

Step 5. A new message window will appear. Tap any character in the "To" field first, and tap Return from your keyboard.
Step 6. Choose to Create new Contact > add photos > Choose Photo.

Step 7. Now wait for a few seconds, then press the Home button. And you'll bypass the passcode.
Limitations
This method is only a temporary solution as you can only bypass the passcode but not remove password. To fix the disabled iPod thoroughly, ultimately you have to use another method.
It only works for iOS 8 to iOS 10.1 possibly.
3. [Password Required] Use iCloud
You can also unlock your disabled iPod without iTunes by using the iCloud method. But this method is only capable of working if you have Find My iPod enabled in iCloud. Along with that, you also have to know the Apple ID and password. Following are simple steps that can help you unlock a disabled iPod through iCloud.
Step 1. Go to iCloud official website and log in with your Apple ID and password.
Step 2. Click Find iPhone. Go to All Devices and select the iPod you want to unlock.

Step 3. Press Erase iPod and confirm the choice.

Step 4. Your iPod will be unlocked as it'll get reset and all data and passcode will be removed.
Limitations
You need to clearly remember the Apple ID and password.
Your iPod should have enabled Find My iPod feature.
Your iPod should have active internet connection.
Part 3.

How to Unlock a Disabled iPod With iTunes

You can unlock your disabled iPod with iTunes. Using iTunes to get back the disabled iPod is a bit of a lengthy procedure. If you've decided to do that, follow the below-listed steps that we compiled for you.
Step 1. Press and hold the Top button of your iPod to turn it off.

Step 2. For iPod touch of 7th generation, uses the volume down button. For iPod touch of 6th generation and earlier, use the Home button. Press and hold the correct button while immediately connecting your iPod to the computer.
Step 3. Keep holding the button until you see the recovery mode screen on your iPod touch, then let go.
Step 4. Find your iPod on iTunes and click the Restore button when you see the option to Restore or Update. 

Step 5. The process will initiate to unlock your iPod. When it's done, set your iPod like a new device.
Conclusion
Forgetting your iPod passcode is quite common. Sometimes it just slipped out of your mind or you can forget one single character from your password. When your iPod gets disabled, don't panic. There is a way out of this trouble.
With all the methods elaborated above, you can now fix your disabled iPod by yourself, with or without iTunes. LockEraser is an ideal choice to unlock your disabled iPod without any passcode. It's easy, effective and realiable enough to be trusted.