WhatsApp has become an essential messaging service in the entire world. And with more features and customization ability, it is easier to exchange photos, videos, and messages on WhatsApp. Furthermore, the chats serve as a record of communications be it business-related correspondence or other friendly chats. You may want to secure your chats and perhaps export WhatsApp chat to other devices. Well, WhatsApp comes with a built-in export chat feature that automatically creates backups of any chat history. Continue to the next part to extract the backups and export chat in WhatsApp.
Part 1.

How to Export WhatsApp All Chats - for Both Android & iPhone Users

We gladly introduce you to a comprehensive WhatsApp manager for both your iPhone and Android devices. ChatMover works in 1 click to transfer, back up, restore, and export your chats, no matter what OS your device is running on, including iOS 15. This app lets you easily transfer WhatsApp content between your iPhone and Android without losing the original quality of your chats. ChatMover also has no boundaries when it comes to exporting your chats. You can move all data including messages, documents, audio, photos, and videos among others in just 1 click.
The app supports exporting, transferring, restoring and backing up WhatsApp chats and messages.
You can export to numerous formats like Excel, CSV, HTML, PDF, etc.
Easily export both new or old backup between different operating systems like iPhone and Android.
View your WhatsApp backup before export.
Steps to export WhatsApp via ChatMover
Follow these steps to export WhatsApp chat iPhone and Android with ChatMover. The app works in a few steps to help you transfer any sort of file such as attachments, images, videos, conversations, and many more.
Step 1. Choose mode
Once you download and install the ChatMover application, launch it and choose the 'Backup' mode option and back up your WhatsApp to PC first. The backup function of ChatMover is free. You can keep unlimited backups per your needs.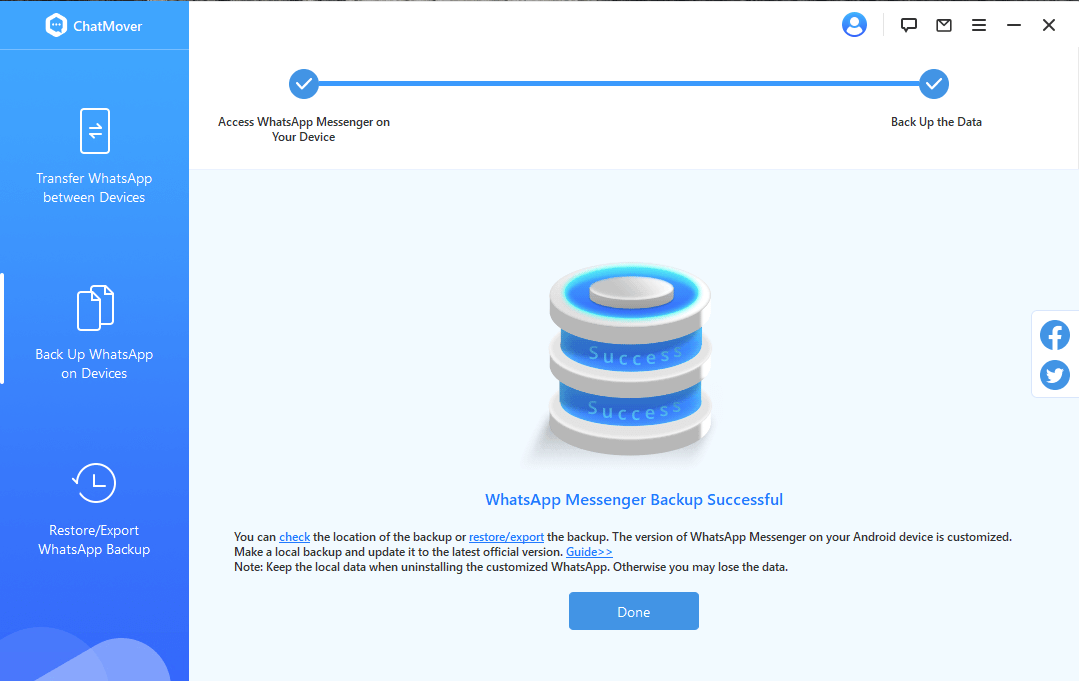 Step 2. Export WhatsApp
After the backup, get back to choose the mode 'Export' and follow the on-screen instructions to export WhatsApp chats. You can export them to PDF, HTML, CSV, Excel file as you want.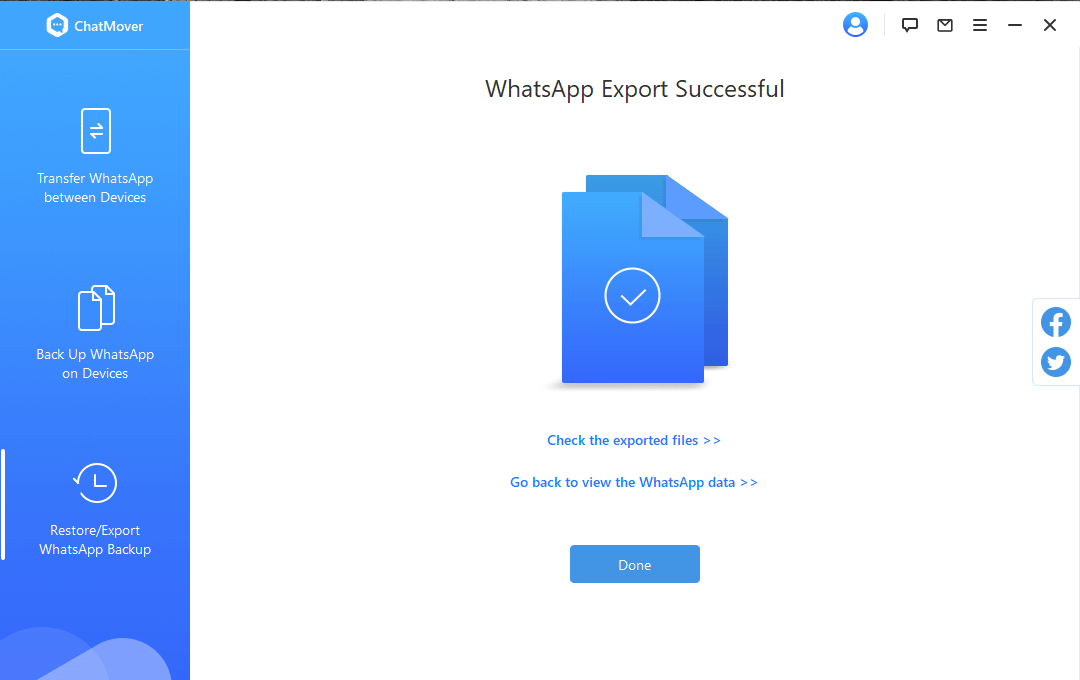 Part 2.

Methods to Export WhatsApp Conversations One by One - for iPhone Users

iPhone users can employ these three methods to export WhatsApp chat for personal or business use. This method does work on all iOS versions, including the latest iOS 15.
Method 1. Export WhatsApp Chat via Email on iPhone
WhatsApp has built-in features for exporting chat by email on iPhone. When you email the chat history to yourself, it gets permanently saved.
1

Open WhatsApp on your iPhone and select which chat conversation you want to email.

2

Next, click on the respective contact's name.

3

Then hit on the 'Export Chat' option.

4

You can choose to 'Attach Media' or just send a WhatsApp chat as email 'Without Media'. Click the appropriate button here.

5

Next, press the 'Mail' option and choose your desired mail provider.

6

Finally, type respective contact's email ID and then click the 'Send' option to export WhatsApp chat.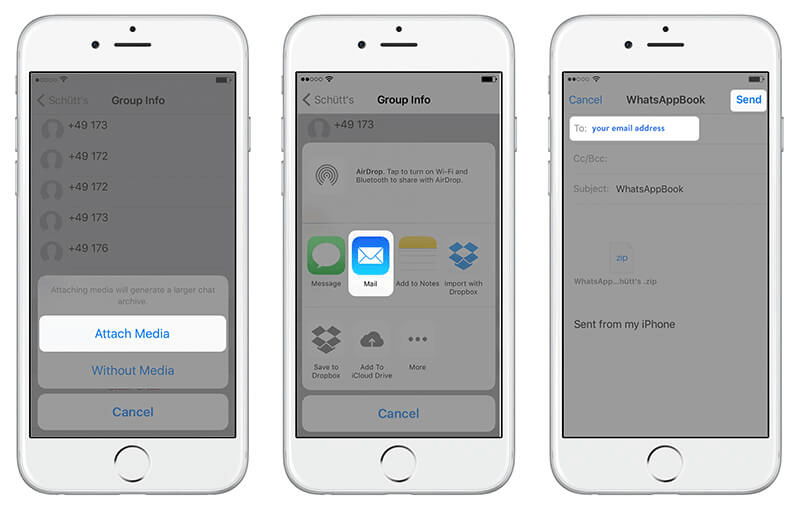 Pros
You don't need any additional app installed on your phone.
You'll still find the exported chats in the email box.
It exports WhatsApp chats selectively.
Cons
It is a bit ambiguous.
Your chats will be available as links after 30 days.
It requires to export one by one, which is time-consuming.
It can export WhatsApp messages up to 40,000.
Method 2. Export WhatsApp Chat with Dropbox
For this option, you must install the Dropbox app on your iPhone and have a Dropbox account as well.
1

First, open WhatsApp Messenger and choose the chat you want to export. Then tap on 'Contact name' > 'Export Chat' options.

2

Choose the option to export 'With Attachment' or 'Without Attachment'.

3

Next, select the 'Dropbox' app option and hit on the 'Save' tab to export WhatsApp chat to Dropbox.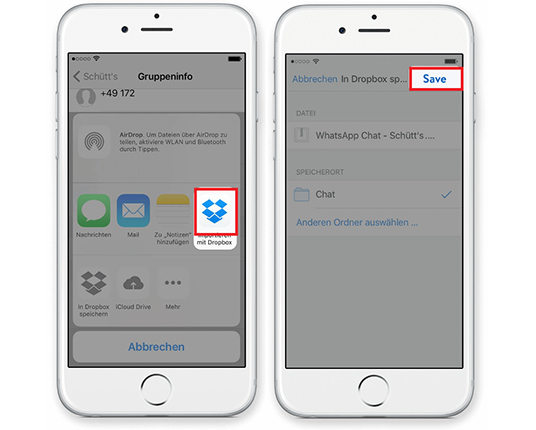 Pros
It's an easy process to follow.
You can retrieve your chats from anywhere.
Cons
You must install the Dropbox app on your iPhone and have a Dropbox account.
It can only accommodate up to 2GB of data, you have to buy more storage space to store the exceeded data.
Method 3. Export WhatsApp Chats with Google Drive
To use this method, you need a Google account and have Google Drive app installed on your iPhone device.
1

First, launch WhatsApp and click on the 'Chat' option. Then hit the 'Contact Name' and tap the 'Export Chat' option.

2

Select whether to 'Attach Media' or send 'Without Media' option then tap on 'Google Drive'.

3

Hit the 'Save' option, to export your WhatsApp chat to Google Drive.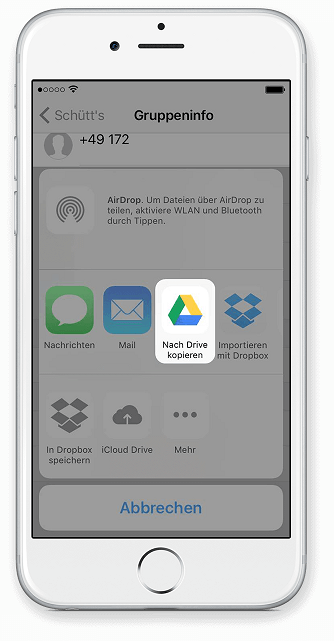 Pros
Google Drive offers up to 15 GB of free space for data storage.
You can download your chats anytime.
Cons
You must install the Google Drive app and have a Google account for you to use this option.
Part 3.

2 Methods to Export WhatsApp Chats/Messages - for Android Users

You can either use the WhatsApp Viewer tool to export WhatsApp or do it via email. These two methods are all you need if you are an Android user.
Method 1. Use WhatsApp Viewer to Export WhatsApp Chat
The WhatsApp Viewer tool will help you to quickly export WhatsApp chats on Android device. It works by displaying the backup format, 'mgstore.db' file on Android devices. Furthermore, this tool supports exporting chat to various file formats like '.json', '.html', and '.txt'.
1

First, get your key and database file from your Android phone. To get the key, use Android KeyExtractTool by first downloading it onto your computer. Then unzip the download file on your computer and locate the file 'run'. Next, use a USB cable to connect your root Android device to your computer, then click the file 'run' to get the key file.

2

Once you obtain the key, open WhatsApp Viewer and go to 'File' hit on 'Open' and click the 'Select File' options.

3

Then choose the WhatsApp 'msgstore.db' file that you wish to read and export. Remember, the account name should be left empty.

4

You can now finally view all your WhatsApp messages and chats, then export them into various file extensions like '.html' and '.json'.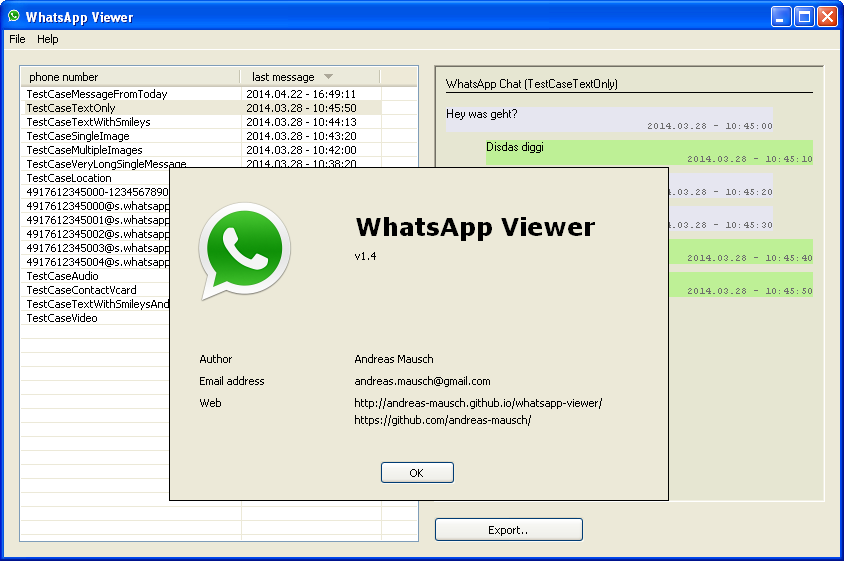 Pros
It supports various extension files like '.json', '.txt', among others.
Cons
It requires skill especially, to obtain the key and database file.
Method 2. Export WhatsApp Chat from Android via Email
Follow these steps to export chat on WhatsApp from your Android phone via email.
1

First, select the 'Chat' you want to export. Then select the 'More' option from the dropdown menu that appears below your 'Chat'.

2

Then generate the 'Export' option and select the 'E-mail Chat' option.

3

Choose whether you want to send your chat 'With Media' or 'Without Media' to send the 'Chat'.

4

Key in your 'Email address' and then hit the 'Send Chat' tab to export WhatsApp chat to Android.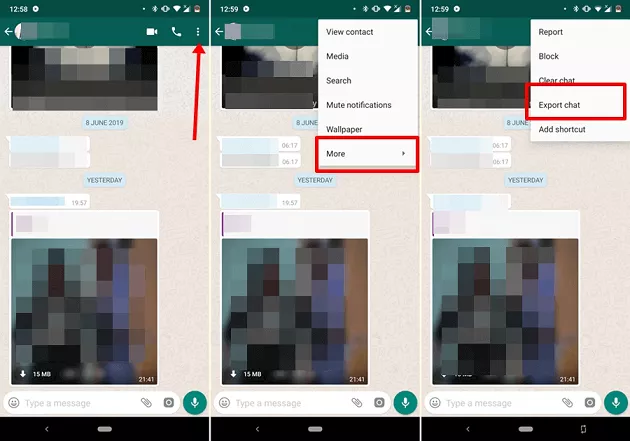 Pros
You can obtain chats from your email even after exporting.
Cons
It will consume a lot of time if you have a large volume of files to export.
You have to manually export the chats one by one.
It has export limitation of up to 10,000 messages with media, or 40,000 messages without media.
Conclusion
WhatsApp is the fastest way of communication for both personal and business conversations. You may wish to create a backup of such conversations on various OS devices. This article has shown you the available ways to export WhatsApp chat on both Android and iPhone devices. And for a swift move, ChatMover has you covered. It works in few steps and will offer you the original quality of your chats.