The instant messaging app WhatsApp has become an integral part of our daily lives. We use it to keep in touch with our friends, colleagues, and loved ones. Sometimes, we may feel the need to try out a new operating system other than the one we currently use. We want to retain our chats and media on WhatsApp when making the switch. According to your needs, the methods of how to transfer WhatsApp from iPhone to Huawei will be presented.
Part 1.

How to Transfer WhatsApp from iPhone to Huawei for Free

Before introducing this method, you may be wondering whether Huawei Phone Clone transfer WhatsApp. The true thing is, it only supports data transfer between Huawei phones. As to the WhatsApp transfer from iPhone to Huawei, you can transfer WhatsApp messages using the Email Chat feature. It provides an easy method to transfer WhatsApp messages. It allows you to export conversations from your WhatsApp to your email and access it on a new phone.

Some of the downsides of this method are that it exports only a few messages and is time-consuming. If your aim is not to move all your chats but to save the selected conversations, then this method is recommended.

Below are the steps on how to transfer WhatsApp from iPhone to Huawei using the Email Chat.
1

Open WhatsApp on your phone, then go to Settings.

2

Select "Chat" then go to Chat history.

3

Tap on the Export Chat option then select the contact to export.

4

Tap on send "Without Media" when the pop-up message appears, and pick your email service.

5

When the email draft page appears, input the email address you would like to export the chats to, and click on the "Send" icon.
The exported chats will be saved in a .txt file format. Also, your chats can only be transferred as .txt file format which won't allow WhatsApp to access again or restore to your device
Cons
You have to manually export WhatsApp chats one by one.
You can export WhatsApp with no more than 40000 text messages, and no more than 10000 latest messages when exporting with media.
It is time-consuming.
Part 2.

Can I Transfer WhatsApp Messages from iPhone to Huawei Directly

While transferring whatsapp messages via email is troublesome, you can make the transfer directly, as you'll see below.

Transferring WhatsApp messages from an iPhone to a Huawei device is impossible without the use of third-party applications due to the difference and non-compatibility in the operating system. However, with the help of third-party applications, you can quickly transfer your WhatsApp from iPhone to Huawei and retain your chats and media files.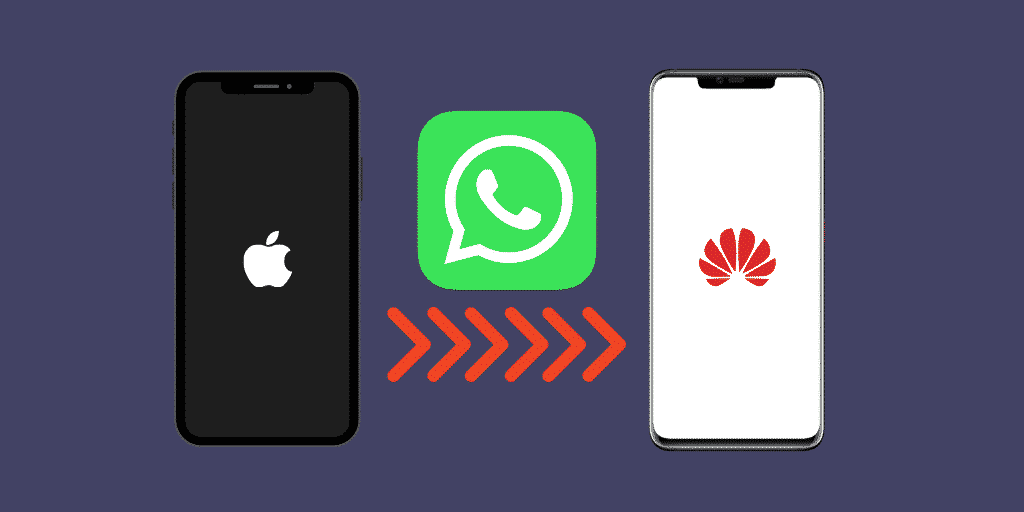 Part 3.

How to Directly Transfer WhatsApp from iPhone to Huawei (P30/P40 Series Supported)

There is no official or free method to directly transfer WhatsApp from iPhone to Android, but with ChatMover, you can conveniently share your WhatsApp from iPhone to Huawei. Note that all iOS (including iOS 15) & Android versions are supported.

The ChatMover has some advantages which make it a top choice to transfer WhatsApp, some of which are listed below:
Directly transfer WhatsApp data from iPhone to Huawei with a few simple clicks.
Allow you to choose a single WhatsApp chat or all conversations to transfer.
Capable of transferring all WhatsApp chats at once.
The data is secured, as there will be no loss of data.

How to Transfer WhatsApp from iPhone to Huawei with ChatMover
Before transferring WhatsApp from iPhone to Huawei P30/940 with ChatMover, you will be required to create a backup of WhatsApp on the "receiving" device to avoid the overwriting of data. Note that the backup functions of ChatMover is free. Below are the detailed steps.
1

Visit the UnicTool's website to download the ChatMover application on your PC.

2

Launch the application, and connect your iPhone and Huawei device to a PC with a USB cable.

3

After connecting both devices to the PC, click on "Start" and select WhatsApp type. The transfer process will commence after this has been completed.

4

When the process is complete, you can check your messages, videos, and photos on the "receiving" device. The method may take a little time due to the size of WhatsApp data.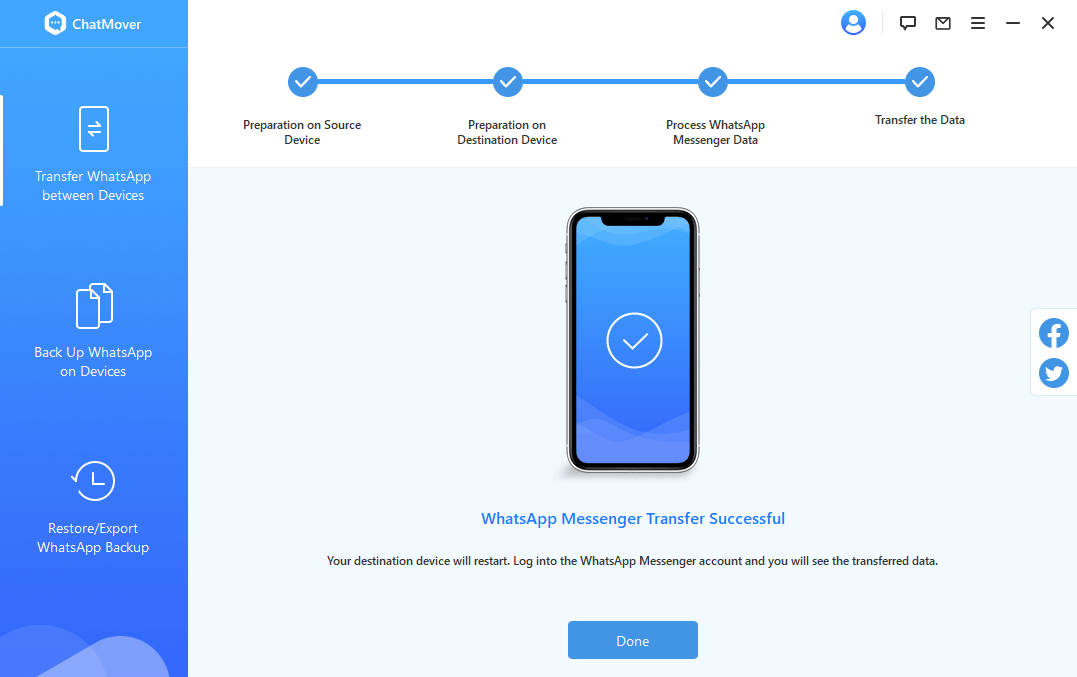 An Extra Tip.

Can I Put WhatsApp on Two Phones?

You can't put WhatsApp on two phones simultaneously. You can only use your WhatsApp account with the number it is connected to on a single device. Keep in mind that do not FREQUENTLY switch your WhatsApp account within different devices, that may result in your account being blocked.
Conclusion
The article discussed how to transfer WhatsApp messages from iPhone to Huawei using various methods. We also introduced ChatMover (also works with iOS 15), an easy way to share WhatsApp chats between two phones irrespective of the operating system. We would like to hear from you, feel free to leave a comment below.