Before you purchase a second-hand iPhone, you could use an online service to check its iCloud Status using the IMEI or serial number. If you find the result is iCloud Status Clean and the Find My iPhone is enabled, then the Activation Lock won't allow you to get access to the device without previous owner's login credentials.
What's the meaning of iCloud Status Clean then? How to do with an iOS device that's iCloud Status Clean and iCloud activation locked? Read on and you will learn about various solutions in this post.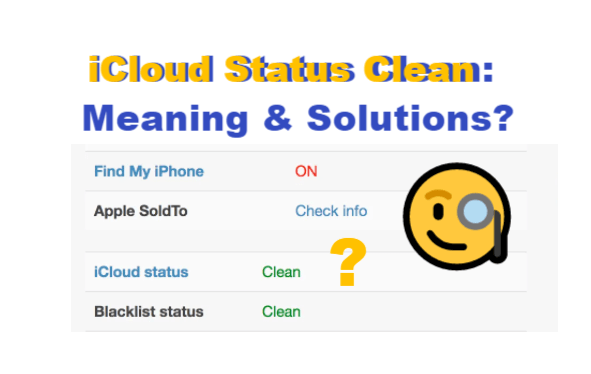 Part 1.

What Does iCloud Status Clean Mean?

iCloud Status clean indicates that your device is registered to an iCloud account and the Find My iPhone feature has been enabled. This would lead to the Activation Lock screen is turned on and you will be required to enter the associated Apple ID and password to log in to the device.

If you're using a second-hand device, then make contact with the former owner so that you could ask them to remotely disconnect the iPhone from their iCloud account. This could disable the Activation Lock on the device. But if you have no way of contacting the previous owner, there's an easier way to help you bypass iCloud Activation Lock efficiently without Apple ID and password.
Part 2.

How To Bypass iCloud Activation Lock When iCloud Status Clean?

Here are three methods for removing the Activation lock Without or with Apple ID and password if your device is iCloud Status clean.
Method 1. Use The Professional Software Unictool Upassit (Without Apple ID And Password)
UnicTool Upassit is ideal for successfully removing the iCloud activation lock from your iOS device. It is functional with every iPhone, iPad, iPod Touch currently on the market.
Following are the unique features of UnicTool Upassit:
Bypass iCloud activation lock screen with no requirement of Apple ID or password.
Remove screen lock without any restrictions.
Turn off Find My [device] without entering the password.
1 register code with unlimited access to all 3 modes.
If you wish to remove the iCloud Activation lock, this UnicTool Upassit will prove to be a helpful tool.
1

Install and UnicTool Upassit on your Mac, then select "Start". Use a USB connection to connect your iOS device with your Mac.

2

For bypassing the iCloud activation lock on iOS devices, UnicTool Upassit requires a jailbreak. Follow the easy guide on-screen to finish the jailbreak method and proceed to the next step.

3

Confirm your device information listed on the screen, and click "Start Bypass". It will only take a few minutes for Upassit to bypass Activation Lock screen.
The activation lock screen associated with the previous owner's Apple ID has now been successfully bypassed. Then you can create a new Apple ID and customize it.
Method 2. Bypass iCloud DNS
A DNS iCloud bypass is a very sophisticated hack that allows you to overcome your device's security if you find its iCloud Status clean, which suggests that it connects someone else's Apple ID password.
It works by configuring your device to use a DNS server that does not rely on the built-in iOS security system.
1

Reboot your iPhone so that it can be set up as a new device.

2

Begin the setup process by choosing your country and language.

3

You will be directed to the Wi-Fi settings and instructed to connect to a network.

4

On the Choose Wi-Fi Network screen, click the "i" next to the Wi-Fi icon of the Wi-Fi network with which you want to connect.

5

Then click on DNS Configuration.

6

Scroll down to where it says DNS and enter the server address:

USA: 104.154.51.7
South America: 35.199.88.219
Europe: 104.155.28.90
Asia: 104.155.220.58
Australia and Oceania: 35.189.47.23
Others: 78.100.17.60

7

After you've entered the DNS IP address, click the Back button on the left side of the screen.

8

Select your Wi-Fi network. Enter the password and click Join in the top right corner.

9

The phone will attempt to activate by displaying a new screen. Don't let it happen; instead, click the Back button to return to the iCloud Bypass screen.

10

Scroll down to Menu and configure all your apps, such as camera, music, and photos.
This method can be effective, but it has its own set of benefits and drawbacks. The following is a breakdown of these advantages and disadvantages:
Pros
You don't need to install any software on the device to use it.
After you activate the device, you can quickly access it and use some of the applications, such as the internet, camera, and games.
This method is entirely free to use.
Cons
This method is just a hack, and it may not entirely unlock the device.
Some customers have noted that the iCloud DNS bypassing method does not always work.
Since it is a method of unlocking the device, you can only access its selective functions. Not all features and applications will be available.
It is only applicable to iOS 8 to iOS 10 devices.
Method 3. Erase The Device From Previous Owner's iCloud Account
If you recently bought an Apple device but discovered there is iCloud Status clean. In other words, you are unable to use it, as the device is linked to the original owner's iCloud account. You will require the help of that person to reset the device and gain access to it. Ask the owner to perform the following steps:
1

Go to iCloud.com and login in if necessary.

2

Choose "Find My iPhone".

3

At the top of the screen, choose "All Devices" and then click on the device to be removed.

4

Select Erase [device name] and the device will be factory reset.

5

Select "Remove from Account" and the Activation Lock will be disabled.
FAQ
What Does iCloud Status Lost/Erased Mean?
If you use an online service to use an iPhone's IMEI information to check the iCloud status and you see details like: FMI: ON (iCloud: Lost / Erased). Then this status indicates that the iPhone has been lost or erased and requires the correct Apple ID and password to turn off the Lost Mode or the Activation Lock.
Usually, a message from the previous owner might appear on the iPhone screen indicating the device is lost. However, "lost" indicates that your device is associated with your iCloud account and has been reported or stolen.
Conclusion
Once checking the Find My Phone and iCloud Status clean and confirming that the device is locked, make sure to use UnicTool Upassit to help remove the iCloud Activation Lock efficiently.