"Hi I am planning to buy an iPhone 5s and when i check the IMEI online it says iCloud status is clean does it mean the phone has iCloud log in to it?"
Some people will check the iCloud status after buying a second-hand iPhone, sometimes they'll encounter" iCloud status clean" but they don't understand what it means. What's the meaning of iCloud status clean then? How to do with an iOS device that's iCloud status clean and iCloud Activation Locked? In this post, we've got evertything you need.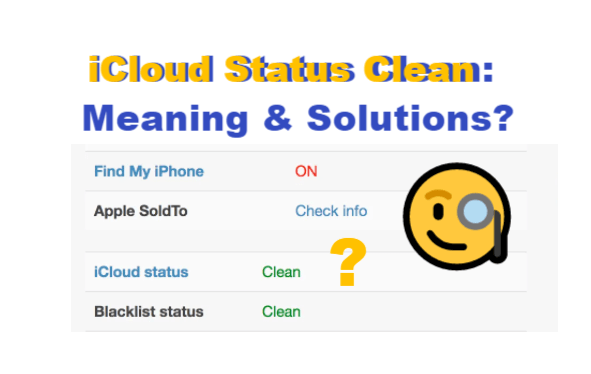 Part 1.

What Does iCloud Status Clean Mean?

iCloud status clean indicates that your device is registered to an iCloud account and the Find My iPhone feature has been enabled. This would lead to the result that Activation Lock screen is turned on and you will be required to enter the associated Apple ID and password to log in to the device.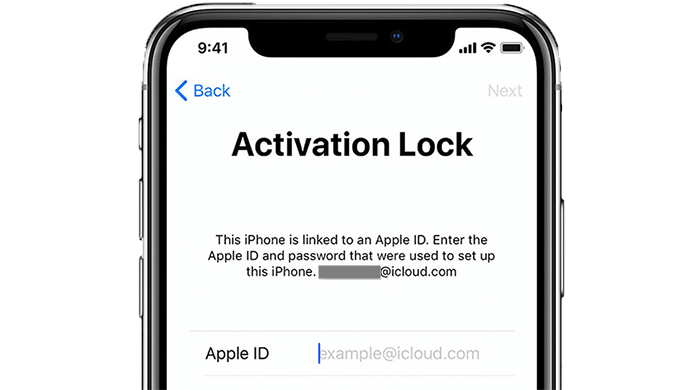 If you're using a second-hand device, then make contact with the former owner so that you could ask them to remotely disconnect the iPhone from their iCloud account, which could disable the Activation Lock on the device. But if you have no way of contacting the previous owner, there's an easier way to help you bypass iCloud Activation Lock efficiently without Apple ID and password.
Part 2.

How to Bypass iCloud Activation Lock When iCloud status clean?

When the device is in iCloud status clean, the Find My iPhone feature is turned on and the device activates the Activation Lock. The buyer needs to bypass the Activation Lock if they want to use the device normally. How to bypass the Activation Lock quickly and efficiently has become the target of many users. If you're struggling with the Activation Lock of iCloud status clean, congratulations, you're on your way to solving the problem.

Here are three methods for removing the Activation Lock without or with Apple IDand password if your device is iCloud status clean.
Method 1. [Recommended] One Click to Bypass Activation Lock
UnicTool Upassit is ideal for successfully removing the iCloud Activation Lock from your iOS device. It is functional with every iPhone, iPad, iPod Touch currently on the market.You don't need to sign in with any Apple ID to bypass the Activation Lock. It only takes a few steps so you just need to follow the instructions. You'll be able to use your device in a few moments.
Remove the Activation Lock screen without Apple ID and password
iDevice won't be tracked by the previous Apple ID.
No technical skills are needed to operate this tool.
1 register code offer unlimited access to all 3 modes.
1

Open UnicTool Upassit

On your computer, install and run UnicTool Upassit, choose "Bypass iCloud Activation Lock Screen" mode and then click "Start". Use a USB cord to connect your iOS device to your computer.

2

Jailbreak Your iOS Device

For bypassing the iCloud Activation Lock on iOS devices, UnicTool Upassit requires a jailbreak. The jailbreaking solutions for Mac and Windows versions are not the same, but they're easy to perform. Just follow the on-screen instructions and let Upassit run the jailbreaking program.

3

Bypass Activation Lock on iPhone

Check your device's information on the page and click "Start Bypass" to proceed. UnicTool Upassit will begin bypassing the Apple Activation Lock on iPhone screen right away.
Without using your Apple ID or passwords, the excellent UnicTool Upassit software will effortlessly enable you to bypass Activation Lock on iPhone, which makes it the best and most effective solution.
Method 2. [iOS 8 to iOS 10] Bypass iCloud DNS
A DNS iCloud bypass is a very sophisticated hack that allows you to cast off your device's security if you find its iCloud status clean, which suggests that it connects with someone else's iCloud account.
It works by configuring your device to use a DNS server that does not rely on the built-in iOS security system.
Step 1. Open your device and navigate to the "Choose a WiFi Network" page.
Step 2. Now press the Home button and select WiFi settings. Now tap the "i" icon right behind your WiFi network. It will show the properties of the WiFi.
Step 3. Select "Configure DNS" and set it according to your region (different regions have different IPs).

Here's a list of the IP Addresses of DNS Servers:

USA: 104.154.51.7

South America: 35.199.88.219

Europe: 104.155.28.90

Asia: 104.155.220.58

Australia and Oceania: 35.189.47.23

Other: 78.100.17.60

Step 4. After that, go back to the WiFi page.
Step 5. Now, click repeatedly on "Next" and "Back" and wait until the device connects to the iCloud DNS bypass server of your region.
This method can be effective, but it has its own set of benefits and drawbacks. The following is a breakdown of these advantages and disadvantages:
Pros
You don't need to install any software.
You can quickly access it and use some of the applications.
This method is entirely free to use.
Cons
Some customers have noted that it does not always work.
Not all features and applications will be available.
Only available on ios 8 - ios 10 devices
Method 3. [With the Previous Owner] Remove the Device From Account Using iCloud
This method is to erase the former user's iCloud account by logging into the iCloud website. So you need to contact the former user to do it. When the previous owner erases the device and removes it from his iCloud account for you, you can gain access to the device without any trouble. Ask the owner to perform the following steps:
1

Go to iCloud.com and login in with the correct Apple ID and account.

2

Choose Find My iPhone.

3

At the top of the screen, choose All Devices and then click on the device to be removed.

4

Select Erase [device name] and the device will be factory reset.

5

Select Remove from Account and the Activation Lock will be disabled.
Pros
You don't need to use any unlocking tools.
The operation process is simple, convenient and quick.
Cons
You have to contact the original owner to operate, which may take time.
The device locked by Activation Lock needs steady Internet connection.
Bonus

:What Can You Do When iCloud Status Lost?

If you use an online service to use an iPhone's IMEI information to check the iCloud status and you see details like: FMI: ON (iCloud: Lost / Erased). Then this status indicates that the iPhone has been lost or erased and requires the correct Apple ID and password to turn off the Lost Mode or the Activation Lock.

Usually, a message from the previous owner might appear on the iPhone screen indicating the device is lost. If you want to solve this problem, UnicTool Upassit also has the function to unlock screen and bypass Activation Lock, you just need to follow the process and it will be solved successfully.
FAQ About iCloud Status
Q: What does it mean if Find My iPhone status is on?
Find My iPhone status on just means thatyou can log into your Apple ID on a PC or tablet and locate your device on a map. When the device is lost or stolen, the device activates the Activation Lock to prevent anyone who finds your phone from using it and makes sure that you can know where your device is.
Q: Is iCloud lock removal possible?
The answer is a resounding yes, If you're having trouble with iCloud Lock, try UnicTool Upassit. You just need to follow the steps, it only takes you a few moments and then you can easily remove the activation lock.
Q: How do I check iCloud status on iPhone?
Go to IMEI.info. You will need to provide your IMEI number, and you can easily check it by dialing "*#06#" or go to Settings > General > About. Tap Check and select FMI & iCloud Status.You will be entitled tocheck whether the iCloud status is on.
Conclusion
If you are wondering what exactly does iCloud status clean mean and how to solve the corresponding problem, this article has told you everything that you want to know. We highly recommendUnicTool Upassit whichcan help youbypass Apple ID Activation Lock when the device is in iCloud status clean. As it's convenientand simple to operate, we believe that it will be a good partner for you to have a good iPhone user experience.