Apple has made several improvements to the Maps in iOS 16 which makes it more convenient for users and offers more premium experience. Here in this article, we are going to introduce and reveal those new features you need to know about Apple Maps. What's more, we have also provided a guide on a hot topic recently - how to fake location on iPhone. Therefore for all the relevant information, you won't have to surf anywhere but to stay with us as long as you need to! Let's get started!
Part 1.

New Features of Apple Maps on iOS 16
More Detailed Road Information
Compared with before, the Apple Map now provides more detailed road information for safe and smooth traveling. It now has crosswalks, turning lanes, and bike lanes with clear images so that you can know exactly where you are going and which lane you should follow.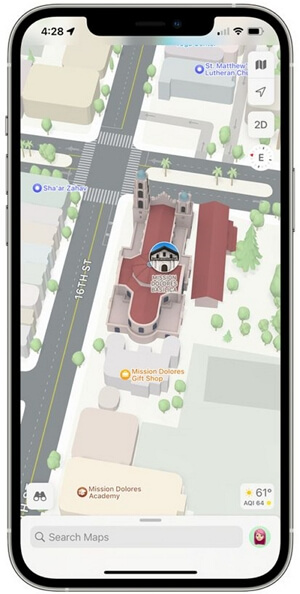 The best thing that we love about the recent update is that when it becomes difficult to navigate, Maps automatically shift over into the street-level perspective, to cut down on the confusion. Isn't it a remarkable thing?
3D Landmarks
Apple Maps has increased the detail in select cities in iOS 16, too. There are 3D representations of landmarks such as Golden Gate Bridge, as well as roads, neighborhoods, trees, and buildings.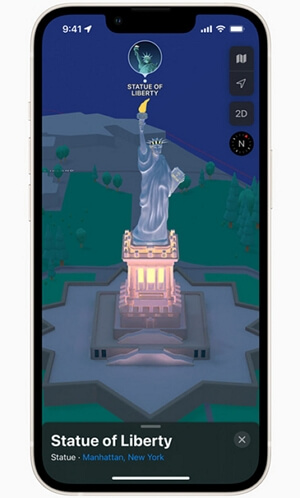 New York, Los Angeles, and London all have 3D landmarks and high levels of detail. As soon as the feature is available in more cities, Apple will also render its Infinite Loop and Apple Park campuses in 3D.
You will feel even more reliable after getting dark mode and night mode in the Apple Maps that gives the directions a fresh look.
AR Walking Instructions
iPhone's rear camera can display walking directions using AR mode, similar to Google Maps. iOS 16 includes augmented reality walking directions, making it easier to navigate in tricky situations, especially when directions aren't obvious. If you are walking, you can enter the AR mode by scanning the buildings around you when prompted after initiating a route.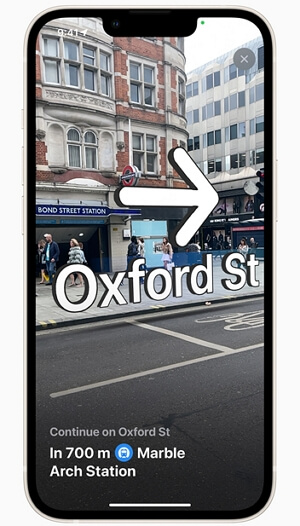 iPhones with an A12 chip or later are required to receive AR walking directions. The iPhone XS, XS Max, and XR, which debuted in 2018, were the first devices to use the A12 chip. To put it another way, the augmented reality feature is compatible with iPhone 2018 and newer.
Globe View
The new iOS 16 lets you spin around the world and dig into new areas if you continue zooming out until you cannot zoom out any farther. In iOS 16, we have the option to zoom out to a globe, but prior to that, it was merely a world map.
A smoother scrolling interface and better pinch in and pinch out gestures make the Globe view easier to use than the earlier world map. The view has been enhanced by Apple with more information about mountain ranges, deserts, forests, and oceans. You can find details about Mount Everest in the Himalayan region, such as its elevation, distance, coordinates, and more if you zoom into the area. Photographs and guides are also available for Mount Everest.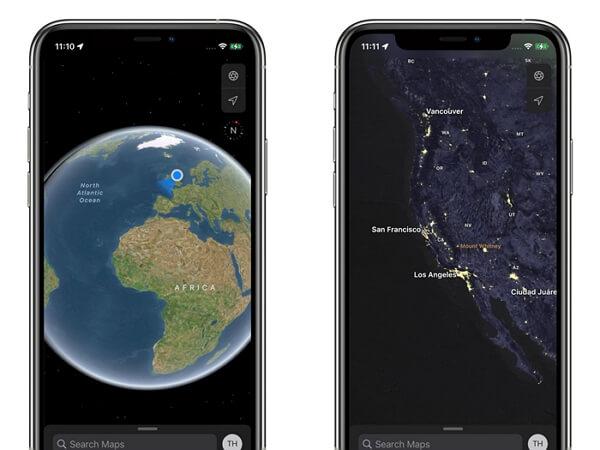 New Place Cards
The place cards in Maps are fresh new in iOS 16. For various places like landmarks and restaurants, Maps offers much more details than before including nearby places, guide availability and physical features like mountain ranges. In addition, Apple is still using Yelp to pull in information like reviews. All those facts make the redesigned place cards more convenient for everyday use.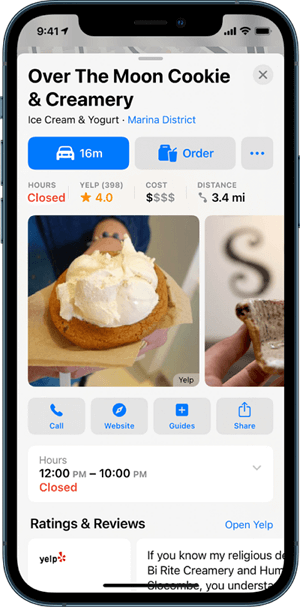 Nearby Transit
In the updated Maps, users can get a more detailed view that shows major bus routes. Frequent transit riders can see all of the departures near them and pin their favorite lines so they can always show at the top in the application.
While on public transit, users can easily see and interact with the routes in a one-handed operation mode, which is useful when they have to stand on the bus or subway. As a stop approaches on public transit, Maps will also send a notification so users can get well prepared and avoid missing the stop.
Guides Home
Guides Home is a new section in Apple Maps you can explore at any time. There you find editorially curated guides with tips on what to do in a city where you live or are visiting.
Drag the main menu card up to bring it up. Scroll sideways to find Apple's current recommended guides in the section titled "Editor's Picks". For access to Apple's main Guides page, tap "Explore Guides".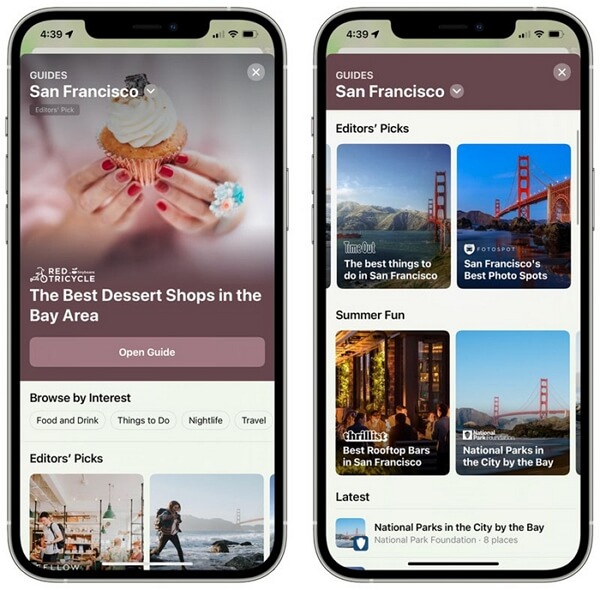 After scrolling down a bit, you'll see a section for searching by the publisher. You can switch between city guides worldwide and city guides grouped by continents by tapping the chevron at the top of Guides Home.
The guide gives you more details about the places by tapping on them, or you can scroll down and check out the brief descriptions of each place. You'll see a map below the editorial once you open the guide.
Bonus:

How to Fake Location on iPhone?

Now that we've known so much details about the updates in Maps, it's time to provide a bonus tip. Apart from the built-in features of Maps, sometimes users pay much attention to the GPS location itself. And faking location is now somewhat a trend among people.

People fake location for various reasons: to match with users in other regions on dating platforms, to get ahead in AR games such as Pokémon GO, to stop others from tracking their real location, to play funny tricks with friends by showing spoofed location on social media, etc. Whatever the motivation is, faking location on iPhone is not a difficult thing, for TailorGo has made it easier than ever before.

With this comprehensive location changer TailorGo, you can fake your location on social media platforms like Facebook, Whatsapp, Snapchat, Instagram, and Twitter. Moreover, you can move virtually in location-based games without moving physically. In a word, TailorGo gives you full control over your GPS location.
Change your GPS location to literally any location in the world.
Simulate GPS movement so that you can move virtually along customized routes.
Applicable to all location-based platforms: Tinder, Grindr, Facebook, WhatsApp, Pokémon GO, etc.
Multi-functional and easy-to-use at the same time.
Support both Android and iOS system (including iOS 16).
Free trial is available for every user.

1

Download, install and launch TailorGo on your computer. Click the "Get Started" button and have your device connected.

2

To change location, choose the Teleport Mode and select a destination. To simulate GPS movement, choose either the Two-Spot Mode or Multi-Spot Mode, then plan a route to move along, including the moving speed, direction, and moving times.

3

TailorGo will change your location in no time,or complete the movement as planned smoothly.