Even though Pokémon GO was released in 2016, its craze has still not subsided. The fact that its gameplay was different and unique added fuel to its trend. You can catch rare Pokémon, go on Raids, and even try hatching eggs in the game. But did you know that there's another way to get Pokémon ? Yes, there is one – and it's trading!
Pokémon GO has been a staple of the gaming world for years now, but most people don't know that there are ways to trade Pokémon in Pokémon GO. The trick is getting your hands on someone who lives far away so you can trade rare Pokémon with them and complete your Pokédex. This makes trading a very crucial aspect of the game.
But can you trade with someone who is only a few steps away or with anyone across the world? This guide will tell you everything you need to know about trading in Pokémon GO and how to maintain or even fake that specific distance for trading.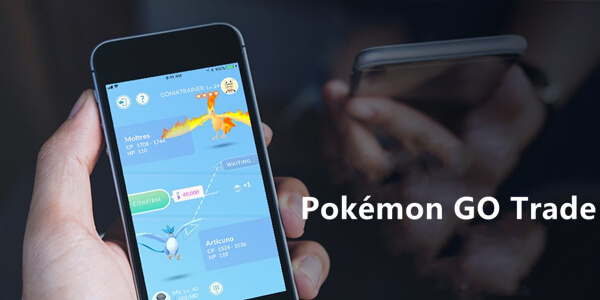 Part 1.

What Is the Pokémon GO Trade Distance?
1. Pokémon GO Trade
Apart from the game itself, Pokémon GO is a great way to meet new people and engage with them. One of the ways that players can be friends with each other in Pokémon GO is by trading. Trading has been one of the most sought-after features of Pokémon GO. The Pokémon GO trade enables you to trade your favorite Pokémon with fellow players. But before you start trading your favorite pocket monsters, there are some restrictions and considerations to make sure everything goes smoothly.
One of those restrictions is the range or distance between you and another player with whom you want to trade. It is not unlimited and has a set range. The game enables you to trade Pokémon with other players only within that specific distance. That is to say, you can't trade any Pokémon with others if they exceed that physical distance from you. That range is the Pokémon GO trade distance.
2. Pokémon GO Trade Limitations and Requirements
1

Trainer Level: Your trainer level has to be above 10 to unlock trading in your Pokémon GO app.

2

Pokémon Type: Certain mythical Pokémon, like Mew, cannot be traded at all.

3

Distance: One restriction, in particular, makes this trading more challenging: the distance between two players. It has to be strictly within the limit. These restrictions also work on region-exclusive Pokémon. You can't trade such Pokémon outside of their set regions.

4

Number Of Trades: Pokémon can only be traded once. That's because their HP and CP change with each trade. This restriction will stop players from continuously re-trading the Pokémon to increase their stats.

5

Pokémon GO Friends: To trade with another player, you both have to be Pokémon GO friends. Otherwise, you'll not be able to trade even if you are in close physical proximity.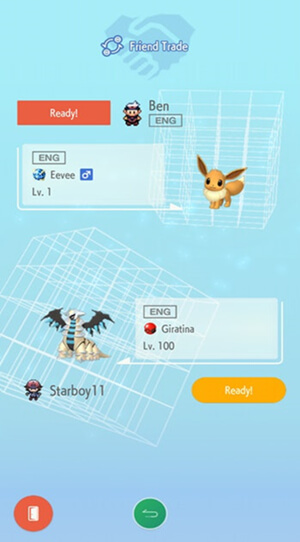 Part 2.

How Long Is the Pokémon GO Trade Distance?

The max trade distance in Pokémon GO is 100 meters or 300 feet under normal circumstances. This range is pretty small, and you will get frustrated most of the time for not finding somebody close enough to trade your Pokémon with.

However, during special events and holidays, this range is increased by the game developers. For instance, on Thursday, 12th November 2020, Niantic announced that the trade range distance in Pokémon GO would be increased for a short period. The Pokémon GO trade range was then increased to 12km, which meant that players could trade with any of their friends who were within that set range. However, this extended range event only ran for 4 days before the default range of 100 meters was set again.
Part 3.

How to Trade in Pokémon GO?

Now that you know about the exact trade distance, let's delve deeper into the art of trading in Pokémon GO. Here's every step you need to follow if you want to trade your precious Pokémon with any othet Pokémon GO player in the game.
Step 1. First of all, ensure that you are friends with each other in the game. Otherwise, add them to your friend list by tapping the other player's picture and then selecting "Add Friend".

Step 2. The second thing to take care of is the distance. Make sure that the physical distance between the two of you does not exceed 100 meters.
Step 3. You must also have some Stardust (an in-game resource) to trade the Pokémon. Stardust is used to evolve, trade, and power up your Pokémon.
Step 4. Now go to your friend list and select that friend. After that, you'll have the option to choose the Pokémon that you want to trade.
Step 5. Once you select a Pokémon, a confirmation prompt will be shown to both of you. It will also mention the amount of Stardust required to complete the trade.
Step 6. Tap on "Next" on that prompt to complete the trade.
Part 4.

Can You Trade Pokémon With Friends Far Away?

The Pokémon GO trade distance problem is a bit of an inconvenience for users in remote areas, where not many people play the game, and they can't add others to trade Pokémon due to distance restrictions. Unless there is any special event running, one will certainly not be able to trade Pokémon with friends in another city or country.

How about using a location spoofer that can help you change your location and get you trade Pokémon without any distance limitations? That is what TailorGo is all about. It can teleport you to any place in the game so that you can trade powerful Pokémon with your friends all over the world, without being restricted by the trade distance at all.
Change your location to any place on Pokémon GO with a few clicks.
Help you trade Pokémon with anyone and end the fate of being limited by distance.
Get you move virtually in the game along customized route.
Work smoothly on all location-based apps: Bumble, Tinder, Life360, Pokémon GO, etc.
Extremely high success rate and low risk of being detected if properly used.
Compatible with both iOS (including the latest iOS 15) and Android devices.
Free trial is available to every new user.

1

Download, install and launch TailorGo on your computer. Get your device connected, then click the "Get Started" button to begin.

2

There are 3 different modes: Teleport Mode, Two-Spot Mode and Multi-Spot Mode. To simply change location, choose the 1st one and select the destination. Then click the "Move" button. To move virtually in the game, select either the 2nd or 3rd mode and plan a route to move along.

3

Your location in Pokémon GO will be changed easily; or the movement will be completed the way you planned.
Conclusion
Trading is a crucial part of Pokémon GO gameplay. However, you can only trade with fellow players if they live nearby, or to be more specific, within 100 meters.
But this doesn't mean that trading from longer distances isn't possible! Use TailorGo, fake your location and be the best trainer with a fantastic Pokémon collection by trading them with others, regardless of the distance limitations.