Who knew you could make billions telling stories just by using a corpse voice? YouTuber Corpse Husband has done just that, and his career and success is fascinating to many. He began by telling horror stories using his low voice. Now he is also known for posting live streaming of his games. His unique name is due to his voice which resembles what you would imagine a corpse would sound like.
The fascinating part is that he doesn't use any corpse voice changer! Keep reading further below to know why Corpse Husband's voice sounds the way it does.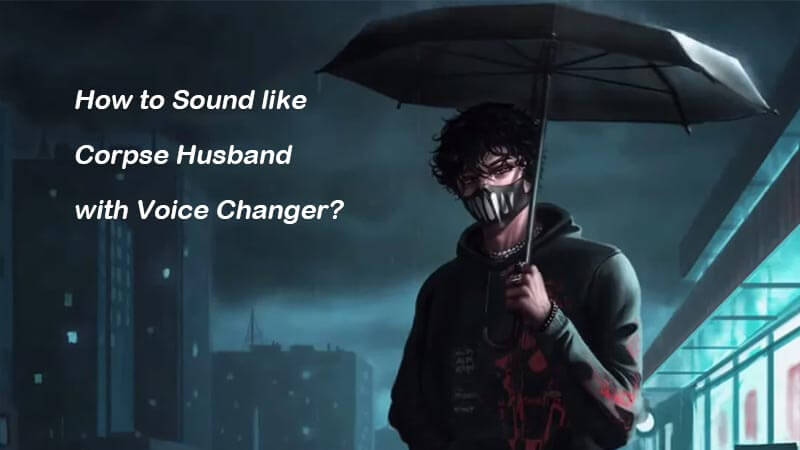 Part 1.

Why is Corpse Husband Voice so Deep?

What made Corpse Husband achieve his success so quickly? His voice! But why is corpse voice so deep? Corpse Husband's voice has been the key to his entire career. It is also why so many people got attracted to religiously watching his videos. When his viewers learned that his voice was not made up, they got even more curious. It was till the YouTuber revealed the reason behind his low deep voice.

Corpse Husband has had the same voice that he uses in his videos since the age of 12. He explained via a Q&A session on Instagram that his voice has resulted from genetics and a health condition called GERD. This medical condition stands for gastroesophageal reflux disease. In this, the stomach acid connects the mouth and the stomach. This makes the individual breath in their stomach acid.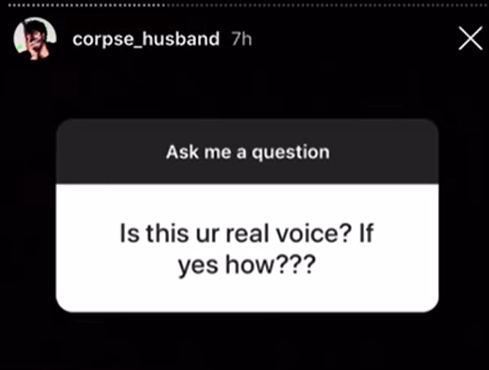 Corpse Husband has had the same voice that he uses in his videos since the age of 12. He explained via a Q&A session on Instagram that his voice has resulted from genetics and a health condition called GERD. This medical condition stands for gastroesophageal reflux disease. In this, the stomach acid connects the mouth and the stomach. This makes the individual breath in their stomach acid.
Apart from GERD, the YouTuber also suffers from sleep apnea and fibromyalgia. All these health conditions have resulted in his hoarse voice. Corpse Husband's experience with GERD has been different than others. It is because his vocal cords have become severely irritated because of the stomach acid. His voice is to get deeper with time.
Corpse Husband found the silver lining and used his medical condition to form such a successful career. The YouTuber has faced deaths numerous times that led him to quit his career at some time. Thanks to his growing online presence and the pressure of his fans, Corpse Husband has returned every time!
Have you always been fascinated by Corpse Husband's voice and wanted to sound like him? Well, now here is your chance to sound like a corpse in a deep voice. You can use that voice to prank your friends, play video games, or talk to people via social media. All by simply using a voice changer!
Part 2.

Best Corpse Voice Changer to Get a Deep Voice

To save you the trouble, we'll talk about the best corpse voice changer apps. Each one of these can make you sound like a corpse within seconds.

UnicTool MagicVox is the best voice changer out of the ton. Ever since its launch, MagicVox has made sure to exceed everyone's expectations. The app features over two hundred voice filters to choose from. Not only that, but it also offers its users tools and features that have not yet been seen on any other app. You will get to change your voice according to your taste and get your customized corpse voice!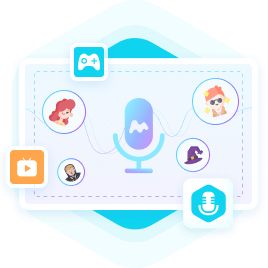 A Real-Time Voice Changer
Features Voice Memes: MagicVox features voice memes that allow you to use and import them into your devices. This way, you can have fun while playing video games or doing any other activity!
Soundboard System: When it comes to voice changers, you must have the option to choose from sound effects. These effects will make your voice more thrilling and scary. They enhance the sound quality by making it more appealing and fascinating. MagicVox features over three hundred sound effects!
VoiceStudio: Voice studio lets you adjust your voice by giving you control over various things. Through voice studio, you can make your very own unique corpse voice.
Pros
Massive variety of sound effects to choose from
The option to customize your voice
Tools to make your user experience more fun
Excellent support team to answer your queries any time
Cons
Most of its features are open to the pro version only
The pro version can be costly to some people
Comment
Apart from its subscription fee, nearly everything about this app is perfect. You will hardly find anything that is not according to your liking.
Are you looking for a voice changer that will prove to be compatible with nearly every device? Then Clownfish is the one to choose. This voice changer is one of the best and highly in-demand voice changers out there. Once installed, it will work on every app that you already have on your device that makes use of a microphone and headphones.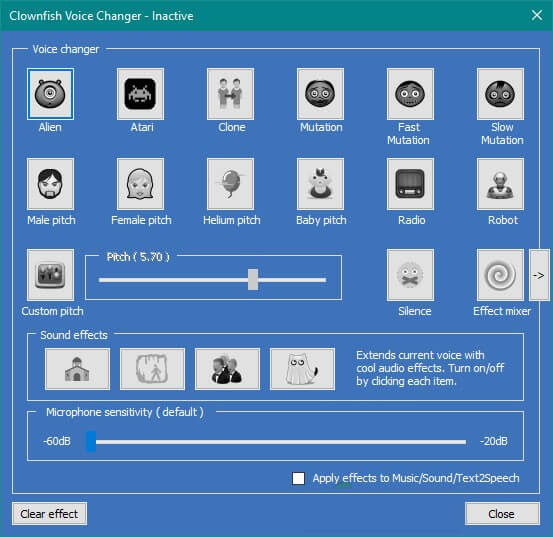 Key Features
Clownfish has been ranked one of the best for a reason. Here are some of them:
Virtual Studio Technology: Clownfish features VST, which allows you to change your voice to the best sound quality.
Built-In Music Player: Clownfish features a music player that helps you add music in the background along with your voice. This can prove to be a fun way to create your own sound.
It Is Versatile: This voice changer app is very versatile. You can not only use it to have fun but also for work purposes.
Pros
Compatible on multiple devices
Easy to use
It can be used on various apps
Cons
Its set-up is quite tricky. Non-tech users will not find it easy
Comment
Clownfish is a great choice to make your voice sound like a corpse. It has fun sound effects and has left many users satisfied! You can use this application in combination with other platforms to generate outstanding audio.
When using a voice changer app, you want something that can change your voice how you want. Along with that, you also want your newly mimicked voice to sound as authentic as possible. For that, VoiceMod is one of the best voice changer apps.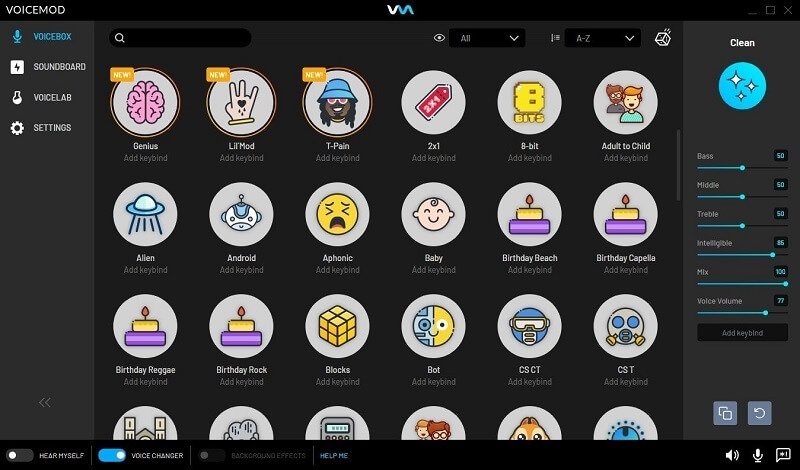 Key Features
Here are some features of the app that will make you want to install it as soon as possible:
Allows You to Customize Your Soundboard: This feature of VoiceMod has not yet been seen on any other voice changer. VoiceMod lets you choose which tools you want on your soundboard to create the perfect voice.
Let's You Customize Voice Filters: What is more exciting than using a corpse voice changer? Getting to make your voice filter! So even if you don't find the corpse voice of your taste, you can always create your very own!
Introduces Sound Effects Every Month: VoiceMod stays in touch with the latest trends to bring its users the best tools.
Pros
Brilliant sound quality
Features a voice modifier
You can create your own AR filters
Cons
Some features are not available to non-premium users
Restricted to the limited features in free-version
Comment
VoiceMod lets you create fun and hilarious moments in just a matter of seconds. The freedom it allows you have over your voice is outstanding. However, that can only happen if you are a premium user of VoiceMod.
Part 2.

How to Sound like Corpse Husband with Voice Changer?

Many people believe that using a voice changer can be difficult. However, it won't be difficult if you follow the proper guidance and follow all the steps! Here is how you can make your voice sound like Corpse Husband by using the MagicVox voice changer. If you choose any other voice changer, the steps will be followed similarly there too.
Download UnicTool MagicVox on your PC.
Next, set the app on your device by following the instructions in front. When that is done, select the microphone as the input device and headphone as an output device.

Click on Settings, and set the WDM (voice changer virtual audio device) as the default input device. This will allow your device to work in sync with the app.
Choose the voice filter of your choice and speak into the microphone. After a few seconds MagicVox will play your voice in the filter you chose. If you want to sound like Corpse Husband, you should select Deep Voice Filter or you can custom your low voice in "VoiceStudio".

After that, be ready to use your corpse voice in whatever way you like!
Conclusion
Who knew sounding like the Corpse Husband would be so easy? To make your voice sound precisely like Corpse Husband, UnicTool MagicVox should be your first choice. MagicVox is, without a doubt, the best corpse voice changer out there. It lets you have full control over your voice. In the end you will find your own customized corpse voice!
Play video games, interact with people online, or do prank calls on random people using a corpse voice! You can even use one during Halloween and spook everyone around you!