Who knew you could make billions telling stories just by using a corpse voice? YouTuber Corpse Husband has done just that, and his career and success is fascinating to many. He began by telling horror stories using his low voice. Now he is also known for posting live streaming of his games. His unique name is due to his voice which resembles what you would imagine a corpse would sound like.
The fascinating part is that he doesn't use any corpse voice changer! Keep reading further below to know why Corpse Husband voice sounds the way it does.
This article aims to provide an overview of 3 Corpse Husband AI voice changers, as well as a Corpse Husband text to speech generator. We will delve into the key features, pros & cons of each product in order to help you make an informed choice.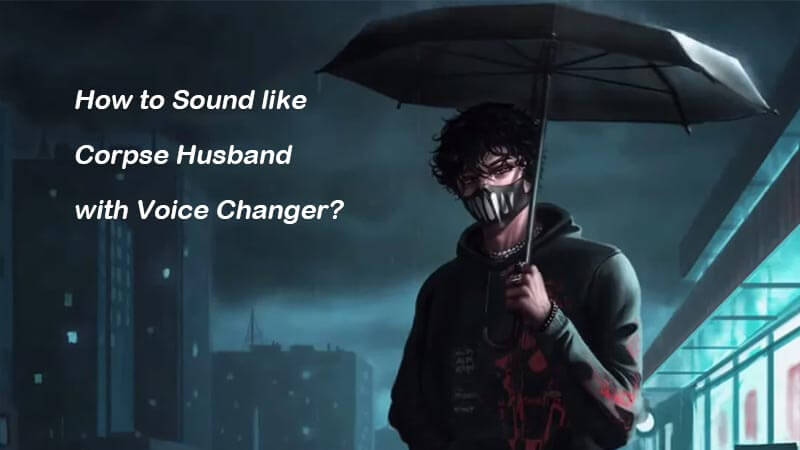 Part 1.

Why is Corpse Husband Voice so Deep?

What made Corpse Husband achieve his success so quickly? His voice! But why is corpse voice so deep? Corpse Husband's success can be attributed to his unique and deep voice, which has attracted many devoted viewers to his videos. His voice has been a key factor in his career, and when viewers learned that it was not artificially created, their interest in him grew even more.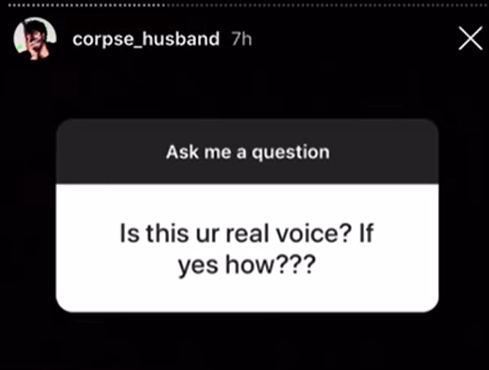 Corpse Husband's voice has been deep since the age of 12, and he attributes it to both genetics and a medical condition called GERD, which causes stomach acid to irritate the vocal cords. In addition to GERD, he also suffers from sleep apnea and fibromyalgia, which contribute to his hoarse voice. Despite facing numerous challenges, including health issues and near-death experiences, Corpse Husband has persevered and built a successful career using his unique voice.
Have you always been fascinated by Corpse Husband's voice and wanted to sound like him? Well, now here is your chance to sound like a corpse in a deep voice. You can use that voice to prank your friends, play video games, or talk to people via social media. All by simply using a voice changer!
Part 2.

Best Corpse Voice Changer to Get a Deep Voice

To save you the trouble, we'll talk about the best corpse husband voice changer apps. Each one of these can make you sound like a corpse within seconds.

UnicTool MagicVox is the best voice changer out of the ton. Ever since its launch, MagicVox has made sure to exceed everyone's expectations. The app features over two hundred voice filters to choose from. Not only that, but it also offers its users tools and features that have not yet been seen on any other app. You will get to change your voice according to your taste and get your customized corpse voice!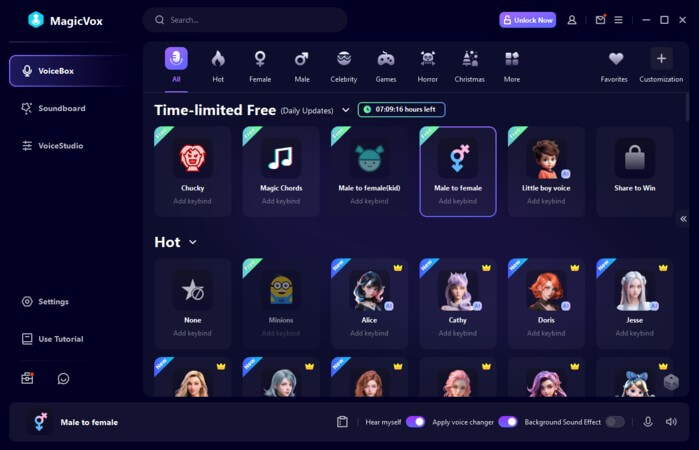 Key features:

Real-time Voice Modification: With just one click, change your voice in popular gaming platforms like Discord, VRChat, Zoom, Google Meet, Roblox, OBS, DAWs, YouTube, TikTok and more.

With over 600 voice effects, 400+ soundboard options, and 200+ voice memes, include many deep or scary male voice effects.

Different voices and effects: MagicVox offers a wide range of voices and sound effects that you can choose from to modify your voice, including corpse husband, Anime, Demon,robot, alien, female, male, and others.

Voice Customization: Craft distinctive and personalized voice presets by fine-tuning various parameters, allowing you to showcase your unique and one-of-a-kind voice.

Compatibility: It effortlessly integrates with popular communication and streaming platforms, allowing you to use the voice changer during voice calls, live streams, and other interactive activities.

Hotkeys and Shortcuts: MagicVox enables easy control of voice effects using customizable hotkeys and shortcuts, making it simple to switch between different voices on the fly.

It also supports file voice change and record voice change.
Watch The Video Below To Know More About MagicVox Corpse Voice Changer
Pros
Massive variety of sound effects to choose from
The option to customize your voice
Tools to make your user experience more fun
Excellent support team to answer your queries any time
Cons
Most of its features are open to the pro version only
The pro version can be costly to some people
Comment
Apart from its subscription fee, nearly everything about this app is perfect. You will hardly find anything that is not according to your liking.
Are you looking for a voice changer that will prove to be compatible with nearly every device? Then Clownfish is the one to choose. This voice changer is one of the best and highly in-demand voice changers out there. Once installed, it will work on every app that you already have on your device that makes use of a microphone and headphones.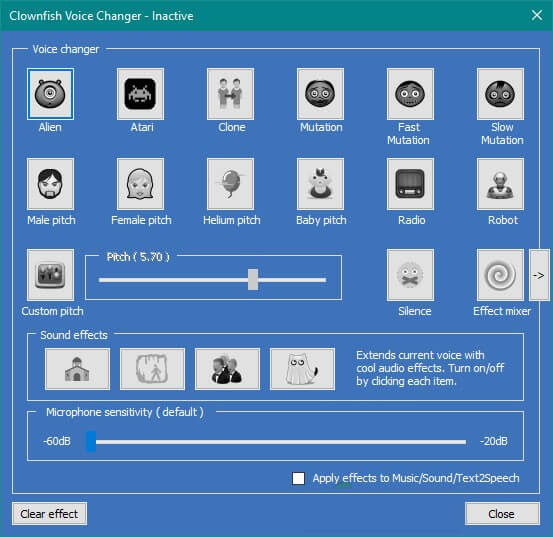 Key Features
Clownfish has been ranked one of the best for a reason. Here are some of them:
Virtual Studio Technology: Clownfish features VST, which allows you to change your voice to the best sound quality.
Built-In Music Player: Clownfish features a music player that helps you add music in the background along with your voice. This can prove to be a fun way to create your own sound.
It Is Versatile: This voice changer app is very versatile. You can not only use it to have fun but also for work purposes.
Pros
Compatible on multiple devices
Easy to use
It can be used on various apps
Cons
Its set-up is quite tricky. Non-tech users will not find it easy
Comment
Clownfish is a great choice to make your voice sound like a corpse. It has fun sound effects and has left many users satisfied! You can use this application in combination with other platforms to generate outstanding audio.
When using a voice changer app, you want something that can change your voice how you want. Along with that, you also want your newly mimicked voice to sound as authentic as possible. For that, VoiceMod is one of the best voice changer apps.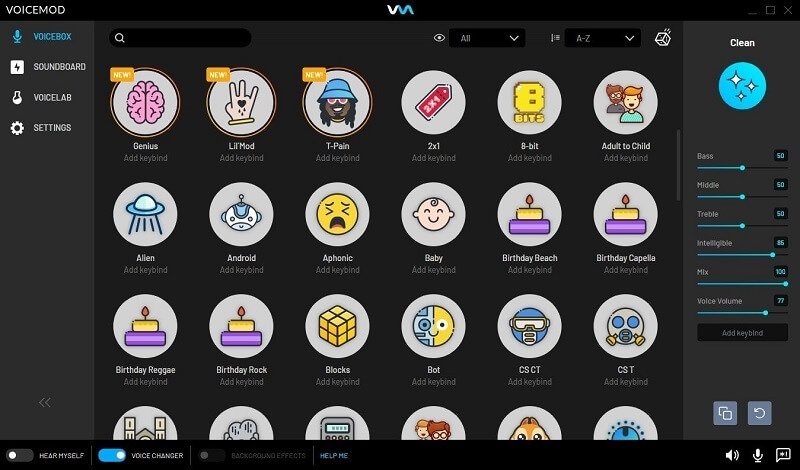 Key Features
Here are some features of the app that will make you want to install it as soon as possible:
Allows You to Customize Your Soundboard: This feature of VoiceMod has not yet been seen on any other voice changer. VoiceMod lets you choose which tools you want on your soundboard to create the perfect voice.
Let's You Customize Voice Filters: What is more exciting than using a corpse voice changer? Getting to make your voice filter! So even if you don't find the corpse voice of your taste, you can always create your very own!
Introduces Sound Effects Every Month: VoiceMod stays in touch with the latest trends to bring its users the best tools.
Pros
Brilliant sound quality
Features a voice modifier
You can create your own AR filters
Cons
Some features are not available to non-premium users
Restricted to the limited features in free-version
Comment
VoiceMod lets you create fun and hilarious moments in just a matter of seconds. The freedom it allows you have over your voice is outstanding. However, that can only happen if you are a premium user of VoiceMod.
Part 3.

How to Sound like Corpse Husband with Voice Changer?

Many people believe that using a voice changer can be difficult. However, it won't be difficult if you follow the proper guidance and follow all the steps! Here is how you can make your voice sound like Corpse Husband by using the MagicVox voice changer. If you choose any other voice changer, the steps will be followed similarly there too.
Download UnicTool MagicVox on your PC.
Next, set the app on your device by following the instructions in front. When that is done, select the microphone as the input device and headphone as an output device.

Click on Settings, and set the WDM (voice changer virtual audio device) as the default input device. This will allow your device to work in sync with the app.
Choose the voice filter of your choice and speak into the microphone. After a few seconds MagicVox will play your voice in the filter you chose. If you want to sound like Corpse Husband, you should select Deep Voice Filter or you can custom your low voice in "VoiceStudio".

After that, be ready to use your corpse voice in whatever way you like!
Part 4. Also Recommended: Corpse Husband Text to Speech Voice Generator
With over 3200+ voices spanning the spectrum from youtubers, celebrities, rappers to singers, politicians, and even cartoon characters, VoxMaker Text to Speech propels your vocal creativity into uncharted territories.
Just enter the text you want, and VoxMaker can quickly generate the voice of corpse husband. Whether you want to create a voiceover for your funny video or add a unique voice to your social media content, it can satisfy you creative needs.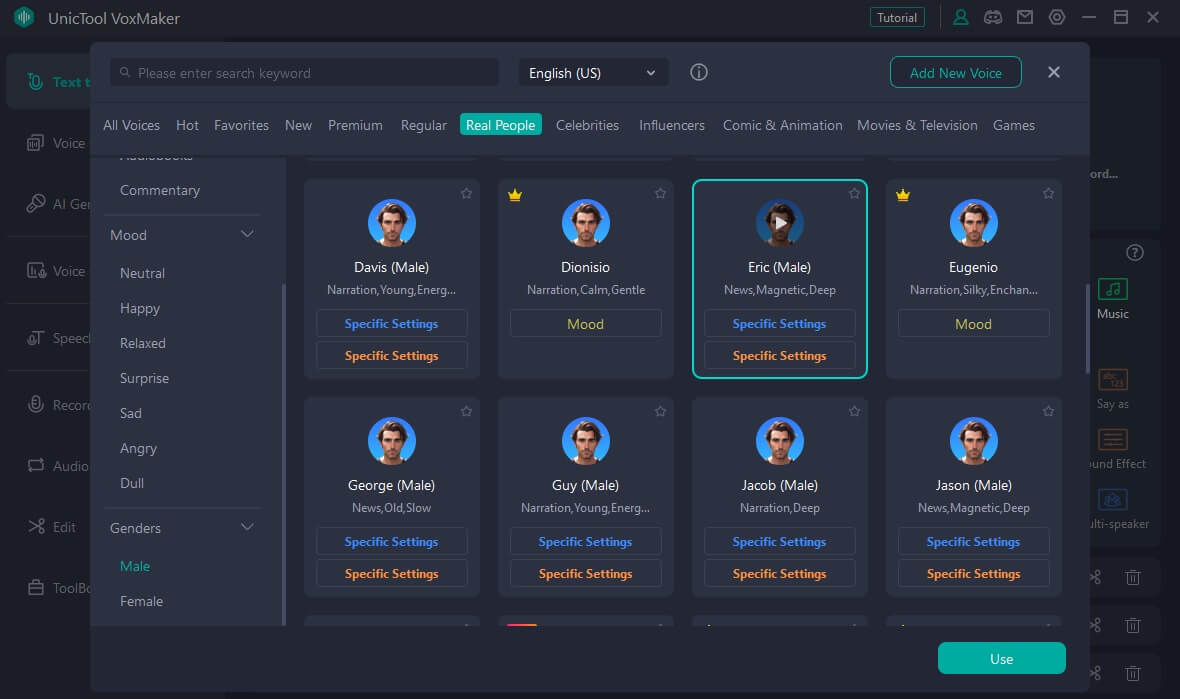 Text to Speech AI Voice Generator
Try VoxMaker with 3200+ voices free.
Key Features:
Access a diverse range of 46+ accents globally, including Chinese, Spanish, Japanese, French, and more.
Generate 3200+ text-to-speech voices, including the voices of corpse husband.
Edit audio clips extensively by clipping, deleting, cutting, and trimming.
Modify audio with personalized settings such as Pause, Pitch Emphasis Volume, and Speed.
All-in-one Voice Toolkit: Users can enjoy functionalities such as speech to text, AI-Generated Rap, AI voice cloning, audio to speech, and as a voice recorder.
How to Generate Corpse Husband AI voice?
Step 1: Download and install VoxMaker
Step 2: Navigate to the "Text-to-Speech" option in the left sidebar, then click "change voice" button to pick the voice that suits your preference.

Step 3: Click on "Convert" , and then you can export the speech into different formats.
Part 5. FAQs about Corpse Husband AI Voice
What is Corpse Husband AI Voice, and how does it work?
Corpse Husband AI Voice is a technology that mimics Corpse Husband's voice by analyzing his speech patterns and characteristics.
Can I customize Corpse Husband AI Voice?
Yes, you can adjust parameters like pitch and speed to customize the voice to your liking.
Where can Corpse Husband AI Voice be used?
It's commonly used in content creation, voiceovers, storytelling, and enhancing virtual assistants or chatbots.
Conclusion
Who knew sounding like the Corpse Husband would be so easy? To make your voice sound precisely like Corpse Husband, UnicTool MagicVox corpse voice generator should be your first choice. MagicVox is, without a doubt, the best corpse voice changer out there. It lets you have full control over your voice. In the end you will find your own customized corpse voice and corpse soundboard!
Play video games, interact with people online, or do prank calls on random people using a corpse voice! You can even use one during Halloween and spook everyone around you!