If you are a Fortnite geek, then you may know Tiko. He is a YouTuber that got famous by filming Fortnite videos using a voice changer. This 16-year-old American boy Jayden debuted on YouTube on August 30, 2017. He is known for his hilarious and captivating humor that draws the attention of many viewers.
He uses a baby voice filter known as Tiko Voice Changer on his voice to sound like a 7-year-old child. His initial career mostly had Jayden's original voice recording videos while gaming. Around 2019, he went viral for using a voice changer to record his Fortnite gaming videos. Wait, that's not the end. He also produced that has millions of views. His recent song "fishy on me" has been a massive hit and has over 120+ million views. The song is a perfect blend of fantastic and catchy beat combined with his baby voice singing witty lyrics. You can watch it on YouTube; I'm sure you'll love it.
So, a question crosses my mind what the main reason for Tiko's success is? Well, to be honest, it is pure hard work, obviously, and a genius idea to use a voice changer for recording game videos that worked as a critical factor for his success. Also, if you want to know how he creates that baby voice, stick to the very end of this article.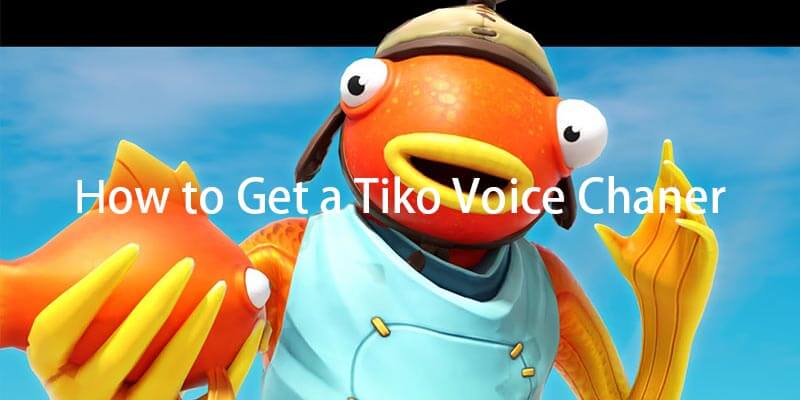 Part 1.

Best Tiko Voice Changer [Pros and Cons]

While analyzing and reviewing the apps, I ensured they had the functionalities to be a Tiko voice changer. All of the apps featured have PC versions available to help you use them while gaming. So, without further ado, let's get straight into it.
1. UnicTool MagicVox
UnicTool MagicVox is a prevalent app designed for voice changing and editing. It has many innovative and practical features to make voice changing a feasible and effortless task. With the use of MagicVox, you can alter your voice according to your preference.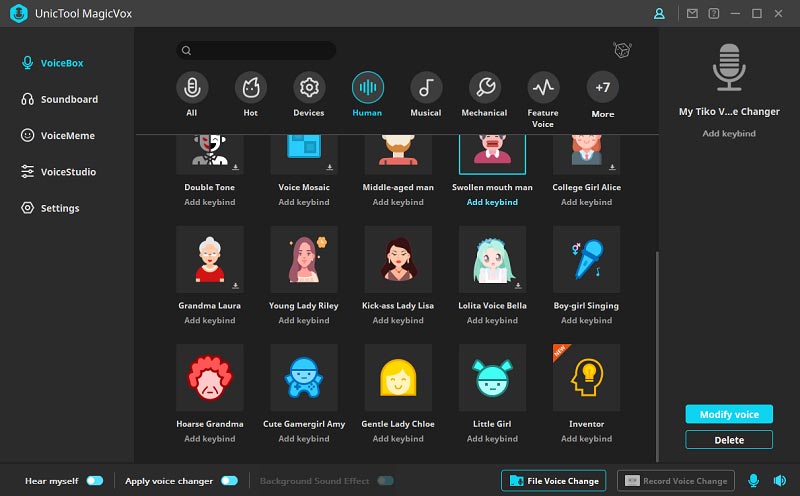 Key Features of MagicVox
Here are some key features about the MagicVox that will make you fall in love with it
200+ Voice Effects

The MagicVox voice changer contains more than 200 voice filters. Isn't that impressive? In addition to it, all the voice filters deliver a crystal-clear voice to get a high-quality audio output. Whether it is a baby voice, a Tiko voice changer, or get a crispy and low-pitched robot voice, you can use MagicVox to get them.

Compatible With Numerous Sites

This voice changer is compatible with your ultimate favorite streaming and communicating platforms. You can use it to enter gaming group chats with an altered and adjusted voice. What is more fabulous is that you can use it on live streams like Tiko.

Get Your Dream Voice

If you don't prefer your actual voice, this feature is for you. You can use the sound parameters provided by the app to modify your voice to perfection. Moreover, you can impress a large audience by altering it as you'll sound like a professional singer.

Change Your Voice Completely

If you're a male, you can easily change your voice to a female's with just one click. It would be astonishing to record your voice to unveil the female version of your voice.
Pros
It effortlessly installs and establishes on your PC.
You can use it on your PS4 and PS5 while gaming.
You can layer charming voice filters to make your voice sound more subtle and appealing.
Cons
Configuring the device on your PC can be troublesome if you don't have some beginner tech skills.
2. ClownFish
Clownfish Voice Changer is one of the best voice changers that are available for free. Despite being known for free, the app has gotten a lot of positive reviews for users. The best thing is that Tiko himself uses this voice changer app to alter his baby voice.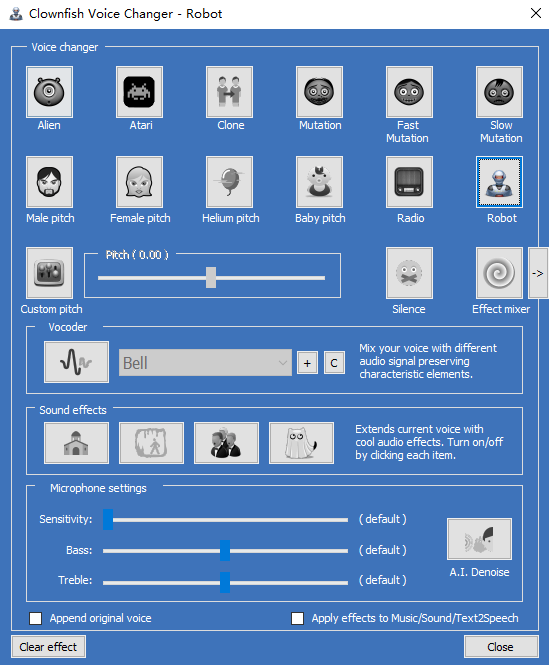 Features of ClownFish
Here are the top features of the ClownFish that make it worth installing.
Absolutely Free

We all have users all around the globe that prefer using voice changing as a fun activity and don't use it professionally. So, for that, ClownFish would be a perfect choice. You can download and install it on your PC for zero price.

Necessary Voice Filters

ClownFish doesn't have 200+ or 100+ voice filters like other apps, as all of them are available for free. Yet the 14 voice filters are more than enough for any user to have a fun and enjoyable experience.

Voice Adjusting Parameters

To make our voice sound more appealing or confident, we need adjustments. You can increase or decrease the pitch of your voice to layer the filter more naturally.
Pros
You can easily install it on the PC.
All the features in ClownFish are available for free.
You can alter your voice to a Tiko voice changer.
Cons
It doesn't have a wide range of voice filters.
As it is available for free, many users judge that the quality of the product might be below.
As soon as the release of the software, it has been the talk of the town. Its popularity is its innovative features and functionalities that tend to draw the users' attention.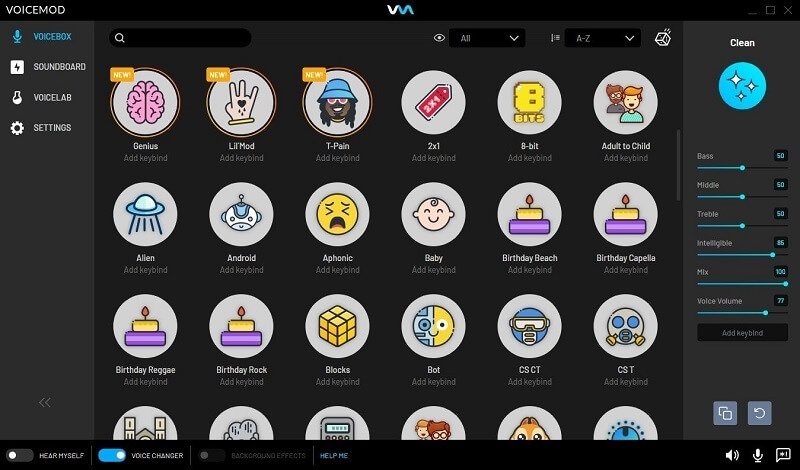 Key Features of Voicemod
Here are the top-tier features of Voicemod that users absolutely love.
A Vast Network Of Voicefilters

It would be poor not to mention the variety of this app's filters. By purchasing the app, you'll be able to unlock 75+ voice filters. All of the filters have a unique and distinct tone to them.

Super Trendy And Appealing Design

When it comes to voice changer apps, you might have noticed that they have some ancient and unattractive designs. It might seem like they've just designed a prototype model and are selling it worldwide. However, that's not the case with Voicemod. It possesses a sleek and attractive design that makes it worth a purchase.

Compatibility

The app is compatible with most streaming platforms. Moreover, you can use it to connect with your friends and loved ones. For example, you can use Voicemod to call with a filtered voice and impress your friends.

Attractive Avatars

You can have a different avatar for every voice filter. Plus, the design and color of the icons are beautiful and eye-catching.
Pros
Very easy to use. You can activate and deactivate any voice filter with just a slight touch.
It has the highest number of voice filters.
Has voice adjustment parameters to increase and decrease the voice's frequency, pitch, and tone.
Thousands of users trust it.
It doesn't require much space on your PC.
Cons
Only a few voice filters are available in the free version.
Part 2.

How to get a Tiko Voice Changer?

Want to know the Tiko voice secret? Here's a complete tutorial for you to change your voice to Tiko. Just follow these straightforward steps and you're good to go.
Step#01:

To initiate the process, start by downloading the app from the browser. Once the .exe file is downloaded, click on it to install the software. Agree on the terms and conditions, and wait for some time for the installation process to complete.

Step#02:

Set up the device by selecting your respective input and output device. If you're a separate mic user, choose it as your input device, the best headphones or speakers for the output device. In windows audio configuration, select the same categories you want as your input and output audio devices. Also, make sure you check them for both playback and recording.

Step#03:

Enable your voice as an input to the device and select the pitch voice parameter. You'll find this adjustment in the voice studio feature. Alter the pitch to an increase of 3-4 segments. It may vary depending on your voice. For me, only 3.4% was required. However, most people's voice gets modified in this range as Tiko himself instructed this.

Step#04:

Layer the baby voice filter on it. Adjust the voice through the parameters to make it sound more natural. Stop the adjustments once you reach an end where the agent sounds like a Tiko voice changer. Congratulations, you've just successfully changed your voice to Tiko with the help of the voice changer, remember to click "save voice".
FAQs About Tiko Voice Changer
Does Tiko use a voice changer?
Yes, Tiko uses a voice changer to film his videos and gaming.
What voice changer does Tiko use?
Tiko uses ClownFish to film his videos. ClownFish is a free voice changing tool that you can easily install on your PC.
Is the Voice changer safe to use?
Yes, voice changers are absolutely safe to use. Moreover, they don't possess any malware that could threaten your PC.
What is the best voice changer for Fortnite?
As a Fortnite player, I often used voice changers to have fun with friends. I recommend using MagicVox other than any voice-changing app. It has one of the broadest range of voice filters. Plus, the voice adjustments are effortless.
Conclusion
Voice changing is an innovative way to express fun and joy. You can spread this happiness worldwide like Tiko, who used this technique to make the days of millions of viewers. Not only that, his cool yet quirky songs bring cheerfulness and merriment to many lives. The impressive part is that this young teen used a voice changer to produce the songs.
The voice used in most songs has been recorded by using the Tiko voice changer. For that, you need a prevalent voice changer like UnicTool MagicVox. It has the ability to meet the needs of any user who wishes for a high-quality voice changer. It has tons of voice filters to make voice changing an effortless task.