Over the years, anime has gained popularity for its captivating storylines and action-packed animations. The voices of anime characters are unique, characterized by high-pitched, innocent, and happy tones. Many people want to generate an anime girl text to speech after watching anime.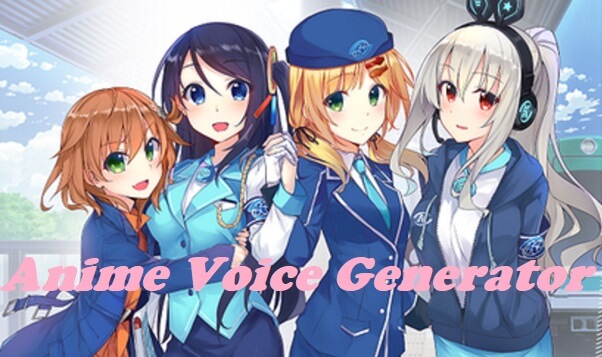 This article explores anime text to speech generators that you can use to create anime girl voices. We highlight the features, pros, and cons of various anime voice generators to help you choose the best one for your needs.
Part 1. What Is Anime Voice Generator?
Anime voice generator is a type of text-to-speech (TTS) software that allows users to generate synthetic voices that sound like anime characters. These generators use artificial intelligence (AI) to analyze and replicate the unique qualities of anime voices, such as high pitch, innocence, and energy. With anime voice generators, users can input text and have it spoken aloud in the voice of their chosen anime character, making it a popular tool for content creators, voice actors, and anime fans alike.

Part 2. Highly Recommended: Anime Voice Text to Speech Sofware
UnicTool VoxMaker is the first anime voice generator on our list. With a variety of anime characters to choose from, creating an anime girl voice is a breeze. This text-to-speech generator provides you with three options: language, voice type, and voice, to customize the output of your voice generator.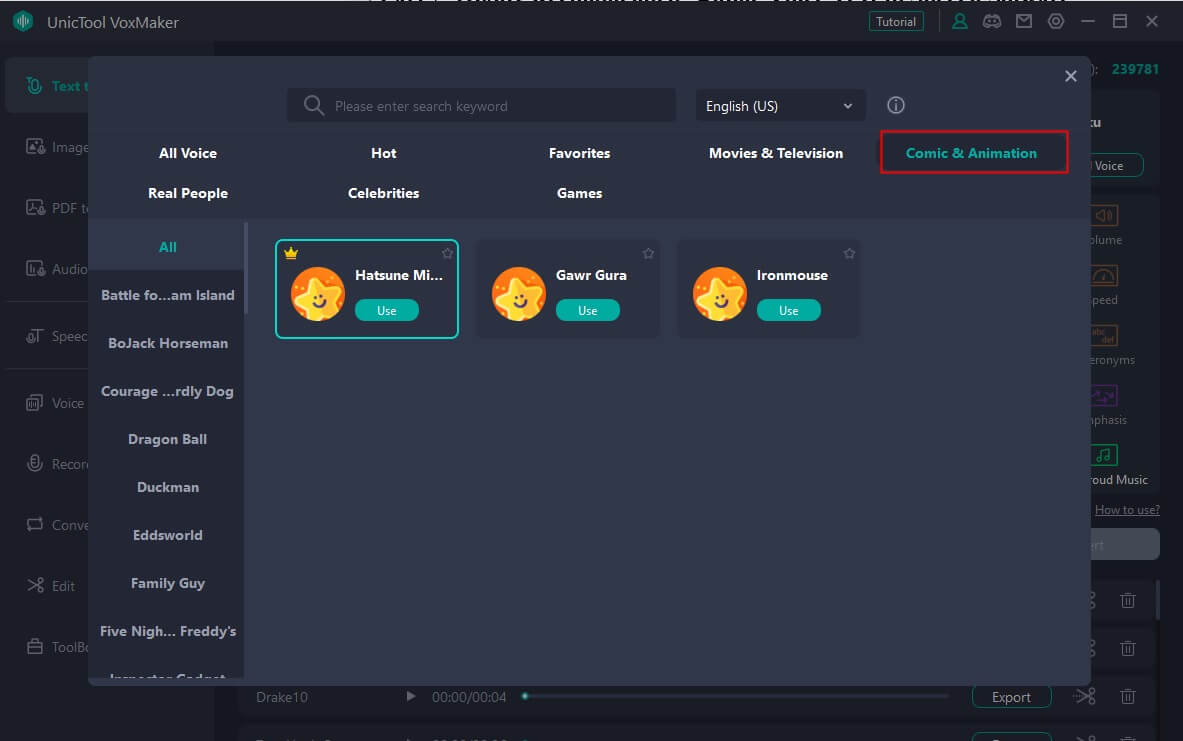 Key features:

It offers an extensive selection of over 3200 voices, including rappers, YouTubers, singers, and famous anime girl characters, include Miku, Mori, and other popular character AI voices. .

The platform supports more than 100 accents, allowing users to choose from a wide range of options, including japanese, British, Hindi and Irish accents.

In addition to voice generation, VoxMaker provides various functions such as speech-to-text conversion, voice cloning, voice recording, video conversion, and audio editing capabilities.

Users have control over voice properties, allowing them to adjust parameters like speed, pause, pitch, emphasis, and volume to personalize the generated voice.

It offers a user-friendly interface, ensuring a smooth and intuitive experience for users.

The platform also includes audio editing features, allowing users to trim, cut, clip, and delete soundtracks as required.
Pros
The interface is designed to be user-friendly.
Text-to-speech conversion and voice cloning process is fast.
Delivers expressiver anime dubbing output.
Cons
New program on the market, not as famous as others.
10% Coupon Code:SPECIAL111
If you don't know how to use UnicTool Coupon Code, you can read this artcile as your reference.
Simple Steps to Generate Anime AI Voice
Step 1: Download and install VoxMaker
Step 2: Click the right button "Change Voice"

Step 3: Search for the voice type you want in the search box above.
Step 4: Type in or paste the text you want to generate in the provided text box and click on the "Convert" button to create the audio file.

Step 5: Download the file in your preferred format and use it as required.

MagicVox is a top-tier voice modulator for Mac and Windows, instantly transforming your voice into anime enchantment. Access 400+ anime girl voices in real time. Enjoy superior quality and stability. With 600+ soundboards, MagicMic enhances gaming, chats, and streaming across platforms.

Key features:

Real-Time Transformation: Instantly change your voice into various anime characters in real time.

Customizable Keybinds:

Easily switch between different voices with just a single click using customizable keybindings.

Wide Range of Anime Girl Voices: Choose from a diverse collection of anime girl voices, including gentle, cold, and loli voices.

600+ Sound Effects: Enhance your experience with an extensive library of sound effects imitating anime character memes, environments, animals, and more.

Compatibility: Use the voice changer on popular platforms like Discord, Skype, Zoom, gaming platforms, and streaming channels.

Voice Studio Function: Customize and fine-tune your voice with the Voice Studio function for a truly personalized experience.

Voice Changing for Records and Audio Files: Apply voice modulation not only for real-time interactions but also for recorded voice and audio files.

Watch this video to know about MagicVox

Step by Step Guide to Use An Anime Voice Changer

Step 1: Download and install UnicTool MagicVox on your device.

Secure Download

Secure Download

Step 2: Launch it and choose input and output devices keenly.

Step 3: Browse the list of voice changing effects.
Step 4: Choose the anime girl voice filter you like.

Step 5: Select the platform where you want to change the voice by assigning the input device as Voice Changer Virtual Audio Device (WDM). You are ready to enjoy the female anime voice.

Part 3. Other 4 Anime Text to Speech Online Generators

Narakeet offers a range of online tools that allow you to easily generate anime girl text-to-speech voices. Simply visit the website, enter your script, choose your desired voice, and convert it into speech with just a few clicks.

Features:

You can choose from eight different Japanese male and female voices for your text-to-speech needs.
Allows to adjust the volume and speed of the audio output to your liking.
The platform can easily convert text into songs.
Narakeet supports to not only generate MP3 audio files but also create MP4 videos effortlessly.

Another online text-to-speech voice generator is Typecast, which offers various unique features. Apart from creating audio files, this tool also allows users to generate AI-generated videos.

Features:

Both AI-generated voiceovers and videos supported.
You have control over the emotions and tone of your narrative.
Typecast also includes features such as subtitles, transitions, custom virtual humans, and custom backgrounds.
You have control over the emotions and tone of your narrative.

Murf.ai is an advanced anime text-to-speech tool that utilizes state-of-the-art AI voices. It enables users to produce lifelike vocal tracks that closely resemble human vocals, making it challenging to differentiate between the two.

Features:

With a variety of voices, languages, and tones to choose from, this text-to-speech tool offers extensive customization options for converting text into speech.
The audio files generated by this tool sound natural and human-like, thanks to advanced technology.
The interface is user-friendly and straightforward, and a free version is available for use.
It is compatible with both mobile and desktop devices, making it accessible for users on the go.

Speechify has risen as a anime girl voice app for text-to-speech reading, has garnered over 20 million users and is continuously growing its reach..

Key features:

Enjoy lifelike and natural-sounding voices.

Achieve satisfactory levels of accuracy.

Seamlessly translate into numerous languages.

Access a collection of audiobooks.

Transform written content into audio effortlessly.

The expense of paid plans could be prohibitive for certain individuals.

Part 4. Comparison of 6 Anime Text to Speech Generators ( APP & Online)

Product Name
Category
Platform
Voices
Price
Review Rate
VoxMaker
Text to Speech/Voice Cloning
Windows
3200+
Free Trial
4.7
MagicVox
Real-time Voice Changer
Window+Mac
400+
$8.95/Mon
4.8
Narakeet
Text to Speech
Online
50+
Free
4.1
Typecast.ai
Text to Speech
Online
300+
$9.9/Mon
4.4
Murf.ai
Text to Speech
Online
50+
$19/Mon
4.3
Speechify
Text to Speech
App
60+
$29/Mon
3.5

Part 5. FAQs about AI Anime Voice Generator

1. How does an AI anime voice generator work?

AI anime voice generators use machine learning algorithms to analyze and learn from human speech patterns, and then use this data to create synthetic voices that sound like anime characters.

2. What are some of the benefits of using an AI anime voice generator?

Some benefits of using an anime girl voice generator include the ability to create custom voices for video games, anime shows, and other multimedia projects, as well as the ability to save time and money by avoiding the need to hire human voice actors.

3. Are there any limitations to using an anime voice generator?

One limitation of using an anime voice generator text to speech is that the resulting voices may not be as expressive or nuanced as those created by human voice actors. Additionally, some AI anime voice generators may have limited language and accent options.

Conclusion

We has covered various anime text to speech generators for creating anime voices and other anime character voices you like. You can choose between desktop apps and online tools. However, VoxMaker anime voice generator is considered the best option due to its vast selection of voices in multiple languages. With a user-friendly interface and a free trial version, you can easily create your own anime girl text to speech voice using this tool.

UnicTool VoxMaker

Text-to-speech dubbing in 46+ languages & 3200+ voices.
Transform your words with realistic and expressive AI voice clone.
Effortlessly fast & secure.