Mobile Device Management, or MDM, is regularly used by employers and organizations in order to control devices remotely. Whilst it is an effective feature for ensuring that employees and students are not distracted by their devices, it applies countless restrictions which seriously impact overall user experience. Fortunately, you can remove MDM.
If you've been wondering how to bypass MDM profile from iPhone or iPad, then you've come to the right place. Once you have read through this article, you will be able to remove MDM from iPhone/iPad with ease.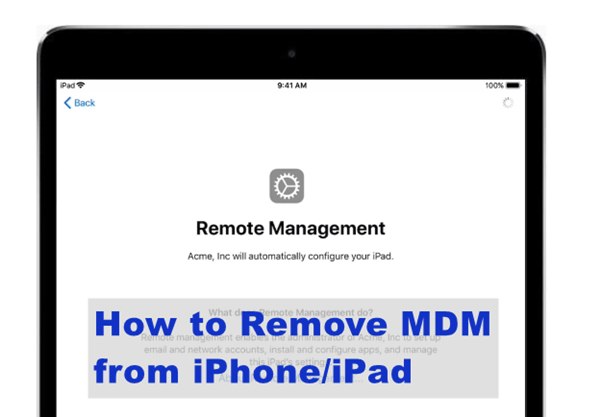 Part 1.

What Is MDM On iPhone/iPad?

Mobile Device Management, or MDM, is essentially a protocol which enables system administrators to remotely manage any iOS device, even iOS 17. They can do this by sending commands from a centralised server to any iOS device in the network.

With the MDM protocol, an administrator basically has virtual management authority over the iPhones and iPads under their jurisdiction. The administrator can inspect, remove or install any profile, as well as remove the passcode and erase a device which they manage.

Configuration profiles are one of the ways in which MDM can be used to manage the settings of various device features remotely and centrally. These profiles typically contain settings related to Wi-Fi, email accounts and even passcodes. They can also be installed via a web page, email address or even Apple itself.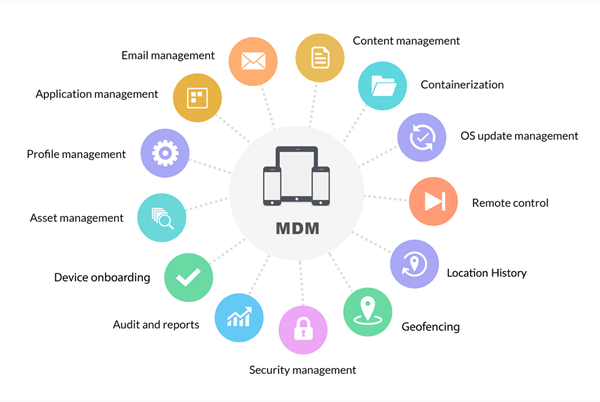 Of course, MDM can be problematic. Not only can they compromise privacy and confidentiality, but they also have the potential to prevent someone from making the most of their own iOS device.
People Also Ask: Top 4 MDM Bypass Tools in 2023 [iOS 17 Supported]
A Complete Guide About How to Remove Remote Management from iPad
Part 2.

Reasons for Removing MDM Profile from iPhone/iPad

As we've mentioned before, MDM enables a system administrator to remotely manage iOS devices. Through MDM profile, the system administrator can centrally and remotely control all of the devices by running commands from a central server to any iOS device which is on the same network. These MDM profiles have settings which provide the system administrator with authority over various settings such as passcodes, email accounts and Wi-Fi.

The main reason people would want to remove MDM profile from iPhone or iPad is because it restricts the free usage of device.
One of the most serious problems associated with MDM profiles is that they prevent you from installing any apps.
Sometimes there will even be a MDM remote management lock screen, which requires the username and password to be entered in order to enable it.
Once the MDM profile has been created however, it can't be removed unless you have access to the passcode that was sent in the email when setting it up. What's more, the administrator can even restrict you from removing the profile, which means that it can only be removed by the MDM server itself.
Part 3.

How to Remove MDM from iPhone/iPad?

If you've been wondering how to remove MDM from iPhone or iPad, then you'll be relieved to know that it might not be as difficult as it first seems. Besides, removing MDM will be more than worthwhile, because once you have removed the MDM profile then you'll finally be able to control and manage your own iOS device.

In the following section we've offered two straightforward methods which you can follow to delete a MDM profile from your iPhone or iPad.
1. With Passcode - via iPhone/iPad Settings
The first option is to bypass MDM profile from your iPad or iPhone through its Settings. Keep in mind, however, that this method will only work if the administrator hasn't restricted you from actually removing the profile itself. If there are no restrictions and you have the passcode which was sent in the email, then you can follow these steps:
1

Go to Settings > General > Device Management. If there is an MDM profile on your device, it will appear here.

2

On the MDM profile you will see the Remove Management option.

3

Click on it and then enter the passcode. Remember that this isn't your own device's passcode, it is the actual MDM configuration passcode which was emailed to you.

4

Upon entering the passcode, the profile will be permanently removed. Then you can use your iOS device without restrictions!
Note
Kindly be aware that you can't do anything unless you have the passcode when using this method. Without the password, you will be unable to proceed. To ensure security, please thoroughly consider the following approach.
2. Without Passcode - via the Best MDM Bypasser Tool (LockEraser)
If you have an iOS device which has been locked by MDM, and you are restricted from uninstalling it or you don't have the passcode, then a MDM bypasser tool is by far the most effective solution. LockEraser is a sophisticated and advanced solution which will allow you to bypass any MDM limitations on your device, so that you can avail of all of the functions and features of your device.
Remove remote management on iPhone/iPad with a 100% success rate.
No password is required to bypass MDM.
Simple steps make it easy to operate for everyone.
Compatible with all the latest versions of iOS and iPad devices, including iOS 17.
Provide a secure way to unlock Apple ID/screen passcode/screen time passcode by oneself.
Free trial is offered for initial experience.
1

Download, install and launch LockEraser on your computer. Choose the Bypass MDM mode, then get your device connected.

2

There are 2 different modes: Bypass MDM and Remove MDM. In this case, select Remove MDM and click the Start button to proceed.

3

Wait patiently while LockEraser is removing MDM for you. It won't take long.

4

Once the MDM is successfully removed from your iPhone or iPad, you'll get a notification.
FAQs About Removing MDM from iPhone/iPad
1. Does jailbreak remove MDM?
Yes. When you jailbreak your iOS device, you will gain unauthorized and unlimited access to your device's controls. This will allow you to bypass the MDM profile as well as access more advanced configurations. Whilst a jailbreak will remove MDM, it isn't recommended for a number of reasons:
Jailbreak leaves your device vulnerable to software errors.
Jailbreak violates and voids your device's warranty.
Your iPhone will no longer be able to update.
Your device's security and privacy is compromised.
2. Will factory reset remove MDM?
Yes. A factory reset will essentially restore your iOS device to its default settings, and your device will be as blank and empty as it was the day you first bought it. This will certainly remove MDM, but it will also remove all of the other information on your device, including contacts, applications, pictures and videos. To remove MDM on iPhone or iPad, a much more preferable method would be to use a MDM bypasser tool such as LockEraser.
Conclusion
In this article, we have discussed two methods which you can easily and simply apply without any assistance to unlock MDM on iPad or iPhone. LockEraser, in particular, will enable you to bypass any restrictions so that you can regain complete control over your device. Regardless of whether you have the passcode or not, you will be able to remove MDM from iPhone or iPad without any technical knowledge!