When you forget your Screen Time passcode, you are faced with the terrible choice of erasing your device or taking a trip to the Apple center. But don't worry, it's possible to spare such trouble. In fact, we can totally disable or hack Screen Time even without passcode in some feasible ways. This article dives into the details on how to turn off Screen Time without passcode. Let's get started!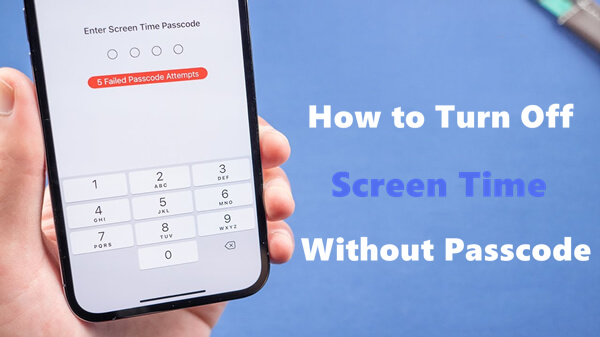 Easiest Way to Unlock Screen Time
Only take 3 simple steps and several minutes;
100% secure & successful and no data loss.
Part 1.

Something More About Screen Time

Screen Time offers a report on how much time you spend on your device and allows you to set usage limits on certain apps if you want to. You can set a dedicated passcode to secure the settings and allow only you to make changes. Common Screen Time use cases include:
1

Balance and track your use of certain apps.

2

Limit distracting notifications from apps in certain periods of time.

3

Limit screen usage and allow yourself to focus on tasks.

4

Limit device usage to prevent illnesses from extended screen time.

5

Block or limit kids (or even yourself) from accessing unwanted apps, such as some social media apps and games.

6

Monitor how much time children spend on their devices, and set limits for them.
Within the Screen Time settings, there are 5 parts you can manage: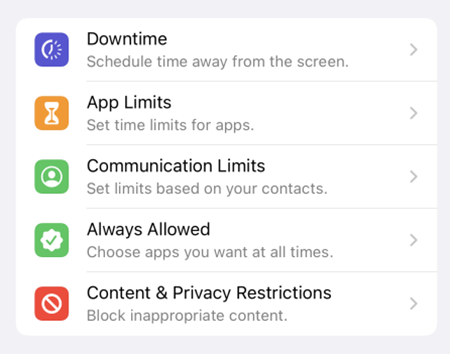 Downtime

Downtime here means your time away from the screen. During scheduled downtime, you will only be allowed to make phone calls and use selected apps. This setting will apply to all your Screen Time enabled devices, and you will get a 5-minute reminder before it starts. You can ask for more time if you have the passcode or add more time to connected accounts.

App Limits

This setting allows you to set daily limits for app categories. You can choose apps to see based on your times and location, including only viewing productivity apps when at work. The limits will refresh at midnight, and you can remove them at any time.

Communication Limits

You can decide and manage contacts you can communicate with on FaceTime, Messages, iCloud contacts, and phone during the day, even on downtime. Communication to identified emergency numbers is always allowed, and you will need your iCloud contacts enabled for this.

Always Allowed

The feature allows you to access selected apps even if you are on downtime or have them under the app limits. Apps allowed by default include Phone, Messages, FaceTime, and Maps. You can remove them if you wish.

Content & Privacy Restrictions

You get to decide what type of content is accessible on your device. With the feature, you can block inappropriate content, purchases, and downloads and set up privacy settings.

These restrictions prevent access to potentially harmful platforms that may cause financial loss from theft of personal financial information, limit online purchases and stop other users including your children from accessing inappropriate content or websites.

You can control which features can be used on the device such as location services and photos, as well as monitor how you kids use these features.
Part 2.

How to Turn Off Screen Time Without Passcode

At times, iPhone or iPad users might feel the need to disable Screen Time, especially when it starts restricting their access to specific apps after hitting the set usage limits.

Additionally, Screen Time could interrupt interactions, conversations, or even compel users to abandon ongoing tasks, which can be frustrating.

The idea of removing or disabling Screen Time without the passcode might appear daunting. However, the following three methods will guide you through the process.
1. [No Data Loss] Turn Off Screen Time With LockEraser
LockEraser is a Screen Time Passcode removal tool from UnicTool. It is capable of helping iPhone users unlock their devices in various scenarios including when they have unfortunately disabled their Apple ID, or forgotten their screen passcode or screen time passcode. In a professional and efficient way, LockEraser can bypass restrictions and give users access to their devices.
Turn off Screen Time without passcode in seconds.
Only simple steps are required; no technical knowledge is needed.
No data loss will occur; 100% safe and reliable.
Unlock Apple ID/screen passcode and bypass MDM without hassle.
Compatible with all the latest versions of iOS and iPadOS devices, like iOS 17.
1

Download, install and launch LockEraser on your computer. Select the Unlock Screen Time Passcode mode and get your device connected.

2

For devices running iOS 12 or above, click the Start button to begin unlocking screen time passcode. For devices running iOS 11 or earlier versions, you'll see the Recover Restrictions Passcode interface.

3

Wait patiently while LockEraser is doing the work. It won't take long.

4

You'll be notified when everything is done.
2. [Data Loss] Turn Off Screen Time via iTunes
This method uses your iTunes to reset your device and wipe it in order to remove the Screen Time passcode. As restoring iPhone will wipe your device clean and erase your data, it's quite important to back up your iPhone in advance if possible.
To use this method, you need to have synced your iPhone to iTunes before and the Find My iPhone feature is turned off already.
Step 1. Connect your iPhone or iPad to your Mac and launch iTunes.
Step 2. Taking iPhone as an example, once it is recognized, select the Summary tab and then click the Restore iPhone option that appears in the upper right corner.

Step 3. Tap on the Restore option to continue the reset process.

Step 4. Wait for the process to finish, and you can access your device without the Screen Time passcode.
3. Turn Off Screen Time Using Apple ID and Password
This way uses your Apple ID and password to reset the Screen Time passcode. It is ideal for users who remember the correct Apple ID and password. Please note that to apply this method, your device needs to run at least iOS 13.4.
Step 1. Go to Settings > Screen Time.
Step 2. Tap on Change Screen Time Passcode, then select Turn Off Screen Time Passcode.

Step 3. On the page which requires you to enter the Screen Time passcode, tap on the Forgot Passcode? option.

Step 4. Enter the Apple ID and password you used when setting up the Screen Time passcode on the next screen.

Step 5. After that, the Screen Time passcode will be turned off and you can continue to turn off Screen Time without hassle.
Bonus:

How to Turn Off Screen Time With Passcode

If you have the correct Screen Time passcode used when setting up Screen Time function, then it's easy to turn off Screen Time following the steps below:
Step 1. Go to Settings > Screen Time.
Step 2. Swipe down to the bottom of the list and select Turn Off Screen Time.

Step 3. Input the Screen Time passcode you used when setting up Screen Time.
Step 4. Next, tap on Turn Off Screen Time again to confirm and turn off Screen Time.
Conclusion
The Screen Time feature on Apple devices is great for keeping track of how you use your device and restricting access to certain content and how long you use your device. Forgetting the Screen Time Passcode can be disappointing, but it shouldn't lock you out of your device or force you to erase your data.
There are many ways to disable Screen Time, even if you forget the passcode. If you are looking for a more straightforward and secure way to turn off Screen Time without passcode, LockEraser will take care of everything for you and keep your data intact.