In 2019, WhatsApp was one of the most popular instant messaging apps, with about 1.5 billion people. Currently owned by Facebook, it has a plethora of complex features. Since WhatsApp has many unique communication features, you tend to store vital, sensitive documents and media files for personal and business use. Thus, you should know about the best app to back up your WhatsApp data to ensure that your files are safe.So, let us look at our list of the sevenbest apps to backup WhatsApp, which we compiled for your convenience.
Best WhatsApp Backup App for iOS/Android Users
1. ChatMover
ChatMover is a third-party program that allows you to transfer WhatsApp content from your Android device to your iPhone and vice versa. It enables you to backup your original WhatsApp messages, media, etc., and moves them from one device to another.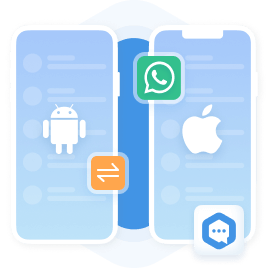 All-in-one WhatsApp Transfer
Your WhatsApp data will not be stored or shared in any way, and it will be entirely secure.
Safely backup text messages, photographs, videos, attachments, and other WhatsApp content.
Once the software installs, you can export one or all WhatsApp chats to your PC in HTML, CSV, XLS, or PDF formats.
It's easy to use, requiring only three clicks to complete the transaction.
The tool is completely safe and backup WhatsApp for free.
Extract and Backup WhatsApp on iPhone and Android devices.
2. iTransor
iTransor for WhatsApp is a fantastic,best app to backup WhatsApp chat. This tremendous tool provides all the necessary capabilities for data backup.
Where most programs employ cloud services to store backup data, this application saves all your data locally. Hence, there is no risk of data leaking. As a result, this application is entirely risk-free.
It is helpful on both iOS and Android devices. It can read and write practically every file format. When we look at the price with the things it offers, we can see that the app is reasonably priced.
Features
Transfer WhatsApp between Android and iPhone.
You can backup WhatsApp for Android and iPhone to a PC.
Restore backups of WhatsApp to iPhone and Android devices.
Backup WhatsApp in HTML, PDF, and CSV/XLS formats.
Pros
User-friendly UI
Easily carry out transfer and backup
Compatible with all iOS devices.
It has a success record of 100 percent.
It provides a risk-free backup trial.
Backup a wide range of data
Cons
It supports only iOS devices
Only WhatsApp Messenger transfer, backup, and restore support the Mac version.
The free version has many limitations.
3. Syncios WhatsApp Transfer
Syncios WhatsApp Transfer makes backing up your WhatsApp history far more convenient than ever before. It allows you to backup and restores WhatsApp data on your iPhone, iPad, or Android device in just one click. All WhatsApp contents, including conversations, images, videos, and attachments, may be saved to your computer with just one click. Backup and recover WhatsApp data on iOS and Android devices without erasing your current data. Restore your WhatsApp backup to your iPhone. Syncios WhatsApp Transfer can handle all of your WhatsApp chat exporting needs. Export and print WhatsApp chats and WhatsApp messages, images, videos, and audio files.
Features
Backup your WhatsApp data on iPhone/Android to a PC.
Restore a WhatsApp backup to your iPhone, iPad, or Android device.
Export backups from WhatsApp to HTML and CSV files.
Only restore the data you want after previewing the backup content.
Compatible with the most recent versions of iOS 15 and Android 11.
Pros
Easy to use
Compatible with various Windows versions, iOS, and Android devices.
Syncios supports almost all file types.
Quickly backup and transfer data between your PC and iOS devices.
Cons
Both the paid and free versions work if iTunes is installed.
Some data transfers necessitate turning off iCloud ahead of time.
4. Mobitrix Backuptrans
Another fantastic method for making WhatsApp backup successful is Backuptrans iPhone WhatsApp to Android Transfer. On Android, all messages and chats appear seamlessly.
This management tool allows you to directly copy WhatsApp messages from your iPhone to your Android device on your PC.
Connect your old and new mobiles to your computer and complete the task in seconds. Users can backup all chats or just one based on their preferences and convenience.
Backuptrans is a program that allows you to transfer WhatsApp messages from your Android phone to your computer.
Features
Backup and restore chat history to any iPhone or Android device
Only you should have access to your WhatsApp data.
Compatible with the recent iOS 15 and Android 12.
Backup and move data from iOS to Android without a third-party app.
Data processed locally.
Pros
Simplified user interface
Backup images, movies, and audio.
Support chat printout, WhatsApp and WhatsApp business.
Move data iOS to iOS, iOS to Android, Android to iOS and Android to Android.
Since data processed is only locally, you get 100% security.
Cons
It works to move data from iOS to Android, not vice versa.
You'll need a Mac or a Windows PC to download and use it.
5. MobileTrans
MobileTrans, created by Wondershare, is a safe and secure way to backup data between Android and iOS. You can carry out transfers using this app by simply launching MobileTrans. Select "WhatsApp transfer" when you open it. Then select "Backup WhatsApp Messages" from the drop-down menu. Connect your phones to your PC and wait for the detection to complete.
Features
Backup WhatsApp chats, emoticons, shared attachments, voice notes, and other app data.
You can transfer WhatsApp data directly between platforms such as iOS and Android (apart from Android to Android and iOS to iOS transfer).
Transferring WhatsApp data is extremely simple.
Other social apps can also be backed up and restored using the program.
Pros
Simple user interface with support to other forms of messenger app
Export messages from a PC to HTML/PDF.
Backup of different formats of WhatsApp data
Export data between WhatsApp and other platforms
Compatible with all iOS and Android devices
Cons
To utilize it, you need a Windows or Mac computer.
You may lose some data
6. WazzapMigrator
WazzapMigrator is a tool for backing and transferring WhatsApp data from an iPhone to an Android device. Users must utilize iTunes to back up their communications to do so. Users can also move WhatsApp archives from Google Backup to Dropbox. You can then extract all the saved data to your phone once the archive is discoverable
Features
The backup can include chats, media, and other items
The tool can backup WhatsApp data from iPhone and Android.
Export WhatsApp Archive from old iPhone even if you sold your device.
Use USB, email, Dropbox, Google Drive to move WhatsApp archive to your new Android.
Pros
Easy to use
Compatible on Windows and Mac devices
Backup and transfer different data formats, including chats, images, videos, audio, and location.
It is the most downloaded app for WhatsApp transfer, with a 4.5 rating on Google Play Store.
Cons
Lesser features than other WhatsApp backup applications.
Backup process is somewhat complicated.
Conclusion
Now, you stand a chance of protecting your essential WhatsApp data with the best app to backup WhatsApp with the above list. However, our recommended app still is ChatMover - one great app you can use to backup your WhatsApp on any OS.