Due to WhatsApp's feature of being able to store any type of data, it is an excellent messenger app to use. If you want to go back and read your old conversations or retrieve some valuable information from these conversations, then you need to make sure that these chats are backed up properly.
You can back up WhatsApp chat data to iCloud and restore it from iCloud when needed – you may want to restore the chats to a new phone, or you might want to recover WhatsApp and its data if you have accidentally deleted the app. As long as enabled, iCloud service syncs WhatsApp chat data and keeps it for the longest time possible. Today in this article, the way to restore WhatsApp backup from iCloud will be introduced.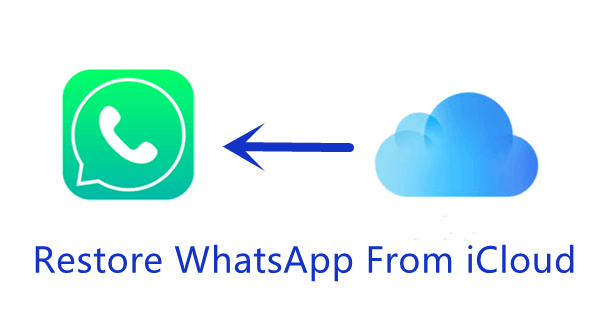 Part 1.

How to Restore WhatsApp From iCloud to iPhone

If you are moving from an iPhone to another iPhone, then you will need to know how to restore WhatsApp chat from iCloud to iPhone. As iCloud is a native feature of iOS devices, the steps to do so are quite simple.

To start with, you need to ensure that you have the ability to verify your phone number during this process. You also need to ensure that you remember your Apple ID and password to make it easy to restore WhatsApp from iCloud. If there is differentiation in either your iCloud ID or phone number, then you will need to carry out a fresh installation of WhatsApp on your device. What's more, before you restore WhatsApp backup from iCloud, make sure that you have at least 2.05 times the size of your backup available in your iCloud account and on your phone.

Once you're fully prepared, follow these steps to restore WhatsApp from iCloud to iPhone:
1

Open WhatsApp and head to Settings.

2

Select Chats and then Chat Backup.

3

If there is an existing backup of your WhatsApp conversations on iCloud, you will be able to see it in a list; remember to check the date of the backup to make sure it is a recent one. If there is no existing backup, choose Back Up Now to create a backup of all of the current chats on WhatsApp.

4

If you are restoring your chats to an old phone that has WhatsApp preinstalled, just uninstall and reinstall the WhatsApp application. If you are installing WhatsApp on a brand-new phone, then simply install the WhatsApp messenger application.

5

Input the same phone number into WhatsApp once it has been installed.

6

A prompt will appear to restore your chat history. Click on Restore Chat History to download WhatsApp backup from iCloud.
Part 2.

How to Restore WhatsApp From iCloud to Android

If you want to know how to restore a WhatsApp backup from iCloud to Android, the process is a little more complicated. As you cannot directly restore your WhatsApp data from iCloud to an Android phone, you need to take two separate steps. First you need to restore WhatsApp from iCloud to iPhone as we've talked about in the previous part, then you have to transfer WhatsApp from iPhone to Android. And this is where the perfect WhatsApp transferring tool ChatMover comes in.

As WhatsApp official does not support the transfer of WhatsApp data between different operating systems, a professional tool like ChatMover is quite necessary when you try to transfer WhatsApp from iPhone to Android.

ChatMover is a comprehensive WhatsApp manager that we highly recommend for those who want to know restore WhatsApp backup from iCloud to Android. It allows you to easily move the entire contents of your WhatsApp chats, and any attachments from Android to iPhone, iPhone to Android, iPhone to iPhone, or Android to Android. You don't even have to uninstall or reinstall the WhatsApp.
Transfer WhatsApp to new devices without uninstalling and reinstalling it.
Move WhatsApp chats between Android and iOS devices without any difficulty.
Keep all the messages transferred intact and safe.
No other tools or professional knowledge required.
Provide free backup feature as well as powerful restoring and exporting feature.

After you have restored WhatsApp from iCloud to your iPhone, follow the steps below to transfer WhatsApp from iPhone to Android using ChatMover.
1

Launch ChatMover on your computer and click the "Transfer" tab.

2

Connect both your old and new phones with your Computer via USB cable. Once both phones are connected successfully, click the "Start" button.

3

It will ask you which WhatsApp type to backup, so select either "WhatsApp Messenger" or "WhatsApp Business". After that, the transfer process will begin and be completed very quickly.
Part 3.

How to Back Up & Restore WhatsApp Without iCloud?

iCloud service is commonly used to back up WhatsApp, but there are some obvious and unavoidable shortcomings. For iPhone users, it can be really frustrating if you do not have enough space in iCloud, which means that you will have to clean your iCloud to back up your WhatsApp. This can even more annoying if you already have got a lot of valuable data on iCloud that cannot be sacrificed. For Android users, clearly iCloud is extremely inconvenient to use.

If you want to have your WhatsApp messages backed up but prefer not to use the iCloud service, then a good alternative you can opt for is ChatMover. In fact, it is a better and securer backup solution. It allows users to select any path on the computer to back up WhatsApp on both Android and iPhone. Unlike other backup tools, ChatMover keeps every new backup orderly and never deletes old backups. What's more, it also comes with unlimited data storage and ensures no data loss or leakage will happen.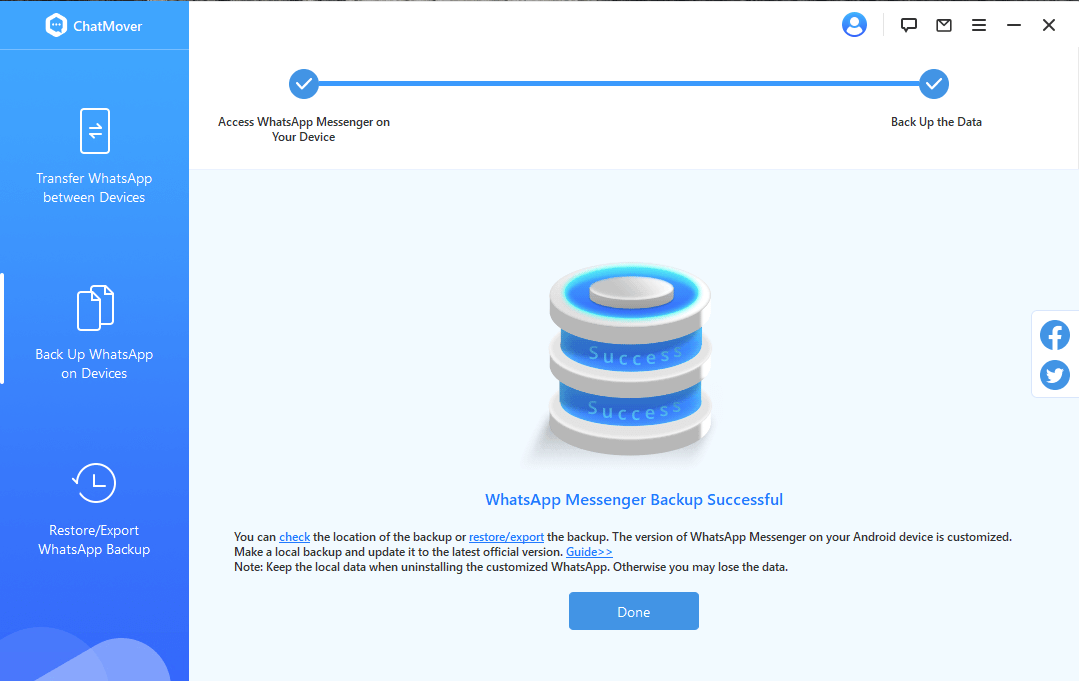 Apart from the amazing Backup feature, ChatMover provides powerful Restore function. Uses can restore any backup created by ChatMover from Android to iPhone or iPhone to Android, without any OS limitation. Besides, preview of WhatsApp backup content before restoring is supported.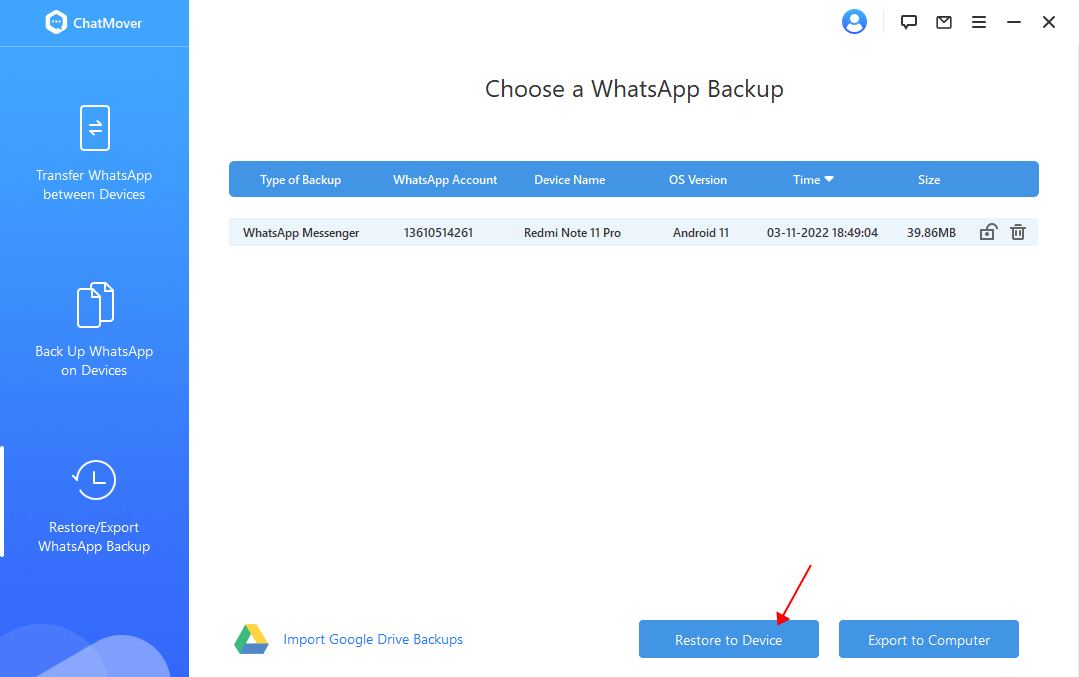 In a word, iCloud is not the only choice if you want to keep your WhatsApp chat protected. Backing up and restoring WhatsApp via the comprehensive WhatsApp tool ChatMover may take your user experience to a new level.
Conclusion
Overall, restoring WhatsApp from iCloud to iPhone and Android are both achievable, although the latter one takes more efforts and needs the help of a professional WhatsApp tool, ChatMover. If you don't like iCloud, then ChatMover can also make the process of backing up and restoring WhatsApp quick, easy and seamless.