Games are an essential part of many people's lives. Some games, like Pokémon GO, have become so popular that it is hard to go anywhere without seeing someone playing on their phone. However, have you ever wondered how people find their way around while playing location-based games? Well, GPS spoofing apps like iPogo are the answer.
The iPogo app, one of the GPS spoofing tools, uses this technique for entertainment purposes like catching rare Pokémon to get ahead in the game without actually moving at all. Besides, it  has some added benefits regarding navigation system and business activities. In this article, I'll tell you all about the fantastic iPogo app, including how it works and what its best alternative is. Let's begin without further ado.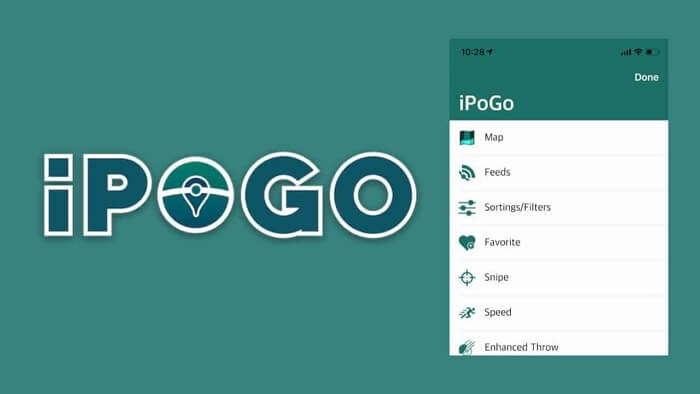 Part 1.

What Is iPogo?

Have you ever wanted to know how to spoof your GPS location? Well, lucky for you, several apps in the market will help. But… there's a dilemma here. Many GPS spoofing apps have been released, but it's hard to know which ones are safe and which ones will lead you into a trap. And that's where I will help you pick the right one. If you are still looking for a proper way to spoof your location in Pokémon GO, iPogo is not a bad choice for you.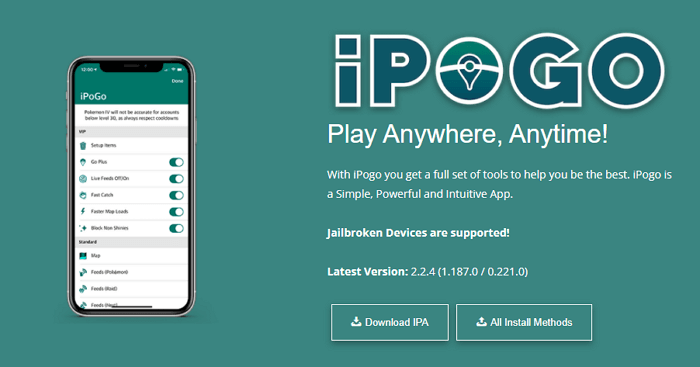 To put it plain and simple, iPogo is a GPS spoofing app that can handle your every need, from simple location spoofing to advanced stuff like manipulating time zones. It is a simple, powerful, and intuitive app that works just like an automated and virtual version of the GoPlus, except you do not need to buy a physical device. Sounds convenient and handy, right? iPogo actually is.
Part 2.

How to Get iPogo?

With iPogo, you get a complete set of tools to help you reach the top and be the best in Pokémon GO. But the very first thing that you should know is that the iPogo app is only available for iOS. Let it be clear that it's not compatible with Android OS.

To download and install the iPogo app on your iOS, you'll have to go to their official website. You will have to choose from several download options that iPogo suggests. For your convenience and information, I have listed them here:
Signulous: It is the easiest method for downloading the app and costs $20 per year per device.
Sideloadly: It is suitable for Windows PC users to install for free! It revokes every seven days, which means you'll have to reinstall it after every seven days.
Rickpactor: This one is a free method that requires a computer for the initial installation. But it can be complex.
Jailbroken Devices: Your device must be jailbroken for this tweak to work. If you are unsure what this is, then it is not for you.
Part 3.

How to Use iPogo in Pokémon GO?

Keeping your main account safe is essential. Since using iPogo can lead to possible account ban, I recommend you create a new account and catch all the Pokémon using that alt account.

Here's how you can download, install and use iPogo in Pokémon GO.
1

Install iPogo. There are several ways to download and install the iPogo iOS app. If your device is jailbroken, you can go to the iPogo website to download and install the IPA file. Otherwise, use third-party resources like Signulous or Rickpactor for the same purpose.

2

Sign in to your Pokémon Go account. When you install the iPogo iOS app, it will log in to your Pokémon GO account. Once you have successfully activated it, the iPogo functions can be accessed through a floating sidebar.

3

Change your location and catch your Pokémon. Now open the map and try moving towards your desired location with the pin. You can also move to your preferred location by using its coordinates or address. This will start spoofing your GPS location.
Part 4.

iPogo's Pros & Cons

GPS spoofing is never 100% safe. But according to the authentic reviews of different users, iPogo is a top-rated GPS spoofing app and is probably one of the safest ones right now.
Pros
1

Skipping the animation. If you are sick of waiting through the capture animation, iPogo will allow you to skip the animation unless the Pokémon is shiny.

2

Packed with premium features. iPogo gives you access to premium features like Pogo Plus, auto-walk (gpx routes), and fast-catch. Exciting, right?

3

One of the safest methods available. Every feature is tested thoroughly. The developers of iPogo update the app constantly to ensure the best user experience and make sure the accounts remain safe.
Cons
1

No version for Android. iPogo has no available version for Android phones.

2

Frequent crashing. The iPogo app crashes a little bit frequently due to software issues.
Part 5.

The Best Alternative to iPogo - TailorGo

How about using an alternative location-changing tool that can help you spoof your location and play Pokémon GO in just a few seconds with a single tap? That is what UnicTool TailorGo is all about - teleporting you to your preferred place all over the globe to catch more powerful Pokémon.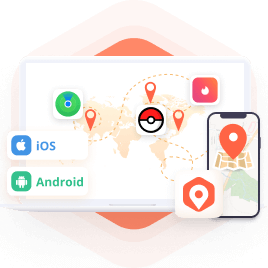 The Best Alternative to iPogo
Change your location to anywhere around the globe in 1 click.
Simulate GPS movement naturally in the Pokémon GO game without physically moving.
Fake location perfectly for all the location-based apps: not only Pokémon GO, but also Grindr, Tinder, Facebook, and more.
Fully compatible with all iOS and Android devices.
Trustworthy enough to protect your privacy and information safety.
Provide free trial for everyone.
1

Download, install and launch TailorGo on your computer. Get your device connected, then click the "Get Started" button to begin.

2

To simply change location, choose the Teleport Mode and select the destination. To simulate GPS movement, choose either the Two-Spot Mode or Multi-Spot Mode and plan a route.

3

Your location will be changed easily or the movement will be completed the way you planned before.
FAQs About iPogo
1. Does iPogo get you banned?
Yes, probably. No GPS spoofing app is 100% safe, so you are still advised to use this app in moderation.
2. Why is iPogo not working?
If your iPogo is not working, then maybe the Pokémon GO app on your device have been updated or your iPogo have been installed from unofficial sources.
Conclusion
iPogo is a great app to use for GPS spoofing in Pokémon GO. However, I would advise you to use it moderately to avoid getting banned. If you are still not satisfied with its features or want to change location on Android devices, give TailorGo a try. You will be amazed by the hands-on experience, and the ease of functionality it provides. Go and conquer the world of Pokémon to be the best.