Voice changing software has been gaining quite popularity these days. Whether adults or kids, everyone is trying their hands out with one, and why shouldn't they? Voice changing software may help you out on more occasions than one. They can even be a great help if you're looking to mimic the voice of someone famous perfectly.
Whether it is to prank your friends, use a different voice while chatting online for the first time, or acting. A voice changer is just what you need! Audacity voice changer has always performed the best. In this article, we will tell you all there is to know about the software and how to use audacity voice changer plugin.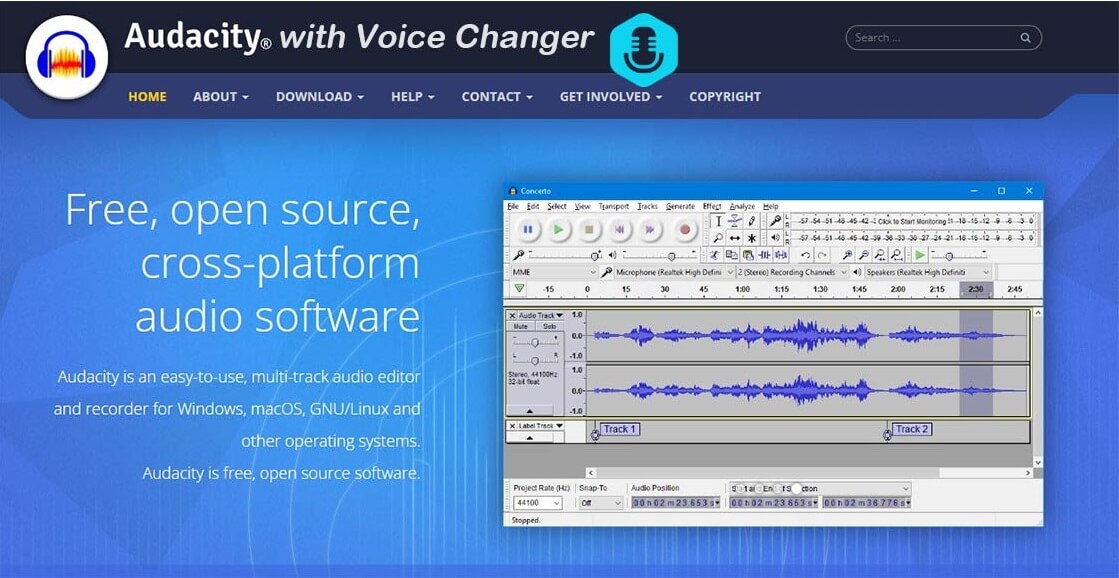 Part 1.

Is Audacity a Good Voice Changer?

When wanting to choose or invest your time before using anything, you have all kinds of questions spiraling up. Audacity voice changer can be a game changer for you, but of course, you would first like to know why. Hence, we are here to save you from all the time and trouble.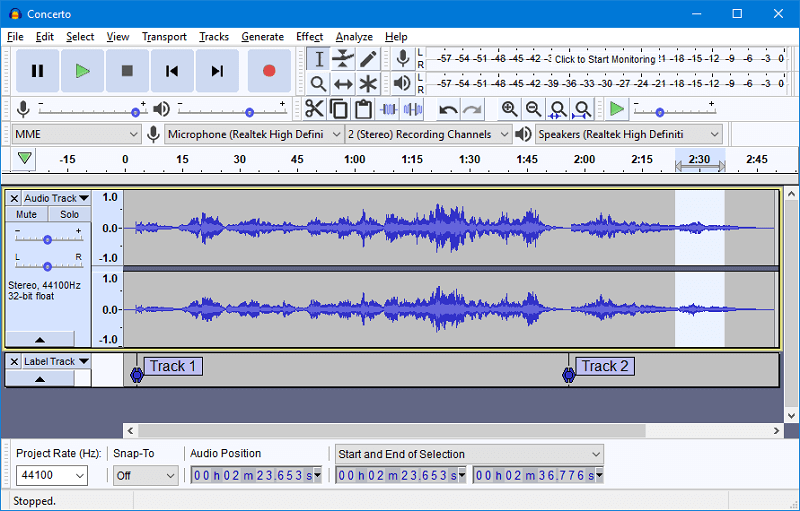 Key Features
Below is a list of all the key features which can help you decide whether to use this software or not.
The sound quality that audacity features are top-notch. The software supports 16-bit to 32-bit.
It allows you to record audio files through your microphone. You can also edit audio files from other social media platforms.
It supports plugins for LV2, VST, Nyquist, and LADSPA.
With the use of Audacity, you can even import and export files of any format.
You can upload multiple files of different formats at once.
The interface of Audacity can be translated into many languages.
Audacity includes numerous sound effects that you can add to your audio files. These effects include pitch, speed, and tempo.
Audacity voice changer can prove to be a great audio editor, however, there are some cons associated with it.
Pros
Makes tasks easy.
Powerful voice changer.
Supports multiple plugins.
It lets you upload files of any format.
It is for free.
Cons
It takes a while to understand how it works.
It does not offer you to edit audio files in real-time.
Part 2.

Best Real-Time Voice Changer to Use on Audacity

While Audacity voice changer plugin might offer tons of benefits with its features and might be great to use. We can't ignore the one major con that it has, which is not allowing users to edit audio files in real-time. A con like this can cause a great disturbance to some. However, Audacity offers features that can make things easier for you. So, what can be done about this problem? Using real time voice changers that can eliminate Audacity's cons!

Here are the best real-time voice changers that you can use on Audacity.

MagicVox has always topped the list when it comes to real-time voice changers. The software is always on the run to introduce new and innovative features that are not seen on platforms. The number one reason it will work so well with Audacity plugin is its ability to integrate easily with other apps. Since its launch, MagicVox has left no loop open for mistakes.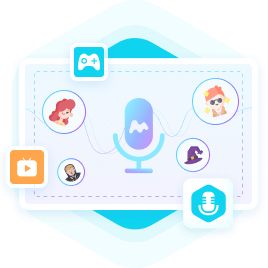 A Real-Time Voice Changer
It is incredibly beginner friendly.
It allows you to change your voice into different filters, the variety of which is huge.
The software features have some background sounds to allow you to make your voice sound as realistic as possible.
It features around 300+ sound effects and hotkeys for each one of them.
The software even features voice memes that you can download with a click of a button.
Pros
Beginner friendly.
A great variety of filters.
Hotkeys activate sound effects instantly.
Compatible with desktop.
Cons
It is a new product, not very famous.
4 Simple Steps to Help You Get Started with MagicVox:
A major con related to MagicVox is that the app is very difficult to use for some people. However, worry not, as we have your back! Simply follow these below-mentioned steps and get your very own Mechanical Voice like Batman !
Step 1: Install UnicTool MagicVox on your desktop. After that, set your default settings to the microphone as the input device.
Step 2: You will find a 'Voice Changer' toggle on the bottom of your screen. Ensure that it is switched on.

Step 3: Next, search through the voice filters in the library and select the one you want to use. You can even add some to your favorites list.
Step 4: Lastly, select Virtual Audio Device as the audio device to help you record anything in Audacity.

MorphVOX is giving major competition to all voice changing apps out there with its brilliant performance. The app is available in free and premium versions. It serves to be one of the most convenient voice changing apps out there. A bonus point of using this app is getting to explore your creativity corner.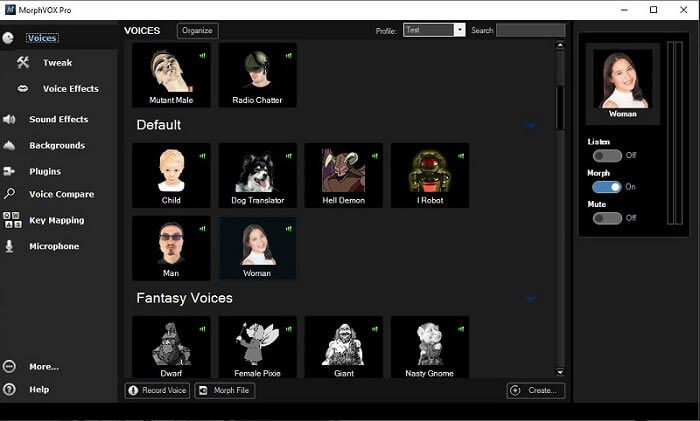 Key Features
The following features are why MorphVOX is giving other voice changers a run for their money.
Goes in sync with other gaming and social media platforms easily.
Automatically molds your voice with your preferred voice filter.
It has tons of built-in voices and sound effects.
The app is very lightweight and won't take a toll on your system.
Pros
Works well with gaming apps.
Compatible with Windows and iOS devices.
It lets you download audio files and sound effects.
Cons
A few glitches in the Windows version.
The voice effects might sound unnatural.
Don't go after its name, Clownfish voice changer can allow you the freedom to many things. For starters, it lets you upload audio files of any format. It supports the VST plugin that can help you to use the app in real-time on Audacity voice changer.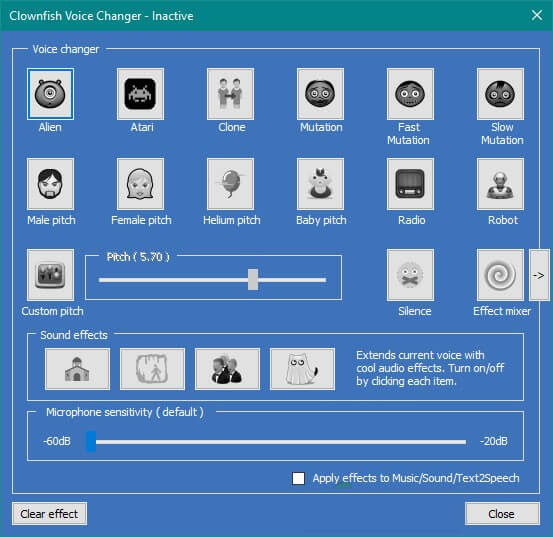 Key Features
Here are the features to help you better understand the app's capabilities.
The voice filters are built-in.
It works exceptionally well on all Windows devices.
The music player of the app supports audio files of various formats.
The sound player helps you to manage your edited audio files easily.
Pros
It works best on Windows devices.
Supports the VST plugin.
Cons
Not available for Mac devices.
It only have 14 voice effects, can't give you an interesting experience.
Part 3.

How to use Audacity Voice Changer Plugin

No matter what trouble you're facing, we've made sure to bring you a solution for every possible thing. Even though the above voice changers are great and will work well with Audacity. The problem is that most of their features are available in premium versions which everyone can't avail. Hence, if the built-in effects of these voice changers don't work, you can install VST plugins. The list of Audacity voice changer plugin is huge. Some of them include:
Overdrive
Ringmodulator
Flanger
LoFi
Chorus
Compressor
Phaser
How do VST Plugins work on Audacity?
You may be wondering how VST plugins work on Audacity. Well, basically, Audacity comes with VST support. The VST effects are displayed in a GUI interface that allows users to use electronic devices through icons. Audacity makes use of an open-source VST header that makes it possible to use the VST plugin without needing an enabler.
Step by Step Tutorial on How to use VST Plugins on Audacity:
If the above things just went straight over your head, simply follow the below-mentioned steps. Follow them exactly how it's demonstrated, and you won't find any trouble while using VST plugins on Audacity.
Step 1: To install the new VST plugin, and upload it to the Audacity 'Plugins' folder- Users\\AppData\Roaming\audacity\Plug-Ins.
Step 2: After that, click on 'Effect' and then on 'Add/Remove Plugins'.

Step 3: Next, scroll through the list of effects and find 'Voice Changer VST'.
Step 4: Select your desired plugins and click on the 'Enable button' to activate them.
Step 5: Now, select the VST you want to use, go back to 'Effect' and click on ''Add/Remove Plugin' again.
Step 6: You now have your desired tracks enabled.
The Bottom Line
Audacity voice changer has many users worldwide, and everyone has only great things to say. The cons of the software may cause huge problems to some. However, with the help of the above points, it can easily be sorted!
The three voice changing apps that we have mentioned in this article are some of the best ones out there. However, your quest is for the best, and for that, UnicTool MagicVox should be your pick. The software isn't like the other voice changing apps in its league. It has features to help you get done with every imaginative and creative thought that pops into your mind!