We use the Reminders app on our iPhones to keep track of to-do lists and set reminders for important events and tasks that we have to accomplish. And if you accidentally or intentionally delete any of your reminders, you will no longer be able to get notifications of the important tasks and events that you had scheduled earlier on.  That will cause many inconveniences for your life and work.
But don't be too anxious. The good news is that there are several methods you can use to restore deleted reminders on your iPhone. In today's article, I will discuss four useful methods with detailed steps, just keep reading.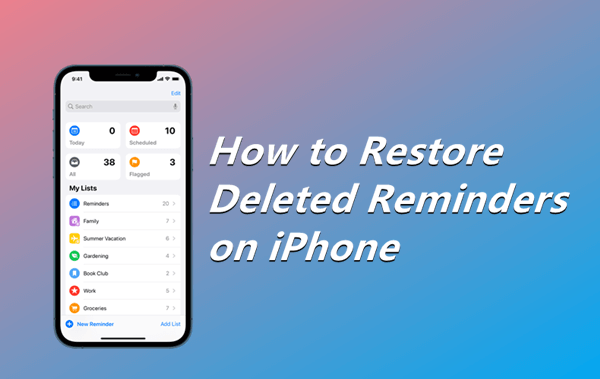 Way 1.

Restore Reminders on iPhone From iCloud.com

Apple allows users to sync data from some of the default apps with iCloud.com. However, you need to choose which apps should be synced with your iCloud. So, to restore deleted reminders to iPhone from iCloud.com, you need to have enabled the syncing of reminders in your iCloud settings. To enable this option, open your Settings app, go to iCloud and make sure the green button is turned on for Reminders.

Steps to restore reminders from iCloud.com:
Open a browser and visit www.icloud.com.
Use your Apple ID and password to log in to your iCloud account.
While on iCloud.com, open your Account Settings and then choose the "Restore Calendars and Reminders" option in the Advanced section. All versions of your reminders will be listed alongside the date they were archived.

Click the Restore option for the reminders you want.
Way 2.

Restore Reminders on iPhone From iCloud Backup

You can also restore deleted reminders from iCloud backup. However, you need to have made this backup before deleting the reminders. This method may also lead to the loss of some of the files that were not backed up on iCloud since it requires that you erase all content on iPhone first. You are advised to save your important files on iPhone elsewhere before starting restoring a backup.

Steps to restore reminders from iCloud backup:
Erase your phone by going to Settings > General > Reset > Erase All Content and Settings.

After erasing the iPhone, follow the onscreen setup steps until you reach Apps & Data screen. On this screen, choose the "Restore from iCloud Backup" option.

Sign in to your iCloud account using your Apple ID and password. From the backups available, choose the backup you would like to restore. Follow the on-screen instructions after that. Wait for a couple of minutes for your backup to complete.
When completed, finish up the other setup procedures to get to the home screen. You should now find all your reminders, including those you had deleted, in the Reminders app.
Way 3.

Restore Reminders on iPhone From iTunes/Finder Backup

If you had made a backup of your iPhone earlier on your PC or Mac, another alternative to recover deleted reminders to iPhone is to restore a backup from iTunes or Finder. For macOS Catalina or newer, you will use Finder instead of iTunes that is used on older versions of macOS and Windows. With this method, you will also risk losing some of the files that were not backed up just before you deleted the reminders.

Steps of how to restore a backup from iTunes/Finder:
Launch the newest version of iTunes or Finder on your PC or Mac. Connect your iPhone to your computer using a reliable lightning cable.
Select your iPhone's name after it has been detected in iTunes or Finder.
Click on "Summary". Click the "Restore Backup" button.

You should then choose the backup that contains your reminders. Click the "Restore" button and wait for the process to be complete.
Way 4.

Restore Deleted Reminders With a Data Recovery Tool

If you want to restore your deleted reminders without a backup or don't want to risk losing some of your important files, the most reliable method is using a recovery tool.

 iFindit is one of the best iOS data recovery tools. You can use it to recover deleted reminders directly from your iPhone without an iTunes or iCloud backup. Moreover, it can recover any other type of lost or deleted files on your iPhone. Whether you come across data loss for accidental deletion, iOS update, iPhone damage, or any other reason, iFindit could help you bring them back.

Here are some more spotlights of iFindit:
Supports up to 18 types of deleted or lost data such as photos, videos, and WhatsApp messages.
Supports all iOS devices and various iOS versions, including iOS 15.
Provides free preview before starting recovery so that you will know if iFindit is worth a try.
Enables you to recover reminder files you need selectively, which will save a lot time and storage for you.
Provides easy operation with only one-click and user-friendly interface.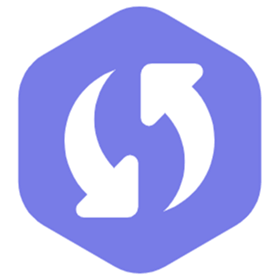 1

Install the iFindit app on your Mac or Windows PC and open the app when complete. Click the "Recover from iOS device" option and connect your iPhone with a reliable lighting cable. When iFindit successfully detects your iPhone, click Next.

2

Select "Reminders" from the data types listed on the screen. Then, click the "Scan" button to start scanning. This will allow iFindit to check your iPhone storage to find all the reminder files available. When the scan is complete, you can preview the reminders that can be restored by clicking them.

3

Choose the reminders you need to recover, then click the "Recover" button at the right bottom corner. You will be required to choose the location where you want the restored files to be stored. Wait for a few minutes for the restore process to be complete.
Conclusion
You can use any of the four methods to restore your reminders. With iCloud.com, you need to have allowed the option of syncing your reminders to the cloud. With iPhone backup, you need to have made a backup on either iTunes/Finder or iCloud previously. You might also lose some data if you choose to restore your iPhone from iCloud or iTunes/Finder.
If you don't have a backup or don't want to risk any extra data loss, we recommend using iFindit to restore your deleted reminders. This method is very reliable and easy to use. You can download iFindit now and start restoring all your deleted reminders or any other lost files.