English is a widely spoken language worldwide, while Irish accents are a special and captivating way of speaking that comes from Ireland.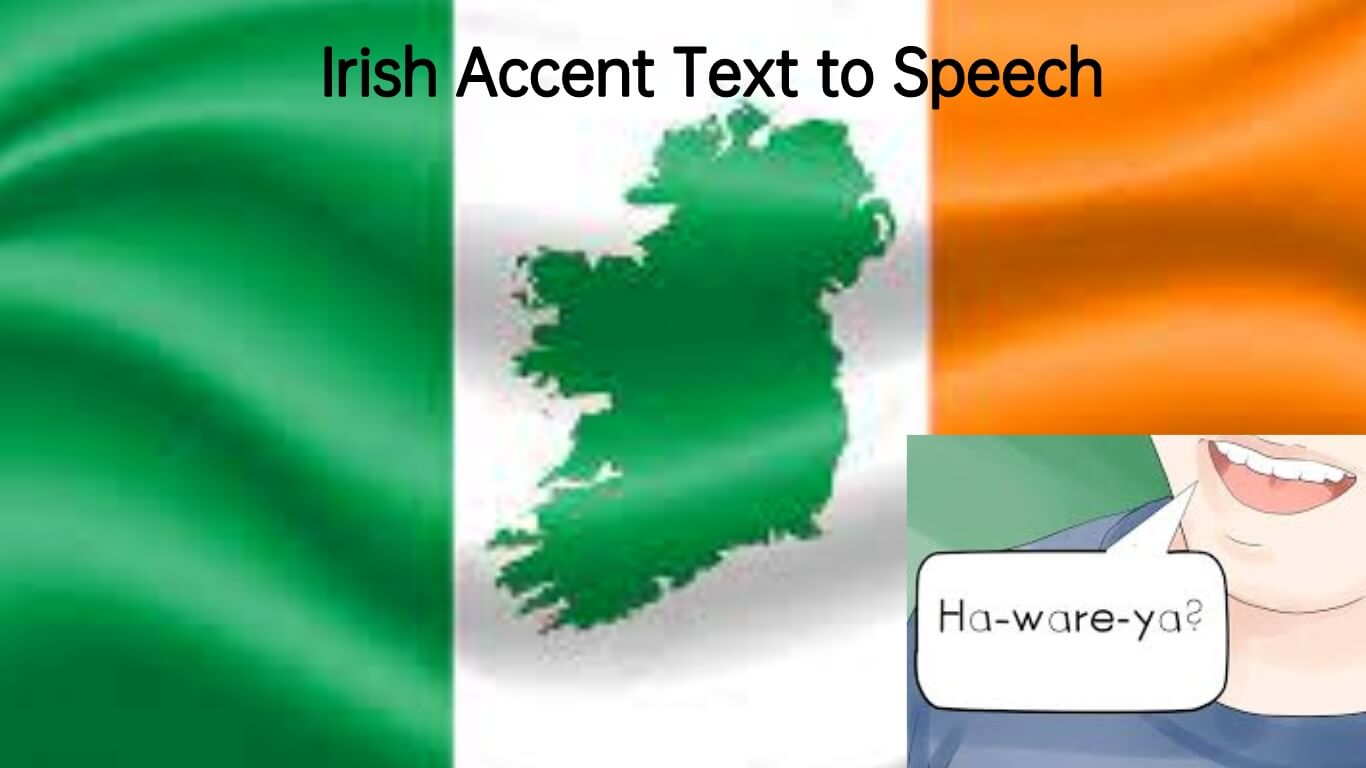 To communicate in their own dialect or have fun online, people want to learn how to speak with an Irish accent. How to use tools like Irish accent text to speech or Irish accent generator. This article will explain how to change your voice to Irish.
Part 1. What Are Irish Accents?
Irish accents are distinct linguistic patterns and pronunciation styles associated with the Irish language. Ireland has a rich variety of accents influenced by regional dialects, historical factors, and cultural influences. Irish accents are known for their melodic and musical qualities, characterized by unique intonation, vowel sounds, and speech patterns.
Part 2. Which Celebrity Has Irish Accents?
Several celebrities are known for their Irish accents, showcasing the diversity of Irish speech. Some notable examples include:
Saoirse Ronan: The talented actress from Ireland has gained international recognition for her Irish accent, featuring prominently in films like "Brooklyn" and "Lady Bird."
Colin Farrell: This Irish actor has a distinctive accent, which can be heard in movies like "In Bruges" and "The Lobster."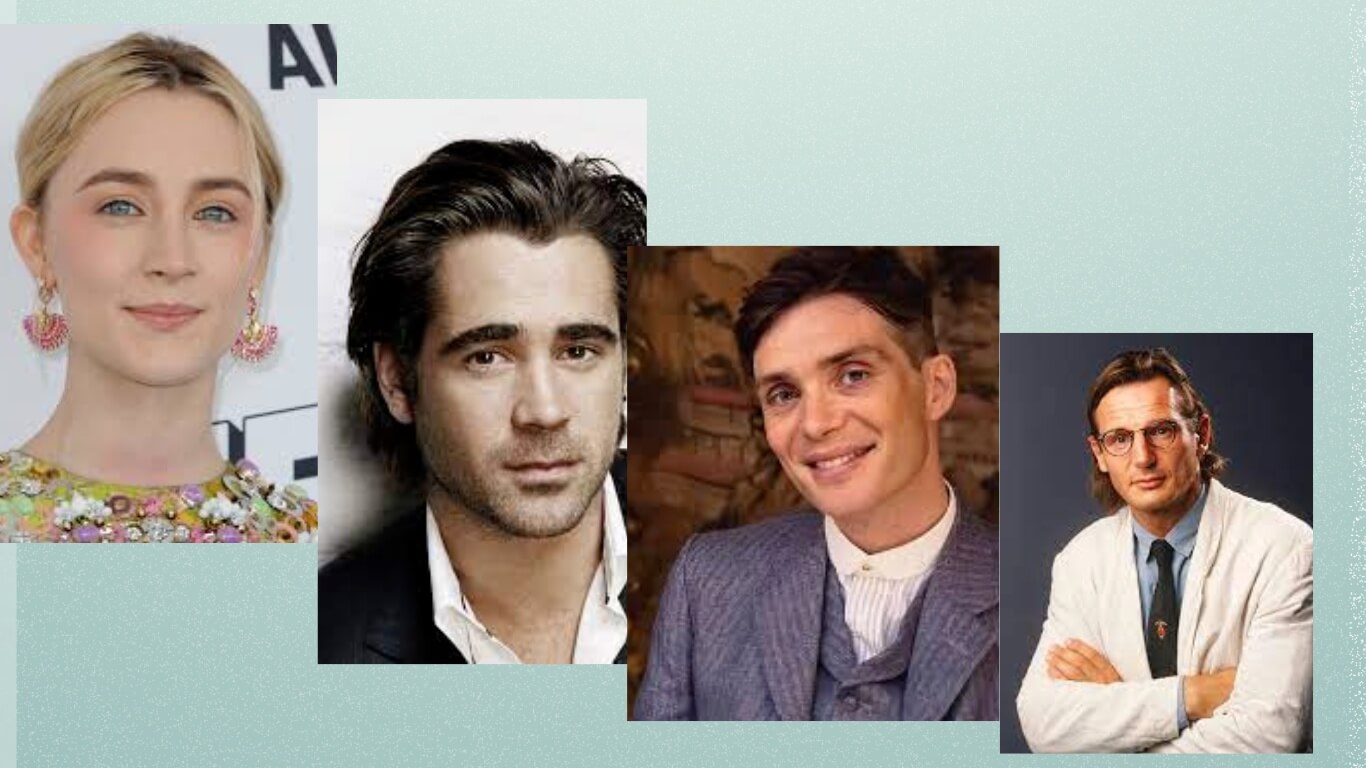 Cillian Murphy: Known for his roles in "Peaky Blinders" and "Inception," Cillian Murphy'sIrish accent is often admired.
Liam Neeson: : Originally from Northern Ireland, Liam Neeson's accent is often associated with the broader Irish accent due to its similar characteristics.
Part 3. How To Speak With An Irish Accent?
Speaking with an Irish accent requires an understanding of the unique characteristics and nuances associated with it. Here are some tips on how to do the Irish accent with Irish ai voice:
Study the sounds:
Pay attention to the specific vowel and consonant sounds used in the Irish accent. focusing on elements like the "r" sound and the different vowel sounds.
Intonation and rhythm: Irish accents have a melodic quality with distinct intonation patterns.
Word stress and emphasis:
Irish accents often place emphasis on certain syllables and words.
Regional variations: Keep in mind that Irish accents can vary across different regions and dialects.
Practice with native speakers:: PEngage in conversations with native Irish speakers or listen to recordings to immerse yourself in the accent.
Part 4. Top Irish Accent Text To Speech Ai Voice Generator
Practice with native speakers: Engage in conversations with native Irish speakers or listen to recordings to immerse yourself in the accent.
1. Narakeet
Narakeet is a fantastic online tool if you need an Irish accent generator for text to speech purposes. It's great for reaching your online customers or when teaching classes. This tool offers many helpful features, making it an excellent choice for generating Irish accents in text to speech format.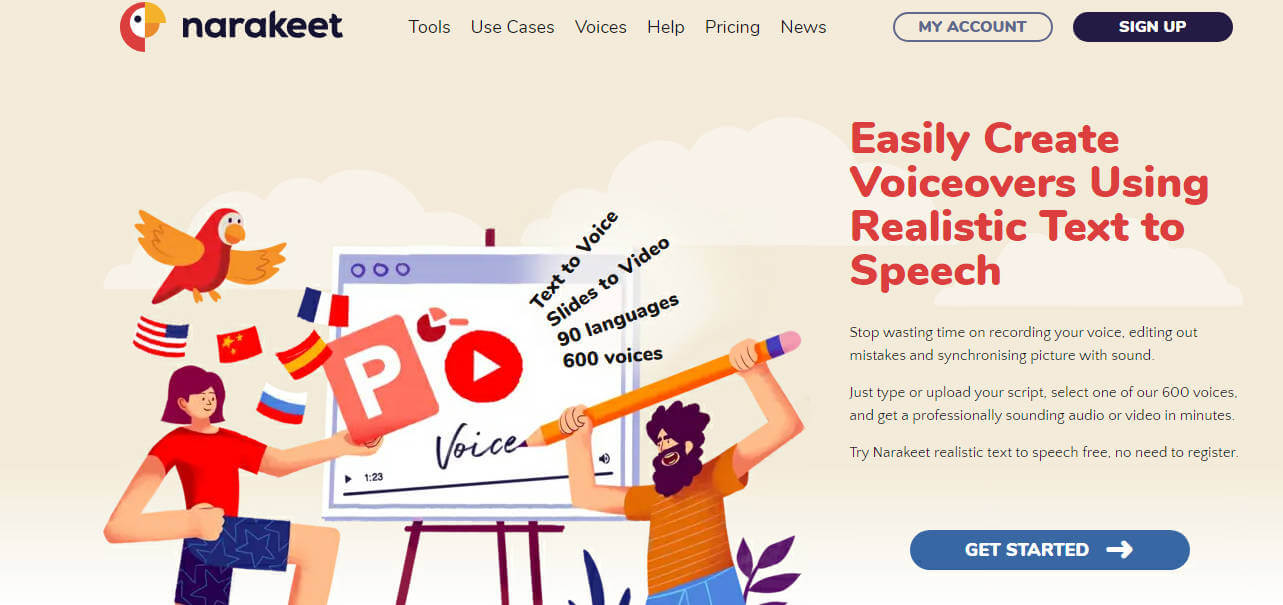 Key Features
Realistic Voiceover: The AI technology used by Narakeet ensures that the Irish accents sound natural and not robotic.
Wide Language Support: Narakeet supports over 300 voiceovers in around sixty languages, making it versatile for various linguistic needs.
Accents and Dialects: The tool can generate different accents and dialects for multiple languages, providing a diverse range of options.
PowerPoint Conversion: Narakeet can transform PowerPoint presentations into videos, enhancing the learning and presentation experience.
Audio Control: It allows you to easily adjust the volume and speed of your resulting audio files, providing customization options.
Pros
No sign-up required: You can use their online tools without having to create an account.
Multiple language options: You can communicate with people from different parts of the world using their wide language support.
Easy file saving: You can conveniently save your output files on your computer or mobile devices. Cons
Cons
Requires stable internet: Since it is an online-only tool, you need a reliable internet connection to use it.
Limited voiceover types: While it supports many languages, the variety of voiceover options for the Irish accent is not as extensive compared to other text to speech tools.
2. Play.ht
Play.ht offers a range of text-to-speech voices, including Irish accents. It provides natural-sounding voices with customizable speech characteristics. The platform integrates well with various applications and supports multiple languages.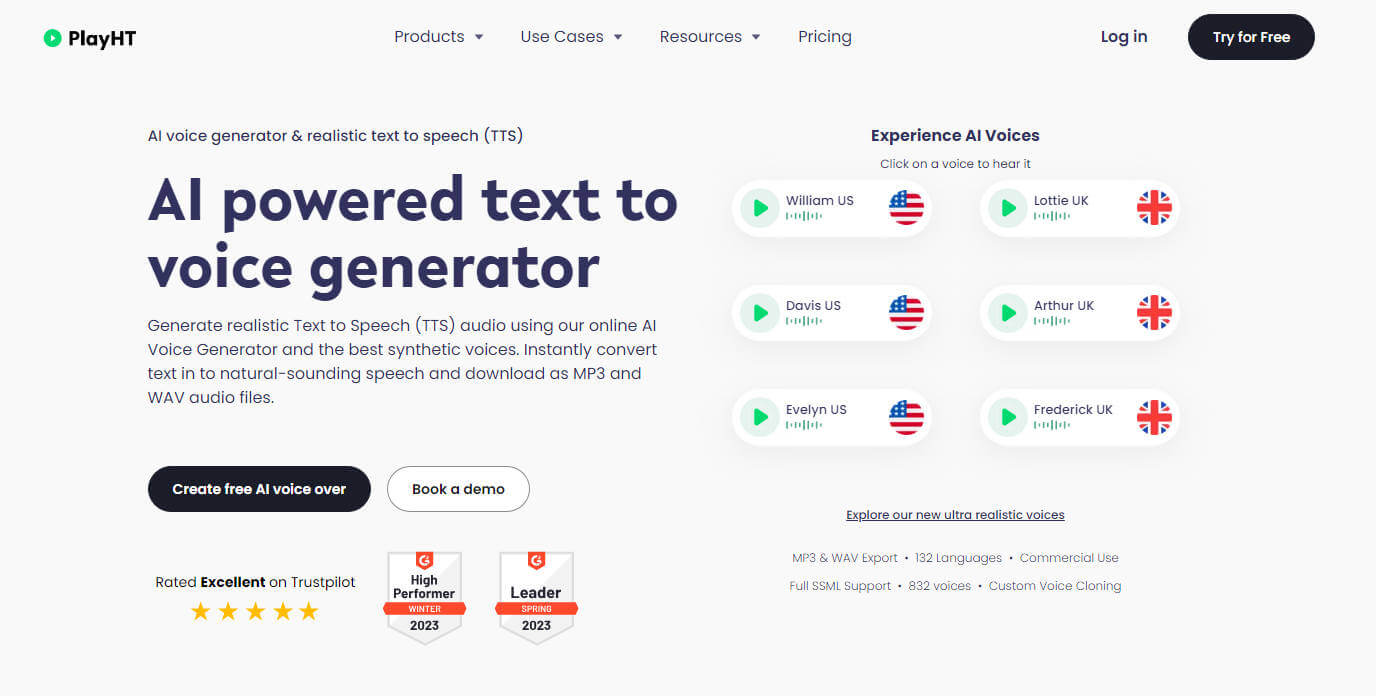 Key Features
Multiple native speaker voiceover options are available for your Irish language text to speech requirements.
Convert text from English to any language on their list and vice versa with ease.
Real-time text-to-voice editor for convenient editing and adjustments.
Enhanced AI technology improves the lifelike quality of many voiceovers.
Support for Podcast feature, allowing you to use text to speech and easily publish and distribute your content on major platforms..
Set up your RSS feeds and accounts for your podcast channel directly on the website.
Pros
Multiple options for pronunciations and accents to suit your specific needs.
Multiple language options: You can communicate with people from different parts of the world using their wide language support.
Cons
The abundance of features may seem overwhelming for new users who are not familiar with the tools.
3. Synthesia
What could be better than having a tool used by the United Nations to translate speeches or read transcripts in real-time, all while supporting excellent Irish text to speech capabilities? That's where MicMonster TTES Voice Generator comes in.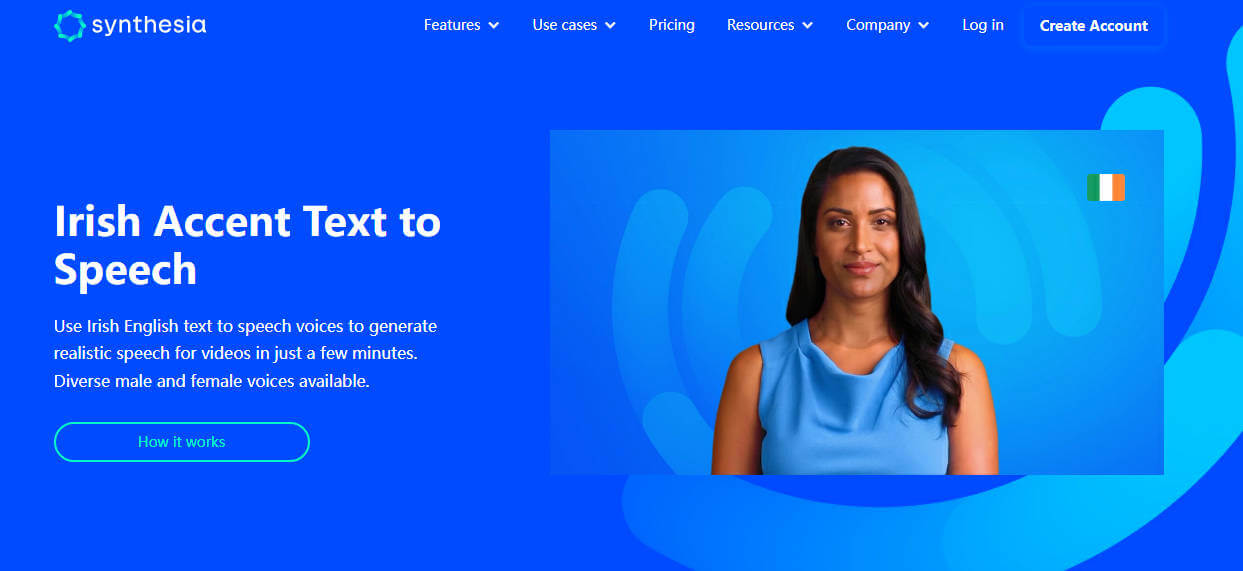 Key Features
Trusted by the United Nations for its top-notch Irish text to speech narration and support for other languages.
Offers a vast library of 500+ voices that can be used in over 100 languages.
Preview mode allows you to easily select the best Irish text to speech voice and add it to your files or content.
Supports a high character limit of 120,000, surpassing the limitations of most other websites.
Features an inflexions tool to adjust and customize the output voices according to your needs.
Pros
Great pricing options that are accessible to regular users, along with stellar support to assist you with your content.
Regular updates ensure the tool stays up-to-date and improves over time.
Cross-platform compatibility allows you to edit your files on the go.. Cons
Cons
Currently, there are limited styles available, but the tool is continuously evolving and expanding its offerings.
If you tried voice changer mentioned above and still are not satisied with these tools. Voxmaker stands out from other products due to its ability to produce powerful, realistic, and diverse sound. Numerous satisfied customers have expressed their astonishment at the product's authentic and natural audio quality through their feedback. It is a professional-grade Irish text to speech (TTS)Irish accent voice generator tool that can produce over 3200 voices in more than 46 languages, making it suitable for various real-life situations.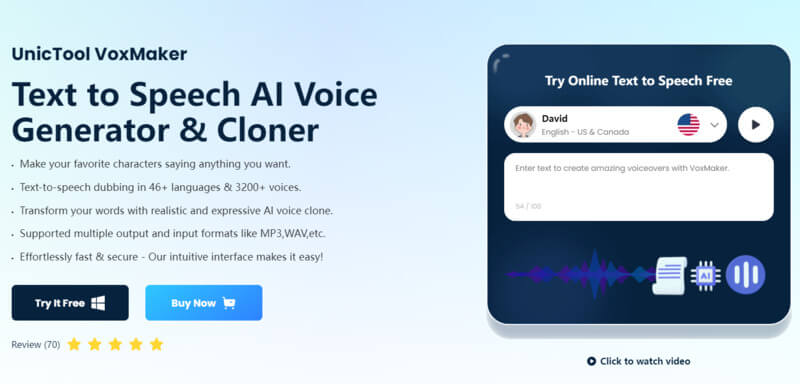 Key Features
Generate voiceovers for Irish text to speech needs and more than 46 major languages.
Access a wide range of 3200+ voice types and voiceovers, suitable for real-world scenarios or just for fun.
Enjoy excellent functionality that allows easy editing, trimming, and conversion to other formats.
It also supports the import of previously recorded voices or text files.
Popular Irish text to speech formats like WAV, AAC, and MP3 are supported.
VoxMaker stands out as one of the best tools in terms of prioritizing the privacy and security of your audio and text files.
Pros
Provides one of the safest options for Irish language text to speech tools.
The premium package offers a wide range of voices to choose from for your Irish language text to speech needs.time.
Known for its fast processing speed, making it the fastest among its competitors.
Cons
Currently, the tool is only available on PC and not on other platforms.
Some of the great features are only accessible in the paid version, and not available in the free version.
Part 5. Bonus: Best Real-Time Irish Accent Generator
If you are not satisfied with the Irish text to speech ai voice generator, or you want to know how to speak in an Irish accent more natural, we also recommend one powerful Real-time Irish Accent Generator, which helps you to change your voice into an Irish accent Whether you are in a meeting or live broadcast.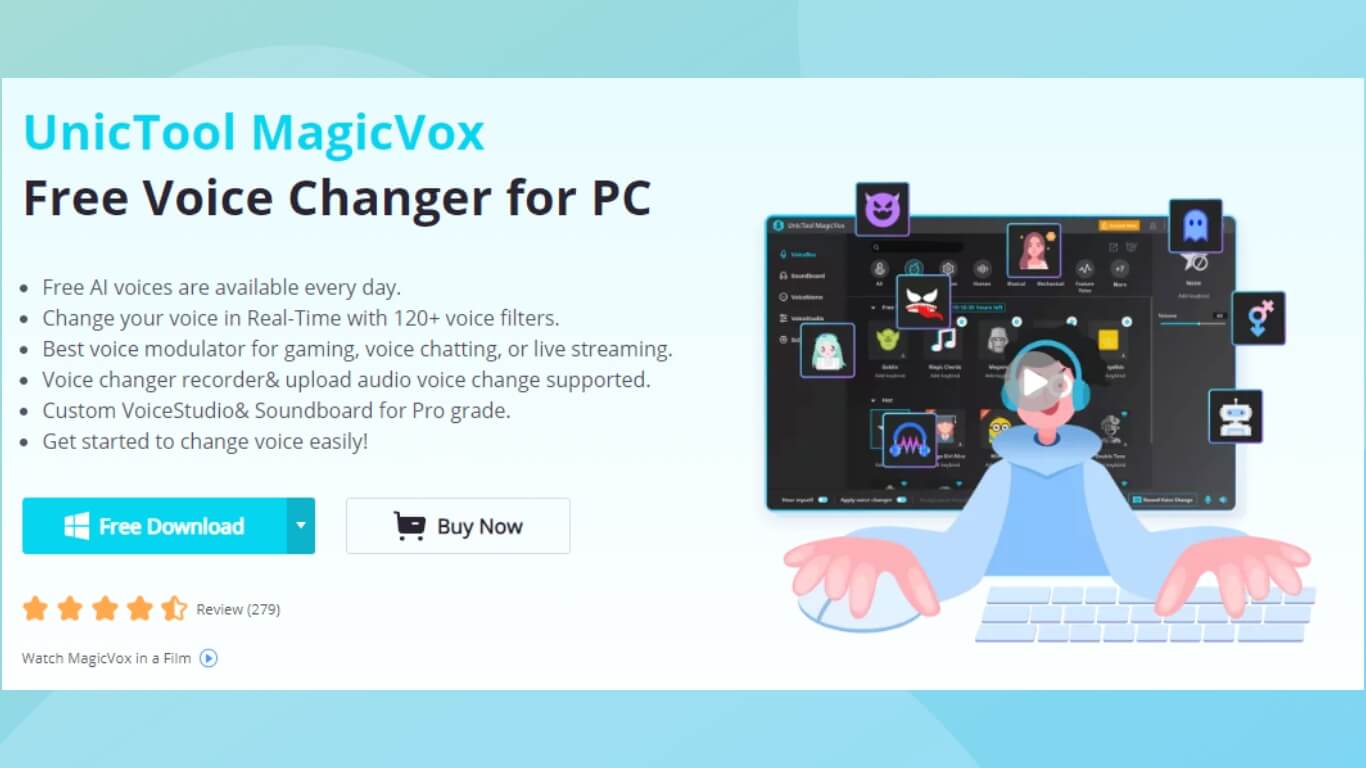 The MagicVox Irish voice generator is an excellent tool for it has many amazing features, including a wide selection of voices in different languages and accents. Using MagicVox's real-time AI voice technology, you can effortlessly create impressive audio content for podcasts, videos, or YouTube. You can even use her voice in games, or ongoing dubbing.
Key Features
AI voice generator: MagicVox is an real-time AI voice generator that can create almost 400 AI voices with 100+ different languages, including famous Irish accents.
Pre-set voice filters: You can also choose from a variety of pre-set voice filters in MagicVox.
Custom voice filters: If you're feeling creative, MagicVox's user-friendly interface lets you create your own custom voice filters.
Soundboard: MagicVox includes a wide selection of sound effects, background music, and other audio elements in its soundboard.
Compatibility: You can use MagicVox on both your computer and mobile devices.
Pros
User-friendly interface with customization options
Saves time and money compared to hiring professionals
Provides realistic Dio AI voice
Cons
Newly released product with potential limitations
Part 6. FAQs About Irish Accent Text To Speech Voices Generator
1.Are there different Irish text to speech voices available?
Yes, there are typically multiple voices available for Irish text to speech systems. These voices can vary in terms of gender, age, accent, and other characteristics. Different voices offer users a choice in selecting the most suitable option based on their preferences and needs.
2. Can Irish Text To Speech Systems Handle Different Dialects Of Irish?
Irish text to speech systems can be designed to handle different dialects of Irish. However, the availability of specific dialects may vary depending on the system.
3. What Are The Applications Of An Irish Accent Generator?
An Irish accent generator can be used for various purposes. It can be helpful for language learning, drama or acting practice, voice-over work, entertainment, or simply adding a touch of authenticity to a project or presentation that involves Irish content.
Conclusion
how to speak Irish accent? Now the questions can be very easy to answer Whether you choose to learn Irish on your own or with Irish accent text to speech or a more advanced real-time Irish accent generator, generating Irish accent text to speech has never been easier.