Ever tried to access your iOS device, and boom, you meet the message that you are locked out of your Apple ID for security reasons. Don't get cold feet when you meet this problem because you only need to bypass Apple ID. Many people have been here and have managed to bypass Apple ID. You can also make it as long as you've gotten the right way. In this article, we'll take you through a comprehensive guide on how to bypass Apple ID.
Part 1.

Apple ID Got Locked or Disabled?

Apple ID is a crucial identification for your Apple account. Without your Apple ID, you cannot access Apple services like iTunes, FaceTime, Apple Support, App Store, and iCloud, among others.If your Apple ID got locked or disabled, it is probably because forgot apple id password and have entered incorrect Apple ID or password several times.

Apple locks your Apple ID for security reasons, majorly to prevent unauthorized access to Apple devices. If you've purchased a second-hand Apple device logged in with a different Apple ID, you would probably run into the same problem. When your Apple ID is disabled for security reasons, you will see messages like: "This Apple ID has been disabled for security reasons", "You can't sign in because your account was disabled for security reasons", and "This Apple ID has been locked for security reasons".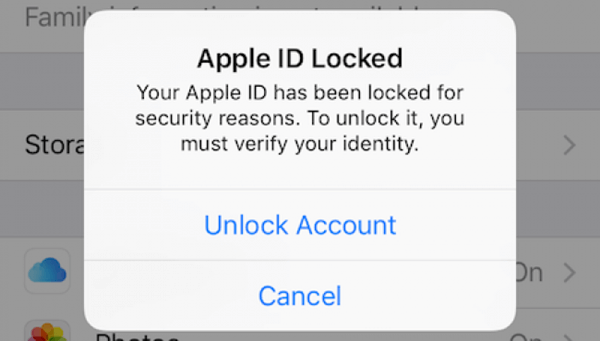 In such situations, if you want to regain access to the various Apple services and use your iOS devices in a normaly way, you must find a way to bypass this Apple ID.
Part 2.
Bypass Apple ID With Professional Tool
In an event where your Apple ID is disabled or locked, it is not the end of the world. You only need to bypass this Apple ID first and then log in with another Apple ID. With a normal Apple ID, you can enjoy all the Apple services again. While there are many ways to bypass Apple ID, none come closer to LockEraser. It is a powerful all-in-one unlocker for iOS devices.
Professionally designed to provide an easy yet effective way to unlock Apple ID or even unlock iPhone without passcode or using face ID on your iPhone, iPad or iPod touch, LockEraser is capable of bypassing Apple ID without friction. After unlocking Apple ID, you can freely log in with a different Apple ID or create a brand new Apple ID on your device.
Unlocks iOS devices in different scenarios: unlock Apple ID, screen passcode, screen time passcode, and MDM lock.
Highly-rated and trusted by users all around the world.
Absolute security is guaranteed; convenient for daily use at home.
Easy enough to use, requiring no technical knowledge.
Support all iOS versions and devices, including the latest iOS 15 and iPhone 13 series.
Free trial is available for every new user.
1

Download, install and launch LockEraser on your computer. Choose the Unlock Apple ID mode, then get your device connected.

2

Click the Start button to remove the Apple ID and iCloud account presently associated to your iOS device.

3

Wait patiently while LockEraser is unlocking Apple ID for you. It won't take long.

4

In just a few seconds, LockEraser will get the unlocking work done.
Part 3.

Contact the Previous Owner to Remove the Device

If you've purchased a second-hand iOS device with the old Apple account on it but you don't know the correct password, the easiest way to bypass Apple ID is to ask the previous owner to remove the original Apple ID for you. Once the old Apple ID gets removed, you can log in using your own Apple ID. If the previous owner agrees to remove the device from account, ask them to do as follows:
1

Visit the iCloud website and sign in with the Apple ID and password used by your iOS device.

2

Locate and click the "Find iPhone" option on the main page.

3

Choose "All Devices" and scroll to select the correct device from the options given.

4

Click the "Remove from Account" button at the bottom.
The device will now be removed from the Apple account of the previous owner. You can access your device using your Apple ID and respective password.
Part 4.

Bypass iCloud Activation Lock With DNS Method

If you are troubled by the iCloud activation lock, using the DNS method is the last resort. However, you need to note that after bypassing iCloud activation lock via DNS methos, you will only have access to a few functionalities on your iOS devices. Besides, the chances of success are rather low. The following steps illustrate how to bypass the iCloud activation lock with the DNS method.
1

Start by restarting your Apple device. Once restarted, choose your country and language under the "Country" and "Language" options, respectively.

2

Proceed to the "More Wi-Fi Settings" then click the "i" icon bounded by a circle, available beside the Wi-Fi network.

3

Next, choose the "Configure DNS" followed by "Manual".

4

Now, choose the DNS server that corresponds to your region. Some of the DNS locations that would be displayed include: South/North America (104.154.51.7), Europe (104.155.28.90), Asia (104.155.220.58), Other Regions (78.109.17.60).

5

After you have selected the right DNS, head back to connect your device to your Wi-Fi network.

6

Now, activate your iPhone screen and tap the "Activation Help" option below the Apple ID and Password fields.

7

Finally, you will receive a confirmation message that you have successfully connected to a DNS server.
If this method works, you will realize that you cannot access all the apps and features offered by your Apple device. Nonetheless, it is still worth trying because you only require a Wi-Fi connection. Otherwise, you should opt for better options.
Conclusion
In this article, it is evident that how to bypass Apple ID is not a big issue. However, you need to find the right way to make your experience as smooth as possible. Otherwise, you can easily get irritated. With the options given, it's obvious that the powerful iPhone unlocker LockEraser proves to be the ideal option. In view of the amazing features and functions of LockEraser, there is no need to hesitate. Download this tool now and bypass your Apple ID across iOS devices with ease, speed, and efficiency.