The customizations and features Android offers are unmatched by iOS. You can do anything you want on Android if you know your way around it. This might have made you ditch your iPhone for a brand new Android device.
But when it comes to transferring your WhatsApp messages on the new device, you must have seen the WazzapMigrator doing the trick. Today we will review WazzapMigrator and let you know if it works or not. Also, we will provide you with a far better alternative to the WazzapMigrator, which is very easy to use.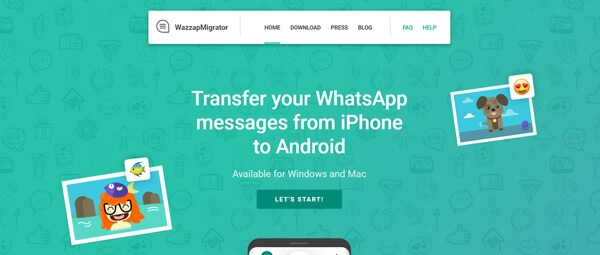 Part 1.

What Can WazzapMigrator Do?

WazzapMigrator is an application on Android which can transfer your WhatsApp chats and data from your iPhone to your Android device. It can also transfer your data from google drive and Dropbox if you have a backup of your WhatsApp chats there.

The transfer will include all your photos, videos, music, documents and files which are sent or received in the WhatsApp conversations.

The process to transfer WhatsApp using WazzapMigrator requires a bit of effort to perform. To help you, we will give you a step-by-step guide to it further in the article.
Part 2.

Is WazzapMigrator Paid or Free?

WazzapMigrator was launched as a free tool to support people who are migrating from iOS to Android and want to transfer their WhatsApp chats.

But recently, the developers of WazzapMigrator have started to charge a mandatory one-time fee of $8.49.

So WazzapMigrator is not a free software anymore!
Part 3.

Can WazzapMigrator work well both on Android and iOS?

Yes, the WazzapMigrator works on both Android and iOS gadgets. Use this migrator tool to extract the data in the archives and store it in any storage location precisely. It is an Android application but helps you to move the data between iPhone and Android devices effortlessly. You can download the application from Google Play Store and start extracting the WhatsApp messages for further reference.
Part 4.

Does WazzapMigrator Really Work?

Actually, it isn't as seamless as it seems because you have to face several hiccups before reaching the final point. If you need an easy alternative to WazzapMigrator, head over to Part 4.

But to make sure you can transfer your WhatsApp messages, we have provided a stepwise guide to WazzapMigrator below:
How to Use WazzapMigrator - Step-by-Step Guide
1

Firstly, make sure that you have updated your iTunes to the latest version. To do so, open your iTunes app and navigate to Help → Check For Updates, and it will automatically update itself to the newest version.

2

Connect your iPhone to your PC or Mac and open the iTunes application. Head to the Summary tab and you'll see the Backup tab. Under the Backup tab, select This Computer to save the backup to the PC and deselect Encrypt iPhone Backup to make the backup usable. Then, click 'Back up Now', and the backup process will start. The time taken will depend on the size of your data.

3

Download the WazzapMigrator Extractor and open it. It will automatically detect your iPhone's backup. Select the one you did recently and click Extract. It will extract the ChatStorage.sqlite and media folder from your backup to your computer. You can also upload these to your google drive if you want.

4

After extracting the backup, connect your Android device to your computer and copy the chatstorage.sqlite and media folder to the 'Download' folder of your smartphone's internal storage.

5

Firstly, delete WhatsApp from your Android device and then install the WazzapMigrator app on your phone. Open it, and a toast message should say that your backup is detected. Just tap the play button and then press OK, and the restoration process will initiate.

6

After the restoration is successful, head to the PlayStore and download WhatsApp on your device. Open it and enter your mobile number and click next. After that, it will ask you if you want to restore from local backup, click Restore, and after some time, all your messages will be on your Android device.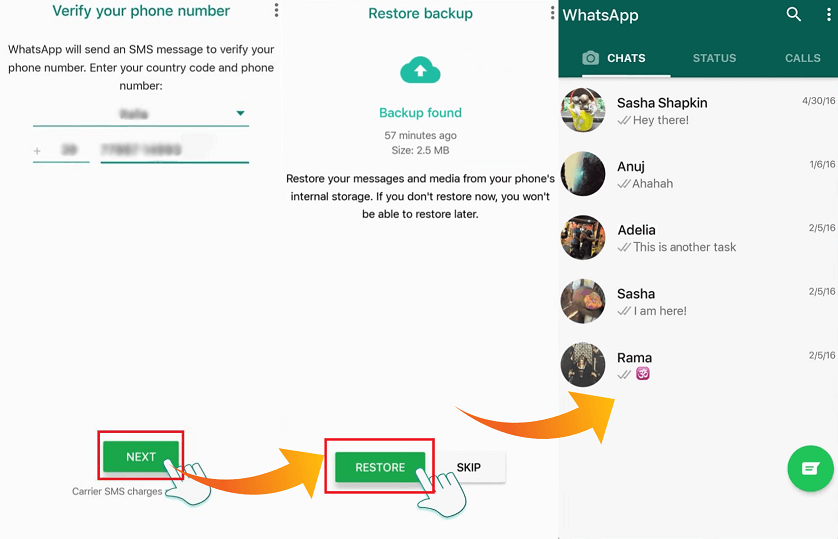 Pros & Cons from My Experience
According to my own experience, WazzapMigrator has its pros and cons which I have listed them below:
Pros
It supports transferring all your WhatsApp messages at the same time.
Not only your messages but the audios, videos, photos, documents and files which were present in the conversations will also be transferred.
Cons
While handling larger data, the success rate is not appreciable.
It's not compatible with some smartphone models. We've tested Redmi Note 8, and the app failed to restore WhatsApp.
It doesn't support the latest version of WhatsApp according to our user experience.
You may have to face some hiccups here and there when trying to transfer the chats, and the success rate of the software is not that high.
It requires you to have some tech knowledge to transfer WhatsApp messages successfully.
The transfer process is time-consuming and quite complex.
You have to pay an upfront fee of $8.49 even to download the app on your phone!
WazzapMigrator Issues I faced
WhatsApp Local backup not found – Sometimes WhatsApp fails to detect the backup of messages created by WazzapMigrator.
WazzapMigrator Slow or Stuck – At the time of restoration of messages, the WazzapMigrator becomes very slow or sometimes get stuck at the restoration screen, which results in the crashing of the app.
Messages not searchable after Import – The imported messages are not searchable after the import of them. It requires 8 – 12 hours before we can use the search feature to sort messages.
User reviews of WazzapMigrator
What the consumers say: WazzapMigrator has a PlayStore Rating of 3.9 out of 5 stars.
Part 5.

A Better Alternative to WazzapMigrator

If you want to transfer your messages from your Android to iPhone or  iPhone to Android without spending hours or watching countless tutorials, then we have great news for you.

You can use the UnicTool ChatMover to transfer all your WhatsApp conversations, including photos, videos and documents, in 1 click!
The user-friendly interface helps you to transfer WhatsApp chats between gadgets precisely.
This app adopts a less complex procedure to complete the WhatsApp chats transfers.
Transfer, restore, backup and export the WhatsApp chat messages including the media files.
Move the data to any device without loss and at a faster rate.
With one click you can move the WhatsApp chat messages belonging to both personal and business accounts hassle-free.

The steps to transfer you WhatsApp messages from iPhone to Android are listed below:
1

Download the UnicTool ChatMover for PC or Mac and open it. Connect both the iPhone and Android device to the computer.

2

Confirm the source and destination device.

3

Click Start. Choose WhatsApp type and click Next. The transfer process will start, and the time taken will depend on the number of messages to be transferred.

4

After some time, A transfer complete screen will show up. You can then check the WhatsApp on the destination device - all your messages from your target device will now show on it!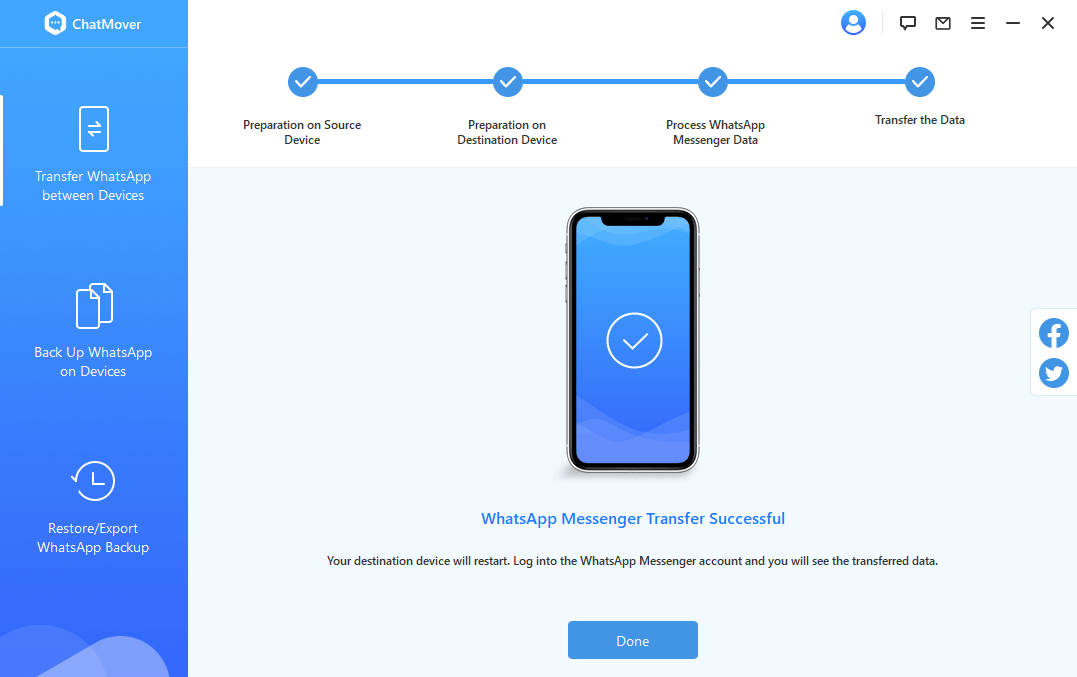 Conclusion
Now we have given you the complete review of WazzapMigrator. We have also provided you with a step by step guide to transfer your WhatsApp messages from WazzapMigrator successfully.
But if you don't want to spend hours transferring your messages, you can use UnicTool ChatMover to do it all in one click!