If you are in the dating game, then Tinder is one of your best friends. There are over 50 million active monthly users on Tinder alone, and it has become a way for people to meet new people. However, sometimes when we do not feel like matching with people nearby or wanna meet more people, we might want to fake our GPS location on Tinder. If this sounds like something you would be interested in doing - read on! In the following paragraphs, we'll show you how to fake GPS on Tinder so it looks like you can travel anywhere.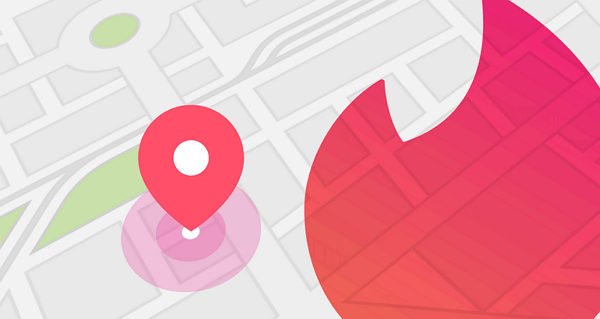 Part 1.

How Does GPS Work on Tinder?

Tinder is a revolutionary matchmaking app that has been celebrated as the best way to meet people. Tinder basically provides a location-based social networking service that allows users to chat with other people in their area. The app uses the device's GPS and your location as a filter to show you profiles of potential matches who live nearby.

You can search through singles within your radius or even choose not to share your location information with Tinder. But be mindful of the fact that if you don't allow Tinder access to your location services, then this app will stop working for you. Tinder simply doesn't work without the GPS.

But what about the frustration that creeps in when you are unable to find your desired match among the people nearby after days or weeks of swiping? Or what if you want to meet more people from other locations and diversify your choices? That's where faking GPS on Tinder steps in.
Part 2.

How to Fake GPS on Tinder
1. [Best Choice] UnicTool TailorGo
How about using a professional tool that can help you fake GPS on Tinder and explore more amazing people with a single tap? That is what UnicTool TailorGo is all about. It is capable of changing your Tinder location to your preferred place all over the globe to meet the people your heart falls for. Sounds impressive, right? Let's check the key features of this extraordinary application:
Spoof Tinder location in the way you want.
Fake GPS location on many other apps: Pokémon GO, Twitter, Grindr, WhatsApp, etc.
Simulate GPS movement in a natural and smooth way.
Work with both iOS and Android devices.
Absolutely secure and virus-free.
Only take 3 easy steps to fake GPS location.
Always run smoothly with no lag or crash.
Highly cost-effective and provide free trial.

1

Download, install and launch TailorGo on your computer. Then get your device connected and click the "Get Started" button.

2

Choose proper mode. Here are 3 modes:Teleport Mode, Two-Spot Mode and Multi-Spot Mode. To simply change location, choose the 1st one and select the destination. To simulate GPS movement, choose either the 2nd or the 3rd one, then plan a route to move along.

3

Then your location will be changed successfully; or the movement will be completed in no time.
2. [Expensive] Tinder Passport
Tinder Passport lets you change the location of your profile on Tinder. You can switch between different countries or regions with just a few taps. Tinder officially supports this feature, and it works pretty much like TailorGo.
1. Go to the settings of your Tinder app. Select the "My Current Location".

2. Scroll down and then select the "Add a New Location".
3. Choose or add your preferred location, and viola, you'd be good to go.
Drawbacks
Tinder Passport only works in Tinder. You can't spoof your location for any other location-based app using this feature.
Tinder Passport is way more expensive than TailorGo. You'll be paying around $120 per year to use this in-app feature. TailorGo is a much better and cheaper alternative.
3. [Android Only] Fake GPS Location
If you are using an Android phone, faking your GPS on Tinder is pretty straightforward. You have to choose a good GPS spoofing app that you trust and then change your location. The best thing about faking GPS on Android is that you don't have to root your device. And for that purpose, one of the most widely used GPS spoofing apps is Fake GPS Location by Lexa.
1. Download the "Fake GPS Location" app from the Google Play Store.
2. Install the app. Open your Android phone and proceed to the "Settings" menu. Look for the "Build Number" tab and tap on it a total of 7 times to unlock the developer options.
3. Then go to the "Developer options" and tap on the "Select mock location app". Choose "Fake GPS Location" as your fake location app.
4. Head back to the Fake GPS Location app and select your new fake location.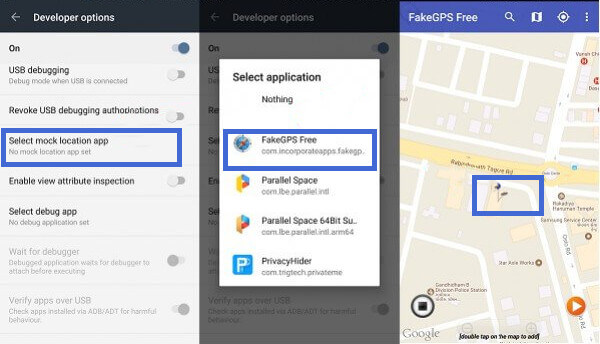 Drawbacks
Tinder does not support such apps, so they can easily be detected. If your GPS app stops working or is buggy, Tinder can access your actual location easily.
The setup of those apps is complicated and takes time.
4. [Jailbreak Required] Anywhere!
Jailbreaking is another method to spoof your location on an iPhone. Jailbreaks allow you to change most of the settings in a device, but it can be time-consuming and sometimes even tricky if done wrong. If your iPhone is already jailbroken, you can fake GPS on Tinder in the following way:
1. Download the "Anywhere!" app on your iPhone and install it.

2. Go to the location that you want to use as your fake location. Tap on the exact spot, and a red pin will appear on the screen.
3. Now select the blue banner and choose the apps (e.g., Tinder) on which you want to fake the location.
4. Now open Tinder, and you'll see that your location has already been changed.

Drawbacks

This method is time-consuming and difficult.
It requires jailbreaking your iPhone, which may lead to security risks and software issues in the future.

Conclusion

Faking GPS on Tinder can be done on either Android or iPhone, and it's not that difficult once you get the hang of it. Your best bet is to go for TailorGo, which is cheap, reliable, secure, and takes way less time to set up than other methods. Besides, it may also come in handy when you encounter some problems while using Tinder.
Thank you for your feedback!