We usually ask our friends or families to inform us how far they are from us, or when we will reach a certain place so they don't have to worry. What if you could avoid that entire conversation? What if your loved ones could stay updated on your location the entire time? Well, you can do that if you know how to send location on iMessage.
This feature is beneficial if you're stuck in an unknown city for business purposes or taking an Uber home. The person you share your location with has a live update on your whereabouts this way. Additionally, you have full control over the feature so that the moment you want to turn off your location tracking, you can end it right away.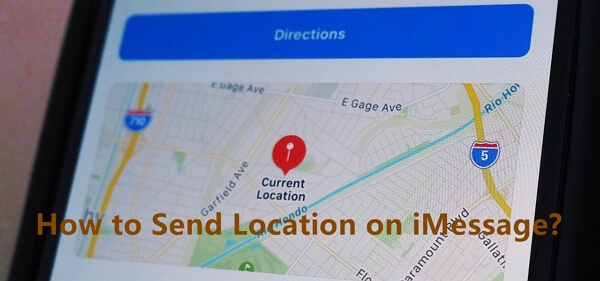 Part 1.

How to Send Location on iMessage?

iMessage gives you two different ways of sharing your location with another person.  One is the Share My Current Location, and the other is Share My Location. In both cases, your friend or family will get the Apple Map with direction lines that will help them reach you in case of an emergency. You can also ask the other person if they would like to share his location with you. In this way, finding each other will be super easy even if you're meeting up in a totally new place.
1. Send My Current Location
When you send your current location with someone else, you are telling him where you are exactly at the moment you share it.
1

Go to iMessage and choose the conversation with the person you want to share location with.

2

Tap on the "i" or info button at the top right of the screen.

3

Here, tap on the "Send My Current Location" option. Then a message showing your location will be sent.
2. Share My Location
The "Share My Location" option will share your live location with the other person. You can limit the amount of time a person can see your location after you share it with them. Until and unless the sharing is terminated, they will be able to see where you are.
1

Again, tap on the info button in your conversation.

2

Tap on the "Share My Location" option now, then a pop-up menu with three options will appear.

3

Decide the sharing time and start sharing your location.
Part 2.

How to Send a Fake Location on iMessage?

Now that we know how to share location on iMessage, you probably want to learn more about how to send a fake location on iMessage. While iMessage itself does not have a location faking feature, you can connect it to a location changer for this purpose.
1. Why You Might Want to Send Fake Location on iMessage
There are multiple reasons one might want to fake location on iMessage. Some of them might be why you're even reading this section of the article.
The top 1 concern is obviously safety. Now, you might wonder how it's safe to hide your location from someone rather than sharing it with your friend. One reason could be that you suspect someone is tracking you by using your phone's GPS. Alternatively, you might fear that when you send your location to a friend on iMessage, someone else is getting access to it. In some weird, tech-heavy way, they have access to your location. And this is horrible because something bad might happen.
Well, a location changer would help you throw them off the trail. Many location-changers can even fake your movements on the map, which would make the whole situation look real when you use the "Send My Location" function. Just send the fake location to whoever is tracking you, and he would be fooled into thinking you are somewhere else completely.
Apart from that, you could simply be trying to play a practical prank on your friend. Or maybe you want your friend to be acquainted with a particular location. In this case, you would want to send them a specific place, but not your current or live location. For those purposes, you need to send a fake location on iMessage.
2. Fake Location on iMessage Using TailorGo
It's not possible to simply fake your location through iMessage itself. The app only allows you to send your actual location and share live location. Only when you connect your phone to another tool, mainly a location-changing tool, can you successfully fake location on iMessage.
For that, you can use TailorGo, a highly professional tool designed to change location for everyone in an easy and effectively way. Its perfect compatibility with all iOS versions (including the newly-released iOS 15) means that you can send someone a fake location on iMessage anytime you want. The person you're sending the location to would find no "bug" but believe you.
If you get a tool like TailorGo, you can even play AR games without trying to walk into a light post on the road. With this powerful tool, you will be freed from being restricted to concrete roads, and you can even virtually move across mountains and seas while living in the comfort of your home. Even if you are using a dating app and want to reach more people in your vicinity, you can fake locations to meet and match new people.
Select whatever coordinates you fancy in the whole world and move there.
Design specific routes and set different moving speed to make the live location appear more authentic.
Apart from iMessage, you you fake location on other apps such as WeChat, Tinder, WhatsApp and Pokemon Go.
Only simple steps are required. No technical knowledge is needed.
Powerful enough to support various iOS versions (including iOS 15).
Absolutely safe with no security risks.

1

Download, install and launch TailorGo on your computer. Click the "Get Started" button and have your device connected.

2

To change location, choose the Teleport Mode and select a destination. To simulate GPS movement, choose either the Two-Spot Mode or Multi-Spot Mode, then plan a route to move along, including the moving speed, direction, and moving times.

3

TailorGo will change your location to the selected destination, or complete the movement as planned. Open iMessage now and you'll see the changes.
Conclusion
In short, if you want to send your location on iMessage, you have to follow the simple steps we listed in Part 1. You can choose between sending your current location or your live location for a certain period of time before it turns off.
If you want to trick someone by sending them a fake location that's actually not your real one, you have to turn to some professional tool for help. As iMessage does not provide this facility, connecting to a tool such as TailorGo would be your best option. This way, you can virtually move to any destination you want. Everything aside, it would be a good idea to have apps like TailorGo ready at any point. If you ever feel any sense of danger, an app like this could do wonders in terms of providing protection.