Many people struggle with getting locked out of their phones due to the supervision. If you are a user of a supervised iPhone, your control over the phone will be taken away and you are only allowed to utilize limited features. Here in this article, we will guide you on how to remove iPhone supervision.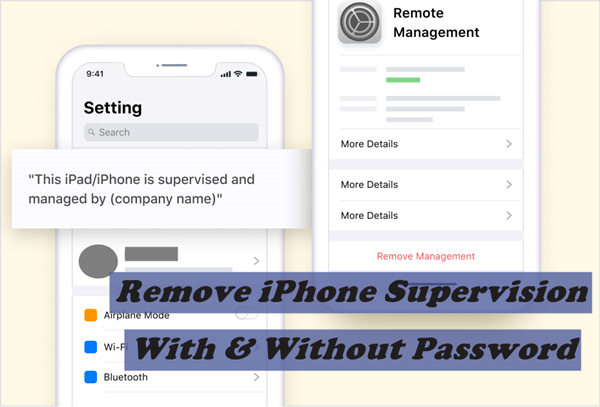 Part 1.

What Is Device Supervision on iPhone?

The feature of supervision was originally introduced by Apple to assist firms, corporations and schools. It basically allows the administrator to have more control over the device. As many institutions give devices to their employees and students for office or education use, they can supervise and track the activity of the device holder with the use of this feature.

It's true that this kind of supervision benefits the supervisors, but at the same time it brings much trouble for the supervised users:
1. Personal Data Leakage
As your administrator has unrestricted access to your supervised device, it means that they have unrestricted access to your personal life to some degree. Supervised phones can be easily tracked - from your search history to your location, so much can be seen by the administrator. Clearly a supervised phone breaches your privacy in every way possible.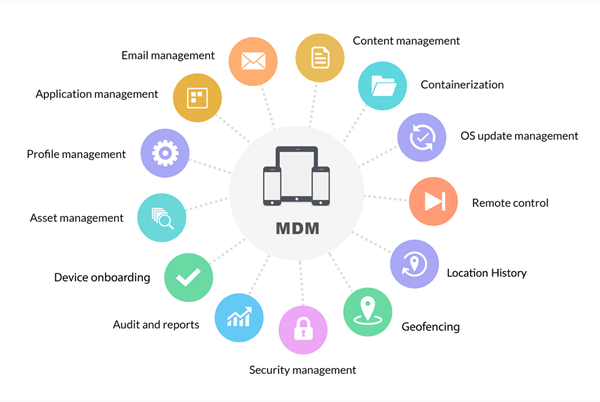 2. Restricted Use
Supervised phones have many restrictions, due to which using these devices become a hassle. For example, a supervised iPhone only lets you use limited apps if the administrator has turned on that setting. Sometimes, some apps are protected by passwords so the device holder is unable to use them completely.
3. Virus Attacks
A supervised phone is more exposed to virus attacks as compared to an unsupervised one, as it does not get updated regularly. When you use a phone with no supervision, you are free to access everything you need and update smartphone applications. In contrast, a supervised device would normally restrict installation of any update, hence making it exposed to virus.
Part 2.

How to Check if My iPhone Is Supervised?

In case you want to check if your office device or second-hand phone is supervised, you just have to follow these simple steps:
On your iPhone, navigate to Settings.
If your phone is supervised, at the top of this page you will see a clear message informing you "This iPhone is supervised and managed by [organization name]".

Your organization can also choose to display a custom ownership message on the lock screen using the Shared Device Configuration profile payload.
If you have found that your iPhone is supervised, you can take one more step and check what your administrator is exactly supervising. After all, having a clearer idea of this kind of supervision can slightly ease your anxiety. Below are the simple steps to follow if you want to know more about the supervision details:
Launch the Settings app on your iPhone. Go to General > VPN & Device Management.

Tap on the profile installed to see what this kind of supervision contains.
Part 3.

How to Remove iPhone Supervision With Password?

As iPhones are supervised using configuration profiles, you can make your phone unsupervised by simply removing them. If you have credentials for MDM configuration profiles, you can remove iPhone supervision through the Settings app:
1

Go to Settings > General > VPN & Device Management.

2

Upon clicking the option you will see all the configuration profiles supervising your phone.

3

Tap on the Remove Management button under the profile.

4

Enter the corresponding password and you will remove iPhone supervision.
Part 4.

How to Remove iPhone Supervision Without Password?
1. [The Best Choice] UnicTool LockEraser
It is understandable that removal of iPhone supervision is a tough job but LockEraser makes it simple. This tool is one of the most effective way to deactivate iPhone supervision in a matter of seconds. It's easy enough for everyone to operate just at home, therefore you don't need any expert help or technical knowledge.
In addition, even if you don't have the password for MDM configuration profiles or is stuck on the Remote Management screen, LockEraser can help you out as well. Capable of both bypassing and removing MDM, this tool is your personal expert.
An all-in-one iPhone unlocker: unlock Apple ID/screen passcode/screen time passcode and bypass MDM.
Remove iPhone supervision without any password.
Provide an easy but effective way to solve your unlocking issues at home.
Support all iOS versions and devices, including the latest iOS 15 and iPhone 13 series.
Free trial is available for every new user.
1

Download, install and launch LockEraser on your computer. Choose the Bypass MDM mode, then get your device connected.

2

There are 2 different modes: Bypass MDM and Remove MDM. In this case, select Remove MDM and click the Start button to proceed.

3

Wait patiently while LockEraser is removing MDM for you. It won't take long.

4

Once the MDM is successfully removed from your iPhone or iPad, you'll get a notification.
2. Configurator 2
Apple Configurator 2 is an application that was developed to make the deployment of iPhone and other devices in schools and businesses. If your administrator has used the Apple Configurator 2 to activate supervision on your device, you will be able to remove the supervision by restoring your iPhone to its factory settings, which can be done by:
1

Launch the Configurator 2 application on Mac and then select your iPhone.

2

You will then choose Actions and then proceed to Advanced.

3

By clicking on Erase all content and settings you'll be done.
Removing iPhone supervision with Configurator 2 has many limitations that is why it should be kept in mind that this method does not always work. Some of its many drawbacks are:
Limitations
If your iPhone is supervised by your administrator using the Apple Business Manager, you will not be able to remove supervision even if you restore the device or reset it.
After factory reset you will lose all your previous data, which is a whole new issue.
As only IT specialists can operate this tool, you will have contact your administrator or an IT professional.
Conclusion
As there is so much inconvenience with iPhone supervision, this post has covered how to tell if your iPhone is supervised and how to remove iPhone supervision. To help you solve this thorny issue without password and with ease, we have provided you with the best tool the market - LockEraser. If you are in trouble and is seeking a solution to unlocking issues on your iOS devices , why not download the app now and give it a go!