WhatsApp has continued to gain popularity since its launch in 2009. More than 2 billionpeople use this app for sending and receiving a variety of media like photos, videos, documents, location, voice calls, among others. The best part is thatit offers a direct way to share memorable moments and parties like birthdays,graduations, weddings, and many more. Likewise, WhatsApp lets you backup data on Google Drive for Android users. With this, you can then restore your chatsand share them with friends after those parties or other special events. That'swhy many users are looking for how to download WhatsApp backup from Google Drive so that they get to share all the good memories even when far apart.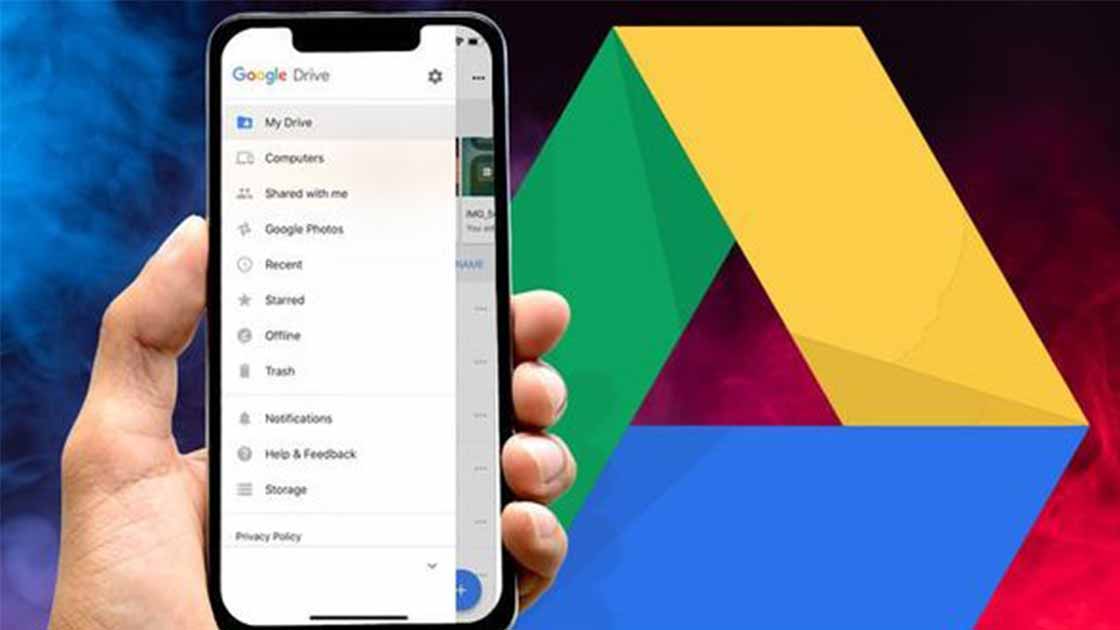 Part 1.
Can I Download WhatsAppBackup from Google Drive?
Whether you can download WhatsApp backup from Google Drive is a common question among Android users. Well, WhatsApp has enforced security measures and focuses on an end-to-end encryption policy. WhatsApp keeps its content in a hidden folder inGoogle Drive that it's only the sender and receiver who are privy to its content. So, no! You can't download WhatsApp backup from Google Drive via any official way that WhatsApp or GoogleDrive offer.However, you can restore your WhatsApp backup from Google Drive and then access the data on your Android phone again.
Follow these steps to restore a backup from Google Drive to your Android phone. Thesethree steps are all you need to restore a backup from Google Drive.
Step 1. Uninstall and Reinstall WhatsApp
First, uninstall WhatsApp application from your phone. Then, download and reinstall the app again to your phone.
Step 2. Sign in WhatsApp
Next, tap the "Agree and Continue" tab and log in with your account details,and then input your phone number. Once the application verifies your details, you can then sign in to your WhatsApp account.
Step 3. Restore WhatsApp History
The application will confirm that "Chat Backup" is found and asks if you wish torestore your backup chat history. Tap the "Restore" option to confirm and retrieve your chat history with your previous backup.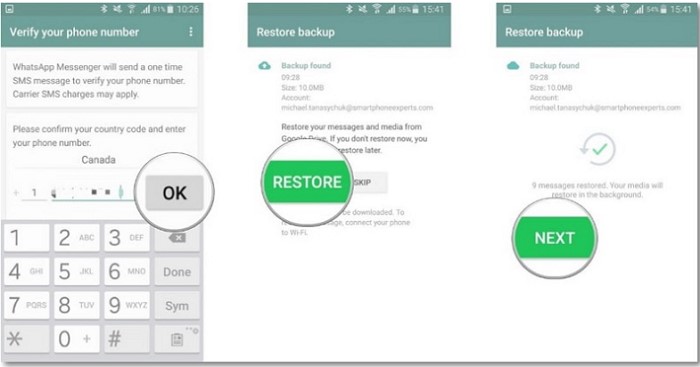 Part 2.

How to Download WhatsApp from Google Drive

Though there's no official way to download WhatsApp from Google Drive, you can engage with a third-party tool to download WhatsApp backup from Google Drive. Learn how to download WhatsApp backup from Google Drive to PC using Elcomsoft Explorer for WhatsApp software.
1

First, download and install Elcomsoft Explorer for WhatsApp on your computer then launch it.

2

Look for the "Android" icon at the bottom of the screen, clickon it, and select the "Download Data from Google Drive" option.

3

If prompted, enter the "two-factor authentication" code in the corresponding box on your Google account.

4

Once you enter the code, the download process will start.

5

Please wait for the download to complete. You should see a message thatyour data is encrypted. Look for and click the "Decrypt" option for theprogram to decrypt your data. The media will be attached to your messages;however, your messages will still be encrypted.

6

Next, you should now access the encrypted message. Just enter a verification code from WhatsApp, then click on the "Send" option to request the code.

7

Key in the verification code that has just been sent to your phone. Your messages will then be decrypted.
Part 3.
An Alternative Way to Download WhatsApp Backup from Google Drive
If you fail to restore WhatsApp from Google Drive using the above solution, youcan try to restore your WhatsApp from a local backup.
Note
Remember to use the same phone number and Google account thatyou used during the backup process.
Your data should be stored in the /sdcard/WhatsApp/folder.But if you don't find it there, you can look for it in the "internal storage"or "main storage" folders.
WhatsApp automatically creates local backups daily at 2:00 amand saves the data files to your phone.
Also, you can only restore the data that your phone stored upto the last seven days.
How to Download WhatsApp Backup from Google Drive Using YourLocal Backup
Localbackup is another quick way to download WhatsApp backup.
1

Open the "File Manager" app and head to the "InternalStorage/WhatsApp" section. Then locate your WhatsApp backup file.

2

Rename your WhatsApp file. Remember to keep the "extension"number.

3

Next, uninstall and reinstall the WhatsApp application then hit the "Restore"option.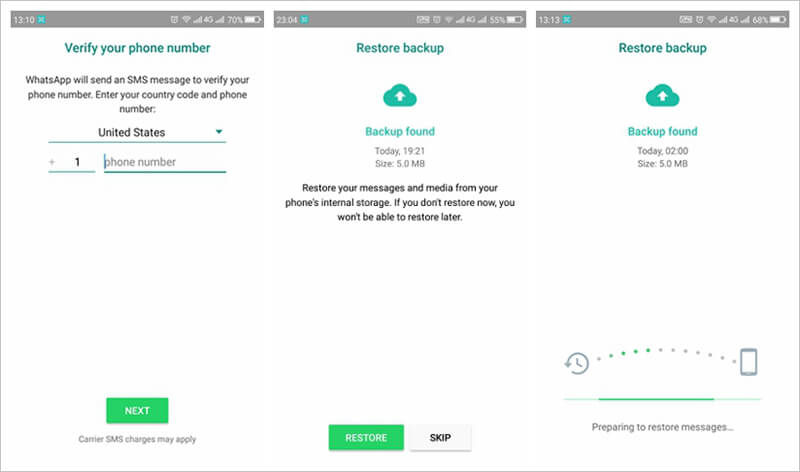 Bonus Tip.

What to Do If You Can't Restore WhatsApp Backup to PC

Sometimes, the going isn't smooth or you find that you can't restore WhatsApp backup photos from Google Drive to PC. Check out these possible reasons and fixes:
The first option is todouble-check your phone number and Google account. The details should be thesame as what you used when creating the backup file.
If your phone's memory islow, then the restore process will not go through. Ensure you have enough freememory before you start restoring WhatsApp.
An unstable internetconnection is another cause for alarm as it exposes you to face bandwidthissues. Ensure there is a consistent internet connection until the process iscomplete.
Google Play Services shouldalready be installed on your phone before the restore process. If not, yourbackup won't be restored.
The Best Solution for WhatsApp Backup and Restore
Since some bugs happen randomly to Google Drive and the backup & restore of WhatsApp may be affected, you can employ the recommended tool, ChatMover, to back up WhatsApp or restore the backup in 1 click. You can keep unlimited WhatsApp backup files with it, and are able to restore any WhatsApp backup file to a new smartphone without OS limitation. What's more, it's also a great tool for cross-platform WhatsApp transfer.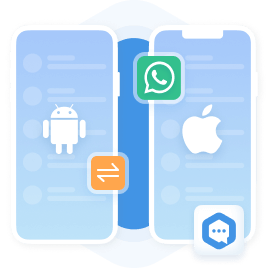 All-in-one WhatsApp Transfer
Transfer WhatsApp from Android to iPhone without Data Loss
Back up WhatsApp on Android & iPhone to computer free.
Restore WhatsApp backup from Google Drive to iPhone.
Export WhatsApp backup to HTML, PDF and CSV/XLS.
Use these stepsto restore your WhatsApp backup freely:
1

First, back up WhatsApp with ChatMover. The system will then create and store your WhatsApp backup on your computer.

2

Next, restore the backup to your Android or iPhone device.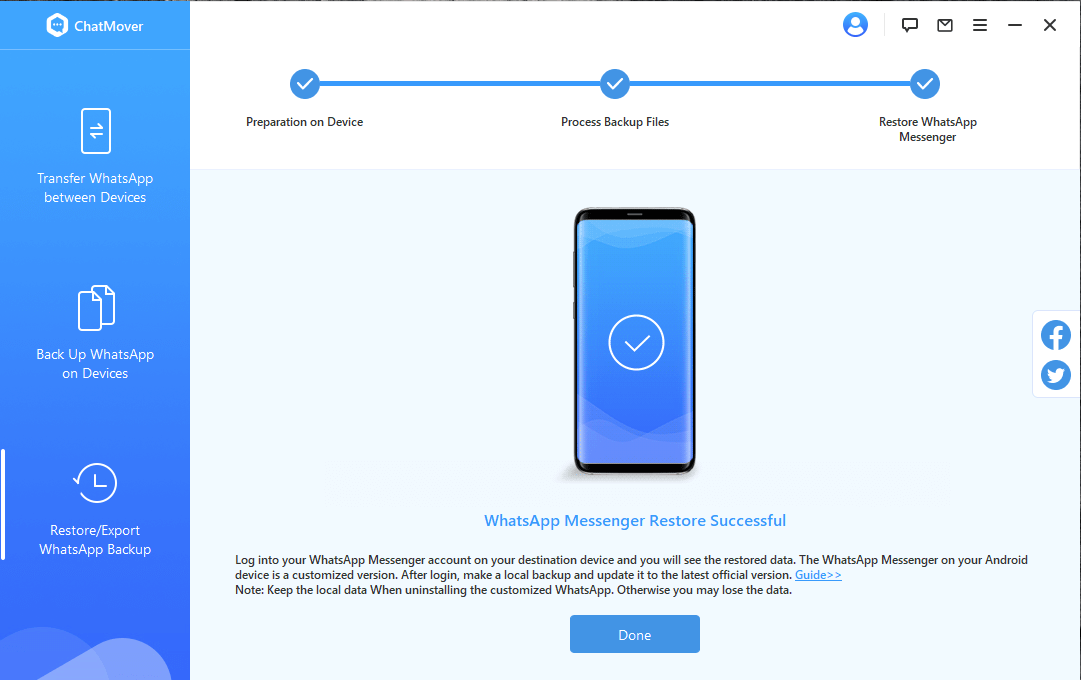 Conclusion
You are now equipped when it comes to how to download WhatsApp backup from Google Drive. You can download the backup from your phone's internal storage or alocal backup. However, you may sometimes find that you can't restore WhatsAppto Android for some reasons. You have reliable third-party apps within your reach. Use Elcomsoft Explorer for WhatsApp if you are tech-savvy. Otherwise, ChatMover works perfect for both novice and professionals. You won't crack your head, it's super easy to use!Start your free trial today!(use ChatMover)