Voice changers not only play their part in fun and pranking but have also entered the professional field. Such applications also help people to be creative and grab the maximum audience. You can take the example of Dream Team. It is a trio of Minecraft consisting of the Dream, Sapnap, GeorgeNotFound, and many more.
Minecraft is the most popular construction game ever made. You can build the virtual world you want to live in and assign characters your designed voices. Do you want to build your world of sweet and desired voices? Get a dream voice changer with help out this article and enjoy the game to the fullest.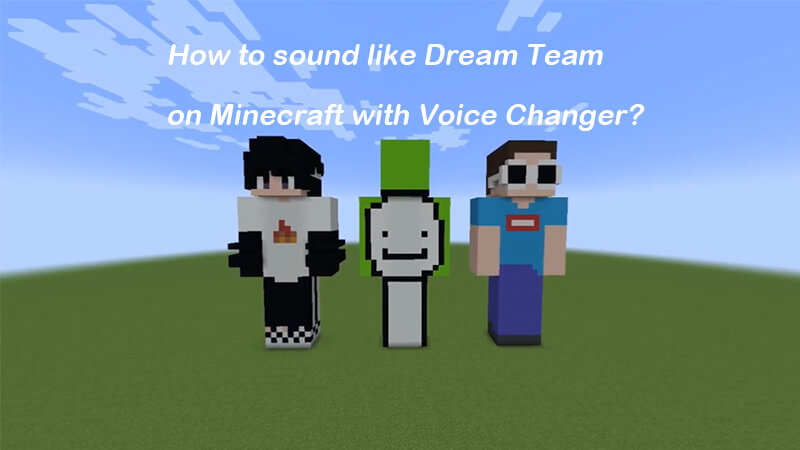 Part 1.

Best Dream Voice Changer using on Minecraft

Minecraft is a game worth enjoying alone as well as with friends. Dream voice changers are the best solution if you are willing to excite your mini escapades.

UnicTool MagicVox is an all-time favorite of voice-changing tools for gamers. It is a powerhouse of features. You do not need to roam around for a highly featured voice changer because you have got on. You can set the voice according to the desired effects according to priority.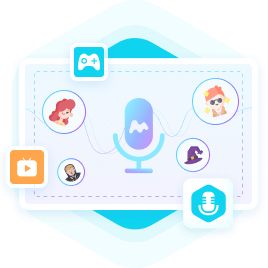 A Real-Time Voice Changer
Instantly voice change: The user can conveniently transform the voice into different characters using pre-set voice filters with one click. Like a dream team, you can also create a town of people of different voices. More than 100 filters are present to make the process easy.
Real voice changer: Of course, Dream Team has a real-time voice changer, so they change the voices of characters. The addition of a fantastic filter with background sounds uplifts the environment and makes the voice-changing effect vivid.
Its easy-to-use interface is ideal for beginners, and its abundant features make it valuable for the experts. The massive voice filter library permits the user to select a pre-designed voice to complete the task with one click.
Key Features
Excellent soundboard: UnicTool MagicVox features an interactive soundboard. With more than 300 sound effects, make the Minecraft construction game is fun. Use the keybinds to control playback, stop, cycle, and replay sound effects without interruption.
Voice memes: The integration of the most popular and hilarious more than 150 voice emotions to meet your requirement to manifold the fun on Minecraft. You can also import your favorite voices.
Voice studio: Voice studio is a must-have feature in a dream voice changer. It is easy to use, offering a wide range of sound parameters to make adjustments and create your own unique and special voice with some clicks.
Rating: 4.5/5
User Experience: People like this software because it is equipped with everything they need for voice changing. Moreover, its high quality and performance have made it an all-time favorite.
MorphVOX is one of the well-known demon voice changers. If accessibility, convenience and easy-to-use interface are your preference, fortunately, you have come across one. Its high compatibility works for almost every operating system and allows real-time voice changing. This voice changer works flawlessly with the Minecraft construction game. To get access to all features, you need to purchase an application.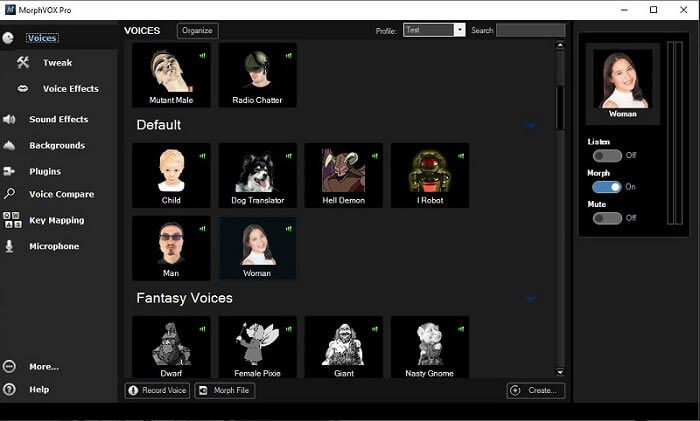 Key Features
Bundle of free voices: You can utilize the pre-designed available voices to transform your voice into any character. It makes the process short and limited to a few clicks.
Background effects: It features a soundboard to assign voice with background effects to different avatars in Minecraft
Voice Changing Algorithm: This versatile dream voice changer offers an ultra-quiet background noise cancellation feature to make peaceful and focused surroundings.
Rating: 4/5
User Experience: Multiple advanced features compilation is offered by this advanced dream voice changer MorphVox has made it the favourite voice changer according to users. They are satisfied with the performance and quality.
Voicemod is one of the best dream voice changers with an astonishing list of voice filters. You can choose from a wide range of voice effects for fun and professional use as the Dream Team. This tool is remarkably easy to use and absolutely free across all windows.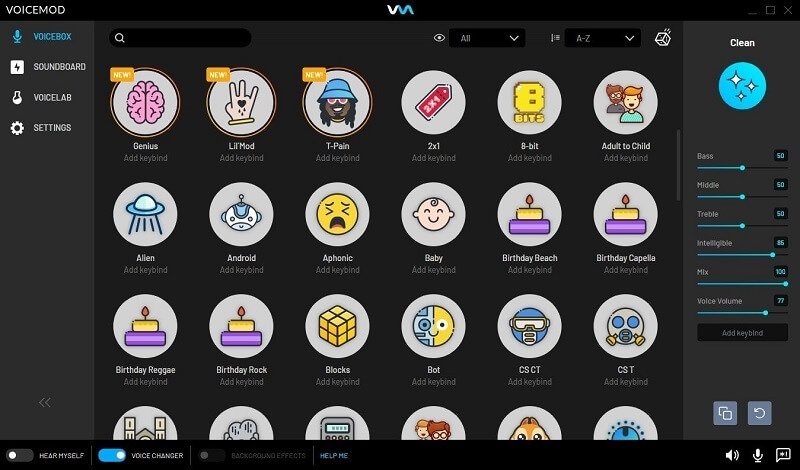 Key Features
Extensive library of preset filters: Voicemod supports more than 90 preset voice effects to transform the voice with a few clicks.
Voice studio: Do you want to sound entirely different to any character that has existed? Voicemod will help do that. With the voice studio, you can create your own desired voice.
Automatic Integration: This application is easy to use for beginners. It automatically sets a microphone input device by default for any application upon installation.
Background voice blending: This dream voice changer has made voice art easy. You can layer your voice with any hilarious or sinister sound or music to uplift the mood during the game.
Rating: 4.6/5
User Experience: Voicemod is the storehouse of all necessary voice changer features. The beautiful, simple interface makes it valuable for beginners. Users are fans of its precise yet elegant collection of voice effects.
Clownfish is one of the well-known tools among gamers due to its versatility. This voice changer is simple, practical, and effective that works phenomenally with Minecraft games and other platforms to produce unique voices. Surprisingly, the Clownfish voice changer comes with a sound player, which offers the liberty to enjoy music during long games like Minecraft. Maybe this is the key to the success of the Dream Team.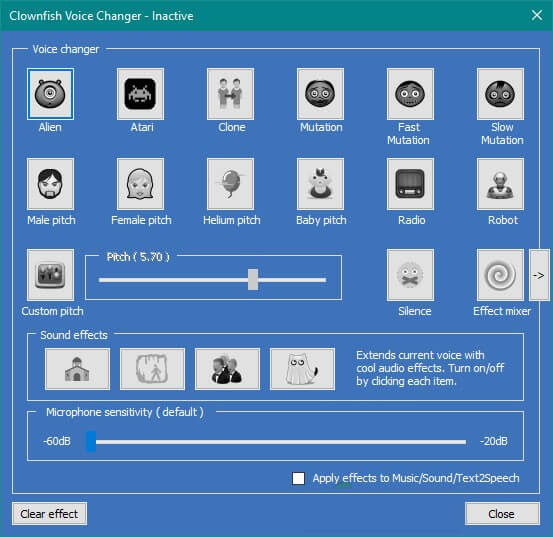 Key Features
Sound player: It features a sound player that has the duty to play and produce different sounds.
Voice assistant: The addition of a voice assistant can convert the text into speech in your selected voice. You can prepare the script for the game.
Filters' library: The dream voice changer supports a wide range of voice filters to simplify voice transformation and is a few clicks away.
Background music: You can layer background music with the voice to make the environment mesmerizing, fun and euphoric.
Rating: The high efficient layout has made it rank high among practical applications. Its average rating is 4.5 out of 5.
User Experience: The exciting sound effects of this dream voice changer have made it valuable software for users. Users are impressed with its user0friendly and interactive interface.
It is not just a voice mixer. It is a valuable tool for customizing voices by adjusting the pitch. You can develop any desired voice according to the character in the Minecraft game. With Voicemeeter, a dream voice changer, you can mix the voice from application and device.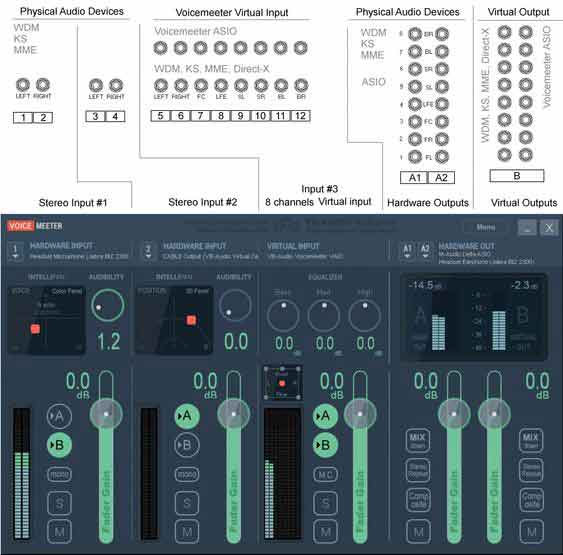 If you are looking for something affordable to get your task done, Voice meter may be the right choice for you.
Key Features
Live voice change: It offers real-time voice changing to make streaming or live online game time more fun and worth enjoying.
Audio mixer: It is a powerful voice mixer as it can handle the sources from different sources.
Customization: Apart from mixing the voice, this voice changer allows you to adjust the pitch to give the voice the touch of your creativity.
Rating: 4.3 out of 5.
User Experience: Due to the astonishing features of mixing and blending the voice, the people like this application. It does justice to the payment indeed.
Part 2.

How to sound like Dream with a Voice Changer on Minecraft?

Selecting the dream voice changer is the first step, but there is a long path of integration left. Many people find it difficult because they think some technical skills are required, but this is not true. You can follow these steps to integrate voice changer with the Minecraft construction game.
Step By Step Tutorial
Step 1: Download and install voice changer (MagicVox)

Navigate to the official page of MagicVox and click the "Download" button. The voice changer's file will start downloading in .exe format. After downloading, complete the installation by clicking the file. Run the application.

Step 2: Configure microphone and headphones on MagicVox

Set microphone as an input device and headphones as an input device by default. If you can't find that you can open the audio or video voice settings through the control panel.

Step 3: Configure the audio setting in the game

Open the setting of Minecraft and navigate to the audio setting. Then set Voice changer Virtual audio device (WDM) as the default input device.

Step 4: Select filters

Choose the Voice Filter you want to apply while playing the game. Moreover, you are suggested to set some keybinds for voice memes or other sound effects to make the game even more interesting. If you want to sing like Dream Team, you must try "Magic Chords"

Step 5: Enjoy the game

Once you have completed the process by following the steps mentioned above, it is time to enjoy all features. It includes voice filters, soundboard and voice memes on Minecraft.
Conclusion
Dream Team is a group of YouTubers operating Minecraft. They have made it fascinating with multiple VFX features and the addition of a voice changer. Dream voice changer allows the people to communicate live in the game with changed voices, sometimes to prank their friends or sometimes to keep their identity hidden.
For this purpose, we have found UnicTool MagicVox the best voice changer. It is a simple application with the aim to make integration and setting easy for beginners. Its multiple features and versatility will not disappoint the amateurs and professionals. This dream voice changer features everything a live streamer or gamer may require. The astonishing application offers all features that may seem to be the key to the success of Dream Team.