Pokémon GO is an exciting and different game than most people are used to playing as it combines the virtual and real worlds. However, one issue that players frequently encounter is that they have to walk around before hatching their eggs or picking up supplies, which is not convenient for everyone and costs time and energy. Luckily, there's a way users can get around this issue - using Pokémon GO walking hack apps!
As its name suggests, these hacking apps will allow players to move around without ever leaving home or going outside. You'll be able to find more rare Pokémon and level up faster than anyone else!
This article is your best resource for knowing about some of the best hack apps that you can use to simulate walking in Pokémon GO without actually moving a single inch.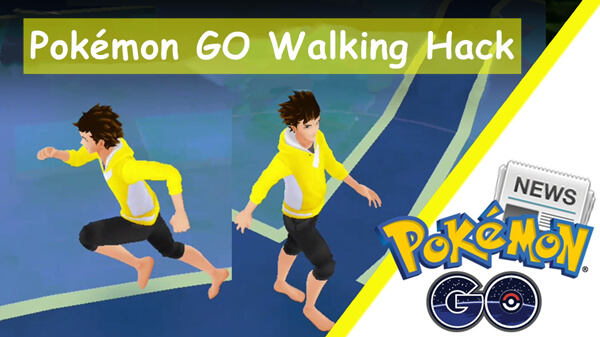 Part 1.

Why Do We Use Pokémon GO Walking Hacks?

Players in Pokémon GO walk around their city and try to find different types of Pokémon that are scattered around. But what if you don't actually want to go outside? Or the battery isn't good enough to handle the phone for a few hours straight? Or you are too busy even to blink an eye, let alone walk idly to play a game for hours?

Problems like these won't let you enjoy this augmented reality game to its full extent. Additionally, it can be hard for those who aren't as familiar with Pokémon GO game to figure out what they're doing wrong.

That's why we use Pokémon GO walking hacks: to catch Pokémon all without spending hours on end outside. Such walking hack apps fake your locations and simulate movements worldwide so that you can continue catching your favorite Pokémon in the game while sipping coffee on your couch in your room.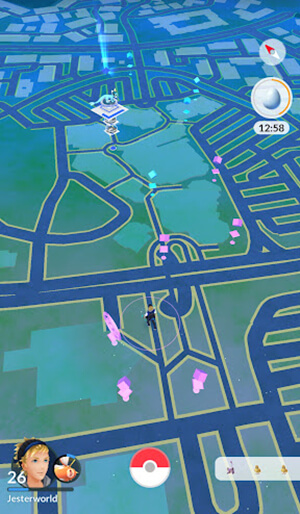 Part 2.

Is It Safe to Do Pokémon GO Walking Hack?

It depends. As with everything in life, there are concerns about account and phone safety when playing Pokémon GO with those walking hack apps. That includes being detected by Niantic, which may ban or warn the user's account for faking GPS locations.

But here are two basic principles that will help you use Pokémon GO walking hacks safely. As long as you carefully follow these, your account will remain safe.
1

Do not use the walking hack too much: Keep the use of your Pokémon GO walking hack apps limited and only when necessary. Do not use it all the time in your attempts to catch every single Pokémon.

2

Use a trustworthy walking hack app: If you are using a poorly-built or a scam walking hack app, there are b chances that your account's cheating action will be detected, and your account will be banned. There are so many Pokémon GO walking hack apps out there, and it's extremely important to sort the good from the bad.
Part 3.

What's the Best Pokémon GO Walking Hack App?

Pokémon GO has taken the world by storm and to say it's a craze is an understatement. And now you can even catch every rare Pokémon without leaving your actual location via a proper Pokémon GO walking hack app.

The best location spoofer TailorGo allows you to fake location in just seconds. No other GPS spoofing app can come close to the functions and features it provides. With this powerful tool, every player can teleport himself in the game to anywhere around the world, so there will be no limits of distances when it comes to catching favorite Pokémon!
Change your location to anywhere around the globe in just one click.
Get you move virtually in the game along customized route.
Work perfectly well on all location-based apps: Tinder, Life360, Pokémon GO, Facebook, etc.
Extremely safe; low risk of being detected if properly used.
Trustworthy & fully compatible with all iOS and Android devices.
Free trial is offered to every new user.

1

Download, install and launch TailorGo on your computer. Get your device connected, then click the "Get Started" button to begin.

2

There are 3 different modes: Teleport Mode, Two-Spot Mode and Multi-Spot Mode. To simply change location, choose the 1st one and select the destination. Then click the "Move" button. To move virtually in the game, select either the 2nd or 3rd mode and plan a route to move along.

3

Your location in Pokémon GO will be changed easily; or the movement will be completed the way you planned.
Part 4.

Some Other Ways to Do Pokémon GO Walking Hack
1. 3uTools VirtualLocation
3uTools is a program which will allow you to manage your device. With the VirtualLocation function of it, we can change location on iPhone, iPad or any other iOS device.
1

Install the software on your PC after downloading it from their official website.

2

Connect your iPhone to your PC and go to VirtualLocation function in the toolbox.

3

Now enter the latitude and longitude of the address which you'd like to set for your phone.

4

After that, click on the Modify virtual location button, and your location will be changed to your set coordinates.
Limitation
This software is only for iOS devices and not for any Android device.
Modifying virtual location will cause an error on your maps. You will have to reboot your phone multiple times to resolve this issue.
Many users have reported 3uTools VirtualLocation not working issue.
2. Fake GPS Location - GPS JoyStick
For Android phones, some mobile applications can change location. But the setup process is usually a little bit complicated. Now let's know more about installing and using the GPS JoyStick app.
1

Download and install the Fake GPS app from the Google store.

2

Go to Settings > About phone > Software information, tap on the Build number 7 times to turn on the developer mode.

3

Go to Developer options > Select mock location app. Select GPS JoyStick here.

4

Open the app and click the START button. You can then set a location by entering the exact coordinates.

5

In addition, you can set a route to move virtually along.
Limitation
The initial setup is not convenient enough and the layout is a little confusing.
In-app ads are far too intrusive and some users reported that in-app purchase to remove ads does not work.
Does not work for all Android phones.
Conclusion
Pokémon GO is one of the best games out there, but walking all the time for the sake of playing it can be monotonous and boring. The best way to make your Pokémon GO experience more exciting and fun is using a walking hack app.
Many apps will help you out in your quest for a Pokémon GO walking hack app, but there is none better than location changer TailorGo when it comes to reliability at a highly affordable price, ease of usage, and foolproof design.