If you have been using your iPhone and then it suddenly starts to tap buttons on its own or react to non-existent touches, you might be experiencing ghost touch on iPhone. Sometimes, it only happens a few times in most cases, but if the issue reaches a level where you can't operate your iPhone, it can become very frustrating.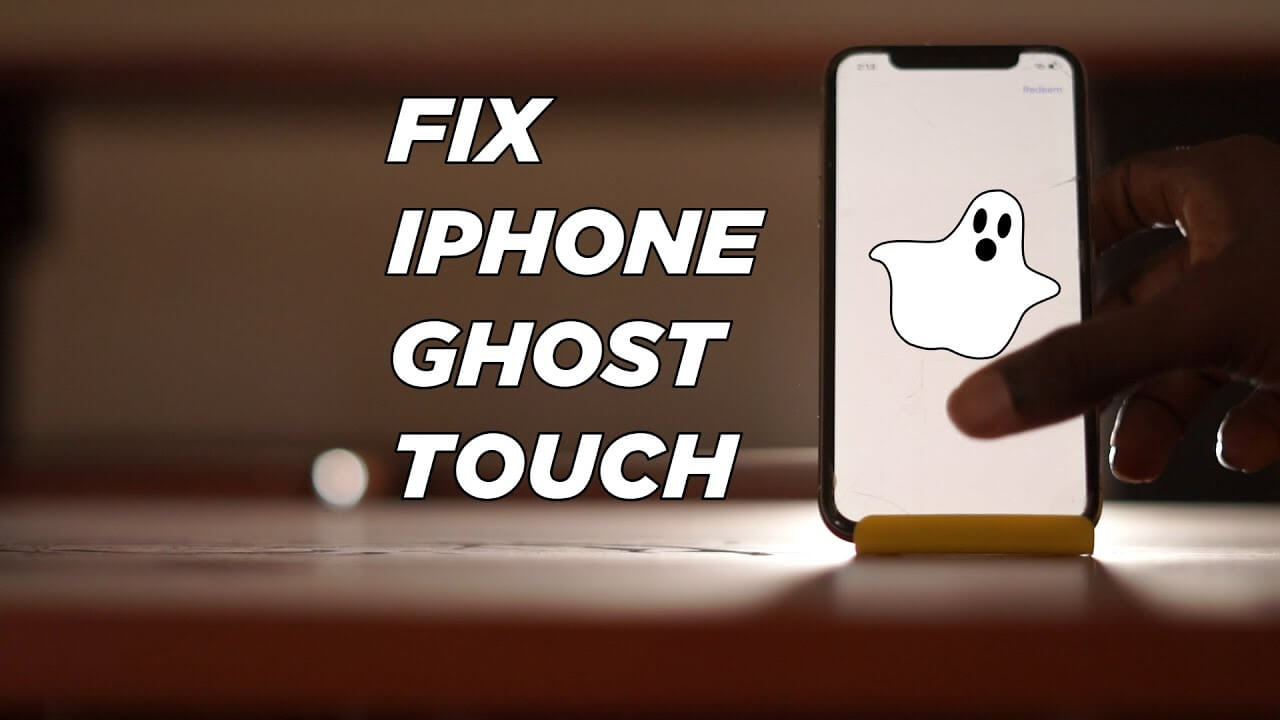 If you are currently experiencing iPhone ghost touching, this article will detail how to fix ghost touch on your iPhone step by step.
Part 1.

What Causes Ghost Touching on iPhone

Ghost touch on iPhone is a common problem that affects all iPhone models, but it's highly prevalent with the iPhone X, forcing Apple to acknowledge the flaw a year after its release. Apart from iPhone X, the issue is also present in iPhone 5 to 8, XR, and XS, as well as the newer models such as iPhone 11 to 13.

The main cause of ghost touching on iPhone is usually a faulty display or damaged screen components. When the phone's screen components are not seated properly, it sends confusing signals to the motherboard, which makes the phone react abnormally. Here are some additional causes of iPhone ghost touching:
Manufacturing defects: In some cases, iPhone ghost touch might occur due to a manufacturing error. There are many areas where the iPhone might get manufacturing defects, from data analytics and programming errors to back office and supply chain implications.

Software defects: After upgrading your iOS version, you might experience a glitch that leads to ghost touching. In most cases, new iOS versions come with glitches that can influence the sensitivity of your screen.

Hardware defects: Ghost touch might be caused by hardware issues. Launch Settings > select Privacy or Privacy and Security > Analytics and Improvements > Analytics Data to check hardware defect logs on your iPhone. You will find all your error logs here.
Part 2.

Basic Ways to Solve iPhone Ghost Touches

Though iPhone ghost touches affect nearly all iPhone models, iPhone X users can get free screen repair since the company acknowledged the issue on their official support page. Unfortunately, if you have a different model, this service is not available to you, but there are several basic ways to solve the issue on your own.

These tips don't require any technical expertise, and you can try them all out until you find one that works.
Way 1. Clean Your Phone Screen
If you have never experienced ghost touch before and have not replaced your screen or screen protector and case, the issue could result from debris or dust on your screen. You can fix the problem by cleaning the screen with a screen cleaner and wiping it off with a microfiber fabric.
This solution is especially effective if you experience ghost touch after your iPhone comes into contact with some water.
Way 2. Remove Your Screen Protector and Case
In some cases, you might purchase a screen protector and case that fits too tightly on your iPhone, which can lead to ghost touching due to the pressure exerted on the phone. Over time, the screen protector collects dust, dirt, or an air bubble between the screen and the tempered glass protector, which can lead to the issue.
Cracks in the screen protector can also cause ghost touching. To fix the problem, you can remove the screen protector and get a case that fits your iPhone perfectly.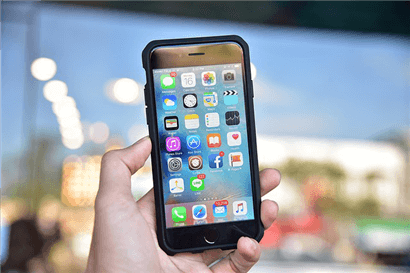 Way 3. Reset iPhone's All Settings
Though you can reset your iPhone settings on your own, it's among the more advanced solutions to iPhone ghost touch because you can quickly lose all your data if not careful. To reset your iPhone's factory settings, navigate to Settings > General > Reset > Reset All Settings. By applying this fix, you will lose all your personalized settings and data, so ensure you make a backup before the reset.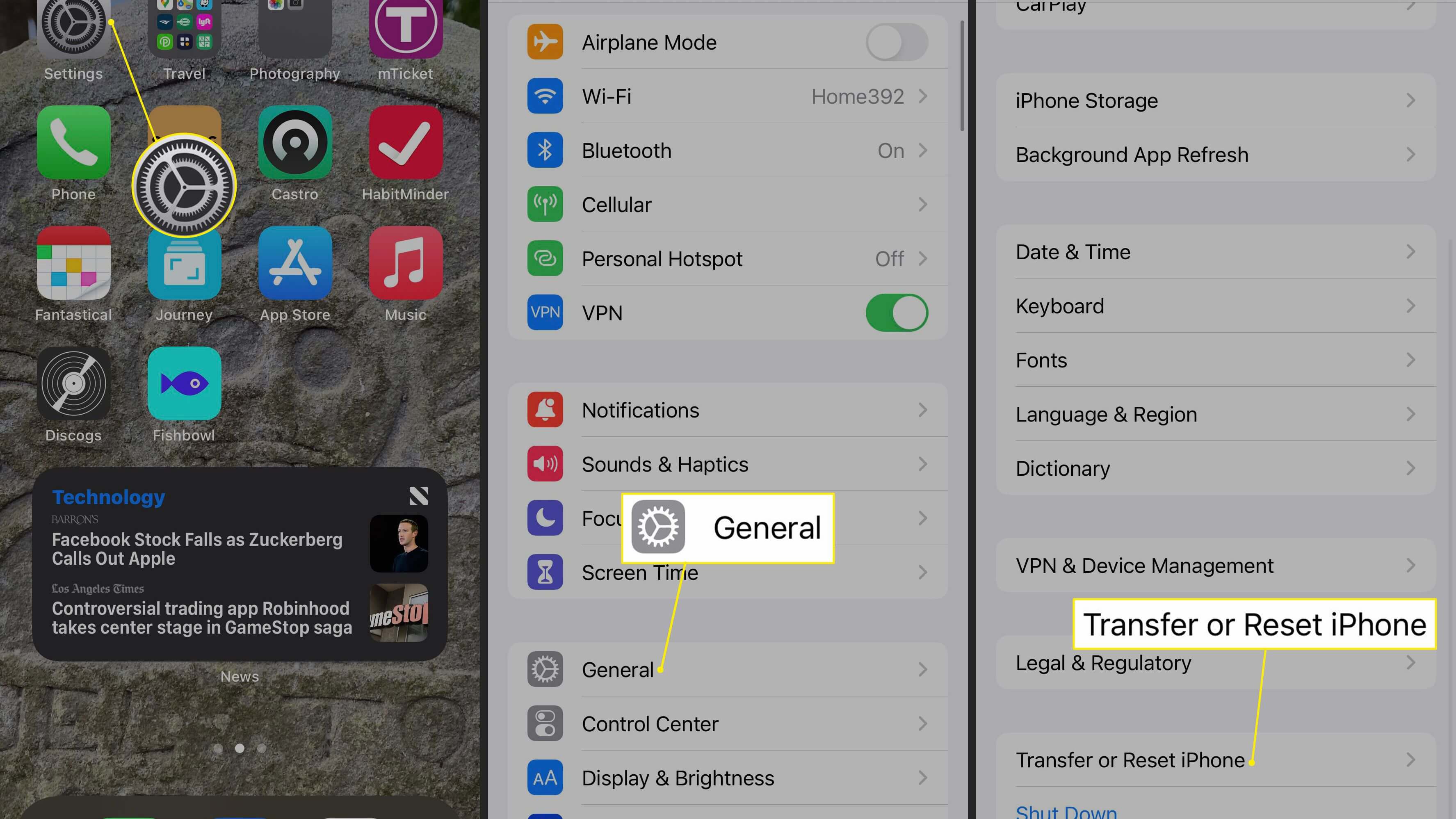 Way 4. Calibrate iPhone Touch Screen
You can try to resolve the ghost touch issues by calibrating your iPhone's touchscreen settings. To achieve this, go to Settings > Accessibility > Touch > Touch Accommodations, then turn on Hold Duration. Click the decrease button or the increment button to adjust the hold duration.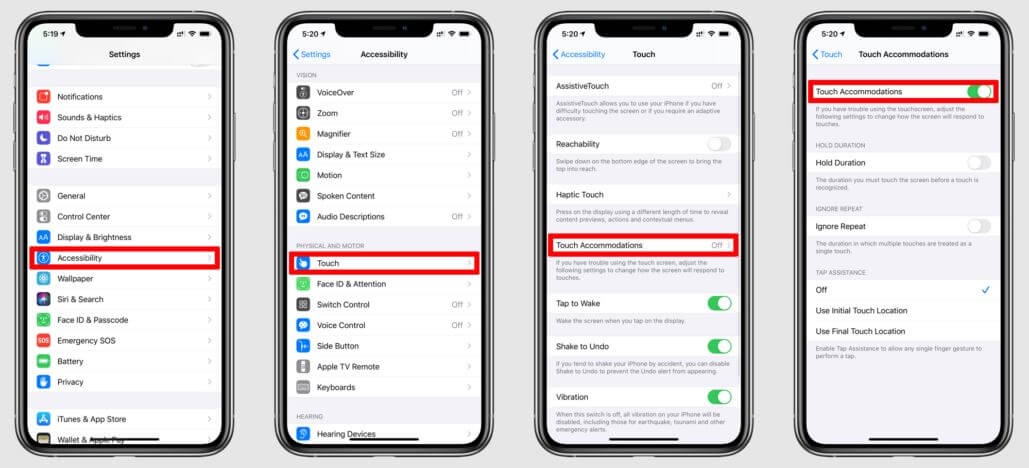 Way 5. Force Restart Your iPhone
The official solution on Apple's support website for ghost touching issues on all iPhone models is force restarting your phone. Force restarting your iPhone is easy, but the process varies depending on your phone model. Here are the steps for restarting different iPhone models:
iPhone 13/12/11/X, 8 and 8 Plus

Start by pressing the "Volume Up" button and releasing it immediately. Follow it up by pressing the "Volume Down" button and releasing it. After releasing both buttons, press the power/ wake button until the Apple logo appears on the screen.

iPhone 7 and 7 Plus

For iPhone 7 and 7 Plus, hold down the Volume Down together with the Power/ Wake button for at least ten seconds until the Apple logo appears on the screen.

iPhone 6 and Earlier Models

If you are using iPhone 6 or earlier models, press and hold the power/wake button and the home button simultaneously for about ten seconds. You can release the buttons as soon as the Apple logo appears on the screen.
Part 3.

Practical Ways To Fix iPhone Ghost Touch

If none of the solutions above resolves the issue, you can try out more advanced fixes. However, you need to be careful with these solutions because you could potentially lose your settings and data in the process.
Way 1. Try an iOS System Recovery Tool to Fix it
You can leverage the iOS system recovery tool to fix your ghost-touching problem without worrying about data loss. There are numerous iOS recovery tools in the market. Still, tools like Umendit UnicTool are among the best to use because they solve most iPhone issues, such as frozen screen, boot loop, battery drain, and white screen, among other issues.
To get started with Umendit UnicTool, follow these steps:
Step 1: Install Umendit On Your PC (Windows or Mac)

Download, install and launch UnicTool Umendit on your computer. There are four options, you can choose "standard mode," which will fix your iPhone without data loss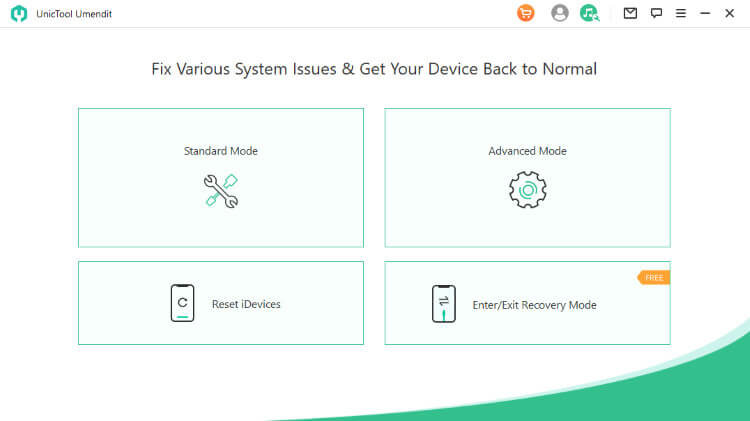 Step 2: Connect Phone With Laptop

Then connect your iPhone to your PC or Mac using a lightning cable. Click the start button to enter the repair module.
Step 3: Enter In The Recovery Mode

There are two repair modes available on the next interface, standard and deep repair. Standard repair fixes your iPhone issues without data loss, while deep repair wipes off everything.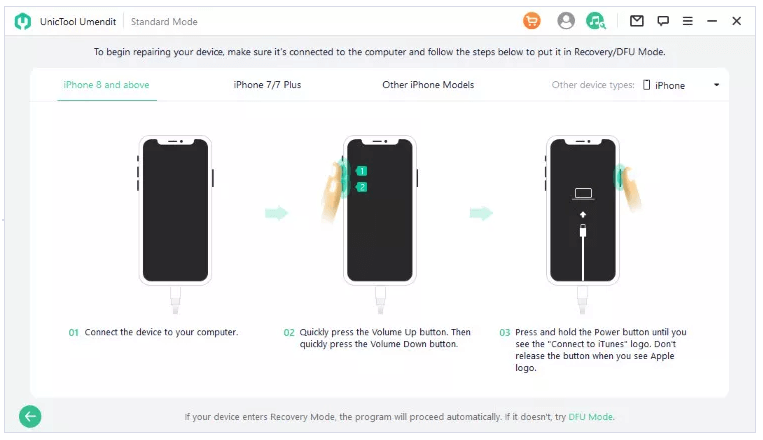 Step 4: Download Firmware

After selecting our preferred repair mode, you need to download your model's firmware package. You can click Import Local Firmware to upload the package if you have already downloaded the firmware package.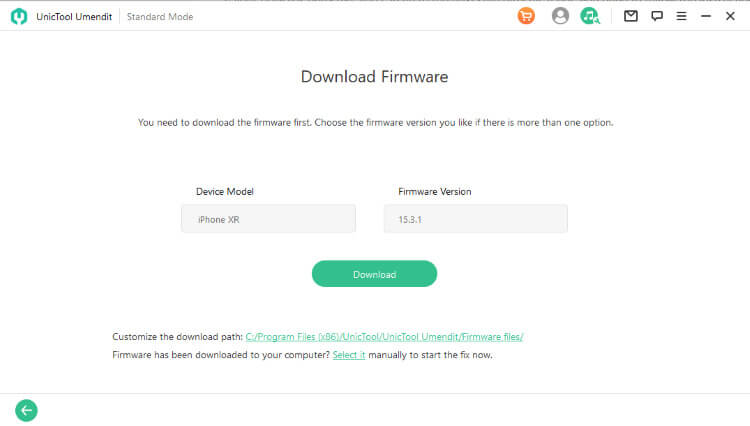 Step 5: Repair The Problem

Once you have downloaded/ imported the firmware, you can start repairing your iPhone by clicking Start Standard Repair. Wait a few minutes for the tool to repair your device. Your iPhone will reboot automatically, and everything should be back to normal.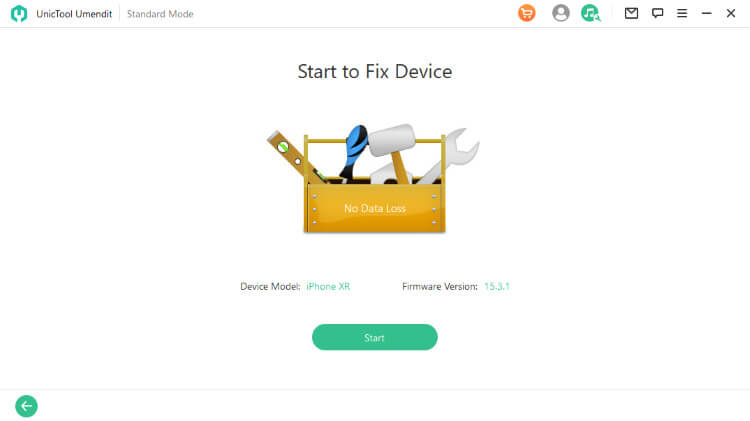 Way 2. Update the iOS Version
Though the chances are slim, there is a chance that you are experiencing ghost touch because of an outdated iOS version. Old iOS versions might have bugs that lead to the issue, and you can try updating your iPhone to the latest version.
Before updating your iOS version, you must ensure your iPhone is fully charged with a stable Wi-Fi network. To update your iOS version to the latest version: Settings > General > software Update > Download and Install.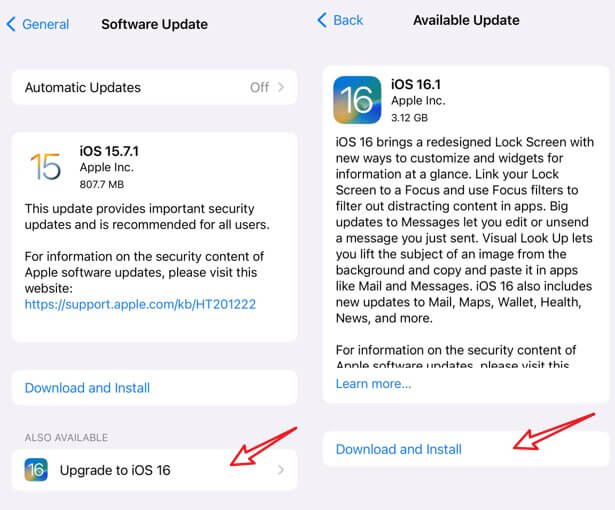 Way 3. Restore iPhone with iTunes [Data Loss]
Alternatively, you can restore your iPhone to factory settings with iTunes, but there is a high risk of losing all your data unless you have a backup. Restoring your iPhone should only be considered if all the solutions above don't resolve the ghost touch. The steps below will guide you on how to restore your iPhone using iTunes:
1

Connect your iPhone to your PC and open iTunes

2

Open iTunes and click the device tab on the top-left corner

3

Click the Restore iPhone button in the center of the iTunes Summary tab

4

When the pop-up message shows up, click on Restore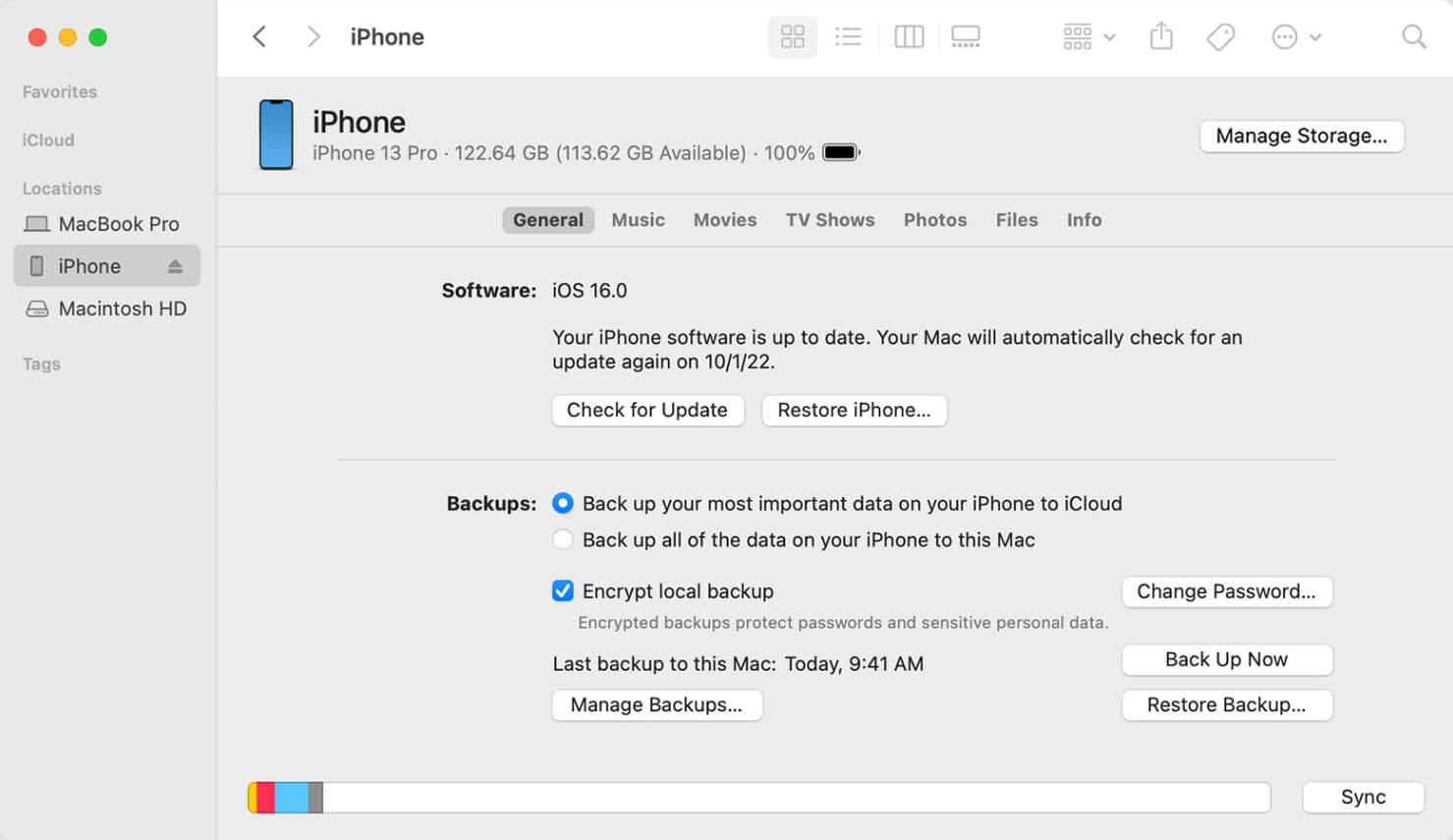 Way 4. Contact Apple Support (For Hardware Issues)
If all these solutions fail to resolve the ghost touch flaw, the problem could be more severe and requires to be checked by a technician. If you are experiencing a ghost touch iPhone X issue, you can get a free screen at any Apple Support Store. Other iPhone users can get a free repair if their iPhone is still under warranty.
Conclusion
iPhone ghost touch can be a frustrating flaw, especially if it keeps happening regularly and you can't operate your phone correctly. Fortunately, the above solutions will help you fix the issue without any technical skills. If you are looking for an all-in-one solution that doesn't put your data at risk, you should consider downloading UnicTool Umendit for all your iPhone issues.