Even though anime made its debut in the 1960s, it became popular recently during the last few years. A major reason why the genre became so popular is because of the unique voices the characters have. Along with that, the storyline and plot twists got people addicted to it, and soon the word spread like fire.
Do you want your voice to sound like the characters in anime? Introduce yourself to an anime soundboard and make your customized voice! There are a lot of soundboards available these days however, only a few deliver great quality. The article is about the best anime soundboards with their pros and cons!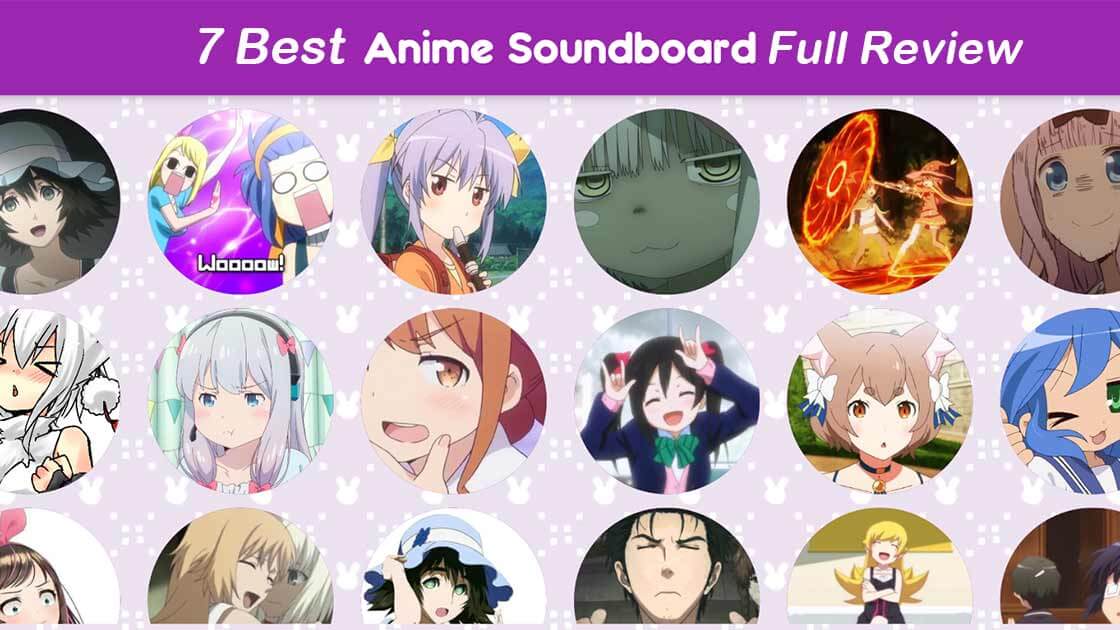 Best Anime Soundboard for PC and Mobile- Which One Do I Need?
To save you time, we have reviewed some of the best anime soundboards to help you choose one according to your preferences.
Best comes first. Therefore, we have placed the MagicVox soundboard in the first position. It comprises everything you might expect from the soundboard. If a bunch of PC soundboards ever haunt you, select MagicVox blindly. This is an amazing soundboard featuring a large number of preset filters with a practical soundboard. It allows you to add your touch of creativity to develop a unique voice for the video. In terms of integration, no other application can beat MagicVox. It facilitates the user to assign hotkeys to set effect one click away.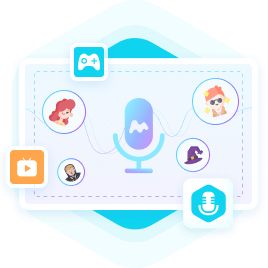 A Real-Time Voice Changer
It has a live voice emulator to help you use a customized voice during live video chats and game streaming.
The app has over 150 emoticons.
The voice studio lets you adjust the tone of your voice according to your liking.
It is compatible with Windows 7, 8, and 10.
It works well with core i3 devices.
Starting with the best, on number one, we have the ever famous MagicVox soundboard for PC. To choose a voice filter from a few options is one thing, but to choose one from over two hundred voice filters is mind-boggling. Here is all you need to know about this app.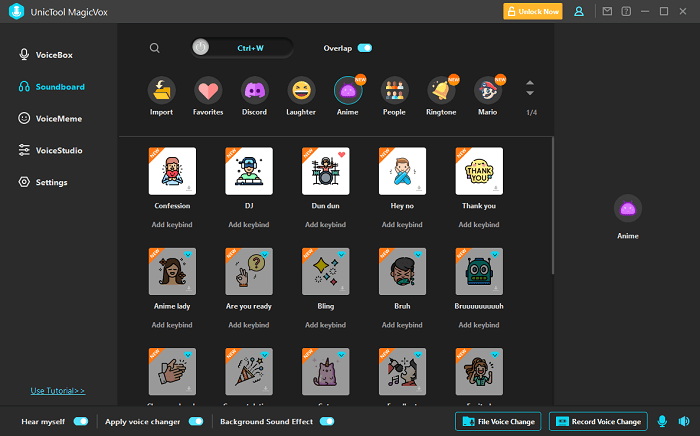 Pros
Easy to use interface.
Great customer support.
A wide variety of voice filters to choose from.
It supports multiple gaming apps, video chat apps, and other streaming platforms.
Cons
Only has limited features in its free version.
The pro version is costly.
How to Use Anime Soundboard on PC
MagicVox features one of the easiest user interfaces that will help you get the hang of it within minutes. However, it is still better to know the basics beforehand. Here are four easy steps through which you can get started with the MagicVox soundboard.

Step 1: Download MagicVox on your PC. After the soundboard is installed, go to settings and select your PC as the input device.
Step 2: Browse through the app's soundboard.
Step 3: Choose a voice filter from its wide variety. Use the voice studio if needed.
Step 4: Lastly, select the microphone as the 'Virtual Audio Device'. It will help you use the app on your PC efficiently.
Up next, we have Voicemod, which not only features terrific voice filters but face filters too. The face filters make interacting with friends even more fun and exciting! Voicemod soundboard for PC is the perfect anime girl soundboard that will make your voice sound just how you envisioned. It lets you have complete control over your vocals while also allowing you to mimic your favorite anime character voices! The Mac and Linux version of the app is coming soon however it is compatible with all Windows versions.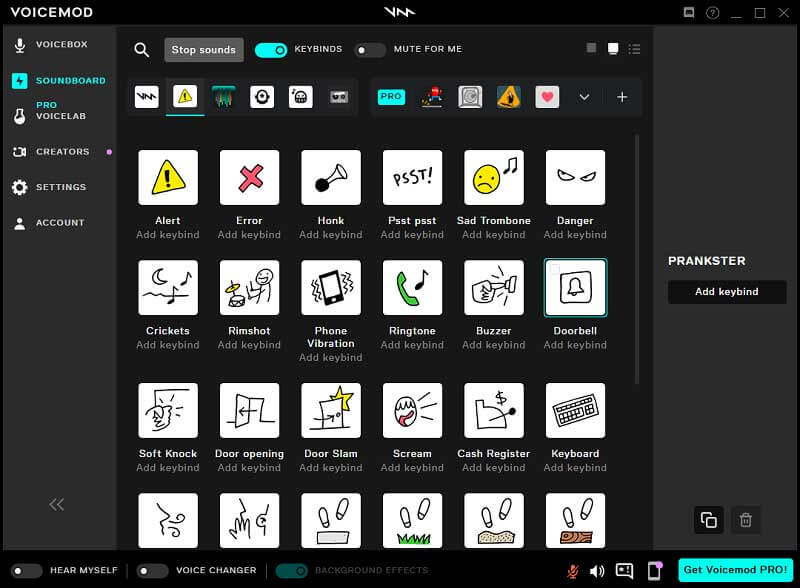 Key Features
The following are some features you can look at and decide whether Voicemod is the perfect addition to your computer or not:
The anime soundboard is perfectly compatible with several streaming platforms.
It features over 42 sound effects that can act as background voices.
It lets you transform any sound effect into an audio file to chat with your friends.
The 'Voicelab' lets you amplify and change your voice just how you want.
You can create any anime voice using the Voicemod PRO anime voice changer.
It features a real-time audio generator that will make you sound like an anime character while playing video games or chatting!
Pros
Allows a variety of tools and filters in its free version.
Unleashes your creativity.
High-quality tools to help you get the best experience.
Tutorials to guide you every step of the way.
Easy to set up.
Cons
Only available for Windows.
Has many interruptions.
Whether you have to modify your voice or add sound effects to the background, the Voxal anime soundboard features it all. The app features a free version and lets you download from a wide array of filters. The options when using this app are endless.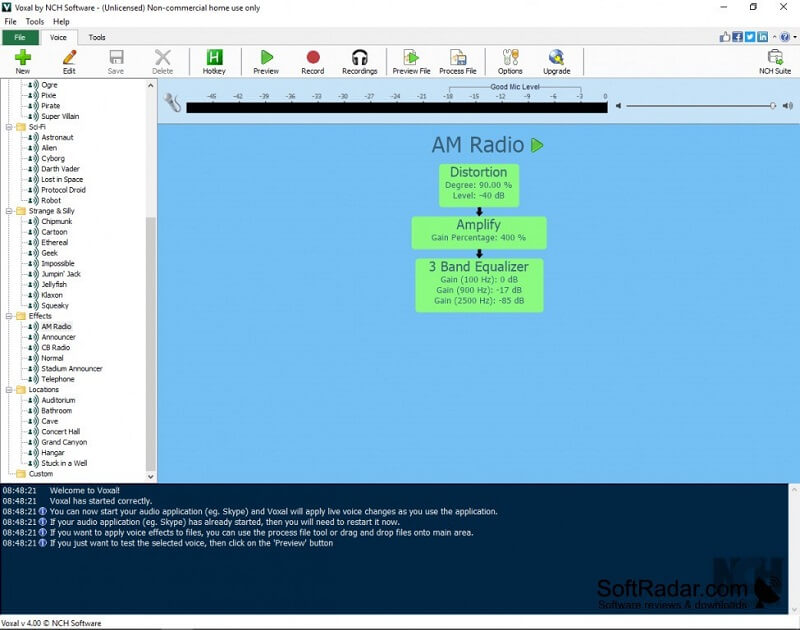 Key Features
Below are some of the key features of the app:
The soundboard can work with all functioning apps you have installed on your device.
It doesn't interfere with the working of other apps.
Works with Windows 10 and above and mac 10.5 and above.
It allows you to change voice sound within seconds by using hotkeys.
You can change your voice to sound like anime in recorded audio.
Pros
Easy to integrate.
It can work with any audio input.
Let's you download the voice filters.
Cons
Bugs appear which require the app to get restarted a few times.
Just as its name suggests, Myinstants lets you change your voice within seconds at the push of a button. It has no restrictions over language, and its voice filters are available in a different variety. The app is trending all over the world because it offers funny voice filters, all for free. The user interface is very friendly and hence will not give you any hurdle when using it.
From anime to politics, the soundboard lets you have fun on all levels. Text with your friends in an anime voice or choose a famous movie character voice. The fun of using Myinstants is endless.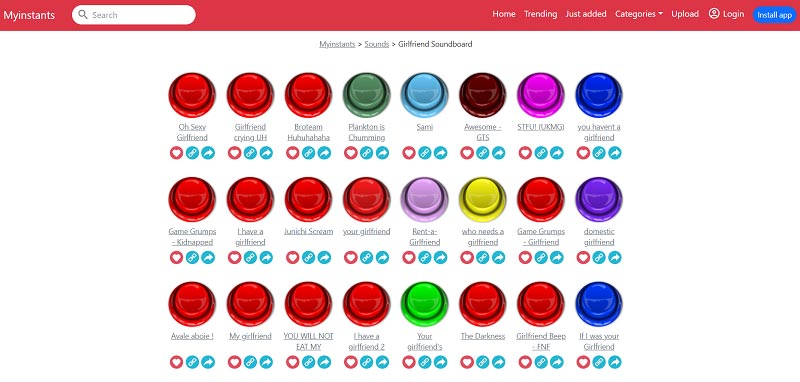 Key Features
Here are the key features of the soundboard:
Includes voice effects in English and various other languages.
You can create your customizable sound.
It lets you download these voice filters on your device.
The soundboard features over forty thousand buttons that include different voices.
Pros
One hundred percent free to use.
Allows you to use the voice filters on various platforms.
Cons
Includes many pop-up ads.
Doesn't feature some advanced tools as like in the previous mentioned soundboards.
If you are looking for a convenient way to use a soundboard for anime voice, then Jayuzumi must be your pick. The soundboard specializes in anime voices and has other awesome features to look into. The app's interface shows how much it is designed to give you the best time of your life. With featuring a separate category for anime, the soundboard for sure sounds like a good choice to use.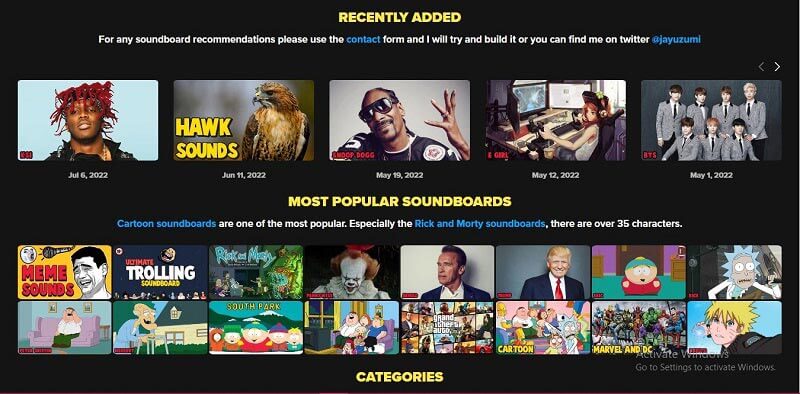 Key Features
The below traits make a proof of why Jayuzumi is one of the coolest soundboards to use:
It has a separate category for anime voices.
The soundboard features another section just for prank calls.
The soundboard ensures to keep your privacy strong.
You can choose from a variety of sound effects.
The meme collection lets you create new ways to converse with your friends hilariously.
Pros
Offers great variety.
Separate categories help to make full use of the app.
Cons
Doesn't feature parental control.
For any anime soundboard app, the most important thing is that the app perfectly moulds your voice into that character's voice. One such soundboard is the Anime soundboard that has had one hundred thousand downloads till now!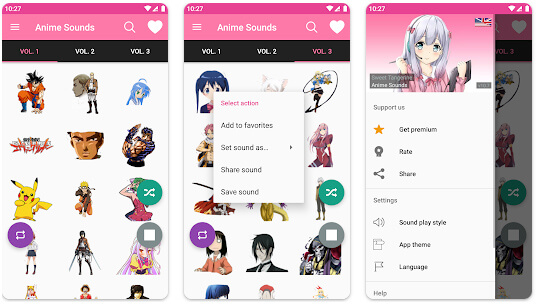 Key Features
The following features make Anime soundboard one of the best apps to use in 2022:
Anime soundboard lets you save your audio to your device.
It is a very light load app and hence will work well on lower working devices.
Pros
Features all famous anime character voices.
Fixes bugs and improves performance constantly.
Cons
Contains in ad purchases.
Doesn't let you use your newly created voice as a ringtone.
Doesn't offer features in comparison to its subscription fee.
Who doesn't love memes? Everyone does! With the use of the Meme soundboard, you can select from over 950 sounds, and of course, that includes anime too. Not many soundboard apps are compatible with iOS devices. However, the Meme Soundboard is manufactured specifically for iOS devices. The soundboard has over 4.8 rating out of 5 on the Apple Store, so that speaks high volumes about its performance! The features of this app have made it the best anime meme soundboard out of the ton.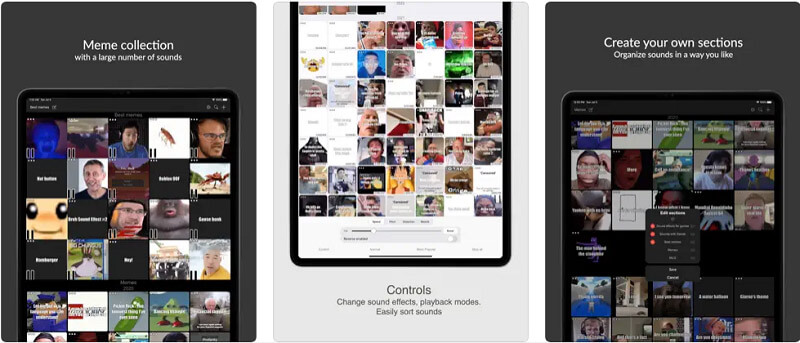 Key Features
Here is how the meme soundboard gives you benefits in more ways than one:
It includes links to original memes.
Allows you to adjust your voice to the voice filter according to your liking.
It allows you to easily share audio files with your friends and family.
Includes iCloud backup for imported audio files.
Pros
Takes less time to launch on your device.
Includes all the latest meme sounds.
Allows you to categorize your favorite sound effects.
Cons
Only available for iOS devices.
Conclusion
Apps like such enable you to have fun in your leisure time while also letting you use them with ease. Each one of the anime soundboard apps mentioned above features an easy-to-use and interactive interface.
Even though each app features something unique for its users, it is clear that UnicTool MagicVox takes the lead. The app is one of the best to use for an anime soundboard. It also lets you access a variety of other features as well!