Gaming is one of the most popular things dominating the world. You will find people pretending to be anime characters or masking the voices of their favorite movie characters. And when we say gaming, use of voice changers, soundboards, and other gimmick fun-to-do things is very popular and trendy.
Girlfriend soundboards have also gained popularity on gaming websites, social media, and communication websites. People rely on them to prank their friends, hide their identity, or make their job easier by using hotkeys and sending repeated responses.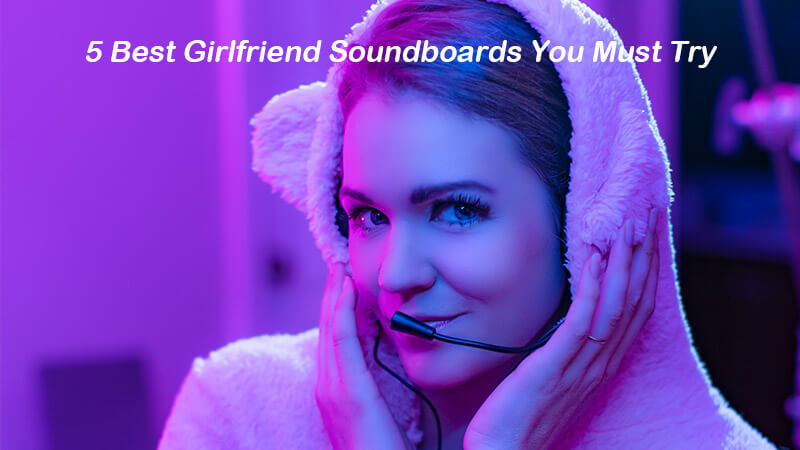 Part 1.

What Is Girlfriend Soundboard?

Have you ever used a physical soundboard? Many of you would have used the physical soundboards that have a limited number of keys that can be associated with custom effects and sounds. The idea of developing virtual soundboards hit the developers to facilitate the frequent users of the sound effects.

And where are we today with God knows how many virtual soundboards?

Girl Soundboards have become very popular as these are the virtual soundboards featuring different accents, tones, and phrases in a girl's voice. You can change your voice and apply different girl soundboard effects to double the fun of gaming. Whether you want to prank a friend while gaming or want to hide your identity, the girlfriend or girl soundboard can be your savior.

So now you know what a girl soundboard refers to. Create drama, mystery, prank, and fun with the exotic soundboards with girl voices.
Part 2.

Best Girlfriend Soundboard to Try

Soundboards have undoubtedly made it easy to use different effects, provided space optimization, and associating your keyboard keys with sound effects. But many virtual soundboards we see today are very effective in claims until you download the voice effects and use them while gaming or chatting with a friend.

Here are the five best girlfriend soundboards you can try, whether gaming, using Zoom Conference, or chatting with a friend.

If you have been annoyed by so many claims made by most of the online software and platforms claiming as much as you want? UnicTool MagicVox is indeed one of the best solutions for changing voice, with a powerful soundboard and numerous sound effects. Whether you're using Skype, Discord, PubG, and a lot of other popular games, you can integrate UnicTool MagicVox and let the fun begin.

Use the hotkeys available to control the girl sound playback, repeat it, or replay sound when needed during gaming or voice chatting. However, the only limitation you might feel while using the MagicVox is that you will have to pay a one-time price to unlock most of the sound effects.

If we talk about the Girlfriend Soundboard offered by UnicTool, the main features are as follows: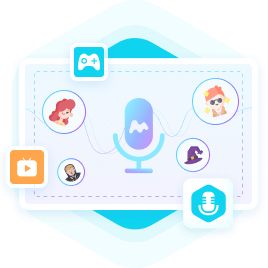 A Real-Time Voice Changer
It has over 150+ voice emoticons and 300+ voice effects
Live Voice Emulator when gaming or voice chatting
Hotkeys to control(play, repeat, replay, pause) the playback
Voice Studio to record your own girlfriend sounds and make them part of the soundboard
User-friendly interface
Free integration with popular games and platforms
The voice emulator of the MagicVox just amplifies your gaming experience, voice chatting, or live calls with your friends or family.
Voicemod is also a very popular voice changer cum girlfriend soundboard whether you're gaming or want it for Discord. You can literally choose from numerous voice filters and sound effects to prank anyone or replace your identity while gaming. Even you can use the hilarious girl emoticons to enjoy with your friends and spread laughter. Voicemod is also a PC-based solution that integrates with most of the popular platforms like Skype, Viber, PubG, Fortnite, Discord, etc.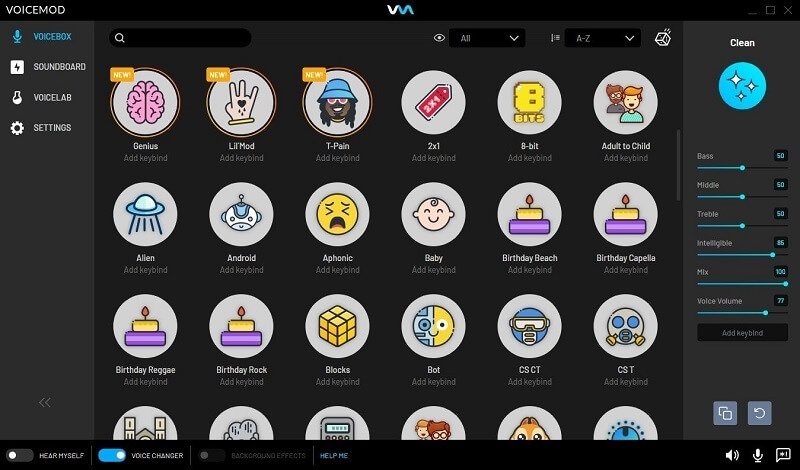 You can play around with the Voicemod's Anime soundboards, from a Japanese anime girl to a bold and blunt girl's voice. It will take you to experience the real Anime world with reactions, voice emoticons, and sound effects.
The main highlights of VoiceMod are as follows:
Key Features
Hotkeys to control the playback of girl soundboard and voice changes
Choose from the available girlfriend sound effects
Option to download and import sound effects from their own PGC platform
Control the girlfriend soundboard from the smartphone controller app
New sounds are being added to the library every month
Customize your own girlfriend soundboard with your favorite voice skins
As the name suggests, Myinstants is your go-to girlfriend soundboard to playback different phrases with a girl's skin while gaming or voice chatting. Myinstants let you play sounds from a moaning girl to the Anime Girl Senpai. It's a web-based app that can be downloaded on your PC. Besides, the iOS and Android soundboards are also available.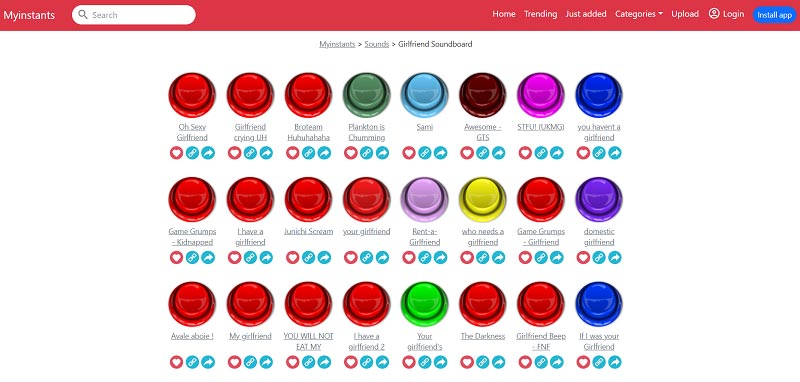 If you're an Anime fan, you will get several voices of girls in Myinstants' Girl Soundboard. You can play the voices in real-time before experimenting with them to prank your friends while chatting or playing the game.
The main highlights of Myinstants soundboard are as follows:
Key Features
Quick buttons to play any sound you want
Save, copy the link, or share the girlfriend sounds with your friends
One of the largest sound buttons website
Web-based apps to play quickly
Regularly updated sounds
Soundboard App available for Apple and Android users
The downside of Myinstants is that you don't have much room to play around with voice changers and emulators. However, you can still enjoy a lot of voice memos and emoticons to lit up the gaming experience.
Peal.io is an online platform and a soundboard full of different voice memos. The website has a plethora of sound effects and voices of gamer girls that can be used by the gamers while gaming. Whether you want to have a voice of an American girl greeting or telling about her nationality, you will get on Peal.io. Besides, you can easily prank your friends with the voices having a completely natural tone.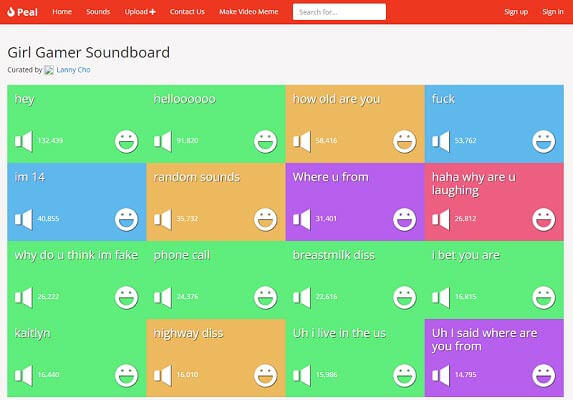 The main features of Peal are as follows:
Key Features
Natural-toned voice memes and emoticon
A library comprising of voices that are hard to detect as fake
It's a free website to use
A very colorful and user-friendly interface
Make your own video and GIF memes
The working of Peal.io is similar to that of Myinstants if you're accessing it from your PC. All you have to do is sign up for the Peal.io and let the fun begin. Simply send the voice memos in chats, whether gaming or using other social websites.
Last but not least, Soundboard.com is usually considered a pioneer in soundboard sound clips and audio emoticons. Whether you want to create your own soundboard or use the ones already made by users, you have the choice. With a database of over 700,000+ sound clips and effects, Soundboard.com is a website that will never leave you short of options.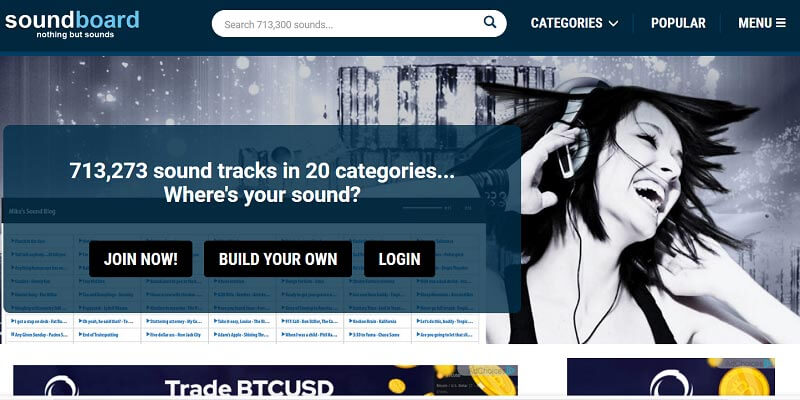 The platform allows you to create public, private, or restricted soundboards for yourself. Create, customize, manage, and share your personalized soundboards with your friends and other users on the platform.
The most pleasing features of Sounboard.com are:
Key Features
Build your own girlfriend soundboard or any other custom board
Record and post audios right from your mobile devices
You can share the boards you have created
Download the voices to share with friends
Text to sounds in the U.S. accent
Above all, you can sell the boards you create on the soundboard
Part 3.

How to Use Soundboard Software for Windows?

Now let's talk about using one of the most comprehensive and effective soundboards if you're a Windows user. UnicTool MagicVox is one of the best soundboard and voice changers we discussed above. You have many options and room to play around with your voice and use other girl soundboards to enhance your gaming experience.

We will discuss using UnicTool MagicVox to integrate with your device and using the soundboard for different websites.

Here is a step-by-step guide to using the soundboard on your Windows PC or laptop:
Step By Step Tutorial
Step 1: Download and Install Voice Changer App

First things first, download and install the UnicTool MagicVox on your Windows device from the official website. You can choose to use the free version or pay a one-time fee of around $40 to unlock all features of the software.

Step 2: Set Default Mic and Headphone

Launch the application and go to settings to set the default mic and headphones on the voice changer.

Step 3: Create and Customize Your Soundboards

Now you have to go to the Soundboard tab of the app. Assign hotkeys and keys for the voices on the soundboard you want to use. You can also make your own customized soundboard by uploading MP3 OR Wav files to the app.

Step 4: Start Talking Like a Girl

Now you can use the soundboard whenever or wherever you want. All you have to do is open the game or app you want to use the soundboard in. Go to the settings and change the audio settings to voice changer –virtual device as default input device and headphones as an output device, then you can use girl voice combined with funny girl soundboard.

Step 5: Enjoy a Changed Voice and Funny Soundboard

Once you have completed the process by following the steps mentioned above, it is time to enjoy all features. It includes voice filters, soundboard and voice memes on different platform.
Conclusion
We have mentioned different girlfriend soundboards that can be fun for gaming or chatting websites. However, each soundboard has its own limitation when using diverse communication or gaming websites. If you want an all-in-one solution, UnicTool MagicVox has the best features for changing voice as well as making your own soundboard by uploading files. You can even download files from other sound clips websites and use them to make your personal soundboard in MagicVox.