iPhone home button unresponsive or not working is one of the most common problems for iPhone 6/7/8/SE users. In this article, we'll see how to fix it without getting a new device. We've covered five other ways to get your home button to work, and we've also covered how to use an app that can fix your iPhone home button not working problem.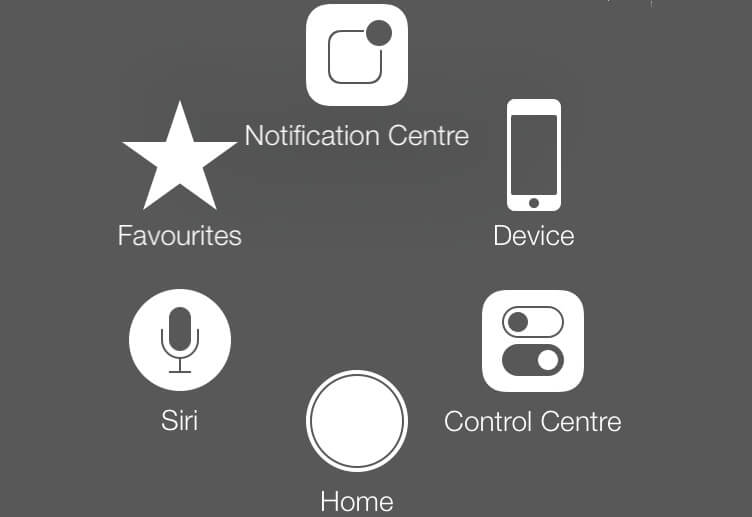 For more details, please read the complete article here. So, are you ready to jump into the action? Let's begin!
Part 1.

Why My iPhone Home Button Not Working?

Why is my iPhone 7/8 home button not working. Here are few reasons why it might happen.
1

Drained Battery

It's natural to get power hungry gadgets. However, when the battery of your gadget is drained, it will simply stop functioning. So, it's a safe bet that your iPhone's home button might stop working as the battery was getting low. This is what happened to almost all the users as they got their iPhones with drained battery.

2

Uncleaned Home Button

This is one of the most annoying things. If you have ever seen someone cleaning their iPhone or iPad and making it show a different screen, then you would be familiar with this. If you are still using your iPhone with unclean home button, then you need to try to clean it.

3

Software Problems

Sometimes, the home button will just stop working and would randomly show an error message on your iPhone's screen. In such cases, your iPhone's home button might just be malfunctioning due to a software problem.
So, these are the reasons behind iPhone fast battery drain. Now, it's time to know how to fix iPhone battery draining fast problem.
Part 2.

Top 6 Tips to Fix iPhone Home Button Not Working

Here are six tips to fix iPhone or iPad home button not working:
Way 1. Recalibrate the Home Button
Let's face it. If you got your iPhone home button to work normally then it's all because you have programmed the iPhone's home button perfectly.
But if you have messed up with it, then the button won't work. So, it's important to recalibrate your home button so that it works perfectly and behaves as if it has a mind of its own.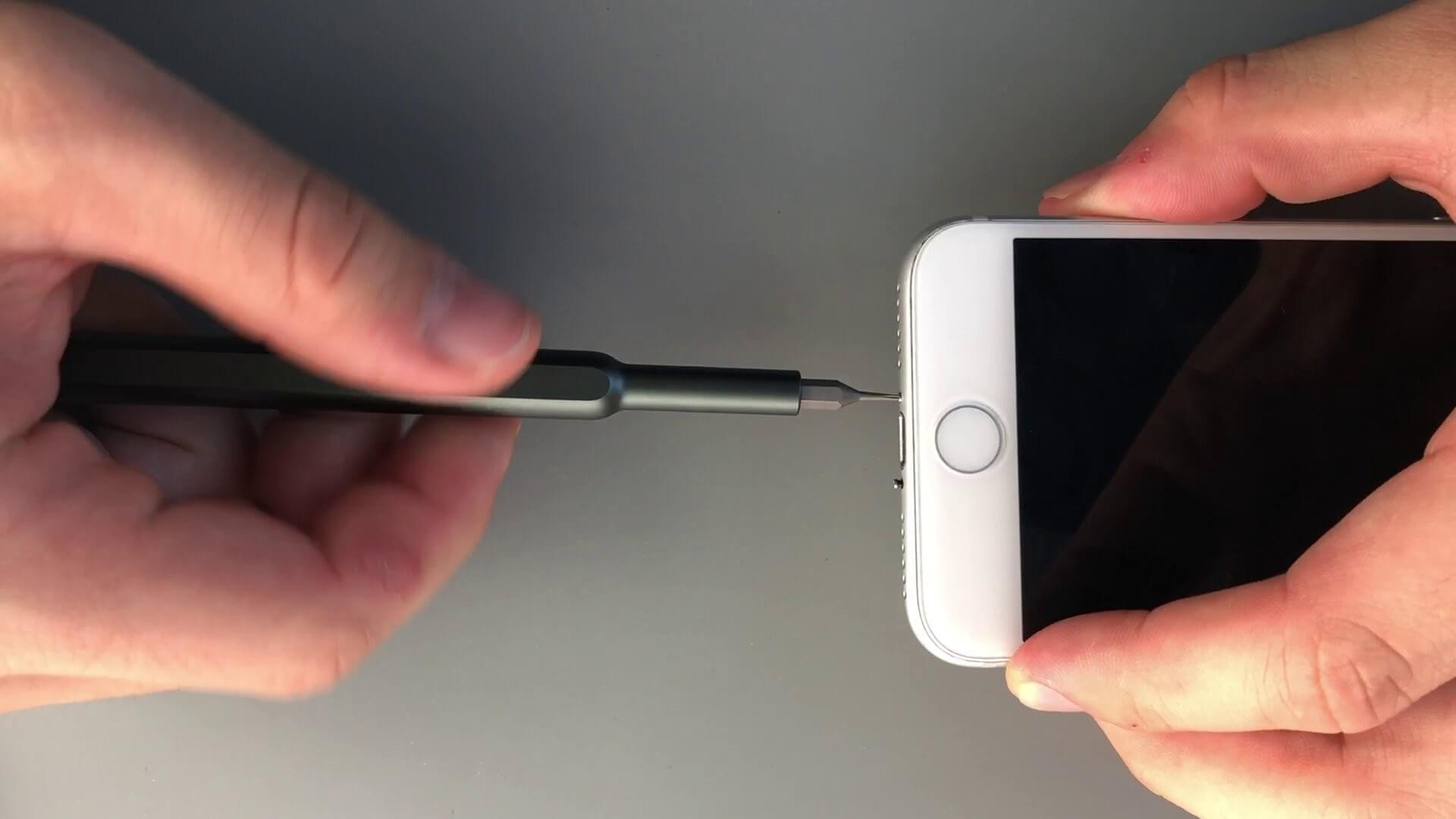 Way 2. Enable Assistive Touch
If your home button not working on iPhone or acting weird, then it's better to get it to work in the better way. The Assistive Touch feature allows you to control your iPhone/iPad even if the home button does not work.
This means that you can access the navigation bar right from the home screen, without using your iPhone's home button.
Way 3. Fix iPhone Home Button Not Working Without Data Loss
Taking advantage of what UnicTool Umendit has to offer is one of the best ways to fix iphone home button not working. This amazing tool for fixing systems has been shown to work very well and has a high success rate. With Umendit, you can be sure that you won't lose any data and that you can quickly get it back.
Key Features of Umendit
Fixes a wide variety of iPhone issues, including the dreaded "stuck on Apple logo" and "black screen of death."
Easy, one-click access to recovery features, including both entering and leaving the mode with a single click and avoiding the need for complicated procedures.
Umendit says there will be no loss of data and has a high success rate fixing all iPhone issues with simply the Standard Repair.
For your own peace of mind, Umendit has a return policy in place that allows you to get your money back within 60 days.
Superb Compatibility: Umendit works with all iOS versions, including the most recent one, iOS 15.

Secure Download

Secure Download
Steps to follow if home button not working iPhone 7 or 8:
Step 1: To get started, get Umendit from the official website and install it on your PC. Once the file is downloaded, it should be installed and run.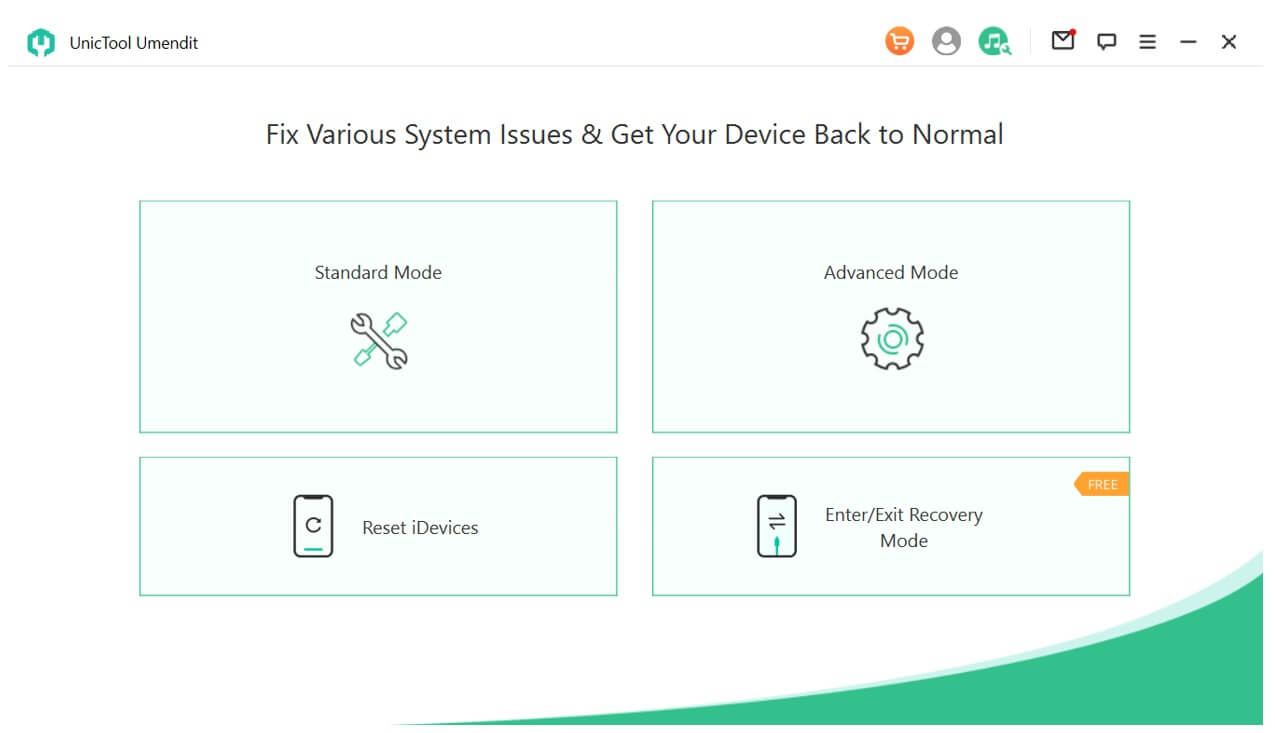 Connect your device to the computer and go to the next step.
Step 2: Select Standard Repair from the menu and sync the device.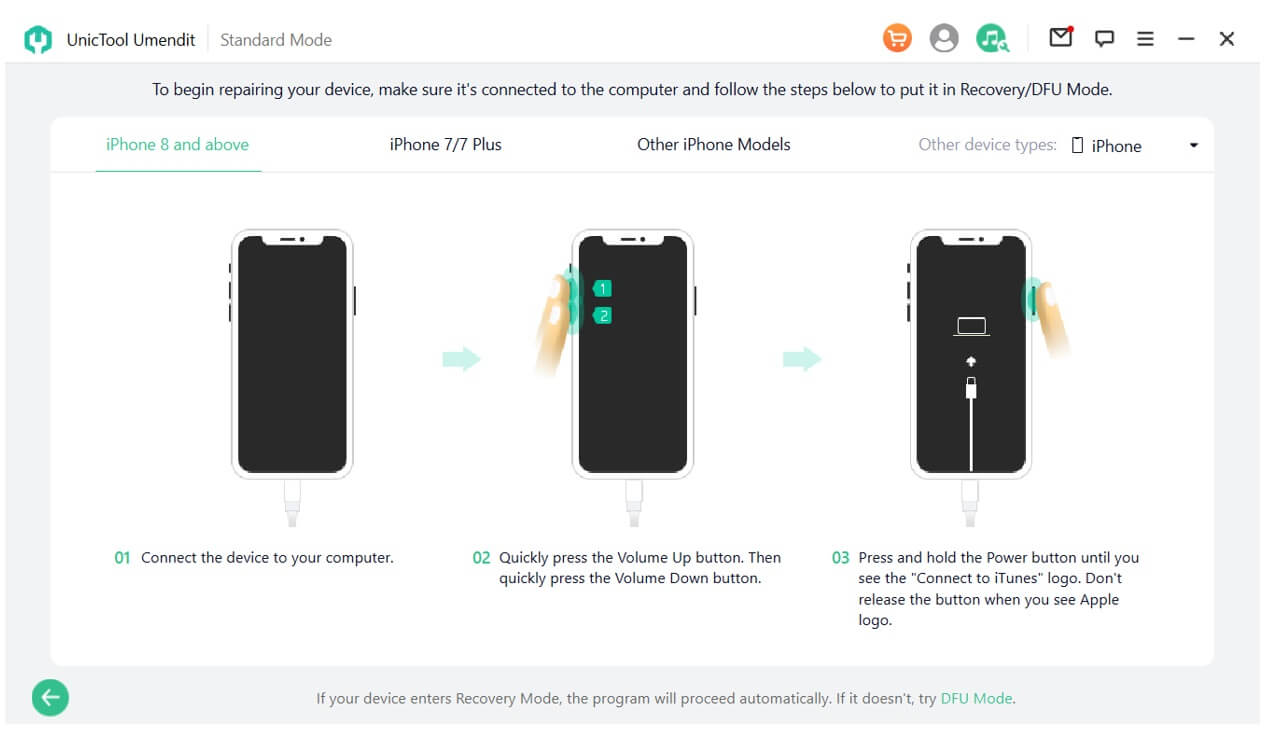 Step 3: Get the Latest Firmware
Select the appropriate firmware, and then click Next to begin the download.
Step 4: Start the repair process once the firmware has been downloaded successfully.
Way 4. Update or restore iPhone with iTunes
Have you updated your iPhone or iPad with iTunes yet? This is a very important step as it will not only reset your iPhone/iPad's home button's orientation but also your iPhone's settings.