Telegram is an open-source messaging platform that allows users to video-call, text, share images, and so much more with friends. It is a global app that enables communication with people from all over world. While Telegram is one of the most private apps, with the location sharing feature, it is possible for someone to identify your location on Telegram. When the location sharing action is not voluntary, or when you want to play some little tricks with your friends, or for some other reasons, you might want to fake GPS on Telegram. Here let's check the methods.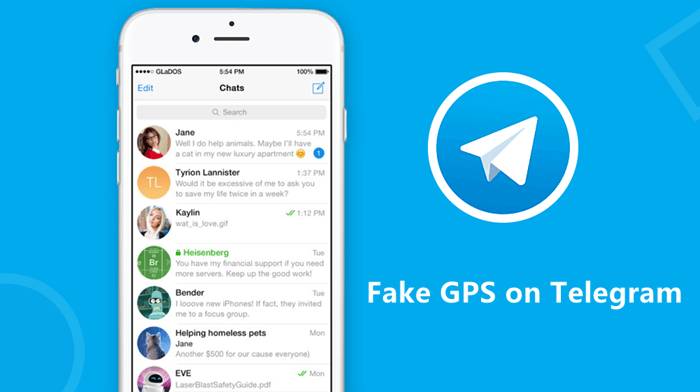 Part 1.

The Location Feature on Telegram

The Telegram location feature is not on a map tab, nor is it on a button. Instead, the location is shared within a chat thread. It allows you to share your location with contacts and friends. Likewise, you can see the locations of others as well if you have been selected to share the location information. Similar to other Telegram services, the Telegram location feature allows you to place limits on the time span within which you can share a location, with the maximum limit being eight hours.
1. Can Someone Track You in Telegram?
Yes, someone can track you in Telegram.
Telegram is one of the safest messaging apps that has encrypted conversations. The main purpose of the app is to ensure safety with little or no security breaches. Within the App, there are privacy laws that you must adhere to. Additionally, Telegram has a feature that allows users to delete messages completely after a certain period.
However, the location services of Telegram make it possible if someone intends to track you, especially through the People Nearby feature. This feature allows users to track the location of others if they all have enabled this function.
2. How to Send Current Location on Telegram?
If you want to send your current location to your friends or family members via Telegram, the process is pretty straightforward:
1

Open the Telegram App and start a chat thread.

2

Tap on the icon of attachment and choose Location.

3

If you're sharing your location for the first time, Telegram will ask for permission. Allow it to proceed. Tap on the Send selected location option.

4

You can see your current location with a blue dot on the map now. Send the location directly or drag the blue dot to any other point on the map to send that location instead.
3. How to Share Live Location on Telegram?
If you want to send keep your friends updated with your movement, you can them share your live location on Telegram instaed of sending a static location:
1

Open the chat with whom you want to share your live location.

2

Tap on the icon of attachment and choose Location.

3

Tap on the Share My Live Location for... option. If you share your live location in groups, you'll see everyone's current coordinates if other members of the group do the same.

4

Set time frame for which you want to share the live location and tap SHARE to confirm.

5

On the bar at the top of the screen, you will see clearly who you're sharing your location with, and you can stop sharing whenever you choose to.
Part 2.

How to Change Location on Telegram?

Out of privacy concern, or the aim to play a prank on your friends, you may want to fake GPS on Telegram. As is shown in the section above, although you can set your location casually to anywhere you want when you send other users a static location, your real location and movement will be exposed when you share your live location with them. In this case, if you still want to fake GPS on Telegram, a third-party tool is quite necessary.
1. Use Mobile App
Mobile applications are convenient to use for location faking purposes. You just need to choose a suitable one and give the app corresponding permissions to run and spoof your GPS location. There a quite a number of mobile location spoofers on the market and here we'll take Fake GPS as an example.
Step 1. Download Fake GPS app from the Google Play Store.
Step 2. Go to Settings and enable Developer options. In the Select mock location app option, choose the right app.
Step 3. Open the app, then choose the location you want to change to. You can click on the map location or enter the exact coordinates.

Step 4. Click the START button to move to the new location. You can always stop by clicking the STOP button.

Step 5. Through this process, your phone should now be showing fake GPS as your location currently. You may share this information on Telegram.
Limitations
Only works for Android devices.
The initial setup process is complicated and may take some time.
It stops working sometimes and takes you back to the real location while refreshing it.
2. Use Desktop Software
Most mobile apps only have Android versions and take much time to get the job finished. As an alternative, therefore, you can choose desktop software. Here we highly recommend UnicTool TailorGo, which is among the most efficient tools that anyone can rely on to fake GPS on Telegram. By simulating GPS movement in a natural way, you can protect your privacy and show the location you want others to see even if you are sharing live location.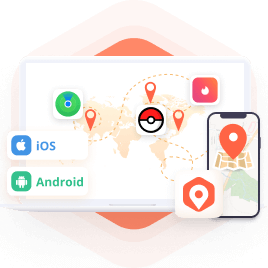 Fake GPS on Telegram
< li>Change location to any place you like without being detected.
Simulate GPS movement along customized routes with designed speed.
Easy to navigate with clean interface and clear instructions.
100% success rate; 0 security risks.
Applicable to various location-based apps: Zenly, Tinder, Life360, Pokémon GO, etc.
Compatible with iOS 7 and later as well as Android 5-12.
Free trial offers some free functions for every user.
1

Download, install and launch TailorGo on your computer. Get your device connected, then click the "Get Started" button to begin.

2

To simulate GPS movement, choose either the Two-Spot Mode or Multi-Spot Mode, then plan a route to move along.

3

In this way, faking GPS on Telegram is easily done. You can now share your live location with others and show them exactly what you want them to see.
Discussion:

Should We Use the People Nearby Feature on Telegram?

Telegram has a People Nearby feature, which shows the number of people or users within the proximity. It lets you create charts based on the location of the people near you without having to share your contact necessarily. This feature is turned off by default and must be manually enabled by the user, hence enhancing privacy. Meanwhile, however, some drawbacks exist. Here we'll discuss the pros and cons of this People Nearby feature and offer some insights.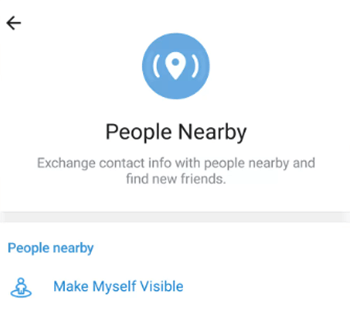 Pros
It allows Telegram users to initiate chats. This creates more room for you to make new friends.
Since no contacts are being used or sent, this feature maintains your privacy by ensuring your contact is not shared with strangers not in your contact list.
It offers you a choice to manually switch it on or off; hence it protects your autonomy.
Cons
People have now started taking advantage of this feature and begun sending scams to people. This exploration has led to people losing money and receiving unethical data.
This feature has also opened room for fake GPS telegrams. People have started putting up fake locations without being necessarily there. As a result, fake relationships are born.
It poses some insecurity issues since it will expose your location to the people nearby. Your account could be at risk of being hacked or your home being robbed after your home address is exposed to unknown people.
Conclusion
Telegram is a popular app that people use to communicate. With the location services on it,  people are brought closer. While for various reasons, many Telegram users have moved to the next step, i.e. changing location to show a fake GPS on Telegram. In order to do that, we've introduced two different kinds of tools and UnicTool TailorGo is the one you can always trust. It is capable of meeting all your location changing needs, with just some simple clicks. Give it a try and enjoy the free trial!