Instagram has exploded in popularity in recent years. With more than one billion active users, it's no wonder brands, and individuals are clamoring to create accounts and make the most of this powerful visual platform. One of the things that makes Instagram so desirable is its ability to allow users to share their location on the posts.
This can be a great way to show off the photos of your hometown, vacation spot, or favorite restaurants and connect with others in your area. If you are not clear how to create a location on Instagram yet, don't worry – we'll walk you through it! What's more, you'll also know how to change location on other social media platforms. Let's get started.

Part 1.

Instagram & Geotag

Are you one of those people who posts pictures of every meal you eat? What about all the sights you see on your vacations? Have you ever wondered how to show others where your photos were taken? What if you are at an amazing place that you want to share with your friends, but the location is not showing up on Instagram?

Nothing to worry about. In fact, thanks to the geotag feature on Instagram, you can add geographical data to a photograph, such as a city or town name. Through this way, you can make the best of the location services on this platform, such as:
1

Grow your business in your locality

2

Connect with your fans in the vicinity

3

Let your friends and family know about your location

4

Promote a physical location
Plenty of benefits, right? But first, you should know how to geotag your pictures or stories on Instagram.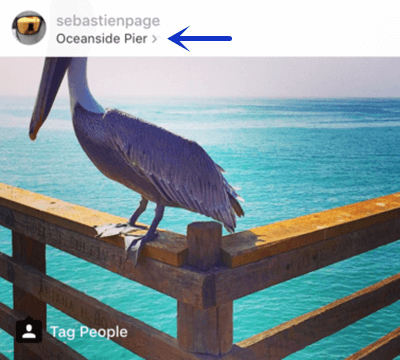 Part 2.

How to Create a Location on Instagram?

Publishing those cool location-based Instagram posts is not as hard as you might think, but you cannot directly create a location on Instagram. As Instagram only recognizes public locations from Facebook (now Meta), the parent company of Instagram, you need to create a location via Facebook first instead. To do that, all you have to do is checking in to that location on Facebook.

"

"
1. How to Create a Location on Instagram via Facebook
Step 1. Open your Facebook app and create a post. Tap on the Check in option.

Step 2. Then tap on Turn on Location to make sure you've given Facebook the permission to get your location information.

Step 3. In the search bar, type in the location that you want to show on Instagram. Mind the spaces, capital letters and punctuations.
Step 4. Scroll to the bottom of the screen, and choose Add "[Your Location Name]". Then you'll go to the "Create a Place" page.

Step 5. Give more details of the created place, or you can just tap on the I'm currently here option to directly connect the place name to your current location.

Step 6. Check in to the newly-created location to confirm its creation.
2. How to Use Your Own Location on Instagram
Step 1. Open Instagram and create a post. On the Caption page,tap on Add location option.

Step 2. Type in your new location, locate and choose it.

Step 3. Tag the location on yourInstagram post.
Part 3.

How to Create a Location on Instagram Without Facebook?

Unfortunately, you would not be able to create a geotag or use a new location on Instagram without adding it first on Facebook. You'll have to check in and link your Facebook account first to your Instagram account. Once you have added your location on Facebook, it will automatically appear on Instagram.

That's because Facebook (now Meta) is Instagram's parent company. And many of their features, including the geotag, have been integrated with each other. Hence, adding a location on Facebook is the first step before you can use it on your Instagram posts.
Bonus:

How to Change Location on Other Social Platforms?

Have you ever been in a situation where you need to be in somewhere else but it's not convenient for you to make any physical movements? Or maybe you're on vacation and want to explore without worrying about others knowing your secret spot on social media. Or maybe you just want to fake location out of security concern. Whatever the reason for changing location is, you need a third-party tool to help you, and that's exactly where UnicTool TailorGo can come in handy.

With the best location changing tool TailorGo, you can easily create a fake GPS location on your social media platforms and easily navigate your way virtually without moving at all. It's really useful when you play location-based games like Pokémon GO and can help you get more dates in different areas on dating apps such as Grindr and Tinder.
Fake your location to anywhere around the globe.
Plan a route with designed speed and direction to move along virtually.
Smoothly work with various location-based apps such as Tinder, Grindr, Life360 and popular AR games including Pokémon GO.
Support both Android 5-12 as well as iOS 7.0 and later.
Absolutely safe and no virus attached.
Free trial is available with the main functions.

1

Download, install and launch TailorGo on your computer. Then click the "Get Started" button andhave your device connected.

2

To simply change location, choose the Teleport Mode and select the destination. To simulate GPS movement, choose either the Two-Spot Mode or Multi-Spot Mode and plan a route. The Joystick Mode is specially designed for Pokémon GO game.

3

TailorGo will change your location instantly or complete the movement as planned.
Conclusion
Here we've offered everything about how to create a location on Instagram. It's quite easy actually - you just need to take one more step and create a location via Facebook first.
In case you need to fake location on other social platforms and are seeking a qualified tool, the professional location changer UnicTool TailorGo is worthy of your trust. It offers a wide range of fake GPS features and customization options to help you get the most out of your fake GPS experience on various social media platforms. So what are you waiting for? Get the free trial now and start faking your location like a pro!