In general, iPhones come with a pretty good storage size. However, the iMessage application often fills up your device's storage with texts, images, and videos that may not be necessary. Hence, it is a good idea to clear out the space on your iPhone occasionally. But what if, while clearing out, you end up deleting an important iMessage by accident?
Well, if you have gotten into that situation, don't stress out. This article is all about helping you get back those important iMessages. We will tell you 5 ways to retrieve deleted iMessages on iPhone and iPad with detailed steps in this article. Let's start now.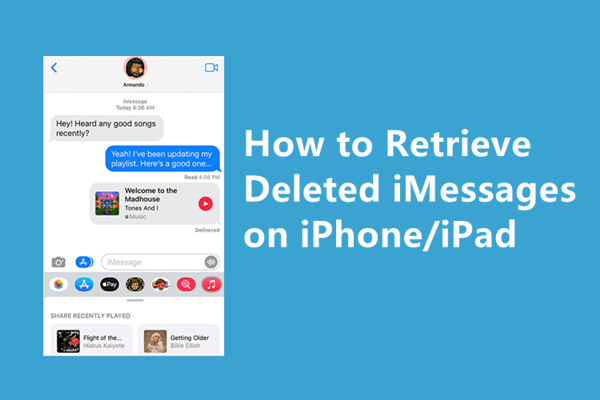 Option 1.

How to Retrieve Deleted iMessages From Other Apple Devices

If you have several different Apple devices, then it's possible to retrieve deleted iMessages from another Apple device such as an iPad or Mac. That's because if you have enabled the iMessage in the iCloud settings, then the iMessages will sync across all your Apple devices with your Apple ID. Therefore, you will be able to see all the iMessages you sent and received on your iPhone on your iPad or Mac.

To check if you have enabled "Messages" in iCloud:
Tap Apple ID at the top of the Settings screen.
Scroll down and tap on "iCloud".
Check if "Messages" is toggled on from the list in iCloud.
If you have confirmed that the "Messages" option is enabled in iCloud. Then turn to your iPad or Mac or any other Apple device and sign in with the same Apple ID to check if your deleted iMessages are stored there.
Option 2.

How to Sync Deleted iMessages From iCloud

If you have enabled "Messages" in iCloud settings, then your messages and iMessages will automatically sync to your iCloud. And you could retrieve deleted iMessages on your iPhone and iPad by syncing the iMessages from iCloud.

Follow the steps below to get back your iMessages:
Open Settings, tap on your profile at the top of the screen.
Scroll down and tap "iCloud".
From the list there, tap on the green toggle of the "Messages" to turn it off.
A pop-up notification will then appear on the screen. Select "Disable and Download Messages".
Option 3.

How to Retrieve Deleted iMessages From iCloud Backup

The other method to recover deleted iMessages to iPhone with iCloud is to restore a backup. If you have made a backup of your device before deleting the iMessage, then it's likely that your iMessages are stored in iCloud backup. And you could restore the backup to get back the iMessages.

But before heading to detailed steps, there are some things you should be aware. This method requires you to completely erase all the data existing in your iPhone first. To avoid losing important data on your iPhone or iPad, you are recommended to save it elsewhere before starting the backup retrieval process.

If you want to restore an iCloud backup, follow the steps below:
To erase existing data, open Settings, tap "General" > "Reset" > "Erase All Content and Settings". And choose "Erase Now" in the pop-up confirmation.

Follow the instructions on the screen until you see the "Apps & Data". Select "Restore from iCloud Backup" here.

Choose a backup that contains your deleted iMessages in the list and the restoring will begin.
Option 4.

How to Retrieve Deleted iMessages From iTunes Backup

If you fail to recover deleted iMessages to your iPhone or iPad from iCloud, iTunes may be able to help you. But remember, just like the case of iCloud, iTunes backup also overwrites any data on your device that is newer than the backup. So, it is necessary to save the recent files separately.

Follow the steps to restore a backup with iTunes:
1. Connect your iPhone to your personal computer through a USB cable. Launch iTunes and click on the device icon located at the top left corner of the window.
2. Now click on Summary from the menu on the left. Then click Restore Backup.

3. Choose a backup and click Restore to confirm.
Option 5.

How to Retrieve Deleted iMessages Directly From iPhone/iPad

If you didn't retrieve your iMessages after trying the method above because you can't find that backup which included your iMessages. or you just don't have any backup, you must wonder is there any way to directly recover the deleted iMessages from my iPhone or iPad? My answer is yes! iFindit can do that for you.

iFindit is a professional data recovery tool designed for iOS devices. With iFindit, you are surely able to recover the deleted iMessages even without a backup. Besides, iFindit can also recover many other types of lost or deleted data like text messages, contacts, WhatsApp messages and Snapchat messages.
Recovery Without Backup: With the "Recover from iOS Device" mode, you can recover deleted iMessages on iPhone /iPad without backup.
Preview Before Recovery: iFindit will let preview the files that have been found in your device before starting the recovery process.
Easy Operation: With iFindit, you will recover your lost files with a one-click operation.
Selective Data Recovery: You can select the files you wish to retrieve instead of having to restore the whole previous version.
Strong Compatibility: It supports almost all iOS devices (iPhone, iPad, iPod) and iOS versions (including iOS 15).
Free Trial: iFindit allows users to try the application for free before purchasing it.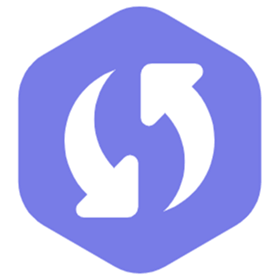 1

Download and install iFindit on your computer. Click the "Recover from iOS Device" option, then connect your iPhone or iPad to the computer. After your device is successfully detected, click on the Next button.

2

You could see all the data types that you could recover. Select the Messages here and then click "Scan".

3

You may preview your deleted iMessages after the scanning is completed. Finally, select the specific items that you want to recover and click on the "Recover" button.
Conclusion
In this article, we have shared five effective methods to help you retrieve deleted iMessages on your iPhone or iPad. Among the methods, the best one is definitely by using iFindit.
This iOS data recovery tool not only offers a very simple one-click operation but also has a high recovery rate. What's more important, iFindit lets you restore iMessages as well as any other data without backup. So, what are you waiting for? Install iFindit today and restore all your important data.