In this digital era, most people won't write down a phone number on a paper or a notebook, people rely on the contacts stored in our phone so much. Therefore, if the cotacts disappeared from your iPhone, that will cause much inconvenience for your life and work.
Undoubtedly, it's annoying and worrisome missing the contacts from your iPhone. However, you don't need to worry if you are facing such a problem. We are here to help you out. In this article, we'll showcase several proven methods to fix the iPhone contacts disappeared issue.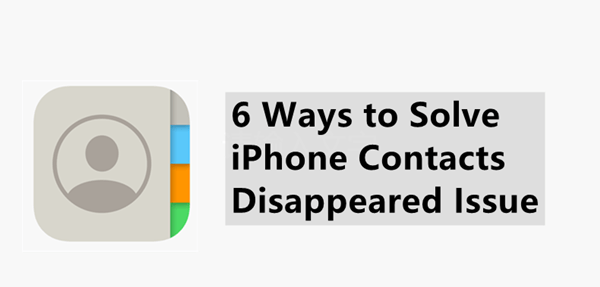 Part 1.

Why Have My Contacts Disappeared From My iPhone?

Contacts disappearing from your iPhone may happen for several reasons including new iOS software update or iOS downgrade, iOS system glitches, iPhone jailbreak, and mistaken deletion or operation. But don't feel anxious if you get your contacts lost, just follow the methods we provide to restore the contacts.
Part 2.

How to Retrieve Disappeared iPhone Contacts

No matter you lost your contacts on your iPhone in which situation, you will retrieve your disappeared contacts with the comprehensive ways we have collected for you. Just continue with the useful measures and detailed instructions for all the methods.
Method 1. Check the Contacts Group Settings
If only a part of your contacts is displayed in the Contacts app, then the reason for contacts missing may be the misconfiguration of the group settings. The first method you may try to restore your contacts is to check the Contacts group settings. Follow these steps:
Step 1: Tap on the Contacts icon to open it on your iPhone.
Step 2: From the top left corner, tap on "Groups".
Step 3: Tap on "All on My iPhone" and then on "Done". You will probably restore all the contacts on your iPhone.
Method 2. Configure "On My Phone" as Default
Another setting you should check on your iPhone to get back your disappeared contacts is to configure keeping contacts on your iPhone as default. Follow the step-by-step guide below to set it up:
Step 1: Go to "Settings" > "Contacts".
Step 2: Tap on "Default Account" and choose "On My Phone" as default.
After completing the operation, visit your Contacts app again to check if your disappeared contacts are back or not。
Method 3. Restore From Gmail
If you have synchronized your contacts with a Gmail account, you can recover your disappeared contacts by importing the contacts from Gmail. Follow these simple steps below to exexute the operation.
Step 1: Open "Settings" on your phone. Scroll down to choose the Accounts and Passwords > Add Account > Google > Next.
Step 2: Enter your Gmail acoount information. Tap on "Save" button once your account is verified.
Step 3: Enable the "Contacts" option and tap on "Save" to confirm. Then revisit your Contacts app to check if the disappeared contacts are there or not.
This method will sync your contacts from Gmail account to your iPhone, which is possible to restore your missing contacts to iPhone.
Method 4. Restore With iCloud
With iCloud, you have several alternatives to try to restore your disappeared contacts to your iPhone. Feel free to try any one of them for your convenience and preference.
1. Sync contacts from iCloud to iPhone
If you have enabled your contacts to synchronize with your iCloud, you can easily get back your disappeared contacts from iCloud account.
Step 1. From your Settings, tap on your name.
Step 2: Tap on "iCloud" and disable the "Contacts" option. Tap on "Keep on My iPhone" when you see the prompt message appearing on the screen.

Step 3: Restart your iPhone. And follow the above steps to enable "Contacts" in "iCloud" again.
Step 4: Tap on "Merge" when the pop-up message appears on the screen to sync the contacts from iCloud to your iPhone.
2. Restore from iCloud Backup
If you have backed up your iPhone to iCloud before your contacts disappeared from your iPhone. You can also try to get your contacts back by restoring all data of iPhone from iCloud backup. To complete the process, what you need to do is:
Step 1: Erase all the content on iPhone before restoring a backup by going to Settings > General > Reset > Erase All Content and Settings.

Step 2: Follow the instruction on the screen till you see the Apps & Data, tap on "Restore from iCloud Backup".

Step 3: Check the date and time of the backups you have made and choose the most relevant one for your lost contacts. The restoring process will then start.
Note
Restoring a backup from iCloud means replacing all the existing data on your iPhone, think twice before you choose this method..
3. Restore from iCloud.com
Another method that you could utilize the function of iCloud to restore your disappeared contacts is using iCloud.com. Here is how:
Step 1: Sign in to your account on iCloud.com.
Step 2: Click on the "Account Settings".
Step 3: Click on the "Restore Contacts" under "Advanced" at the bottom of the screen.

Step 4: Click on "Restore" to confirm after selecting the contacts you want to restore.
Method 5. Restore From iTunes Backup
You can also choose to restore your disappeared contacts from iTunes backup if you have backed up your iPhone with iTunes before. Here are the steps:
Step 1: Open iTunes on your computer. Connect your iPhone to your computer via a lighting cable.
Step 2: Click on your iPhone when it appears in iTunes. Click on "Restore Backup".

Step 3: Select the backup that is most likely to contain your disappeared contacts. Click on "Restore" to confirm the operation, and wait for the process to finish.
Note
You will take the same risk as restoring a backup from iCloud backup with this method. Your existing data on iPhone will all be overwritten..
Method 6. Restore With iFindit (Recommended)
iFindit is one the most effective data recovery tool for iPhone. With iFindit, even if you don't have any backup of your data, you could also recover it. If your contacts disappeared from your contacts all of a sudden, then it will be a good alternative to resolve the issue.
There are some other reasons why we recommend iFindit to you:
Recover without any backup.
Scan and preview your lost contacts before starting recovery for free.
Restore your contacts selectively.
Recover without extra data loss.
Carry a quick scan speed and simple operation.
Be compatible with almost all iOS versions, including the newest iOS 15.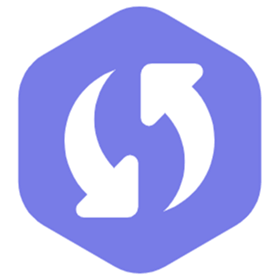 Here is how to use iFindit:
1

Install and launch iFindit on your computer. Connect your iPhone with your computer. Select "Recover from iOS Device" mode.

2

Once iFindit has detected your phone, click on "Next". Select the "Contacts" and click on the "Scan" button in the bottom right corner.

3

Once the scanning completes, select the contacts you want to restore, click on the "Recover" button. You will successfully restore your missing contacts.
Conclusion
We hope you have gotten your disappeared contacts back when you reach here. In this handy guide, we have discussed six different methods that may help you to recover the lost contacts on your iPhone. We recommend you to use iFindit because its outstanding features like requiring no backup and providing preview before recovery. Download and have a try right now!