Most Android users are well versed with the GPS location service and use it to send location to a friend or family. Though enabling fake locations on Android is a trickier business, it is doable nonetheless. Most modern Android phones come with in-built support for changing location. You could take the developer route, or you could turn to the easier option of using some location spoofing tool.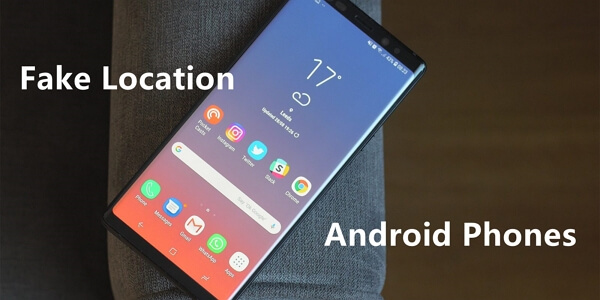 Part 1.

An Overview of Faking Location on Android Phones

If you are trying to figure out how you can fake your location on Android, we are assuming it is for legal purposes such as keeping safe. You might fear that someone has been tracking your moves by accessing your GPS location. If this is the case, you can easily throw them off your trail by using a location-changing tool. Some tools allow you to appear somewhere else rather than the actual one, or make you "move" along the particular routes while in fact you are sitting at home comfortably.

Sometimes, it's not about safety. You could be playing a prank on your friend and want them to think you are in Hawaii or something. Some little tricks may add more fun to life.

Maybe it's about AR game, such the popular Pokémon GO and The Walking Dead: Our World. When the game requires you to be somewhere two streets down from your home, and you simply don't feel like getting dressed and going there, you can change your location virtually and simulate GPS movement over mountains or oceans as much as you want, with the help of location-changing tool.
Part 2.

How to Fake Location on Android Phones
1. Using Desktop Tool - TailorGo
This is the simplest way you can fake your location on Android. With TailorGo, not only can you change your location to a completely different place, but also you can customize a route along which you want to move, including the moving speed and moving times.
TailorGo has been trusted and highly recognized as a professional location spoofing tool, and it requires no rooting to fake location on Android phones.
Change GPS location to anywhere with just simple clicks.
Plan a virtually moving route with customized spots, speed and moving times.
Work well on a full range of location-based apps, including Life360, WhatsApp and Google Maps.
100% safe; no virus attack or information leakage.
Support both Android devices and iOS devices smoothly with no lag or crash.
Free trial is provided for every user.

Check the following steps to fake location on Android phones:
1

Download, install and launch TailorGo on your computer. Then hit the "Get Started" button and have your Android device connected.

2

To simply change location, choose the Teleport Mode and select the destination. To simulate GPS movement, choose either the Two-Spot Mode or Multi-Spot Mode, then plan a route to move along.

3

Click the "Move" button, then TailorGo will change your location to the selected destination, or complete the movement the way you planned.
2. With Mobile App
There are some GPS location-changing apps on the Play Store for faking location on Android. They are not so advanced as TailorGo is, but they also allow you to narrow down on coordinates to make the fake location appear believable. For this article, we will use the mobile app Fake GPS as an example.
Let's take a look at how you can use Fake GPS to spoof location on Android:
1

Go to the Play Store and install Fake GPS.

2

Now find your phone's software information and tap on the build number a total of 7 times. This way you've enabled the developer mode.

3

Go to "Developer options", and choose this app.

4

Now open Fake GPS, and begin to mock location following the instructions within the app.
In this way, you have successfully changed your location on your Android phone. To confirm this, you can open the Google Map and see where it is showing your location.
3. With VPN
VPN or Virtual Private Network is a service many people use to fake their location on the map. While as a matter of fact, this kind of tool is used less for fooling a potentially dangerous person or friends but more for accessing apps unavailable in your location. It essentially changes the IP address of your phone.
You can download any VPN app on your phone. Some of them are free and have better reach, while others will let you fake your location for a limited period of time. For today, we will use TunnelBear: Virtual Private Network & Security to give you a clearer idea of the steps. This one is free but has a limit of 500 mb per month.
1

In Google Play Store, search for TunnelBear and get it.

2

Creat an account and log in. Then you'll see an ON and OFF button, as well as either "Fastest", or a country name. Click this to see the list of countries you can connect to and choose one. 

3

Move the toggle switch to the ON position and get it connected.
Conclusion
Location-changing tools like TailorGo are extremely useful in any given situation. Sometimes it's not about just being able to access apps you wouldn't have otherwise or pranking your friends while you are staying at home. It is more about actually feeling safe and having control of your own privacy.
Nobody wants danger to walk right into his home. As these kinds of tools make your GPS location look authentic, no one that's tracking you would be able to know where you are exactly.  If you are alone, this feature is even more essential.