Find My Friends is a relatively old app released in 2011 by Apple company. As the name suggests, this app is used by Apple users to locate their friends and family members. While this app is useful, it is not without flaws. And one such common flaw is the Find My Friends no location found error. Scores of people visit the internet looking to understand the causes and solutions when Find My Friends says no location found. If you are one of them, go through this article to get the right information.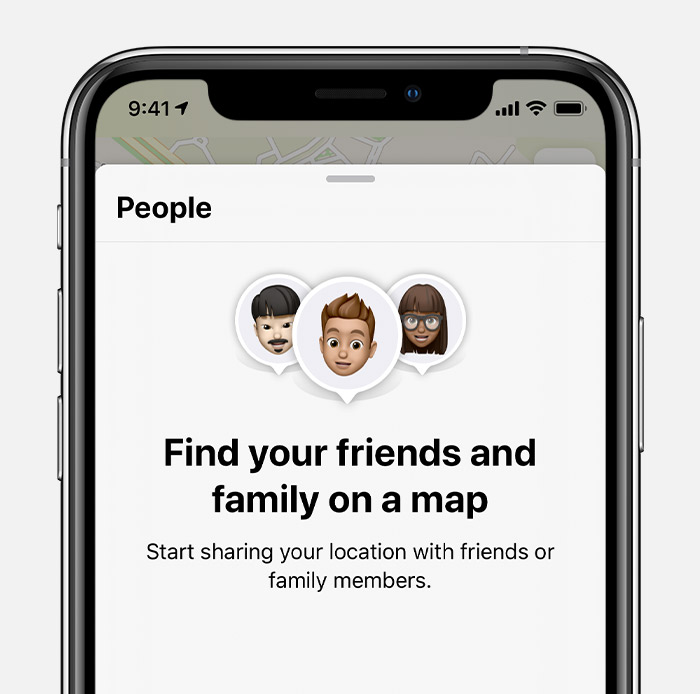 Part 1.

Find My Friends No Location Found: What's the Meaning?

The Find My Friends no location found issue is a common error with the Find My Friends app. This problem is often caused by the improper functioning of this location service. If this error bombards your screen, you won't be able to get the GPS details of your friends or family members you've authorized to share location details.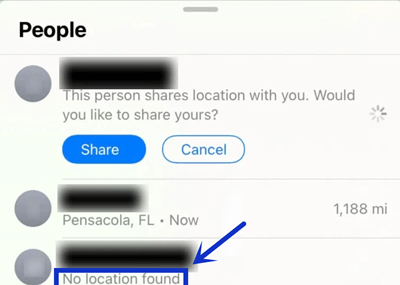 Part 2.

Find My Friends No Location Found: Why?
1. Incorrect date and time - If your the date and time of your friend's device are incorrect, then the Find My Friends app would probably say no location found. The reason is simple: Find My Friends app uses your friend's date and time to sync location details. If the date and time are wrong, this no location found error will probably pop up.
2. No internet connection - If either of your phones is not connected to Wi-Fi or cellular data, then the Find My Friends app cannot obtain GPS information and communicate with the other device. This will result in the no location found error.

3. Disabled location services - The location services on your friend's phone have been disabled, and therefore Find My Friends app cannot obtain location details on your friend's device.

4. Technical glitch - There is a technical issue on your phone or that of your friend that hinders proper communication between the two devices.
5. Sign-in issue - Your friend hasn't signed in to the Find my Friends app.
6. Region limits - Your friend is probably located in a region/country where Apple doesn't provide the Find My Friends service.
Part 3.

Find My Friends No Location Found: How to Fix?

Now that you've known some of the common causes of the Find My Friends no location found error, it is time to know how to fix this problem. The solution will, however, depend on the cause. Some of the proper fixes to the Find My Friends no location found issue include:
1. Set Correct Date and Time on iPhone
The wrong date and time can trigger the Find my Friends no location found error. Therefore, the devices must have the correct date and time. To make sure that nothing is wrong with date and time on your device, just go to Settings > General > Date & Time, then turn on the Set Automatically option.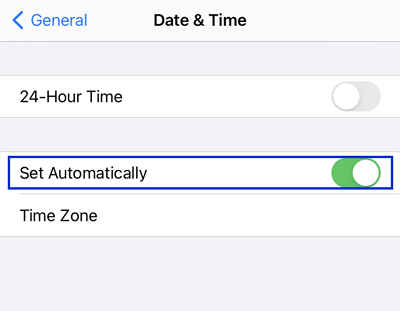 2. Check the Internet Connectivity
Both the two Apple devices using the Find My Friends service should have stable internet connection. Check that you are connected to an active internet either via a Wi-Fi network or cellular data. If your device doesn't have internet access, navigate to Settings and check the WLAN and Cellular data status. Also, check that the signal strength is satisfactory.
3. Enable Location Services
If the location services are disabled, you will probably experience the Find My Friends no location found error. To enable the location services, go to Settings > Privacy > Location Services. Turn on the Location Services option here, tap on Share My Location, then make sure the Share My Location option is enabled as well.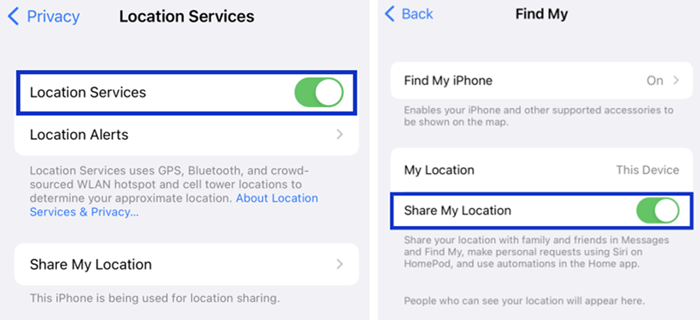 4. Restart Your Device
Sometimes, a minor technical glitch on your device can cause the Find My Friends no location found issue. Restarting devices has been a simple way to cure such issues. Try to restart your iPhone and see whether the problem has disappeared. Different models of iPhone have different restart procedures. Check your model and the respective restart procedure to get things right.
5. Check the Region Compatibility
Everything else could be working fine on your device, but if Apple does not support this Find My Friend feature in your country, then you are likely to experience the Find My Friends no location found problem. Apple may not support this service in some region because of the local laws or technical difficulties. Therefore, check whether the Find My Friends location feature is supported in your country or region.
Bonus:

How to Fake Location on Find My Friends?

The Find My Friends feature is beneficial but there are several instances you would want to hide your GPS location on this app. It could be that you need privacy, security, social fun, or want to trick someone. Whichever the cause is, turning off your GPS location feature on your device would make your motive deciphered, and this is what you don't want. Therefore, you need an intelligent solution to help you fake location on Find My Friends.

The good news is that UnicTool TailorGo is that powerful mock location tool you have been looking for. This is an excellent location spoofer and GPS movement simulator. You can simply change the GPS location of your device in the comfort of your home, and no one will detect it. Besides, TailorGo lets you seamlessly simulate GPS movement in the way you planned.
Fake GPS location freely in Find My Friends without being suspected.
Move virtually along the customized routes in a natural way.
Work with various location-based apps: Pokemon Go, Grindr, Life360, etc.
Only 3 simple steps are required to fake location.
Compatible with both iOS 7-15 and Android 5-12.
The free trial version offers some functions for initial experience.

1

Download, install and launch TailorGo on your computer. Then click the "Get Started" button and get your device connected.

2

To simply change location, choose the Teleport Mode and select the destination. To simulate GPS movement, choose either the Two-Spot Mode or Multi-Spot Mode, then plan a route to move along.

3

Your location will be changed easily, or the movement will be completed the way you planned. This change will be updated to Find My Friends without lag.
Conclusion
After going through this guide, you won't struggle to solve the Find My Friends no location found issue. Furthermore, you now know the best way to fake your GPS location on Find My Friend. Don't hesitate. Pull a trigger and download UnicTool TailorGo to have the free trial!