Snapchat is one of the most popular social media today, but like most major social media and modern applications, Snap also tracks your location. For privacy concerns, users all over the world try to find ways to change or hide their real location using GPS-spoofing apps. In this article, we are going to walk you through useful tips on how to change your location on Snapchat.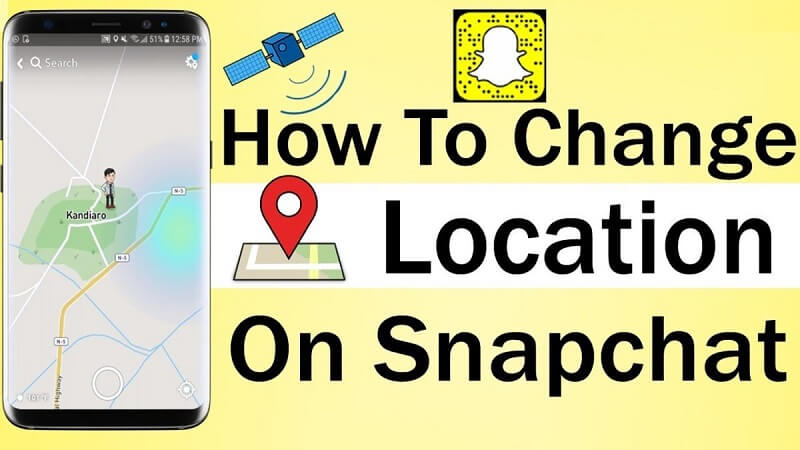 Part 1.

How and Why does Snapchat Track the User Location?

Just like the majority of modern applications and social media platforms, Snapchat also tracks your location, in this case, using the SnapMap feature. This Snap feature uses GPS as well as other location-related data to trace the location of all snaps made by users from all over the world. Once this information is collected, it is then shared with your friends on Snapchat in form of a clickable heatmap.

In addition to sharing your live location, Snapchat also shares your last location up to a few hours after closing the app. This is a major security risk.
Part 2.

The Reason of Change Location on Snapchat

Why would you learn how to change your location on Snapchat? There are many reasons, the obvious one being security or privacy. Since the app shows your location even hours after closing it, it is important to spoof your location so that your true whereabouts and activities remain concealed.

Many people also spoof their Snapchat location just to access region-based filters or content, you can also change your location on Snapchat just to prank your followers by making them believe you are in another country when you are not.
Part 3.

How to change your location on Snapchat?
1.Change Location on Snapchat via Tailor Go
In addition to Snapchat sharing your location openly, other people may also try to access your location info via the app maps. Thankfully, there is a way to trick them by sending out a fake location 鈥?using TailorGo.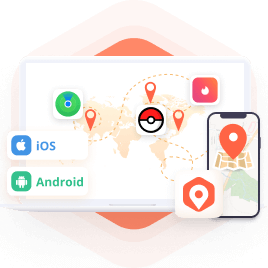 Super effective to spoof GPS
Spoof your GPS location to anywhere in the world with simple clicks.
with joystick, you can design the route, adjust the speed, and control the direction.
smoothly work with various apps such as Pok茅mon GO,Tinder, Grindr, Facebook, etc.
support Android 5-12 as well as iOS 7 and later.
Free trial is offered to every user.
Step 1. On your computer, launch TailorGo. Connect your device, then select "Get Started" from the menu.

Step 2. Select the Teleport Mode and a destination to change your position. Plan the route, speed, and direction, then select between Two-Spot Mode or Multi-Spot Mode to replicate GPS movement.

Step 3. Your location will instantly change and your movement completed, thus tricking Snapchat into using the new fake location.
Pros
Change location to anywhere in the world.
Compatible with a wide range of apps.
Clear interface and easy to use.
Cons
Limited features in the free version.
2. Change Location on Snapchat via Fake GPS
Alternatively, you can use Fake GPS to change location on Snapchat. Fake GPS is known for being an easy and quick location faking tool. It has an easy-to-operate interface as well as simple features.
Step 1. Install the Fake GPS app by going to Google Play Store and downloading the app to your phone.

Step 2. Search your location from the app: You want to ensure you have closed all other apps on your phone before opening the Fake GPs app. Once you have done that, tap on the three dots in the top right corner and select Search to put in the location you want to use.

Step 3. Move to your new location: Once you have your desired location, click START and then PROCEED to move to your fake location. This will change your location on Snapchat.
Pros
It is a free app.
Easy to use.
Fast to fake location.
3. Change Location on Snapchat via Ghost Mode
This method is for both iOS and Android devices and will let you trick Snapchat into thinking you are in another place than where you actually are. Ghost Mode is one of the safest ways to hide your location on SnapMap from the app and also your followers.
Step 1. Click your profile image.
Step 2. Click Settings on the top right of the app (it is an icon that resembles a gear)
Step 3. Scroll down until you find Who Can鈥?Next, click See My Location.
Step 4. Next, you will see Ghost Mode at the top. Toggle this feature on to set a period you want to be in Ghost Mode.

Step 5. Choose between 3 hours, 24 hours, or indefinitely until you switch it off.

Step 6. Click on the toggle to turn off Ghost Mode or head over to Snap Map > Settings and you will be directed to the location sharing option.
Pros
It is a free feature.
Easy to turn on and off.
Lets you hide your location from friends.
Cons
Doesn't stop Snapchat from tracking your location.
Hot FAQs
1. Can I Use Snapchat App on a Computer?
Although Snapchat is designed for use on smartphones, you can use it on your computer using third-party applications like Blue Stacks.
2. Can I prevent Snapchat track my location?
Yes, you can turn off your location data and prevent your phone from sharing your location with Snapchat.
3. Why is my Snapchat location not updating?
There are many reasons your Snapchat location is not updating, but you can fix this by giving the app time to update or restarting your phone.
4. Can I log into Snapchat without App?
Yes, you can access Snapchat online via a web browser and an Android simulator or by downloading the Snapchat Web app.
Conclusion
Snapchat usually tracks your location and then shares this information with your followers. This can compromise your privacy and security. Thankfully, you have learned how to change your location on Snapchat through this article. Download TailorGo and see how to change your location n Snapchat 2022.