Sharing location details and connecting with friends is a great experience. The family, friends, or colleagues can track your location, connect better, and know your safety whereabouts. However, there are several instances when privacy becomes more important.
You may want to move to certain places without the knowledge of your friends or family, yet you are connected via Zenly. Here, you will be obliged to fake your location on Zenly. However, how to change Zenly location might prove trickier than you thought. Fortunately, this article takes you through a detailed guide on how to fake location on Zenly effectively.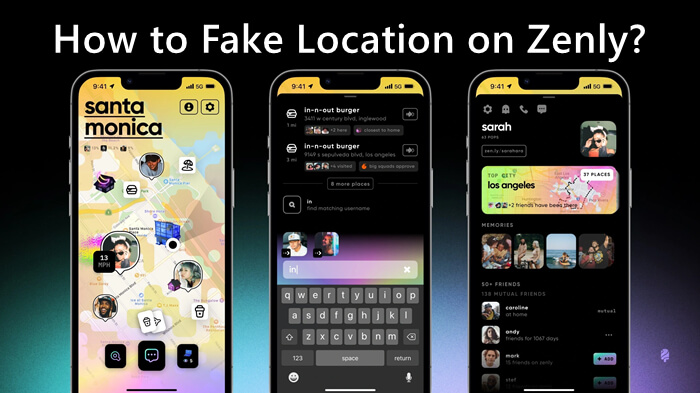 Part 1.

Let's Know More About Zenly First!
1. What Is Zenly?
Zenly is a popular location tracking app used by family members, colleagues, and friends to track the real-time location of each other. Zenly is a social app that keeps friends together or stays connected by giving them a chance to check who is around, chat via the integrated free chat, get notifications about their whereabouts, and share location details. Simply put, the Zenly app is a combination of a GPS location tracker and a social messaging service.  
2. How Does Zenly Work?
How Zenly works is pretty simple. When you open the app on your device, you will see a GPS map on the screen. Here, you will see your friends' profiles alongside their location details. You can proceed to add more friends. If someone accepts your invitation, their profiles and location details will appear on the map.
Your Zenly friends on the other side will also see your real-time location on the map. You can select your friends' location on the map and track their routes, send them messages, or send stickers to find them.
Part 2.

How to Fake Location on Zenly?

For some reason, you may not want your friends to track your location via Zenly. Therefore, you will be obliged to fake your location on Zenly, but how to change location on Zenly? Some of the best ways to fake location on Zenly include:
1. Use the Ghost Mode - Precise, Blurred and Frozen Location on Zenly
Ghost mode is a privacy feature in Zenly that allows users to fake their real location. Ghost mode provides three options, namely precise, blur, and frozen. For the precise option, you show your actual real-time location. The blur mode simply blurs your friends by giving them the area near your exact real-time location. The frozen option freezes your real-time location and gives users the last place before you enter this mode. Your friends won't notice you frozen location on Zenly. It would look like your phone lost signal or power is off. However, when you choose blur location on Zenly, there will be a blurred icon on your map, your friends would know you are in somewhere of this area.
As explained below, it is easy to enter ghost mode on Zenly even with the minimal app experience.
1. Open Zenly and proceed to your profile. Hit the "ghost mode" option with a ghost icon beside it.

2. Choose the friends you want to hide your location from or choose the "select all" option to choose all friends.

3. From the top of the page, select either the "blurred" or "frozen" option to hide your real location on Zenly.
Limitations
When you choose the "blurred" option, your friends set to blurred can see that you have blurred them.
When you choose the "frozen" option, your friends can see the last location details. When they no longer receive your location updates, they might think your phone's internet connection is off, your phone is shut, or you simply turned off location sharing. It is not an intelligent way to fake your location on Zenly.
2. Use Fake GPS Zenly App [Android Only]
Fake GPS on Zenly is a simple yet effective Android tool to fake your real location. Its interface is simple and easy to use. If you are a newbie, you won't struggle to navigate. You can set your Android device location to anywhere in the world with just one click.
For this app to run smoothly, you will need to turn on the "Allow Mock Location" on the developer settings of your Android device.
1. Visit Google Play Store and install the Fake GPS Zenly app on your Android phone.

2. Open the app on your Android device, then choose the location you want your device to reflect. You can click on the map location or enter the exact coordinates.

3. Click the "Start" button to move to the new location. You can always stop by clicking the "Stop" button and change the location to meet your need. Now that you have changed the location, you can open and use the Zenly app.
Limitations
It only supports Android devices.
It stops working sometimes.
Users complain about inconsistency when refreshing the app because it takes you back to the real location.
3. Use the Best Location Changer - UnicTool TailorGo
UnicTool TailorGo is the best location changer app for both Android and iOS devices. This program allows users to spoof GPS location and simulate GPS movements to meet their needs. Because of this, UnicTool TailorGo is suitable for location-based apps such as games and dating apps. The good thing with TailorGo is that it is fast, compatible with various devices, and offers several modern features that make it hard to decipher your movements.  
Change location with some simple clicks.
Mock GPS with joystick across flexible directions.
Move along defined routes with customized speed virtually.
Allows users to export/import GPX files of single and multiple routes.
Support both iOS (iOS 7 and later) and Android (Android 5 to Android 12).
Work with plenty of location-based games: Pokémon GO, Life360, etc.
Offer free trial, with which you can try main functions first before purchase.

1

Download, install and launch TailorGo on your computer. Get your device connected, then click the "Get Started" button to begin.

2

To simply change location, choose the Teleport Mode and select the destination. To simulate GPS movement, choose either the Two-Spot Mode or Multi-Spot Mode, then plan a route to move along.

3

Your location will be changed easily and Zenly will use your new location.
Some FAQs About Zenly
Many Zenly users flock to the internet looking for answers to some of the questions they have while using the app. Some of the FAQs and solutions include:
1. How can you tell if someone is on ghost mode on Zenly?
When someone is on "frozen" ghost mode, you won't receive real-time notifications about his location. It will look like he has no internet connection or the phone is off.
If someone is on the "blurred" ghost mode, you will see the blurred blue icon in his map pin. This means that he is somewhere within the general vicinity.
2. Why is Zenly not updating location?
Ideally, Zenly should keep updating your real-time location. However, Zenly may stop updating your location because of the following reasons:
1

Wi-Fi is not enabled, or it is inactive.

2

Battery optimizers on your device are enabled.

3

Data savers and data restrictions are enabled.

4

Zenly is denied permission to access your location in your device settings.

5

Zenly is not exempted from auto-cleanup settings.

6

Certain environmental factors weaken signal strength.
3. Why is my friend's location wrong on Zenly?
If your friend's location is wrong in Zenly, some of the possible causes include:
1

Your friend quits using Zenly.

2

You or your friend has weak or no signal at all.

3

Your friend has not shared his real-time location. For example, the ghost mode is enabled on his phone.
Conclusion
How to fake location on Zenly? This article has given everything you may need. While there are several ways to change Zenly location, you should be careful with your choice to spare unnecessary trouble. UnicTool TailorGo comes out on top and proves beyond doubt that it is the best tool to fake location on Zenly. With this app, you will have an unmatchable experience of changing location on Zenly as well as other social and gaming apps. Download TailorGo and enjoy the free trial right now!