Nearly the entire Apple ecosystem has the Find My iPhone feature. While it is perfect for finding your devices before your private pictures or credit card numbers ends up floating around in foreign hands there can also be times when those very same Find My features can make users feel restricted or even intruded upon instead of helped.
It's essential then, to be able to shut the function off when you need to, even if the phone is broken or inaccessible. This article will explain how you can shut off your device's location feature as needed. It will also provide a more advanced option: how Find My can be modified to change your whereabouts.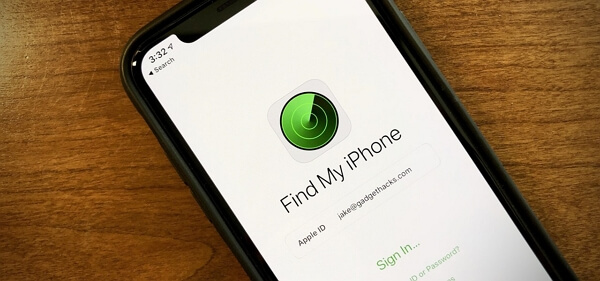 Part 1.

How to Turn off Find My iPhone

There are numerous good reasons for wanting to turn off Find My iPhone.

For example, you may be required to turn it off prior to selling the phone or to shipping it in for certain types of repair. If you lose your phone, it could be annoying to still have Find My iPhone on your Apple account. In other cases, it may just be relieving to disconnect and know that no one and nothing knows where you are.

The feature, though, is of course meant to be an asset, and turning it off does comes with some risks. Say you were to lose the phone in this state, it would no longer be possible to track it down online again. But, if the benefits outweigh the risks for you, then it's a fairly straightforward process to learn how to turn off Find My iPhone (if the phone is not broken).

Let's first see how to turn off Find My iPhone from the device:
1. Begin by opening the Settings app. Tap [your name], and next click on "Find My".

2. Tap "Find My iPhone", and then turn it off.

3. When prompted, enter your Apple ID password.
If you've turned the function off but are keeping the phone, it's highly recommended that you eventually reactivate Find My iPhone once you've accomplished what you needed to. Resuming its intended functions is an effective insurance against an unforeseeable loss or theft of the device.
Part 2.

How to Turn off Find My iPhone When Phone Is Broken

Most people don't hesitate to fully utilize the ultra-convenient natures of their phones, consistently using them while on the fly and under all possible conditions. This means, of course, that the occasional mishap is only inevitable. The hope is definitely that no one ends up too unlucky, but with these instructions, you will at least know how to turn off Find My iPhone even when your phone is broken.

Now check how to turn off Find My iPhone through iCloud:
1. Go to iCloud.com and sign into your account. Choose "Find iPhone" from the interface.

2. Open the "All Devices" dropdown menu at the top of the page. Select which device you wish to erase.

3. Click "Erase iPhone" in the pop-up window and confirm it.

When prompted, enter your Apple ID. Then click "Remove from Account" after erasing.
Once the function is disabled, you can now safely sell your iPhone, trade it in, give it away, do factory resets and allow technicians to perform specific repairs on it. And of course, you could even turn it off just to gain nothing less than some extra peace of mind regarding your privacy.
Note
Simply turning off Find My iPhone will not delete any data, while performing the factory reset will delete all of the phone's data.
Erasing the iPhone online is another irreversible action, so be sure that this is what you really want.
Part 3.

How to Fake Location on Find My

Knowing how to turn off Find My iPhone on broken phones does in fact serve some useful purposes. But there are other scenarios where users may want more functionality than a mere on/off feature can offer.

Sometimes you might just want to change your location on Find My: For example, is someone expecting you to share your location when you'd rather not have them know exactly where you are? Are you tired of being monitoring by your parents and want to have some leisure time? Or do your want to "fool" your friend and prove to him that you're on vacation while actually you're at home?

There are solutions to the dilemmas, and they involve using the phone's GPS in ways other than what the developers at Apple had originally intended. With software such as TailorGo , users can accomplish far more than simply shutting their location off or on again. This magical tool is capable of changing several aspects of how your device's location is displayed. And these changes will also be registered by any apps in the phone using GPS location, which is part of the same technology required of Find My.
Change your location and clear the stress from being monitored.
Fake location to maximize capability of apps and help you access geo-specific services.
Display dynamic location along preplanned routes and set speed of travel.
High degrees of accuracy and little flaws of being detected.
Simple operating steps and convenient use.
Powerful enough to support both Android and iOS system (including iOS 15).
Always run smoothly with no lag or crash.
Free trial is offered for every user.

Check the steps to fake location on Find My:
1

Download, install and launch TailorGo on your computer. Click the "Get Started" button, then connect your iOS device to the computer.

2

To change location, choose the Teleport Mode and select the destination. To simulate GPS movement, choose either the Two-Spot Mode or Multi-Spot Mode, then plan a route to move along.

3

TailorGo will change your location easily or finish simulating the movement in a natural way.
Conclusion
If you've googled something like "How to Turn off Find My iPhone when Phone is Broken?", you've likely found what you needed here. You can remotely accomplish this simple task with nothing more than internet connection and your Apple ID.
But what you've now additionally learned, is that you can do far more than simply hide or display your phone's location. With TailorGo , you can create a phantom presence of yourself anywhere in the world. The portrayal of your location will be controllable, dynamic and realistic. What's more, programmed to be fully secure, this tool will provide all the privacy you want in this modern society.