Whisper is an anonymous social media app that is continually rising in popularity. You can use Whisper to post your secret confessions, and other Whisper users can read and react to your confessions. What's more, there is a cool location feature that lets you read and interact with Whisper confessions from people in your area. In this article, we will guide you on all everything about Whisper, including how to use Whisper and how to change your location on Whisper.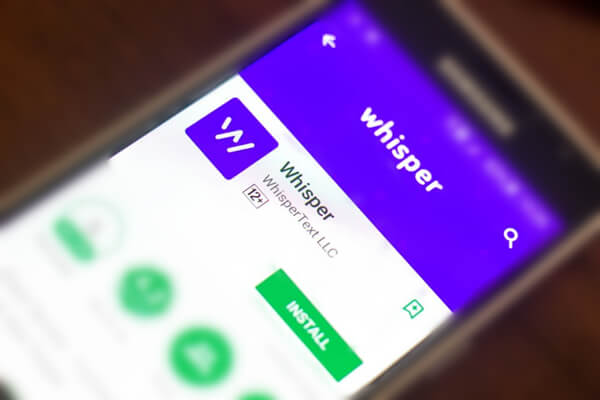 Part 1.

What Is Whisper?

Whisper is an up-and-coming social media app that allows its users to anonymously post confessions accompanied by images. Whisper is hugely popular as it allows users to be completely anonymous. This is because users are assigned a random nickname when joining the app. Whisper has a gallery of its own images to choose from, as well as a series of fonts.

Through Whisper, you can build connections to other Whisper users from all over the world. Whisper can help you relate to and understand other people's struggles. It will make you feel less lonely to hear the opinions of other people about your troubles and confessions. It is also a great app to use as a personal diary.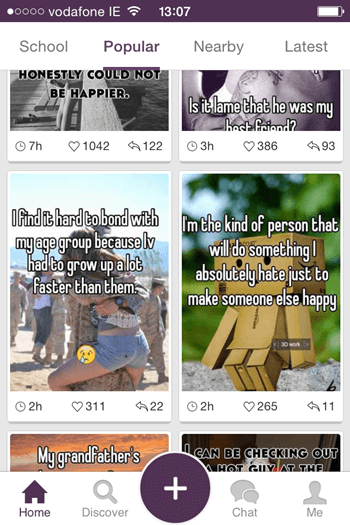 Part 2.

How to Use Whisper?

If you are wondering how to use Whisper then keep reading. Whisper is available to users aged 17 years and older. The app is available on the Apple App Store and Android Google Play. There is also a desktop version available, but with limited functionality. For example, you cannot post any new Whispers on the desktop version.
Set Up Your Profile
If you would like to know how to use Whisper settings to change your profile details then read on. Select the three dots in the top right corner of the screen to change your profile settings. In the settings section, you can: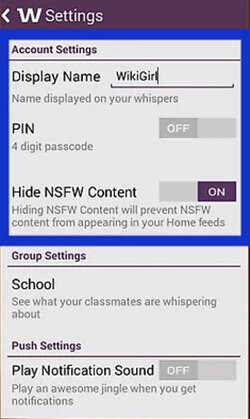 1. Edit your Whisper username.
2. Add a PIN to protect your Whisper account.
3. Hide or unhide Not Safe for Work (NSFW) content.
4. Enable or disable notifications.
Browse Whispers From Other Users
Once you have downloaded and opened the application, you can use it to browse other people's secrets and confessions. You can access all of these secrets in the Home tab. Here, there is an infinite scroll of Whispers made by other users.
You can select the white dropdown box at the top of the home screen to change categories to read. Categories include Faith, Confessions, Love and Romance, Health and Wellness, and many others. You can also browse by Popular, Featured and Latest if you prefer.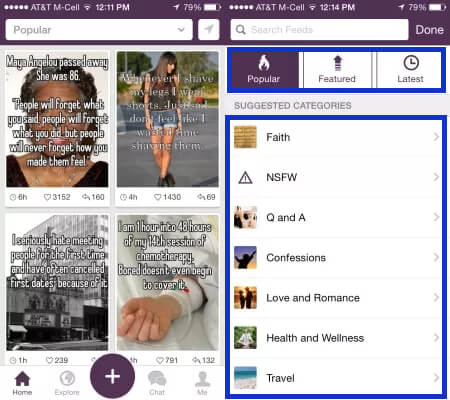 In addition, you can browse Whispers by location. This feature is available in the Explore tab of the application. If you choose to switch your location on then you can specifically look at Whispers from your area. If you want to find more Whispers from other areas, tap the white search bar at the top of the Explore section to look at Whispers from other locations. You can then type in a particular location that you would like to see Whispers from, such as "New York City".
Post an Anonymous Whisper
If you would like to know how to use Whisper by creating a new Whisper confession then follow these steps:
1

Press the large purple plus icon. This allows you to create a new Whisper.

2

Type in your confession and press the NEXT button in the top right corner of the screen.

3

You will be taken to an editing screen where you can select a background image. Images can be suggested from the Whisper app or you can select them from your own device gallery.

4

You can also change the font by selecting one from the fonts available on the app.

5

Once you are happy with the text, font and image of your confession, you can post it by pressing POST.
Interact With Other Users
If you are wondering how to use Whisper to interact and communicate with others then you can either publicly respond to Whispers from other users or send the user a private message.
To create a public reply on Whisper, follow these steps:
1

Select a Whisper to open it. You will be able to see replies from other users when you scroll down the Whisper.

2

Click the Reply button at the bottom of the screen. Then a window will pop up and you will be able to create a Whisper in response to the original one.

3

You will be able to customize the image and text in the Whisper.
To privately chat in response to a Whisper, follow these steps:
1

Select a Whisper to open it.

2

Hit the Chat button at the bottom of the screen. A screen will pop up where you can chat with the poster.

3

You can then start chatting with the user that posted the Whisper.

4

You can also block, favorite, delete or view the Whisper the other user initially posted by pressing the three dots in the top right corner.

5

You can view all of your chats by pressing the Chat icon a the bottom of the screen. And you are able to delete chats by pressing Edit.
Part 3.

How to Change Location on Whisper?

You may want to change your location on Whisper to post Whispers from a different physical location to where you are. This may be for privacy reasons, such as wanting to stay 100% anonymous and no one being able to trace your confessions back to you. This can also be for fun - you might want to make a fake confession from a different location. If you are wondering how to change your location on Whisper then read on.

You can block Whisper from seeing your location. Follow these steps for Android to hide your location on Whisper:
1. Open the Settings application on your device.
2. Go to Apps, find the Whisper app in the list and select it.
3. Select Permissions. Find Location and press the slider to disable it
Follow these steps on an iPhone to disable location on Whisper:
1. Open the Settings app.
2. Select the Privacy section and tap on Location Services.
3. Find Whisper and click it. Choose Never in the ALLOW LOCATION ACCESS section to disable Whisper from accessing your location.
Part 4.

How to Spoof Location on Whisper?

If Whisper still tracks your location, then you should use a professional tool called TailorGo to change your location on Whisper. TailorGo is a location changing tool that allows you to hide your real location from apps or other people to protect your privacy. This is especially useful for anonymous app like Whisper.

Besides, you can use TailorGo to trick social media apps to think you are in a different location. And while playing AR games, this program will help you collect certain rewards in other places and get really far ahead without making any physical movements.

If you want to use dating apps, you can also match with people in other areas when you use TailorGo. This can help if you specifically want to date people from a different area that you might like or want to move to. You can also meet new people in an area before you move there. Knowing a few people in an area before you move there can make the move a lot less daunting and help you settle into your new area happily and comfortably.
Change location to any place in the world with a few clicks.
Help you move virtually without making any movements in the real world.
Spoof location on Whisper to protect your privacy.
Applicable to various location-based apps: WhatsApp, Tinder, Life360, Pokémon GO, etc.
Compatible with both iOS (including the latest iOS 15) and Android devices.
Provide free trial to every new user.

1

Download, install and launch TailorGo on your computer. Get your device connected, then click the "Get Started" button to begin.

2

There are 3 different modes: Teleport Mode, Two-Spot Mode and Multi-Spot Mode. To simply change location, choose the 1st one and select the destination. Then click the "Move" button.

3

Your location will be changed easily; and Whisper will use the new location.
Conclusion
Whisper is a fun app that you can use to confess and share all of your personal secrets. No one will know who you are on the app so you can interact with Whispers from users in your area and even talk to Whisper users from all around the world. If you don't want the application to track where you are then make sure to use the professional tool TailorGo to change your device's location. This will keep you completely anonymous so you can enjoy the application while protecting your privacy.