Contrary to popular belief, Tinder Gold is not an app to download directly. It's a monthly subscription service that costs $29.99 per month. Does it provide any benefits, and is Tinder Gold worth it? That's precisely what I will talk about in this article.
Tinder Gold is a new feature that Tinder introduced to make the app more lucrative for paid subscribers. This premium service from Tinder is designed to help those who are either too busy or have been unlucky in love. The idea behind the Gold membership was to give users access to features like super likes, monthly "boost," and unlimited likes - which are not available in the basic version.
While it's true that these features could be beneficial for people who want them, they may not be worth paying for if you're only looking for occasional use of Tinder. For those interested in getting some extra perks on the side, this article will explore what Tinder Gold has to offer and whether or not it's worth investing in.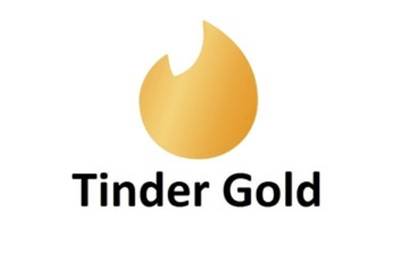 Part 1.

An Overview of Tinder Gold

Tinder connects singles in their geographical location through mutual interests. Since Tinder's inception, many changes have made using it much easier than before. And one of the best updates was the inclusion of Tinder Gold.

With a simple tap, you can review their profile information and see who has liked yours to get more efficient with your time on Tinder! The app also provides an accessible overview of likes, passes and even expands photos for each Tinder Gold user, which helps spark conversation at any point during the profiles' navigation. These features make it easier than ever before to find the perfect match and start a chat with extreme confidence when scrolling back and forth between matches.

Tinder Gold saves you from wasting your precious time scrolling through endless profiles. So if you are up for meeting up for casual hook-ups or serious relationships, there's no excuse not to because Tinder Gold can help make things go much more smoothly between singles looking to find their soulmate through this digital matchmaking platform.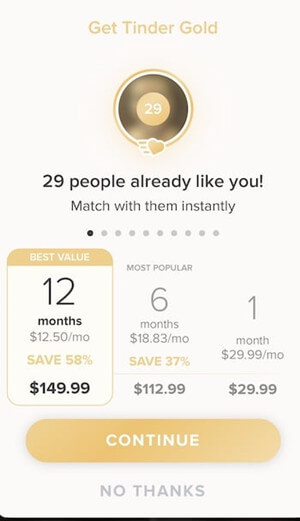 Part 2.

What Can You Expect From Tinder Gold?

Tinder Gold has been generating buzz. It costs $29.99 per month and offers some exclusive features, such as the ability to see who "likes you" before swiping on them or being able to see who's liked you recently after matching with someone else.

Do these features justify paying for Tinder Gold and make it worth it? Let's go through those features and see if it does.
1. Likes You
If you get a lot of likes, this feature is for you. You can see all your admirers in one place. Feel free to make an adult decision on who you Like and who you are not interested in while going through the list of people who liked you.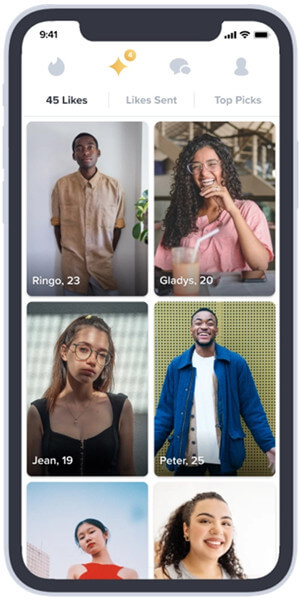 2. Passport
Tinder Passport allows you to match with more people all over the world if you are tired of matching with people nearby. This feature gives you a chance to change your city to your favorite one or the one you will travel to and start hooking up.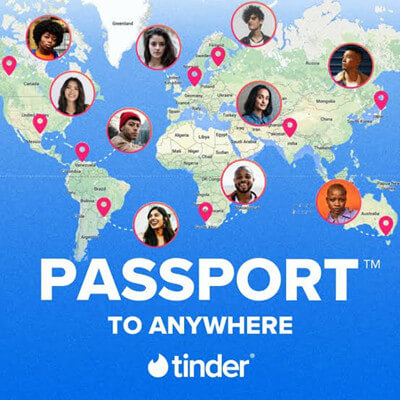 3. Unlimited Likes
Develop feelings for as many people as you want because Tinder will not limit your daily likes. No more 'You ran out of likes' notifications, so happy swiping.
4. Free Monthly Super Likes
Super Likes give you a chance to show an animation when you like somebody's profile. Stand out from the crowd with 5 Super Likes per week and increase your matchmaking potential by 3 times.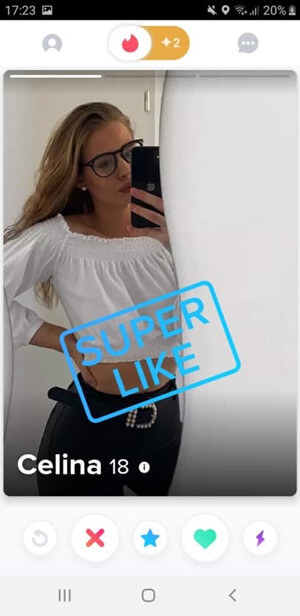 5. 1 Monthly Boost
The boost allows you to show your profile to everyone on a priority basis. Attract more attention by being one of the top profiles in your local area for 30 minutes.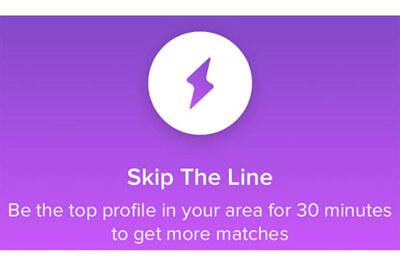 6. Rewind
Have you ever swiped left accidentally? Now you don't need to worry about that. Just go back in time and undo your last Like or Nope and continue showing your affection again.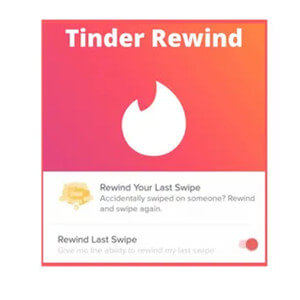 7. No Ads
Ads are primarily annoying, no matter where they are. But with Tinder Gold, no ads are shown in the app. Enjoy the serenity without any stubborn ads disrupting your focus.
8. Top Picks
Tinder Gold will also show you the new top picks every day. So you can get priority over others in choosing the best people.
Part 3.

Tinder Gold VS Tinder Plus

Using an app on your phone to find a date or partner is the norm nowadays. With its useful features to match and date, Tinder seems to be the best available platform. Tinder has a few premium subscription plans which include Tinder Gold and Tinder Plus. The two are slightly different from each other and many people may not know which one to choose to get more value for money.

Tinder Plus ($9.99/month) can be useful for some people, but it's not recommended if you want access to all features of Tinder. To get that, you'll need to upgrade to Tinder Gold which will give you more benefits than simply just hiding all the ads.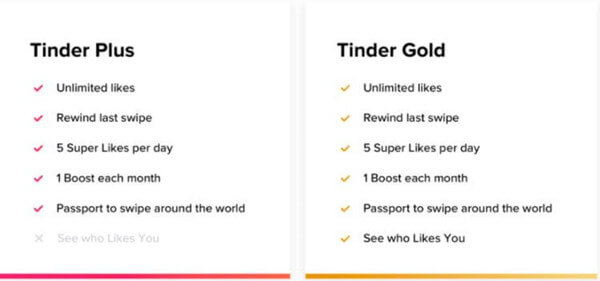 Here's what Tinder Plus offers.
Tinder Passport
Unlimited Swiping
Limit Your Visibility & Information
Unlimited Rewinds
Ad-Free Browsing
Tinder Gold ($29.99/month) is an upgraded version of Tinder Plus and includes all of the Tinder Plus features, plus some more. Below are the features that Tinder Gold has, but Tinder Plus does not.
5 Super Likes Per Week
1 Free Boost Per Month
See Who Likes You
New Top Picks Every Day
Hence, overall Tinder Gold is simply a better option than Tinder Plus, but users can always make the final decision based on their actual needs.
Part 4.

User Reviews of Tinder Gold

Here we collect some authentic users reviews of Tinder Gold for you to have a better understanding of this service.

Chris of Blacksburg, SC (1 Star)

I paid for Gold membership with very little to no results, and the people that were messaging me were scammers trying to send you to a link to steal your info. Don't waste your time or money here. You will be disappointed.

Gary of Kew East, Other (3 Stars)

This app/service really requires you to purchase the gold version for it to be useful. Otherwise, you can't see who might be of interest to you. As a general rule, I found that you didn't get a lot of feedback about how well your profile was being viewed, and no warning end sub ended so you could use your super boosts.

Jacob of Norman, OK (1 star)

I paid the $29.99 monthly charge for Tinder Gold, but the relevant features didn't actually unlock. I contacted support, but they sent me a useless form letter that didn't solve the problem. It looks like I'll have to do a chargeback.

Austin of Derby, KS (1 star)

"Unlimited Swiping" is limited to 1,500 an hour, and then they ban you from swiping for 12 hours. "1 Free Tinder Boost A Month" is limited to one every 30 days, and you don't get a second one until you use that Tinder Boost. Not good.
Bonus:

How to Change Location on Tinder Without Tinder Gold?

Tinder is a great way to meet new people. But what if you could explore and find people from all over the world without spending hefty amounts on expensive Tinder subscriptions? What if I tell you about a much cheaper and better alternative? TailorGo is your go-to app for that purpose.

Using Tinder Gold just for faking your Tinder location is very pricy. And people would know that you are using Tinder Passport if you have hidden your personal information, thus swiping left on your profile most of the times. That doesn't sound good, right?

Well, TailorGo allows users to fake location with a single tap. With TailorGo, you can change your location to anywhere around the globe without worrying about people finding out or guessing that you are spoofing your location. TailorGo is just extraordinary. You will never find such unique features in any other app.
Change your location to anywhere around the globe in 1 click.
Simulate GPS movement in an extremely smooth and natural way.
Work with a great variety of platforms: Tinder, Grindr, Facebook, WhatsApp, Pokémon GO, etc.
Fully compatible with almost all iOS and Android devices.
Highly cost-effective and trustworthy enough.
Provide free trial for every new user.

1

Download, install and launch TailorGo on your computer. Then get your device connected and click the "Get Started" button.

2

There are 3 different modes: Teleport Mode, Two-Spot Mode and Multi-Spot Mode. To simply change location, choose the 1st one and select the destination. To simulate GPS movement, choose either the 2nd or 3rd one, then plan a route to move along.

3

Your location will be changed easily; or the movement will be completed in no time.
Conclusion
Tinder is an excellent app for dating. But as we saw from the customer reviews, Tinder Gold has some shortcomings as well apart from the premium features it offers. If you are seeking to fake your location on Tinder without spending considerably on Tinder subscriptions, TailorGo is the best bet that you should never miss.