Harry Potter: Wizards Unite is a location-based AR mobile game. Players have to physically travel in order to explore the game's map. And many elements in the game will only appear in specific real-world locations such as a park, bank or zoo. However, accessing these locations isn't always practical. It may be that you're so preoccupied with school or work that you simply don't have the time to travel and search for them.
The physical limit shouldn't deprive you of the excitement of the game. This is what the location changing tool comes in. In this post, we will tell you about some effective ways to spoof location duing the Harry Potter Wizards Unite gameplay.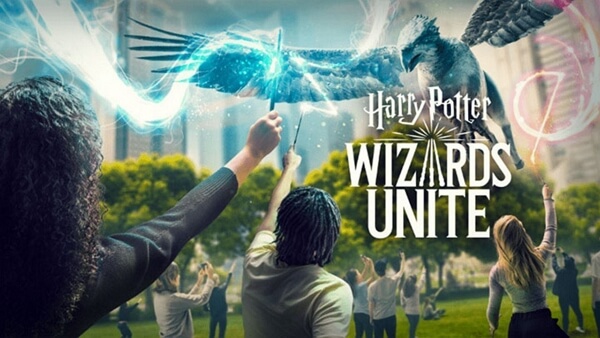 Part 1.

Can You Play Wizards Unite Without Moving?

1. Can You Play Wizards Unite Without Moving?

Yes. You can use a location changing tool, which can help you cheat the location-based games or apps by changing by your location and simulate your movement. In the next part, we will discuss some useful tools to make it possible to play the Harry Potter Wizards Unite without going outdoors.

2. Why Would Players Want to Do Wizards Unite Spoofing?

As with Pokémon GO, Wizards Unite relies upon your device's integrated GPS in order to work out your location. As we have mentioned in the very beginning, the original gameplay for Wizards Unite isn't easy or simple for everyone. Therefore, cheating Wizards Unite by faking your location could be the only solution to truly making the most of this game.

Some of the concrete reasons why players may want to spoof location on Wizards Unite includes:
1

To explore unique and exciting landmarks which you can't easily reach, whether it is because of distance, time commitments or expenses.

2

To have the convenience of playing Wizards Unite wherever and where you want, regardless of the weather or the time of day.

3

To make the most of the features of Wizards Unite and be able to receive rewards and progress throughout the game without any interruptions or difficulties.
Part 2.

How to Spoof Location on Wizards Unite

Whether you played the Harry Potter Wizards Unite on an iOS device or on an Android device, we will provide you with effective methods to spoof location and play the game without leaving the comfort of your home. Feel free to choose any one of them according to your preference.
1. Wizards Unite Spoofing With A Profesional Location Changer (iOS & Android)
As a professional changing tool, TailorGo allows you to change your location to anywhere you want with a simple click. Moreover, it is also equipped with the function of simulating GPS movement on a map, which will certainly add a lot enjoyment to your gameplay in AR games like Harry Potter Wizards Unite and Pokémon GO.
And TailorGo has perfect compatibility. It supports both iOS and Android devices. Therefore, TailprGo will offer the most effective solutions to Harry Potter Wizards Unite hack.
Here are some other highlights of TailorGo: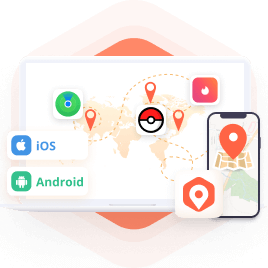 Spoof Your Location in Mobile Game Pokémon GO
With just the click of a button you will be able to change your location to wherever you want.
Allow users to schedule the speeds and times at which they will move through the selected route.
Available to both iOS (including the latest iOS 16) and Android system; convenient to use across nearly all devices.
Easy to install and operate, requiring no jailbreak for iOS devices or no root for Android devices.
1

Download, install and launch TailorGo on your computer. Then connect your device to the computer and click the "Get Started" button.

2

There are 3 different modes: Teleport Mode, Two-Spot Mode and Multi-Spot Mode. If you just want to change location, choose the 1st one and select a destination you like. If you want to simulate GPS movement in the AR game, choose either the 2nd or 3rd one, then plan a route to move along.

3

Your location will be changed easily; or the movement will be completed in no time. And you could enjoy your gameplay now.
2. Wizards Unite Spoofing With Fake GPS GO (Android Only)
On Android, Wizards Unite GPS spoofing is enabled by various apps, one of which is Fake GPS GO Location Spoofer Free.  This software will overwrite your present location and get you to everywhere you want, which can meet your need to cheat Wizards Unite.
When it comes to limitations, you have to know that the Fake GPS GO Location Spoofer Free app is only available for Android users. What's more, the no-root option is only available for Android 6.0 and above. For Android 6.0 earlier versions, the process is significantly more complicated. If you want a better alternative, you could refer to the first method.
Still, if you do have a compatible device then this app is a quite straightforward option. Following are some instructions on how to install and operate it:
1. First and foremost, install Fake GPS GO Location Spoofer Free from the Google Play Store and then launch it on your device.

2. Next go to "Location Settings" of your Android phone and then select the option "Locating Method". Choose "Phone only", which ensures that only your device's GPS can estimate your location.

3. Then, head to the "Developers Options". You will see an option "Allow Mock Locations", and by selecting this you will be able to spoof your location without root.

4. Navigate back to Developer Options > Mock location app. Here, you should see Fake GPS GO. Select it.
5. Open the app, press the search icon at the top and enter the location you want to use for spoofing.
You'll be presented with map displaying your location as the false one you entered on the Fake GPS GO Location Spoofer Free app. When you launch the Wizards Unite app, the game will also locate you at the false location of your choosing.
Part 3.

Warm Prompts for Harry Potter: Wizards Unite Cheats
1. Mind the Three-Strike Discipline Policy
There is always an element of risk involved with regards to spoofing, and using Harry Potter cheats in Wizards Unite is certainly no exception. Niantic, the publisher of the game, enforces a strict three-strike policy against any forms of cheating, and this includes falsifying location through GPS spoofing. Under this policy, anyone who has been identified as using any cheats will be issued with three strikes before they are permanently banned. These strikes are Warning, Suspension and Termination, and each of them will restrict you from particular features of the game: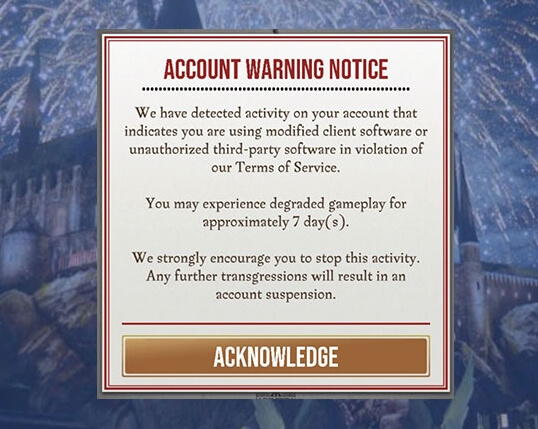 1

Warning – your gameplay is degraded for a period of seven days, after which you can start playing normally again.

2

Suspension – this time your gameplay is restricted for thirty days on your account before you can resume usual gameplay.

3

Termination – your account is permanently banned from playing, meaning that you will lose any progress that you had made on that account.
2. Watch Out for Wizards Unite APK Files
Ideally, you should download Wizards Unite from official platforms, either Google Play Store or App Store. There are several dangers and threats associated with downloading Wizards Unite APK files, which can be found on various unaffiliated third-party websites.
If you do decide to download an APK file and install it in your Android device, then you are forgoing the protections offered by Google Play Protect whenever you download something from the Play Store. There is no way of knowing beforehand whether the APK file you are downloading is genuine or if is infected with harmful malware. Unless you can verify whether an APK file is legitimate or not, the safest option is to avoid them entirely.
Conclusion
Harry Potter: Wizards Unite is an amazing game, and it's hardly surprising that every player wants to have enjoyable and unrestricted gameplay experience. The problem arises when some players are unable to physically travel around for a range of reasons, and it can be frustrating when you're deprived of the complete gameplay experience through no fault of your own.
For that, location simulator such as TailorGo acts as an effective way to make the most of Wizards Unite without actually having to leave home. Try it and you'll know that spoofing location on Wizards Unite has never been easier!