There are several factors why VPNs are indeed a standard and simple utility. In addition to protecting your internet security, it can alter your default gateway and geolocation to practically anywhere.
A VPN Location Changer changes the location from where you access the internet virtually. It does this by changing your public IP and rerouting the traffic via another server. This article will discuss VPN location changers and why we should use a VPN to change location.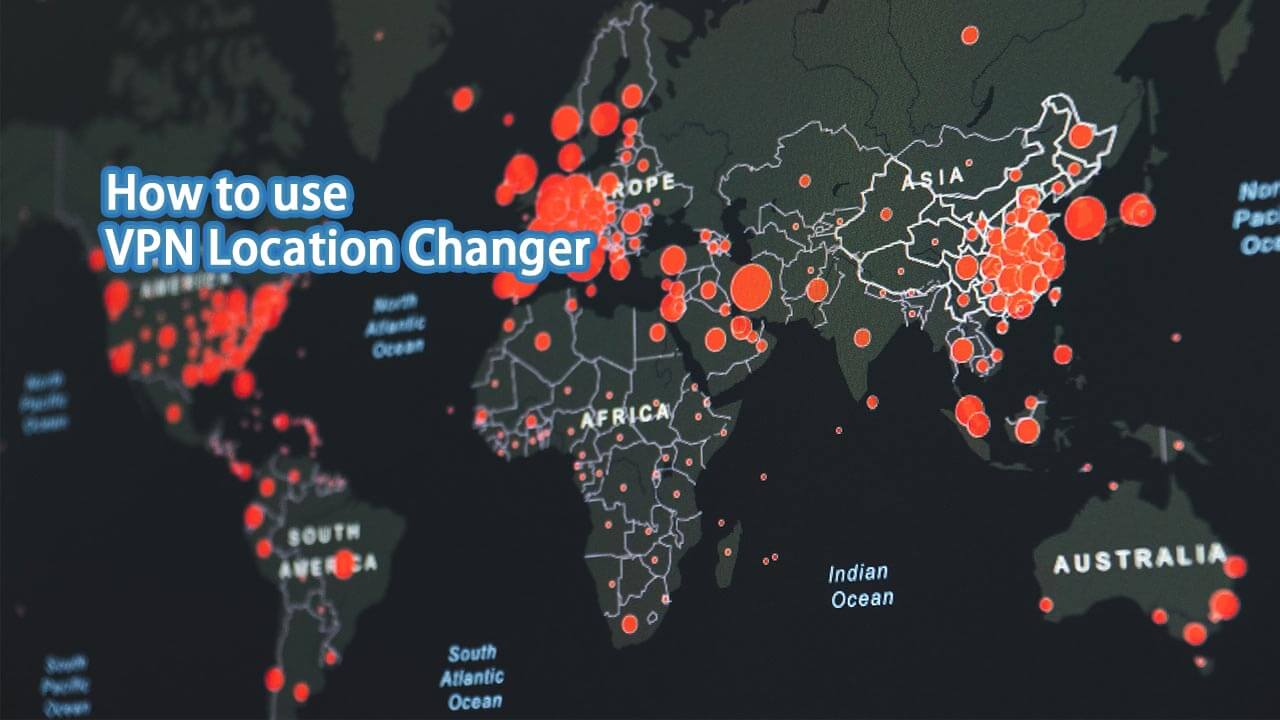 Part 1.

Why We Use a VPN Location Changer

Although VPNs can do many things, most people use them to conceal their location. That's unquestionably a definite cause, but there's more to it than just wanting to appear to be from another country.
1. Privacy and Security
There are many instances when you enter confidential information on websites like banks and stock markets and have private chats with others.
Whenever you access cyberspace, you need a secure connection that is encrypted so you can do your tasks with a relaxed mind. While most websites are protected, it is always best to use a secure connection. In these cases, using a VPN service use encryption methods and private servers to reduce the likelihood of data loss.
2. Region Streaming Restriction
There is a tonne of excellent stuff on Netflix and other video streaming services, but much of it is geographically restricted. Different shows and movies are available to you depending on the region you're in. Utilizing a VPN is the quickest way to change the area of your Netflix account (VPN).
3. Specific Region Offer
If we only talk about streaming services like Netflix and Amazon, many of their shows are region specific. So, what will anyone outside the USA do if they want to enjoy a show only available to the USA region? Changing your virtual geolocation using VPN location changers and accessing your geo-locked favourite content is possible.
Part 2.

How does VPN Location Changer Work

VPNs frequently conceal the user's location and access region-locked services and content. Bypassing the device's VPN connection through a central server far away does this. For instance, a user in the UK can access content that is typically only available to Americans by connecting to a VPN server in the USA.

By replacing your accurate IP address with that of the VPN server, VPNs alter the traffic's perception of where you are. Every device connected to the internet has a unique IP address, a series of integers, and decimals. The location of a device can be determined using its IP address.

When you use a VPN, the host presents its IP to the internet as if they are accessing all the info, not you. Furthermore, each website you access will be as if you are accessing from your chosen location. Anyone attempting to eavesdrop on your online activity would only see the IP address of the VPN server you are currently connected to, not your actual IP address.
Part 3.

How to Change Your IP Address and Location

While using a VPN, or virtual private network, your IP address is also changed when you use it to conceal your physical location.
1. Choose an Affordable VPN- Free or Paid
The steps you must follow to change your IP address are as follows:
Step 1: Subscribe to the a VPN service to change your IP address.
Step 2: Select the ideal membership plan from the available options.
Step 3: Install the Vpn after downloading it.
Step 4: To log in, launch and input the required information.
Step 5: Each VPN comes with the "Quick connect" button to connect to the nearest location; use that.
Step 6: Your virtual location and internet address are modified once connected to the server.
Step 7: Tap the country pin or different flags you can see on the connect page to change your server to any country you like and even the USA, and the VPN's clever algorithm will locate the fastest server.
Following the abovementioned steps, you can easily install a VPN location changer on your desktop or laptop.
2. Use a Proxy
It performs most of its tasks similarly to a VPN. A proxy changes the IP address of your computer during the session. It then connects to the website rather than your own. You need to beware that proxy is less secure than a VPN that uses encrypted communication, so prepare beforehand. Your IP address must be altered and updated through a proxy. Additionally, VPN service companies frequently offer extra features.
Step 1: Press the Windows button, search for 'Command Prompt,' and then click ' Run as an administrator.'
Step 2: Write and enter 'ipconfig/release' and then ipconfig/renew
Step 3: You will now have a new IP address
Step 4: For apple devices, go to the 'Apple' menu and then 'System Preferences.'
Step 5: Click on the 'Network' option.
Step 6: Select the network you are connected to and click on 'Advanced' to open up options.
Step 7: Here select the tab for TCP/IP and click on the 'Renew DHCP Lease' to change the IP address
3. Use Tor
To make it work, your communications are routed through numerous nodes spread out around the globe. Tor jumps your ping from your host PC to different nodes when needed and then routes it to the intended website. This jump is done so snoopers can't infiltrate your PC and network. This comes with a drawback, as when safety is more important, and 2-3 jumps are done, your ping will be much slower, taking a fraction of time more than regular browsing.
Step 1: Download the application from the Tor website
Step 2: Or you can download their browser
Step 3: It will now run all your traffic through its servers
Step 4: If you have installed the Tor app on your computer, run the app to begin the process of using VPN to change location
Step 5: Click on the three lines or hamburger icon on the top right
Step 6: Click connect, which will change your IP address as soon as it connects
Conclusion
The simplest way to achieve privacy is to use UnicTool TailorGo to change your location and even your IP if you need so you can stream your favourite movies on Netflix or get around firewalls and access blocked content privately and securely. This brief guide walks you through setting up a VPN location changer, explains how it works, and provides the best VPN location changer for Android and iOS. Do give it a read, Install it and start spoofing.