Stress sometimes takes the most of us. Everyone alive is prone to experience some stage of stress at least once, whether adults, kids, or babies. However, like everything else in this world, there is a solution to stress. Do you know about that one thing that can work for every age group to relieve stress? It is a funny voice changer, of course!
While most people feel that technology has taken the better of our time. They fail to realize the wonders it has done to our lives.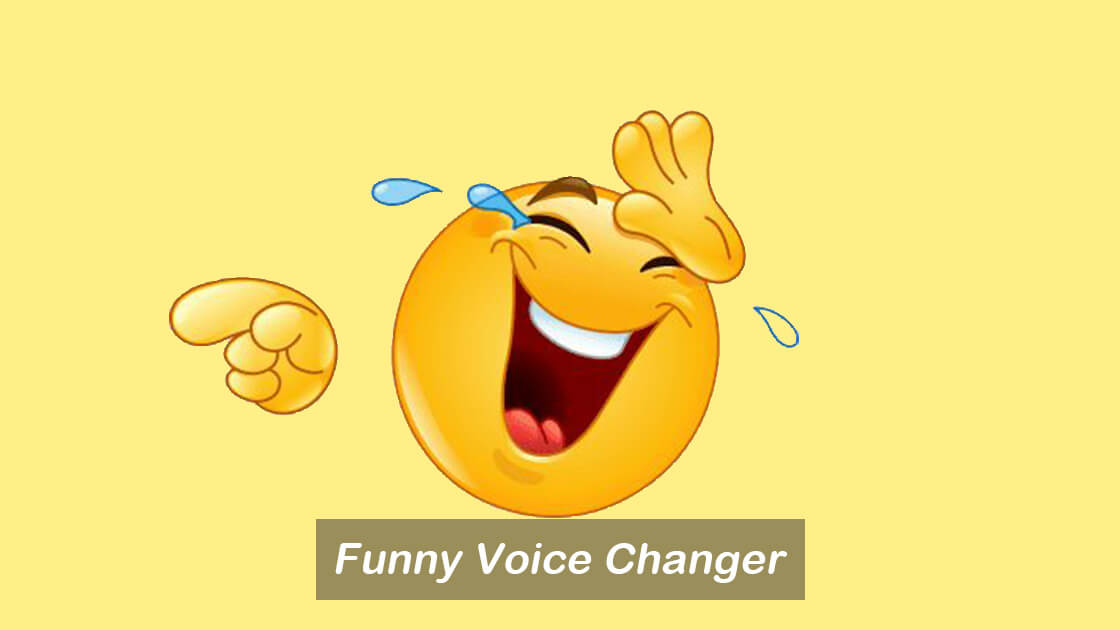 Part 1.

Funny Voice Changer for PC

If you are looking for the best funny voice changer for PC or phone, then you've come to the right place. Here are the best funny voice changers that you can use in 2022!

UnicTool MagicVox is number one on our list for multiple reasons. The software has left no loop open for mistakes and is always on the go to introduce new features.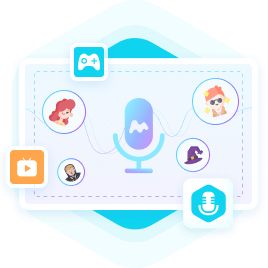 A Real-Time Voice Changer
Features two hundred voice filters. You can use these filters on various apps or even during video calls!
It has a soundboard that can help you add sound effects to your voice filter.
It features hotkeys, so you can activate your favorite voice filters in seconds while using any app.
The VoiceStudio lets you tune your voice any way you'd like.
It can be easily integrated with various apps to have fun anywhere you want.
Pros
A great variety of voice filters.
Excellent working soundboard.
Works brilliantly well on both Windows and Mac PCs.
Cons
Most of the features are only available in the premium version.
Sometimes it is difficult to understand.
How to Use a Funny Voice Changer on PC
Step 1: Go to the web and download UnicTool MagicVox from UnicTool's official website. When downloaded, install it on your PC.
Step 2: Configure your microphone and headphone as the default input and output device.

Step 3: Go to the platform you want to play- Click Audio settings and select MagicVox as your default audio device.
Step 4: Now the MagicVox app on your PC separately and select any voice. Select the same voice from keybinds, your voice will be changed.
Clownfish is another popular funny voice changer app that can help you have fun with your friends in various ways. A thing that makes Clownfish different from other apps is its quality of voice filters. Keep reading further to know more about this app.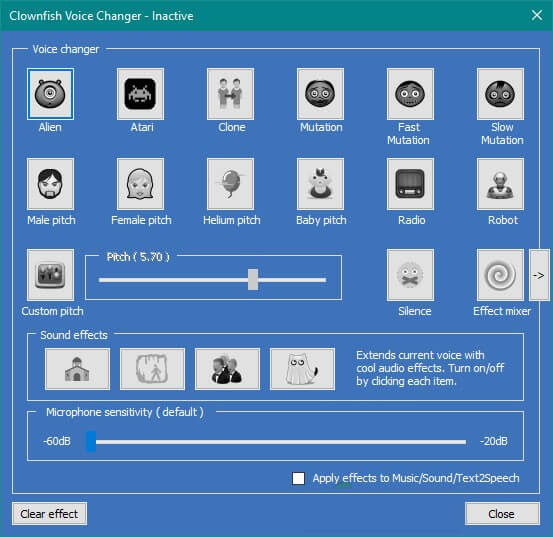 Key Features
The following are some of the best features of Clownfish:
It allows Virtual Studio Technology support to help you use the app easily.
It lets you use your altered voice on a variety of platforms. These include Skype, Viber, Mumble, Discord, and much more.
The app lets you enhance or change the volume of your voice according to your preferences.
The app features unique voice effects that are not seen in other apps.
The Mac edition lets you convert text to speech in a funny voice.
Pros
It supports various languages.
Altering your voice to any tone is easy with its tools.
It is available for free.
Cons
The app finds it hard to change voices into different accents.
Voicemod is a funny voice changer that can help you create many memorable moments. The app is compatible with PC and works well on other platforms too. Use it while chatting or while playing games! The app will not disappoint you with its stellar performance.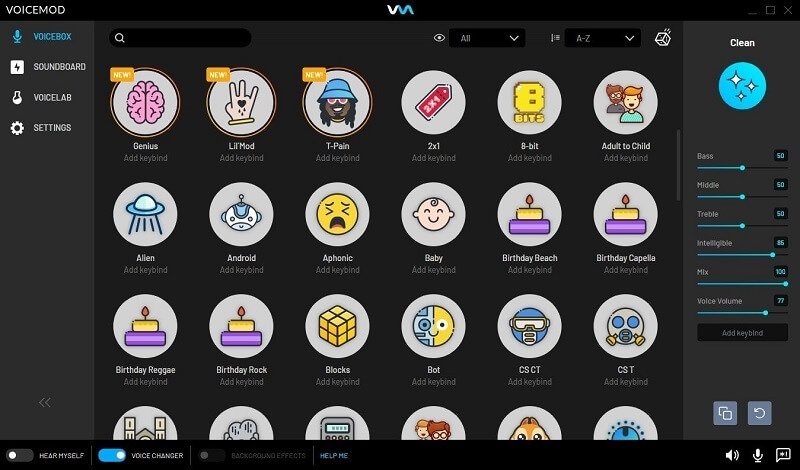 Key Features
Below are some features that make Voicemod a great app to use:
It lets you explore your creativity with its great tools.
It features realistic background sound effects that can make your voice sound super cool.
The app enables you to create your custom voice in the Voice lab.
It goes well in sync with other apps.
Pros
The quality of the voice filters and sound effects is top-notch.
Features a wide range of filters to choose from.
It lets you customize.
Cons
Limited features in the free version.
Part 2.

Funny Voice Changer Online

It is not necessary that you use paid versions of voice changers to make your moments memorable. There are countless other ways that don't require paying fees to use them. Of course, we are talking about online voice changers that help us to get the job done for free!

A funny voice changer online is hard to find, but not anymore. The following are some of the best voice changers you can use to have fun!

Voicechanger.io is one of the most accessible apps to use out there. The funny voice changer online features only two buttons that you use to get the voice altered.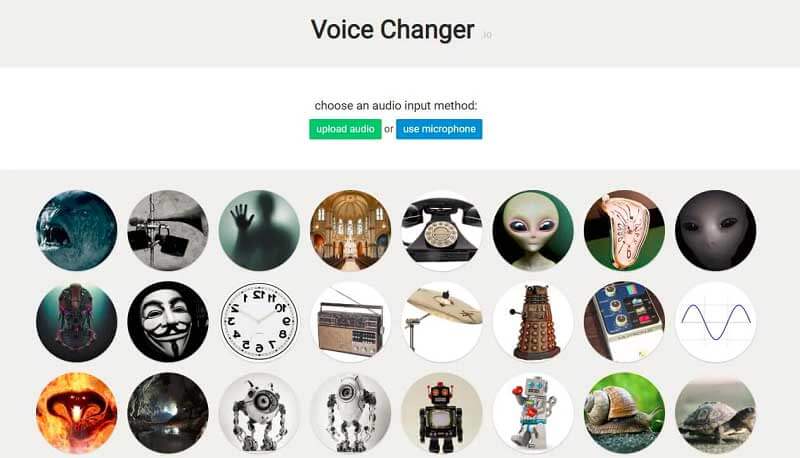 Key Features
The following are the features that have made Voicechanger.io one of the best of its type:
It features a very easy-to-use interface and hence won't take hours to just set up.
With over fifty-one voice filters available, you will get the freedom to choose any funny voice you'd like.
The voice filters are available in excellent quality.
Pros
Free to use.
Doesn't require you to install it.
Guarantees a great time.
Cons
It doesn't let you use the altered voice on other platforms.
Up next, we have another free and online voice changer that promises nothing but excellent performance. Media.io is a voice changer app that has made premium-level features available for its users for free.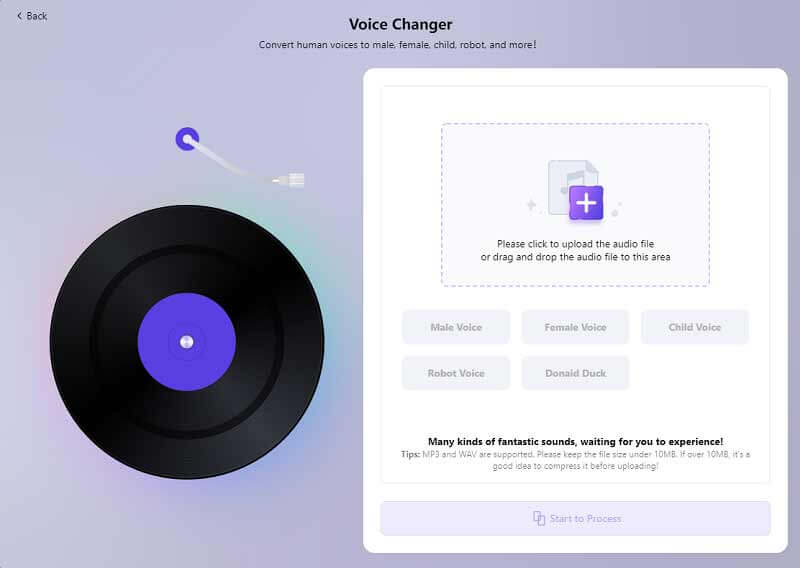 Key Features
The following features make Media.io a great funny voice changer:
It lets you convert your audio files into any format you'd like.
You can convert and download a variety of files.
Offers support to various audio and video formats.
io features tools for cutting, editing, and converting audio files.
It lets you use your altered voice on other platforms very easily.
It is compatible with all Windows versions.
io can edit videos as well.
Pros
It is very easy to use.
The interface is very attractive and appealing to the eyes.
The process of using its tools is very easy.
Cons
You cannot use the voice changer in videos.
Whether you want to use a funny voice filter on your voice by recording it or uploading a pre-recorded audio file. Lingojam can help you convert your voice into any funny voice you want within seconds!

Key Features
Here are the features that have made Lingojam so popular among users:
It is very easy to use. You only have to upload an audio file or record one by pressing a few buttons.
It lets you upload any size and format of audio files.
Pros
It is one-hundred percent free to use.
Pretty straightforward to use.
Cons
The interface is not well-designed.
Part 3.

Funny Voice Changer App

Of course, there is always the option of downloading voice changer apps on your phone and availing them within minutes. If you are wondering which funny voice changer app to download on your phone, then don't worry. We will talk about the best ones available for Android and iOS devices!

With a rating of 4.4 stars and over ten million downloads, the voice changer-voice editor is the best app you can install. The app is simple to use and takes only minutes to set up.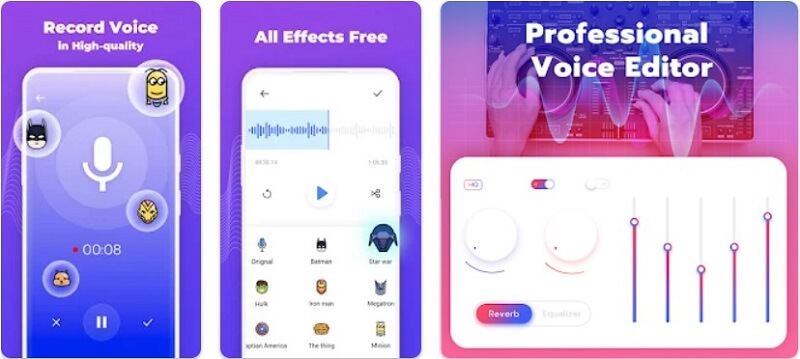 Key Features
Here is why this app is the number one choice of many:
Unlike most apps nowadays, this one right here doesn't collect any data from your phone.
You can change your voice by applying a funny filter and setting it as your ringtone.
The app allows you to record your voice and also features an mp3 cutter tool.
Pros
It is easy to understand.
It takes less time to set up.
Free to install.
Cons
Limited tools to alter your voice according to your preferences.
It is available only for the mature audience, i.e., 17 plus.
Features way too many ads and hence creates a disturbance.
You didn't think we would forget about you iOS device users, did you? The Funny Voice Effects & Changer is one of the most popular voice changer apps out there.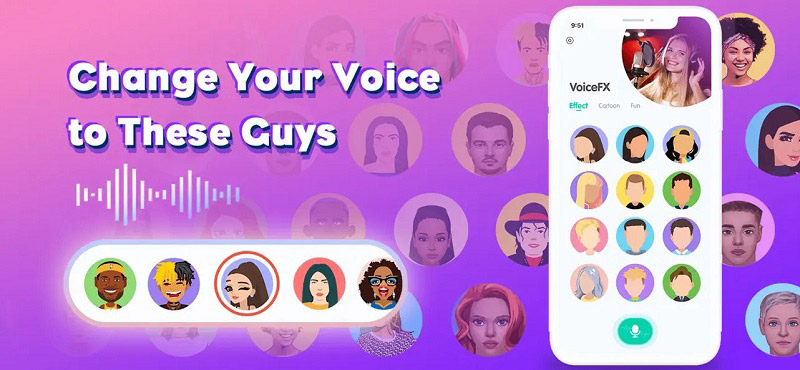 Key Features
The below features will make you want to download the app as soon as possible:
Features many voice filters to choose from.
You can record videos by using these voice filters.
The app lets you share the altered audio files directly with your friends.
It features realistic sound effects.
The app also features video effects to make your experience more fun and memorable!
Pros
Introduces new features and filters weekly.
High-quality performance.
Very easy to use.
Cons
Gets updated only for the pro version of the app.
It is not free to use.
The Bottom Line
A funny voice changer is just what you need to create fun and memorable moments. Moreover, it can prove to be a great companion in times of stress. The above voice changers are some of the best in the market right now. However, out of all of these, UnicTool MagicVox takes the lead! The app features those tools that haven't yet been seen on other voice changers. It lets you have the time of your life through its voice studio. More so, you can use your filtered voice on any platform by using a few hotkeys! Overall, the app is very cool and fun to use, and you should try it for sure.