Are you tired of using a stern, simple and usual voices? It is time to try something new. We are all aware of talking to cats who inhale helium gas from balloons and sound different. Let's check your helium version. You do not need to inhale the gas; download a helium voice changer, apply effects, and here you go!
These voice changers are a valuable tool if you are planning to play a funny role or willing to sound funny on call. Hence, this article aims to enlighten your useful voice changer to sound different and funny on different devices.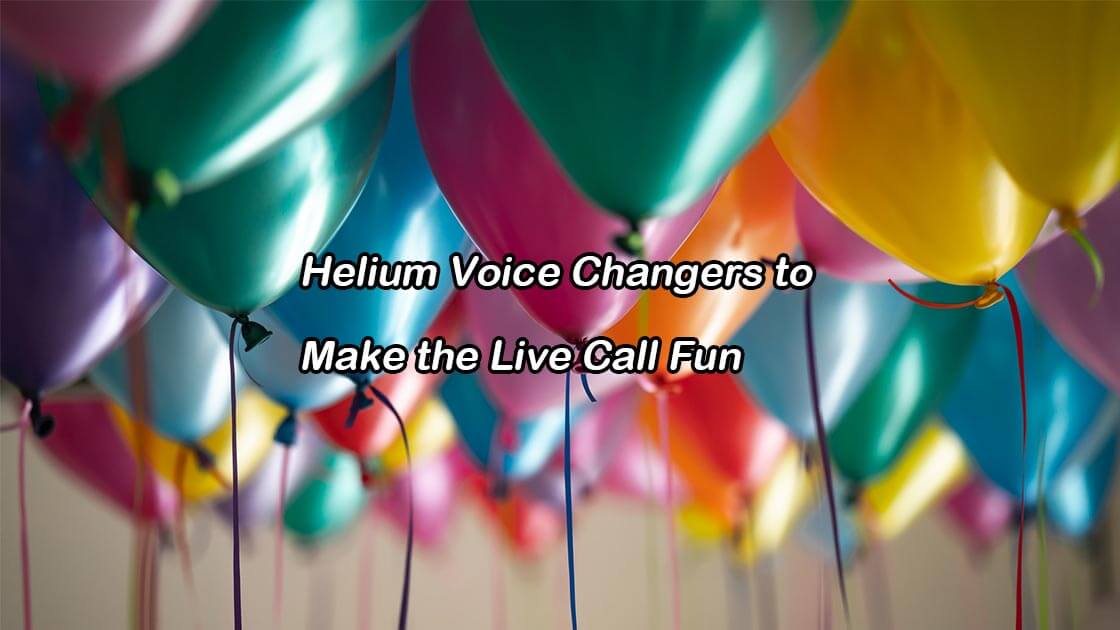 Part 1.

Best Helium Voice Changer for PC

Like every platform, every device has different requirements. Some software works well on PC, while other applications are designed for mobile. Here we have mentioned some best helium voice changer PCs.

UnicTool MagicVox is a real-time helium voice changer with many enjoyable filters. Unlike other voice modulators, its free version has many features but few voices customization options. It is the best helium voice changer that allows you to transform your voice into a girl, SpongeBob, animal, or any character.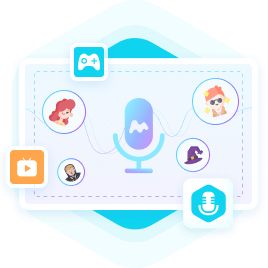 A Real-Time Voice Changer
MagicVox is a highly compatible helium voice modulator that integrates seamlessly with almost all software. It works with Windows.
This versatile voice changer offers more than 200 preset voice filters apart from helium voice to make the process easy and efficient.
Add your element of creativity to make a distinct helium voice. Play with pitch, frequency, and other voice parameters to come up with the best one.
MagicVox offers a free trial with lots of valuable features.
Pros
It offers more than 150 present filters and 300+ voice effects.
MagicVox permits the user to add key bindings to add effect during live chat.
Allows customization to generate distinct voices.
Allows importing your favorite sound effect.
Cons
Limited features in the free version.
How to use a Helium Voice Changer on PC
Step 1: Download the application.
Step 2: Configure input and output device. From the setting, assign a microphone as input and headphones as an output.

Step 3: Select the platform and go to the Audio Setting, set Voice Changer Virtual Audio Device (WDM) as default input device.
Step 4: Select the Helium Voice Effects

Step 5: Record your audio or import the audio file to apply the voice effects and filters.
It is a well-known voice changer due to its versatility and exceptional functioning. Clownfish works well across all media platforms such as discord, skype, Fortnite, PUBG, and many other live streaming applications. It is one of the best helium voice changers on the PC, with multiple customization features.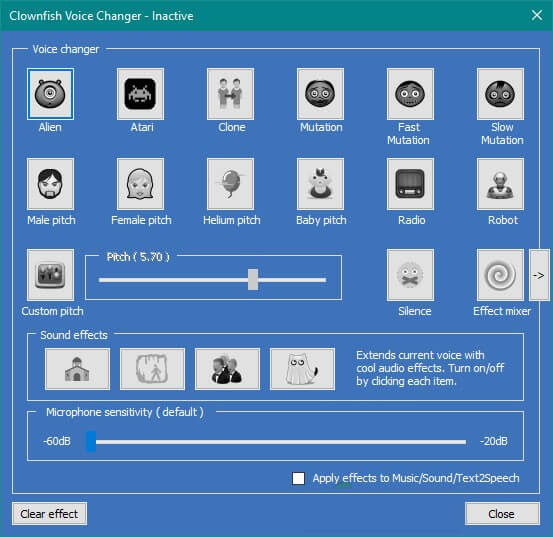 The most prominent features of Clownfish are as follows:
The highly compatible voice modulator works well with windows 7, 8, 8.1, 10 and 11 without distortion and buffering.
The addition of a voice assistance feature is a fantastic feature to convert text into speech, even with helium effects.
If you want to enhance the fun and craze, you can do it with clownfish. Layer the background music with the voice to make memorable moments.
It offers a wide range of funny filters, including a hilum voice filter to keep voice modulation a few clicks away.
Pros
Allows favorite sound effects importing.
The Voice assistant conveniently converts the text into voice.
Allows voice customization.
Easy to use with an intuitive interface.
Cons
Not ideal for a professional setup.
What lies beneath the façade of application is much more fun. MorphVox is set to take on the thrilling ride of fun and hilarious voices. This helium voice changer offers the best features and services to offer an outstanding experience.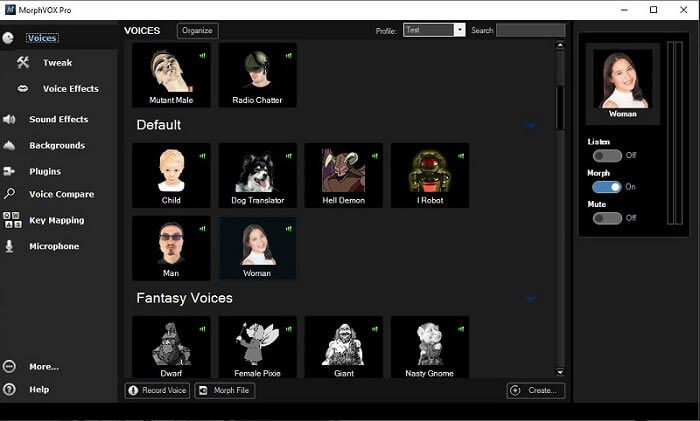 The main features of MorphVOX are as follows:
Users can change their voice within seconds with a huge library of voice filters.
MorphVox has an effective voice cancellation feature that eradicates unnecessary and irritating background voices during calls and live streams.
This is one of the best helium voice changers for PC that integrates seamlessly with Mac and Windows 8, 8.1, 10, and 11.
It allows you to add some background voices to take the fun to the next level.
Pros
Easy to use interface even for beginners.
High compatibility increases reach significantly.
Features a soundboard to allow customization.
Cons
Sometimes glitches when multiple applications are running.
Part 2.

The Best Helium Voice Changer Online

Voice changing is not limited to the people carrying laptops IN hand. Now you can alter your voice anytime with these online tools if you have a good internet connection.

Lingojam is an effective helium voice changer. It is a free online tool that converts human voices into aliens or adds helium effects to make it super funny. As it is an online voice changer, it cannot change the voice in real-time. You need to upload the clip to add effects.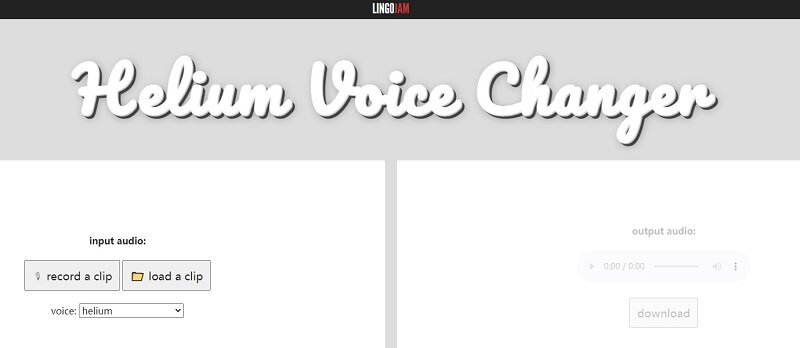 The main features of Lingojam Voice Changer are:
It features a simple and easy-to-use interface. The page looks dull but makes a fascinating voice with a helium filter.
This online voice changer supports all formats of files, such as WAV and MP3, but does not offer the choice of output file format.
It is a simple tool that does not feature complex customization features, but you can change the pitch and frequency.
Pros
Offers an ideal interface for beginners.
You can customize some voice effects, which many online tools lack.
Transform the voice with a few clicks with preset voice filters.
Cons
It does not allow you to choose the output file format.
If you are looking for a free source to transform voice without allotting a single MB on the hard disk, voice changer io is the best choice for you. This simple voice changer allows you to edit the application with a few clicks.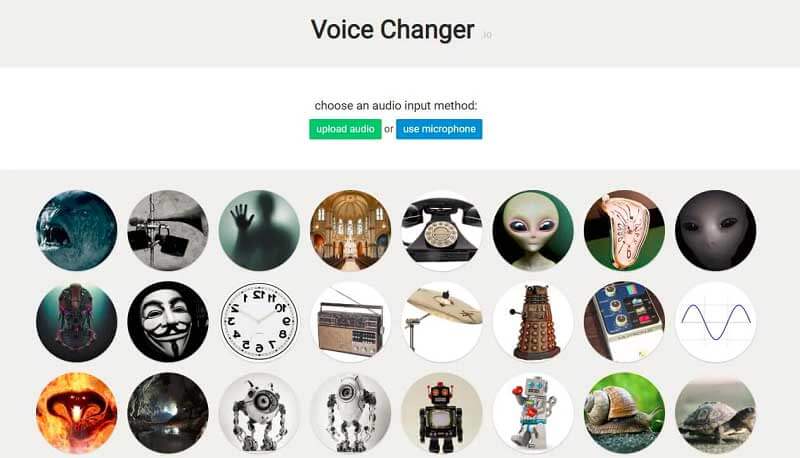 The main features of Voice Changer are:
Voice changer io offers lots of preset filters to transform the voice into your favorite character or add a helium effect to make your friends laugh.
This helium voice changer has a user-friendly and interactive interface. It helps voice modulation efficiently and conveniently.
Voice Changer io allows users to upload files in any format. You can directly record audio as well.
Pros
Easy to use interface for beginners.
Free to use.
Accessible from all devices.
Provide preset filters.
Cons
It does not allow real-time voice changing.
Part 3.

The Best Helium Voice Changer App

If you want to transform the voice to prank friends anytime, download these applications on your mobile and bring the fun to the next level.

Voicy video is one of the funniest video cameras for the iPhone. Transform any simple and ordinary video into a funny movement instantly with helium voice effects. If you want to edit an old video, don't worry because the voice changer allows you to select the video from the gallery.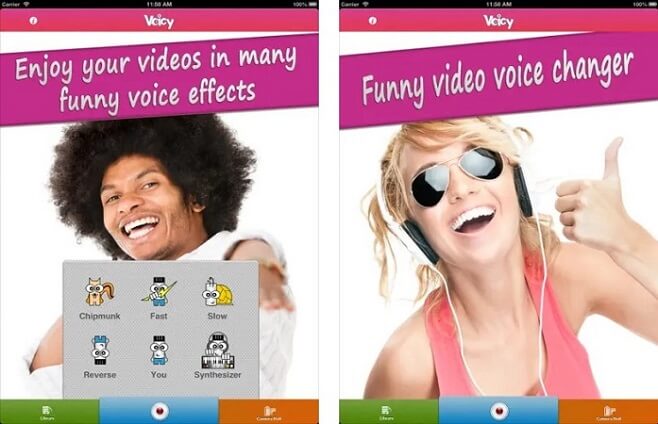 The main features of this Helium Voice Changer are as follows:
It offers few but beneficial voice effects to choose from. You will get 15 voice effects if you upgrade to premium.
This powerful voice modulator allows unlimited video recording and uses already recorded videos from the camera roll.
Conveniently save the customized video to the phone and share it on different social media platforms for fun.
Pros
Multiple preset voice filters to transform voice instantly.
Simple and vibrant interface.
Allows unlimited video recording.
Affordable.
Cons
Limited features in the free version.
Besides creating funny voices with helium voice generators, do you want to make funny faces? Crazy helium funny face editor will help you do that. Download the application to join millions of users creating hilarious videos backed with funny helium voices.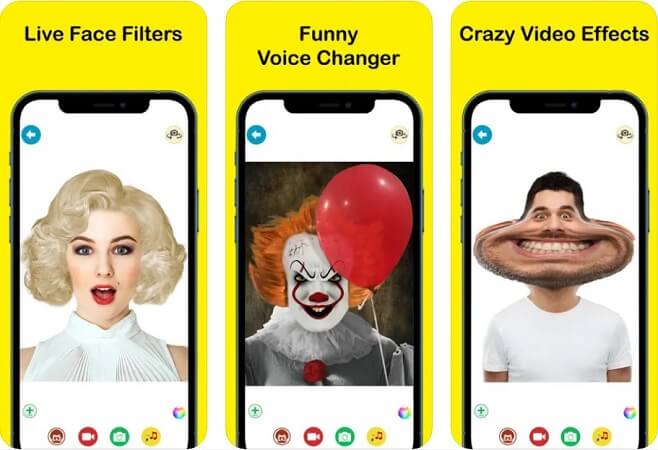 The main features of this helium voice changer app are as follows:
It allows you to record funny videos with funny voice effects. Select the voice filter from the library of more than 30 valuable filters, including a clown, bear, doll, alien, and many more.
Crazy helium funny face editor allows editing of existing videos with speed, effects, funny voices, and many more.
Pick the music from the library to lip sync or sing along. You can birthday wish or uniquely say congratulations by utilizing this application on your mobile.
This video and helium voice changer is specially designed for iOS.
Pros
Easy-to-use interface.
Offer many editing and voice mixing features for free.
Change the speed according to your need.
Record the video without a watermark.
No ads disturb during editing or recording.
Cons
The subscription automatically renews even if you are not using it.
If you find voice modulators challenging to operate, you should try this helium voice changer app. It is accessible from all devices. With a few taps, you can transform yourself into a funny character or a celebrity.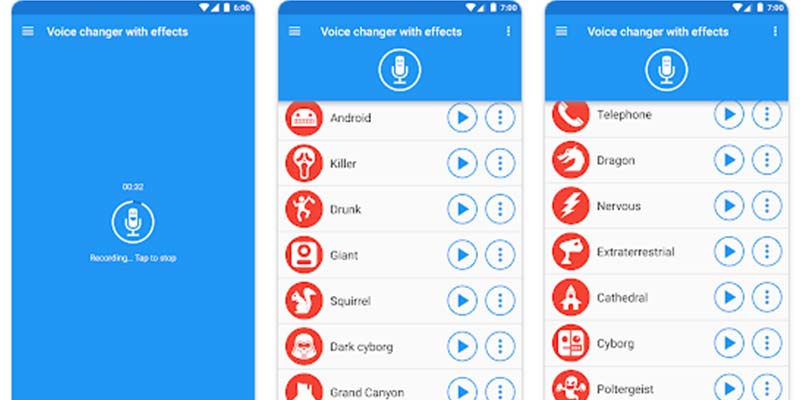 The main features of voice changer with effect app are:
It is specially designed for android and is available at the play store for free to download.
This powerful application offers a large number of preset filters, including helium, to transform the voice into seconds.
Voice changer with effects features a huge number of voice effects that you can play during the video to add a fun or maybe sinister touch.
Pros
Easy to use, simple, and intuitive interface makes editing easy and worthy.
Modulate the voice with a preset filter in seconds.
Easy to save the files.
Allows voice effects customization to add your creativity.
Conclusion
Helium is a commonly used gas to alter the voice in the real world. However, some people find it harmful and feel scared to use it. For such people, many helium voice changers have been introduced.
If you want to listen to your voice's helium version, you are suggested to download any voice as mentioned above modulator. They can effectively change the voice and allow you to add the voice effects to make live calls and streaming super and exciting.
UnicTool MagicVox is the best helium voice changer that makes your live stream fun and memorable. It allows you to prank your friend by imitating the character.