With the continuous advancement in technology, the world is revolutionizing day by day. Have you ever thought that you could tune your voice? Of course not! Progress in that domain has been made to such an extent that you can module your voice, resembling an entirely different creature.
Voice transformation softwares mostly confined to android devices. If you are an iPhone user or own an iPad, you have to jailbreak your equipment for optimum functionality of these applications.
To provide authentic voice customizing applications, we have listed some mind-blowing iOS compatible software. Let's begin trolling with the iPhone voice changer app.
Part 1.

Top 8 iPhone Voice Changer App

Including a little humor to live streaming or video gaming will assist you in building reliable connections and better audience engagement. Without further delay, here is a list of iOS voice changers you were waiting for!

Have you been looking for a real-time voice changer or just trying to embed voice effects to pre-recoded videos or audios? This voice changer is a single resort for all. Apart from voice transformation, this app contains some exciting features to assist with audio editing.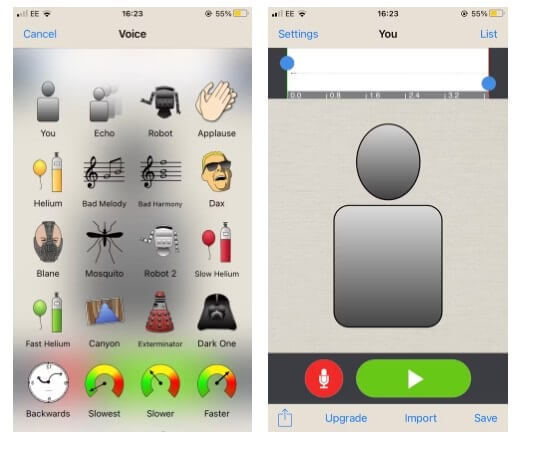 Here are some Key Features of this app:
The huge preset audio library is here to blow your mind anytime. It contains at least 55 voice effects to apply on pre-recorded audios.
Would you like to sound more dramatic? Utilize its aesthetic background sounds to make your content more appealing.
Another advantage of this iOS voice changer, you don't have to burden up your device with another program for editing. Whether to trim your audio or enhance its quality, you can rely on it.
If you get bored with their vocal library, you can import audio effects into this application for later use.
User Comment:
A great application with all the necessary stuff that a user ever needs at a basic level.
2. Celebrity Voice Changer
As the name suggests, this app contains voice transformation capabilities to readily turn your audio into any celebrity, surpport both Android and iOS devices. You just have to speak into the mic and choose the celebrity whose voice you like to imitate. The rest will be handled by the application smoothly.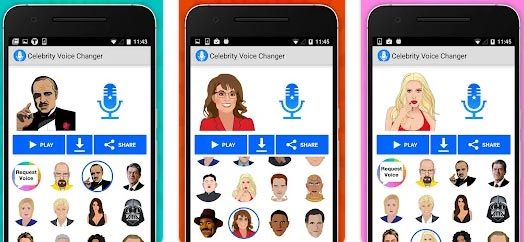 Some Key Features of Celebrity Voice Changer App:
No need to go through downloading or installation hassle. Add its extension to Chrome, and you are good to go!
You can have a hands-on approach to 100 voices, at least in the free version.
We have not noticed this feature in any application before. For the first time when you say something, it will be spoken back to you by the Celebrity group of A-listeners.
You don't have to export files to use its voice filters. Use its mic to generate classic audio on the spot.
User Comment:
First-ever voice changer that comprises celebrity voices only. Paid and free versions both are pretty helpful for trolling or fun.
Just created a new WhatsApp group or joined a Discord conversation to level up your gaming? Prank your new buddies with the comical audio effects of this voice changer, or scare them with the horrific sounds.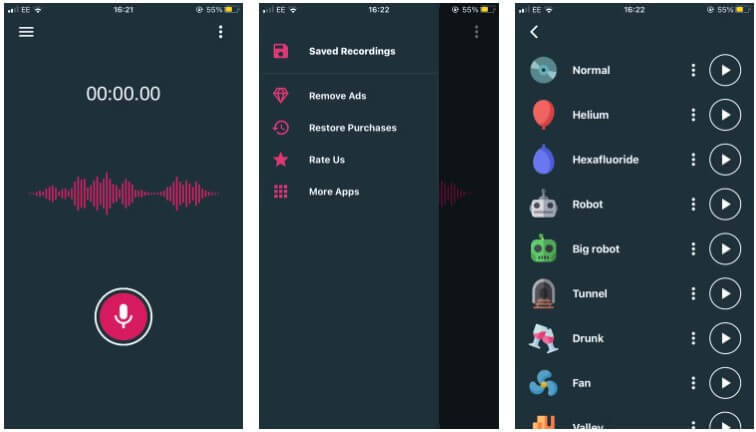 Following are some Key Features of Voice Changer – Audio Effects:
The application is embedded with more than 25 audio effects to apply to your pre-recorded voices anytime.
Another advantage this voice emulator grants to its user is he can save his recording for later use within the software.
With a single click, your voice can be shared on any social platform.
Its interface is user-friendly, once the application is installed, you can navigate through its cool animations and voice effects easily.
User Comment:
The application is free and delivers a modified version in very high quality.
Prank your peers with the hilarious filters of Voice Changer. It composes a long list of vocalist effects that can be used with the videos and audios. If you are in live streaming, this application is perfect for entertainment.

Here are some Key Features:
It comes with 20 funny sound effects to apply in real-time or pre-recorded voices.
Once the audio is modified, you can save it as a ring tone to keep yourself excited whenever your phone rings.
The application is crafted by TapMedia Ltd, incorporating a futuristic design and user-friendly interface.
Just tap on the share button, choose a platform where you want to share, and you are done.
User Comment:
It has a futuristic design and appealing features to keep its users entertained.
Ready to fool your friends in live gaming? This Live Voice Changer is a final spot for all your desires. Apart from tuning voices, it comes with the tone color containing a unique 12-band equalizer to deliver a natural effect to your voices.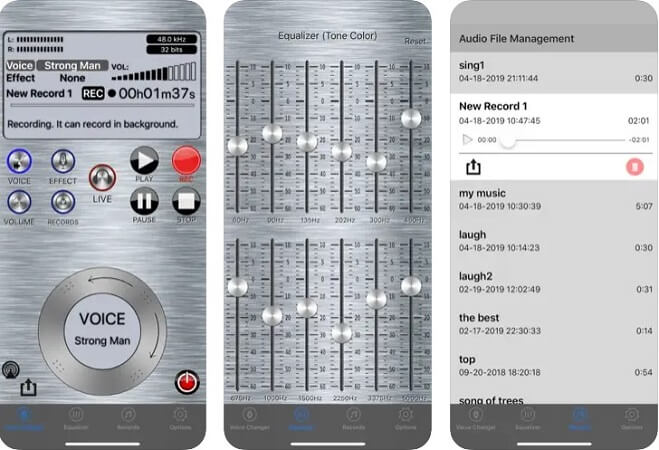 Here are some Key Features:
Digging into the features of this application to discover what it can offer?
This multi-functional voice changer contains everything a professional ever demands to level up his services. From voice modification to editing, it allows you to enhance your digital experience precisely.
During the telephonic conversation, you can prank your friends with the 11 available voices.
Containing a list of 15 reverb effects to polish your real-time or pre-recorded voices aesthetically.
An added feature, designed for professionals to use in combination with the reverb effects for making announcements.
User Comment:
An incredible application for online gaming with added pro-level features.
A real-time voice changer that allows you to dial your friend anytime. Among the thousands of available characteristics, the most compelling one is you can record your phone call to share it with your friends later on. This aspect makes it the best iPhone voice changer during the call.

Here are some Key Features of this app:
You can analyze the app's functionality by making a demo call.
Dialing up through sim outside the country can put a significant burden on your pockets. Funcall has made it easier to ring anyone's phone anywhere in the world with just a single click.
Its vocal library comprises a list of incredible voice filters and amusing audio effects to add them in a real-time voice.
You don't have to be a tech giant with this application. Enter your phone number, choose a voice effect, and you are good to go.
User Comment:
From primary level to professional use, we find this platform helpful all the way.
Another fun-bursting application with amazing voice filters to be applied to your recordings. With it, you can control how you want to be heard out. It includes various sound effects of different creatures belonging to fantasy or reality.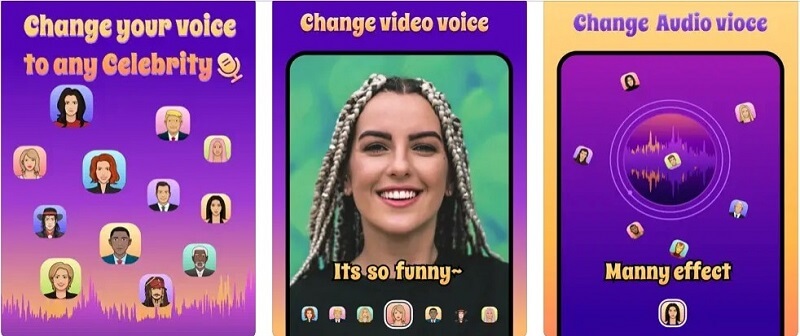 Key Features
Make your digital content a bit dramatic by including effects in the background of your audios.
Once the voice has been modified, you can apply another layer of voice effect to make it more interesting.
Boost your creativity and utilize this application's attractive features to the maximum extent. Voice editing tools can aid in tuning an audio the way you want.
The app has an intuitive design and a single-click sharing option to share your modified content with your friends via social media platforms.
User Comment:
Its huge vocal library and voice editing features compel us to mention this in our list.
This voice emulator is specially designed to provide you with the voice-changing effects and editing features you ever desired, crafted with alluring visuals and unique animations which attain the user's attention every time.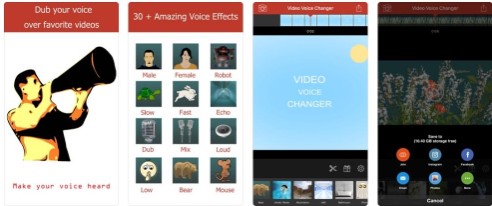 Key Features
This application allows you to extract videos' voices to add them in your library.
You can utilize an extensive voice library containing around 30 plus voice effects and filters.
Along with the voice dubbing advantage, you can add background voice effects to your audio.
The application allows you to share altered audio files with friends through any social application.
User Comment:
Free of cost application with voice customization and editing features. Great for primary or intermediate level.
Part 2.

The Best Voice Changer for Windows

Have you been searching for a great voice customizer for professional use containing pro features? Put your hands down on the top-rated voice emulator UnicTool MagicVox.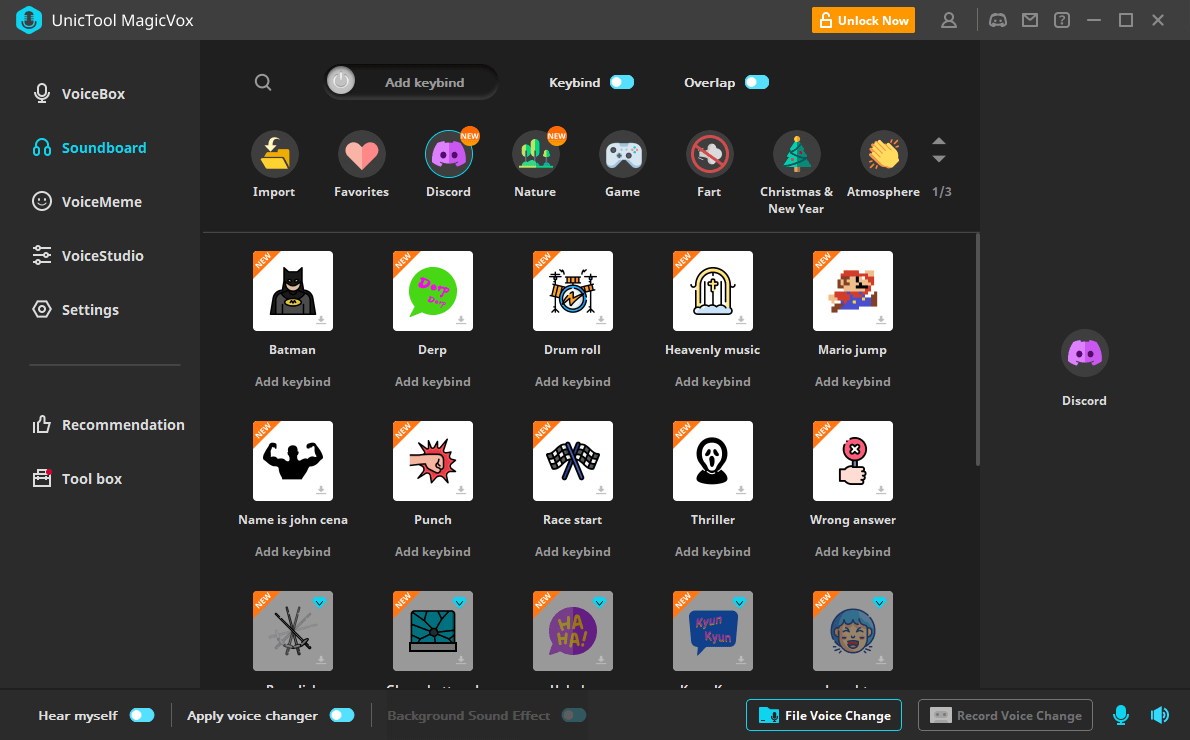 This software is compatible with your PCs making itself a perfect companion for live gaming or chatting. With 200 plus voice effects available, you can sound like any character of your choice. A varied soundboard consists of amusing audio effects while allowing you to customize it per your requirement.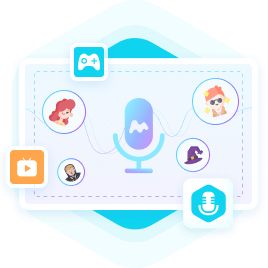 A Real-Time Voice Changer
Add some spice to your content by adding scary or funny voice effects in the background. This software contains almost 50+ effects to be used in the background.
Isn't it frustrating to change or select a sound effect on the soundboard during massive gaming? Of course, let's make it easier. Assign a single or combination of keys to a particular sound effect for a smooth and seamless experience.
It comes with a list of 150 plus popular voice memes to readily use anywhere.
User Comment:
This software provides easy access to advanced features in a free version too.
Conclusion
Ending up with a tremendous application infused with the required tools and voice parameters might be challenging. That's why we tested and shortlisted the best iPhone voice changer apps containing plenty of voice editing features and filters for real-time use.
Among these applications, UnicTool MagicVox stands out on the top. From voice disguising to editing and quality enhancement, this software is one of these great options available right now. Further, MagicVox offers new filters and features every month.
Don't just trust our words, read their feedback portal to figure out how people are delighted to have this application on their devices.