The location services on iPhone are versatile and popular, and it can be incredibly frustrating when they're not working properly. Problems with your iPhone location services will invariably affect your overall user experience, not only when it comes to basic functions such as navigation and communication but also your access to various apps and features.
According to Apple, the iPhone location services use GPS, Bluetooth, crowd-sourced Wi-Fi hotspots as well as cellular towers in order to determine your location. There are many reasons as to why these services may not be working as well as a number of different solutions which can address the specific problem you're facing.
In the following article, we've provided a detailed guide not only explaining why your iPhone location services are not working and what has caused this issue, but also what you can do to resolve it.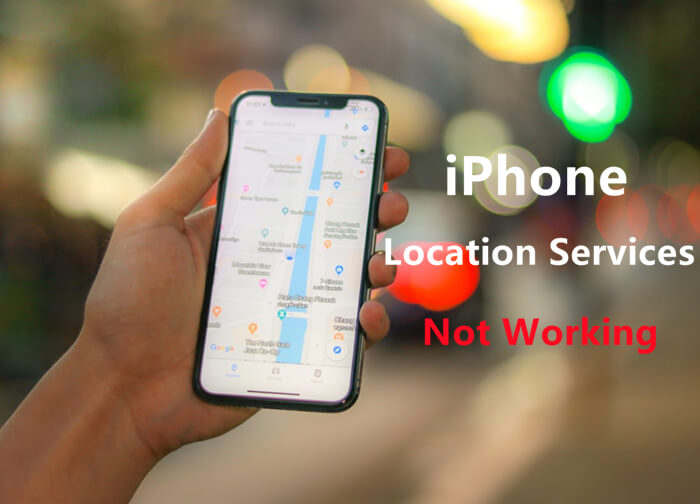 Problem:

iPhone Location Services Not Working

Some problems with your iPhone will intentionally prevent your GPS from working, such as weak signal, outdated maps data or a hardware failure. Problems can also occur when you have just updated your iOS device. It is usually relatively straightforward to identify the reason for a particular issue.
1. Wrong Location Services Settings
First of all, it's essential that your location services are turned on, in order to constantly transfer location information to your GPS and other location-dependent apps. Otherwise, the location services will certainly stop working.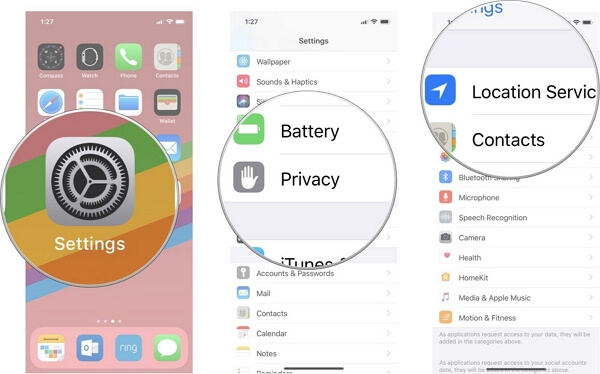 2. Some Random Glitch
If your iPhone location services were working perfectly fine a few moments ago before suddenly stopping, then the problem is most likely to be associated with a random glitch on your Maps, GPS or any application in use. If this is the case then you just need to force the app to close and restart, which should ensure that things start working again.
3. Required Updates
If your location services stop working when you're using a specific app, and work fine again once you leave that app, then it would be a good idea to see if that app has any updates due. You can easily check for and install pending app updates by going to the App Store and then checking up on the Updates section, where you'll be able see any required updates.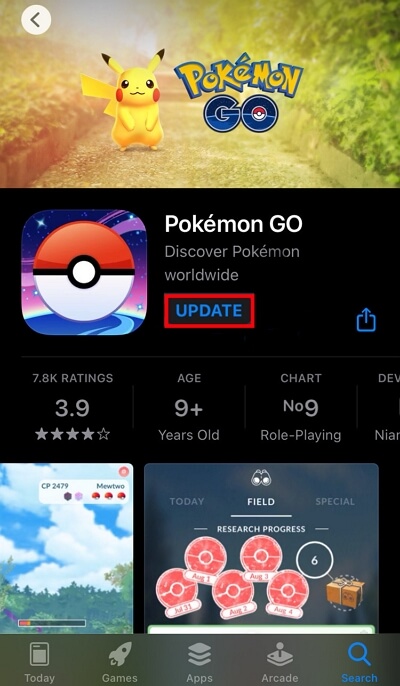 4. Memory Issue
Sometimes it can be a memory issue, so another option is to perform a soft reset which will purge your iPhone's memory and clean away errant cache and temporary data. This step will resolve any location errors which are attributed to incorrect location of GPS caches.
5. Network Connectivity Issue
Network connectivity issues on your phone can also affect these locations services, as are network-related functions. In this case, you will have to reset the network settings on your iPhone.
Solutions:

How to Fix iPhone Location Services Not Working Problem

Overall, your iPhone location services not working problem are quite easy to resolve. Many of them are related to basic settings, and if you're not quite sure of the exact reason for or cause of the problem then it won't take you too long to go through each of the solutions and fixes which we have provided here:
1

Try toggling location services, as toggling them off and then on again is a useful tip which works for many iPhone users.

2

Restart the app if you're having issues with a specific app. Once you've done that, check the App Store to confirm you're running the most recent version of the app and confirm that location services are turned on for the app.

3

Go to your Date and Time settings, ensuring that the Set Automatically option is on so that your location services can work properly.

4

Ensure that cellular data is turned on by toggling the cellular data slider off and back on in your iPhone's settings, and then confirming that you have a signal.

5

Make sure that your Wi-Fi is on, because a Wi-Fi connection will help with accuracy and precision.

6

Toggle airplane mode for approximately 30 seconds, and then turn it off and see if your location services are working.

7

Reset your iPhone's network settings as doing so could also resolve a range of problems with Wi-Fi, GPS and Bluetooth connections when they aren't working. To do that, go to Settings > General > Transfer or Reset iPhone > Reset > Reset Network Settings. Once you've reset them, you might have to log into your Wi-Fi again because resetting the network breaks the connection.

8

Try to completely reset your iPhone by restoring it to its factory settings. A factory reset will erase all your data, which is why you should first back up your iPhone before taking this step. To do that, go to Settings > General > Transfer or Reset iPhone > Erase All Content and Settings.

9

Ultimately, if none of these solutions or fixes work, then you most likely have a hardware option. If this is the case, then it is probably best diagnosed and repaired by Apple or a certified Apple service provider. You can try searching Apple's online support site if you want to continue trying to troubleshoot yourself. Otherwise, make an appointment and take your iPhone to an Apple Store.
Bonus:

How to Change iPhone Location Easily & Effectively

Regardless of whatever you're using your iPhone's location services for, you evidently want to be assured that they are functioning as efficiently and effectively as possible so that they will do exactly what you want them to do. TailorGo has been designed with state-of-the-art engineering and sophisticated functionality, and it is a powerful GPS location changer which is packed with a range of comprehensive and versatile features.

Whether you want to match with more people on dating platforms, use a regionally-specific application or feature, enhance your privacy by showing a fake location or change your position in a location-based game, changing your virtual GPS location is not that difficult. With TailorGo, you can change your location on your device to wherever and whenever you want to. Once everything has been installed and set-up, the multiple features of this software are just a single click away:
Change your iPhone GPS location to anywhere in the globe in seconds.
Help you plan a route and virtually move along it with the designed speed.
Update the virtual location to every location-based app on your device, such as Grindr, Life360, WhatsApp and Pokémon GO.
Perfect adjust and spoof your GPS location without any crash or lag.
No jailbreak is required for changing location on iPhone.
Compatible with all iOS versions (iOS 15 included) and most Android versions.
Free trial is available for every user.

1

Download, install and launch TailorGo on your computer. Click the "Get Started" button and have your device connected.

2

To change location, choose the Teleport Mode and select a destination. To move virtually, choose either the Two-Spot Mode or Multi-Spot Mode, then plan a route to move along.

3

TailorGo will change your location or complete the movement as planned. The changes will be updated to your iPhone and all location-based apps timely.
Conclusion
Having constant and reliable access to your iPhone's location services is important to your overall user experience. In this guide, we've provided a comprehensive explanation of the problems you can experience with your iPhone's location services, the possible causes of them, and what you can do to resolve them.
Aside from this, there may also be instances where you want to quickly and securely change your GPS location on your iOS device. Whether it is for privacy, accessibility or functionality, TailorGo is an exciting and versatile tool which you can use to enhance the performance and usefulness of your iPhone. With advanced functionality, sophisticated software and a user-friendly interface, TailorGo is the ultimate solution for anyone who is looking to change iPhone GPS location.