WhatsApp is the most popular chatting medium used around the world and has become an integral part of our lives. That's why most of us have set up WhatsApp backups to avoid losing our important chats. But when it comes to restoring those backups, the process isn't convenient. In this article, we are going to discuss how to restore WhatsApp backup without uninstalling the application.
Part 1.

Is It Possible to Restore WhatsApp Backup without Uninstalling?

If you have back up your WhatsApp data in Google Drive or iCloud/iTunes, then you might think that restoring the data will also be just a few clicks away. But the fact is that it is impossible to restore WhatsApp backup without uninstalling. It is because the WhatsApp system does not allow such kind of thing. WhatsApp backup function is designed to help users transfer or restore the chat and data to the new phone in case of complete deletion of data from local storage.

However, in this digital era, there is a solution for almost every digital problem. Similarly, for the WhatsApp backup and restore issue, there exist some great tools that can help you restore WhatsApp backup without uninstalling.
Part 2.

How to Restore WhatsApp Backup without Uninstalling - for iPhone & Android

Since there is no official way to restore WhatsApp backup without uninstalling, ChatMover comes as a top-notch WhatsApp management tool that is designed to address this loophole in WhatsApp backup/restore system. ChatMover helps you to restore WhatsApp backup to your old/new phone without Google Drive or iCloud. The only thing you have to ensure is that to create a WhatsApp backup with ChatMover. Because ChatMover only supports restoring WhatsApp backup which is created by itself.

Key Features of ChatMover:
Restore Old Backups: ChatMover does not overwrite old backups when new data is backed up. It keeps all the old and new backups separately and forever.
No OS Limitation: ChatMover makes it simple to restore an iOS WhatsApp backup to Andriod device, and vice versa. The latest iOS 15 is supported.
Preview before Restoring: ChatMover lets you view the content within the WhatsApp backup before restoring them to your device.
No Storage Limit: Since the backups are getting stored in your computer instead of the cloud, so you have unlimited backup storage and no need to pay a third-party for your storage space.
100% Secure: There are always chances that the data stored in cloud services get breached, lost, or attacked. With ChatMover, the backup is stored locally in your computer, so it removes any such risks.

Below is the step-by-step approach on how you can use ChatMover to restore WhatsApp backup without uninstalling:
1

Download and open the ChatMover on your computer, connect your device to PC, and then back up your WhatsApp with it.

2

After it completes, turn back to restore the backup. From the given modes on ChatMover user interface, choose Restore.

3

Choose the WhatsApp backup from the list that you want to restore. The selected backup will be restored to the connected device.
This way, you can easily restore WhatsApp backup to any device you want without uninstalling the app.
Extra Tips.

Free and Regular Ways to Restore WhatsApp Backup on Android or iPhone

Other than ChatMover, the free and regular ways are other common approaches to restore WhatsApp backup. But all such methods require you to uninstall and reinstall WhatsApp. So, the query that how to restore WhatsApp backup without uninstalling iPhone or Android WhatsApp application will not be solved. Still, the following are the different free methods you can choose from:
3.1. For iPhone Users
Method 1. Restore from iCloud Backup
WhatsApp lets iPhone users to back up their WhatsApp conversation to iCloud. So, if you have previously made a WhatsApp backup with iCloud, then you can easily restore it back. Following are the steps you need to follow:
1

Delete and re-install the application on your iPhone.

2

Open WhatsApp and verify your phone number.

3

WhatsApp will ask if you want to restore chat history. Select that option and it will restore all your WhatsApp backup to the device.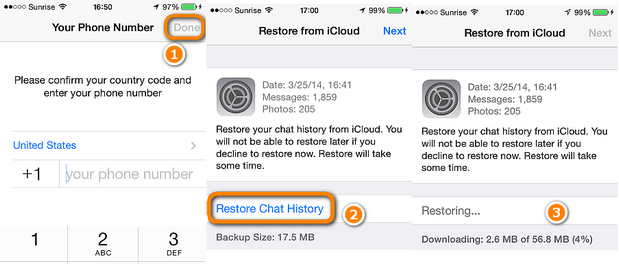 Method 2. Restore from iTunes Backup
Unlike iCloud, an iTunes backup includes WhatsApp plus other data on iPhone To restore the backup from iTunes, the following are the steps you have to follow:
Note
Make sure that the iTunes backup you choose contains the WhatsApp data you want to restore.
1

Launch iTunes on your computer and connect your iPhone to it. Tap "Trust this Computer" if required.

2

From the iTunes window, click on the iPhone icon on the top left corner. Then click on "Summary" from the menu bar.

3

Click on "Restore Backup" and make sure "This computer" is also selected.

4

Choose the device, and then click "Restore".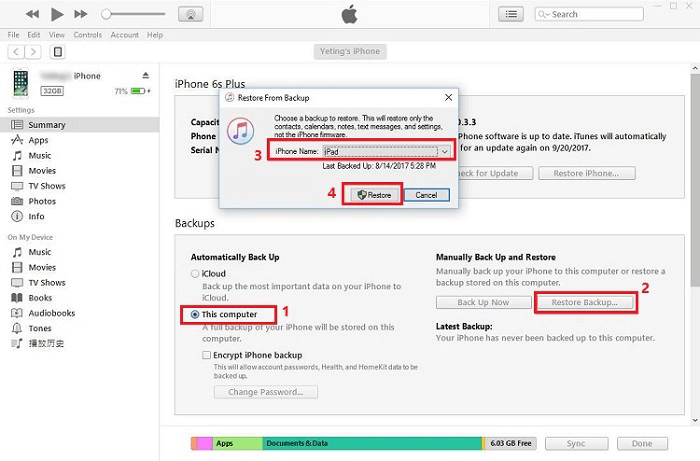 3.2. For Android Users
If you have previously made a WhatsApp backup in Google Drive, then you can restore the backup to a new Android device or the same one. But please note that it also requires you to uninstall WhatsApp. To restore a WhatsApp backup from Google Drive, follow the below steps:
1

Install WhatsApp from Play Store on your new Android device or delete and re-install it on your same device.

2

Open WhatsApp and verify your phone number.

3

WhatsApp will show the backup it found from your linked Google Drive account. So, click on "Restore" and all the WhatsApp backup will be restored to the device.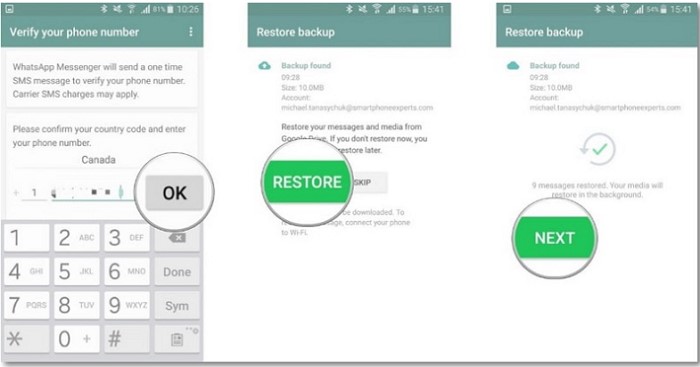 Wrapping Up
Wrapping up today, WhatsApp holds the important chats, attachments, graphics, and business-related data that we never want to lose. Performing WhatsApp backup is a wiser decision but restoring that backup using standard methods isn't quite easy, as seen from the above explanation. But ChatMover presents itself as a handy tool that makes the WhatsApp backup and restore process hassle-free. Besides, it is compatible with all Android and iOS versions, including iOS 15. With its feature-rich aspects, it restores the complete WhatsApp backup without requiring to uninstall the application.